At the heart of every vibrant country and culture is a cuisine that represents its unique people, places, and history. When pairing wine with global cuisine, it is important to make sure the unique textures and flavors that represent each region are still prominent in the food and have not been overpowered or distorted by the wine.
With that in mind, I have taken on the delicious task of figuring out which Harry & David wines pair best with popular global cuisine from prominent culinary destinations around the world.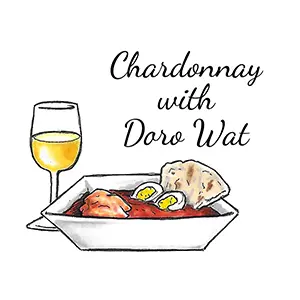 Ethiopian | Doro Wat
Doro wat, one of the most popular dishes in Ethiopia, is a one-pot, slow-cooked, onion-based chicken stew made with a very hot blend of spices called berbere. If you like spicy food and haven't tried this dish yet, I recommend you stop reading, locate the closest Ethiopian restaurant, and order it up. Just make sure you return to finish reading…
Hard-boiled eggs are added to the stew toward the end of the cooking process, which makes it more challenging to find the right wine pairing. Usually I would go with a big cabernet here; however, that type of wine does not pair well with eggs. This is due to the varietal's high concentration of pyrazines (peer-uh-zeens), chemical compounds in grape skins and stems responsible for many of the "green" flavors (for me, it's green pepper) found in many cabernets. Mixing pyrazines and eggs dulls the flavor of the wine.
Instead, I pivoted to the chardonnay, which slid comfortably into this complex and spicy dish. The flavors of crisp golden apple shines through, and buttery notes from the oak ages nicely, tempering the typically aggressive doro wat into a plush, luxurious flavor experience.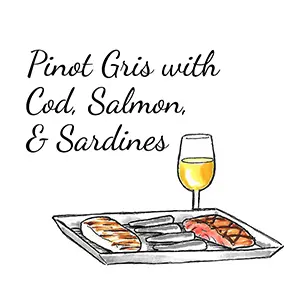 Scandinavian | Cod, salmon, sardines
Perhaps no global cuisine has gone from obscure to globally prominent as quickly as Scandinavian. Multiple Michelin-starred restaurants are now scattered throughout the Nordic region, while some of the best sommeliers in the world try their best to pair wines with these typically complexly constructed and boldly flavored dishes. Thankfully, a simpler side of Scandinavian cuisine focuses on getting the most flavor out of simple local ingredients, such as cod, salmon, and sardines. The mineral freshness and light fruit profile of pinot gris enhances the subtle flavors and rich texture of a simply grilled salmon or cod while taming the stronger smoky and salty flavors of smoked salmon, gravlax, and sardines.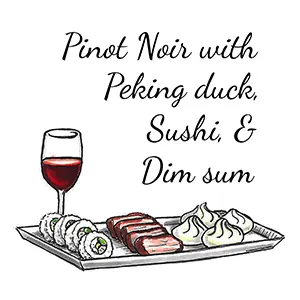 Asian | Peking duck, sushi, dim sum
Peking duck, sushi, and dim sum are three of my favorite things to eat. They each have their own elements of subtle complexity that could easily be thrown out of whack with the wrong wine pairing. Thankfully, the pinot noir has enough texture to stand up to the fatty, salty, and sweet duck but also enough structure and elegance to pair with fresh sushi.
This wine also pairs well with everything on the dim sum cart, from shumai (shrimp dumplings) to char siu bao (BBQ pork buns), and especially lo mai gai (sticky rice in lotus leaf), with the crunchy rice in the latter dish providing a nice textural contrast to the smooth, silky wine.
Indian | Tikka masala, vindaloo
Most people, including me, drink beer with Indian food, but occasionally it's nice to switch it up and find yourself a bottle of wine that pairs well with some of your favorite Indian dishes. For me, those are chicken tikka masala and a lamb or chicken vindaloo.
We tempered spice in the doro wat by using the vanilla notes present in wines with oak aging; this time we are going to do it with fruit. The sauvignon blanc has a crisp acidity that cuts through and lightens up the creamy tikka masala, while its bright fruit flavors of pineapple, mango, and mandarin orange help coax out the more subtle spices and herbaceous flavors in the vindaloo.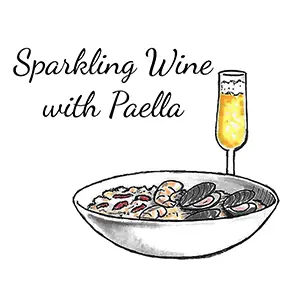 Spanish | Paella
Spain is one of the greatest gastronomic countries in the world. The country features a range of three-star Michelin restaurants as well as the best casual dining and bar food, or tapas, you will find anywhere. It is also home to paella, one of the world's great regional dishes to pair with wine. Almost anything besides a big oaky red will pair well with paella. But after much tasting and consideration, sparkling wine was my favorite. The hints of saffron in the rice hook up with floral notes in the wine, which adds another light layer of flavor on top of this already delicious combination.
---