It's not often I use the word "showstopping" to describe an appetizer, but this delicious plate of grilled peaches with burrata, basil pesto, and hot honey is more than worthy of that accolade. It's the ultimate late summer (and super easy) appetizer. And it's a fabulous way to showcase all the deliciousness of Harry & David's Oregold® Peaches.
If you're new to the idea of grilling peaches, there are just a couple key points to follow to make sure you have success the first time — and every time. First and foremost, start with peaches that are just barely ripe and still somewhat firm. This helps them maintain their shape during cooking. They should give only slightly when gently pressed with your fingers. If you pick up a peach and think this will be perfect for eating in about two days, then that's the sweet spot for grilling. After putting them on the grill, let the heat do its magic, caramelizing the sugars and getting the juices flowing, making the peaches taste even better.
Second, make sure you start with a clean grill. Once it's fired up, give those grill grates a good brushing. This will prevent the peaches from sticking to the grates — and from picking up any miscellaneous food flavors or debris from your last grilling session. Though, there's no shame in wanting your peaches to taste like ribs.
Third, make sure the peaches are well-coated in a thin layer of olive oil before adding them to your grill. Since we're starting with smaller wedges for this recipe, I like to add them to a large baking dish, drizzle them with olive oil, and then use my hands to rub the oil over all of them. Your hands are one of the best tools in the kitchen, so don't be afraid to get in there and get them a bit messy. If you're not in the mood for some hands-on action — or don't have disposable gloves to keep your hands clean — a pastry brush can certainly be used instead. We won't hold that against you.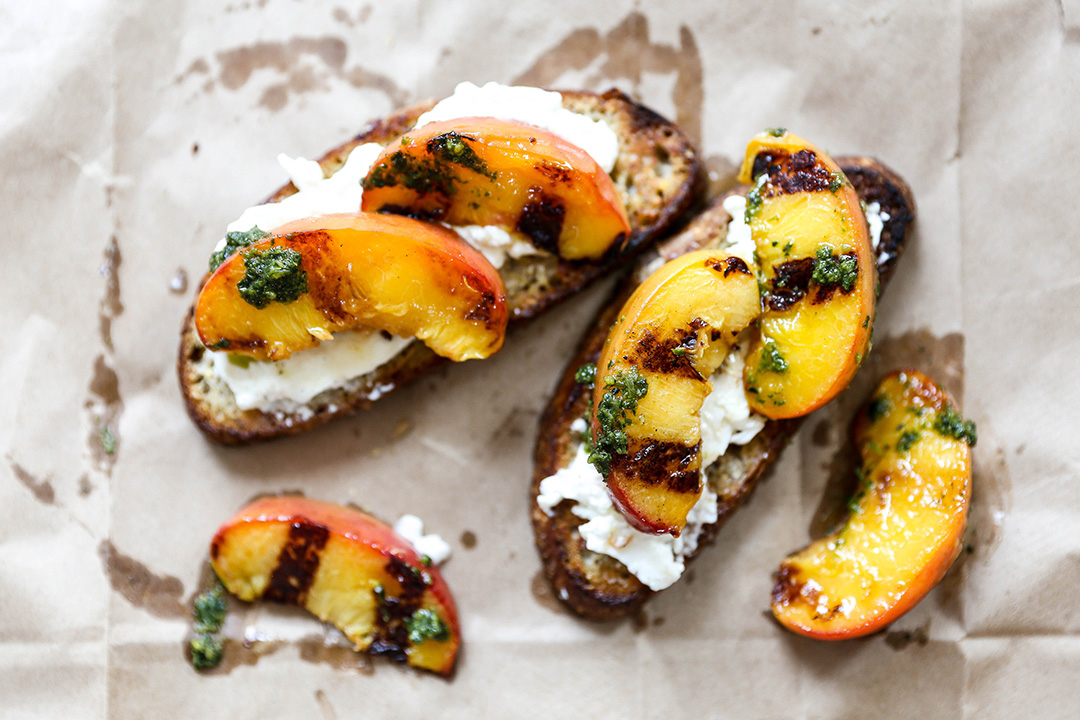 Since the grill is already pre-heated for the peaches, I like to also use it for toasting up the bread. You can use whatever style of artisanal bread you love. Just pick a loaf that, when sliced, can easily and substantially accommodate 1-2 peach wedges per slice.
The peaches and bread take less than five minutes to grill, so prepare the other ingredients before grilling. Your food processor makes quick work of the basil pesto. And you can even make it a couple days in advance, if necessary. The hot honey is just two ingredients: honey and your favorite hot sauce. The slight heat from the hot sauce pairs so nicely with the sweet honey, juicy peaches, and creamy burrata cheese.
I like to arrange the grilled peaches down the center of the serving plate first, then drizzle them with some of the hot honey and pesto. I serve the remaining hot honey and pesto alongside for my hungry snackers to add more if they wish (and they usually do!). Next, I add the toasted bread on one side of the peaches and the burrata cheese with a pinch of salt and pepper on the other. You can assemble this peach burrata appetizer ahead of time, but I like my guests to be involved so I let them choose however much of each ingredient they'd like to layer.
And that's it — this appetizer is ready to serve and be the star of your next party. You can use the remaining peaches to make peach bellinis or grilled peach chicken bowls.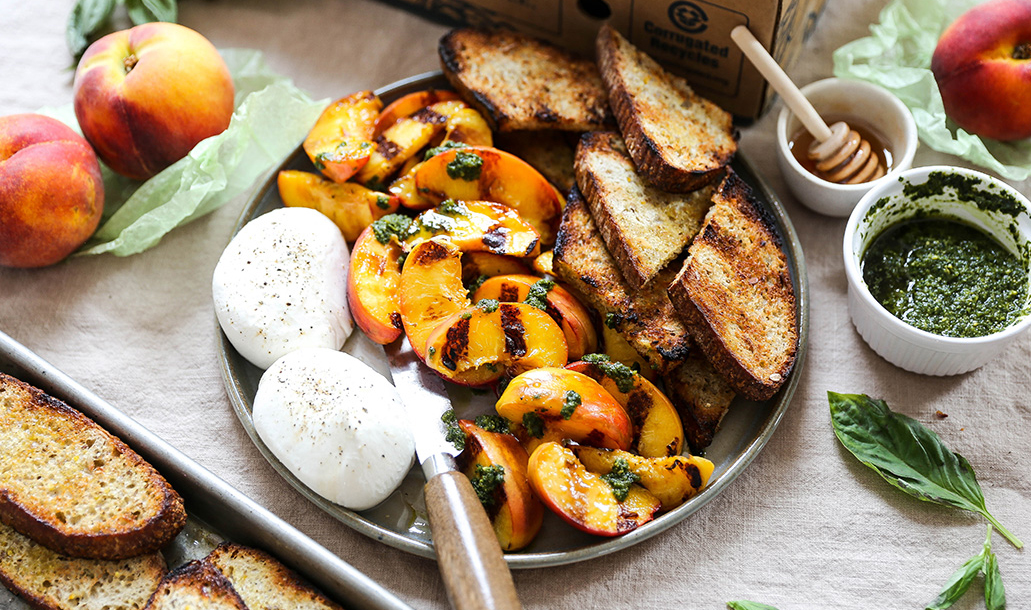 Grilled Peaches and Burrata With Basil Pesto and Honey
Ingredients:
For the Basil Pesto:
1

cup

fresh basil leaves

(firmly packed )

1

garlic clove

(peeled)

2

tablespoons

pine nuts

(toasted and cooled)

½

teaspoon

salt

¼

cup

extra-virgin olive oil

(plus more for thinning the pesto as necessary)
For the Hot Honey:
2

tablespoons

honey

2-4

dashes

hot sauce
For the Peaches, Bread, and Burrata:
4

Harry & David® Oregold® Peaches

(pitted and sliced into 8 wedges each)

1

loaf

artisanal bread

(sliced)

¼

cup

extra-virgin olive oil

(divided)

2

Fresh burrata cheese balls

(drained)

Sea salt and freshly ground black pepper
Instructions:
To make the pesto
Add the basil leaves, garlic, pine nuts, and salt to the bowl of your food processor fitted with the blade attachment. Pulse 4-5 times until coarsely chopped. Then with your food processor running, slowly drizzle in the olive oil and process until well combined. Transfer the pesto to a clean container. Cover and refrigerate it until you're ready to use it. The pesto can be made 1-3 days in advance.
To make the hot honey
Stir together the honey and hot sauce until well blended. Set aside.
Pre-heat your grill
Add the peach wedges to a large baking dish and drizzle them with about 2 tablespoons of the olive oil. Using a pastry brush and/or your hands, brush/rub the olive oil over all sides of the peaches so they are well coated with a thin layer of oil. Use the remaining olive oil to coat both sides of the bread slices.

Place the peach wedges and bread slices on the grill. Cook the peach wedges about 1-2 minutes per side, or just until they develop a few grill marks and start to soften slightly. Cook the bread slices just until they are toasted and crisp. Remove everything from the grill.
Assemble
Assemble the appetizer by arranging the grilled peach wedges down the center of a serving plate/tray. Drizzle with some of the hot honey and a couple tablespoons of the basil pesto (you can stir in more olive oil if needed to make it thin enough to drizzle easily). Arrange the bread slices and burrata cheese around the grilled peach wedges. Season the tops of the burrata cheese with a pinch of sea salt and freshly ground black pepper.

Serve immediately with the remaining hot honey and basil pesto on the side.
---