Hanukkah is known as the Festival of Lights, but it is also known for many of the signature foods we eat during this time — specifically, potato latkes, brisket, and sufganiyot. The former and latter are both fried in oil to commemorate the extraordinary events that took place more than two millennia ago.
History tells us that around the 2nd century BCE, the Greek ruler Antiochus outlawed the practice of Judaism in the kingdom of Judea. A group of Jews called the Maccabees rose up and fought him and his army — and won. Holed up in the temple in Jerusalem, the Maccabees had only enough oil to light the menorah for one day, but instead it lasted for eight. A Hanukkah miracle!
---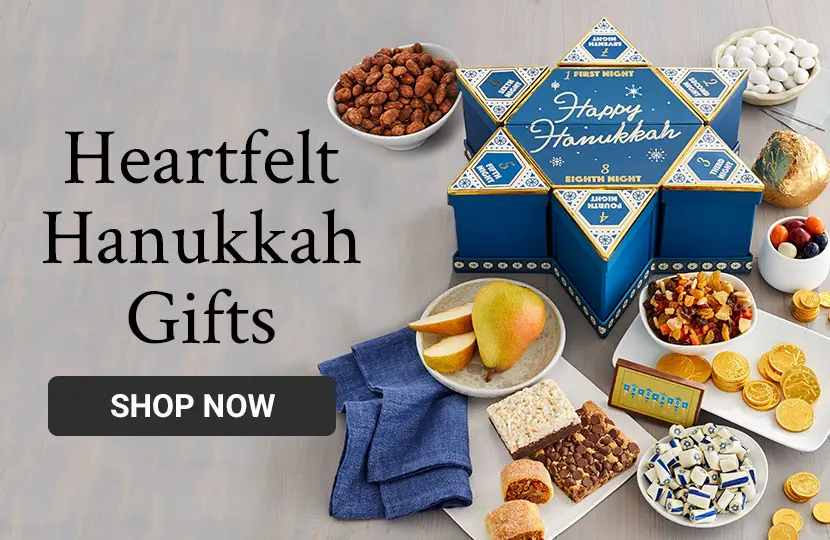 ---
Also miraculously, wine goes well with fried food. Here's how to make sure you put the two together properly over those eight crazy nights.
Make it sparkle
The first choice in pairing wine with fried foods should always be a sparkling wine, for a couple of reasons. One is that the high acidity helps cut through the excess greasy oil and cleanses your palate for the next bite. The other is that sparkling wine and fried food resemble each other in terms of texture, with the abrasive bubbles in sparkling wine having a similar feel to the poppy, crispiness in fried food.
Wine to pair with potato latkes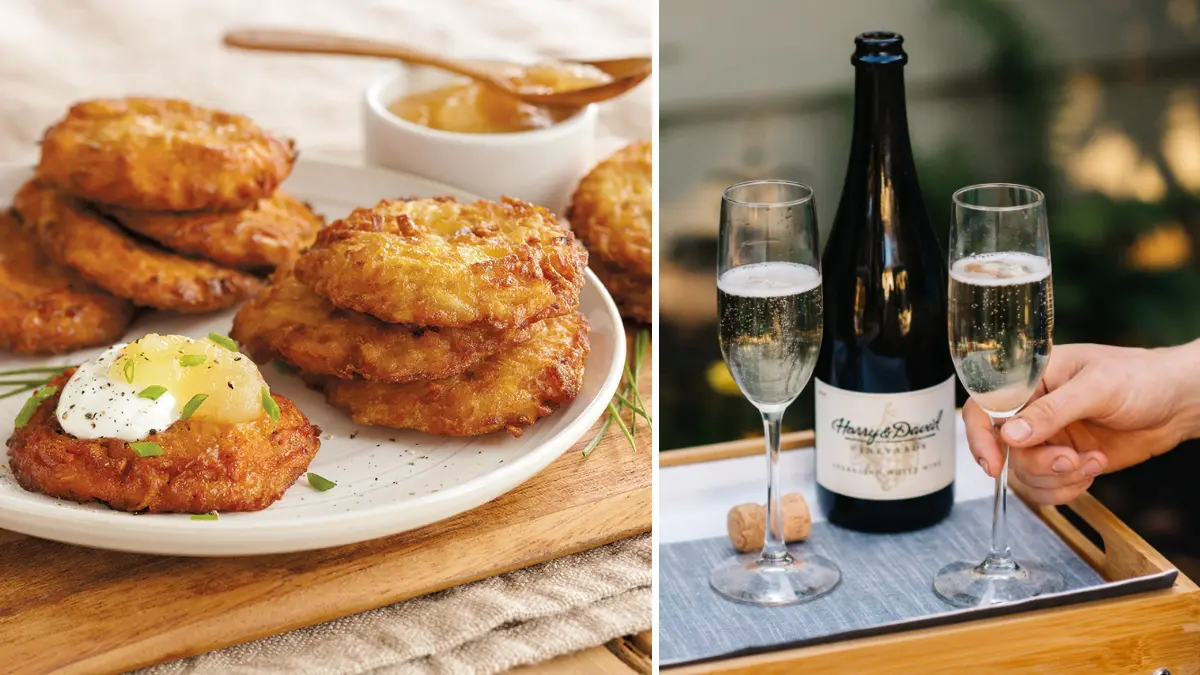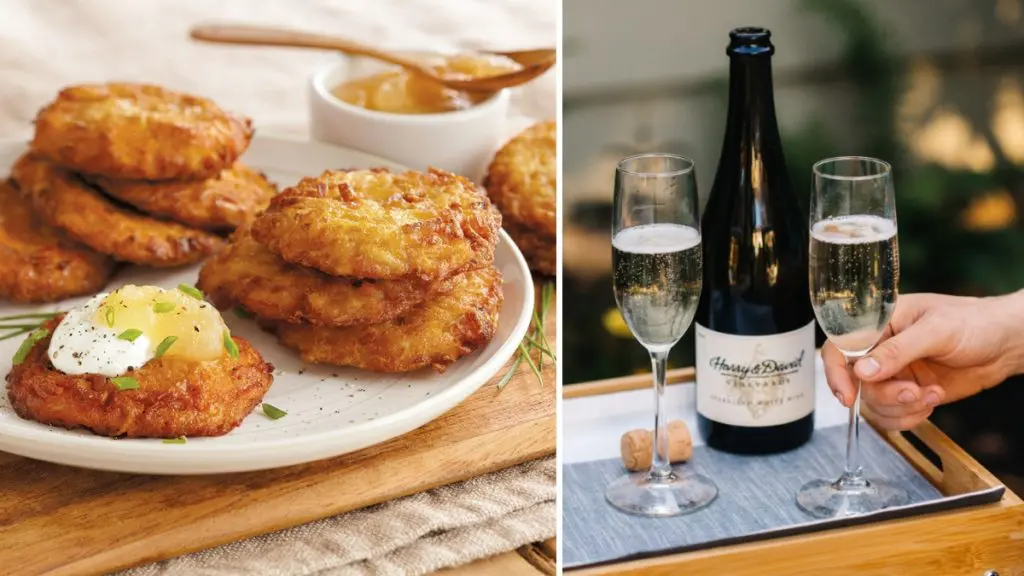 Making potato latkes has been a tradition in my family for as long as I can remember. Latkes are a kind of pan-fried pancake or fritter made from grated potatoes, onion, egg, and a binder, such as matzo meal or breadcrumbs. They are traditionally served with sour cream, applesauce, or, for a more luxurious option, smoked salmon and caviar.
In addition to potatoes, they can also be made with zucchini, carrot, or anything else you can shred and mold into pancake form.
When cooked properly, they delight the eater with a classic textural duality: the outer crunch of the latke and the subtle earthy creaminess of the potato provide a delicious contrast, with some high notes of onions playing right on top.
The Harry & David Sparkling Wine was the best Hanukkah wine paring with both applesauce and sour cream as latke toppings. However, its Moscato handled the smoked salmon and caviar the best, as the interplay between the salty toppings and the off-dry (just a touch sweet) wine made for quite the enjoyable experience.
Wine to pair with beef brisket
From Passover to Hanukkah, and even birthdays, beef brisket is a staple of Jewish cuisine.
With regard to Hanukkah wine pairings, this holiday brisket is very different from a proper smoked barbecue brisket when it comes to flavor — specifically, the BBQ brisket has much more of it. The layers of smoke and sauce add complexity that just can't be duplicated without those cooking techniques. That said, serving the traditional Jewish version opens up a much wider range of potential wines to pair.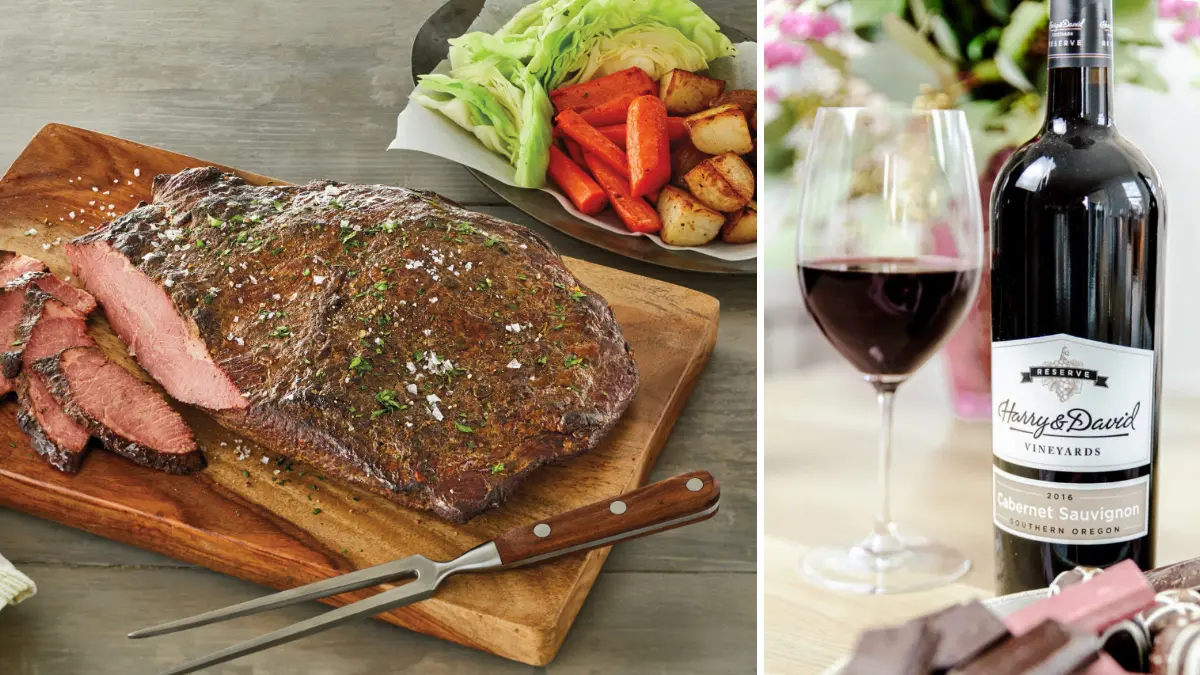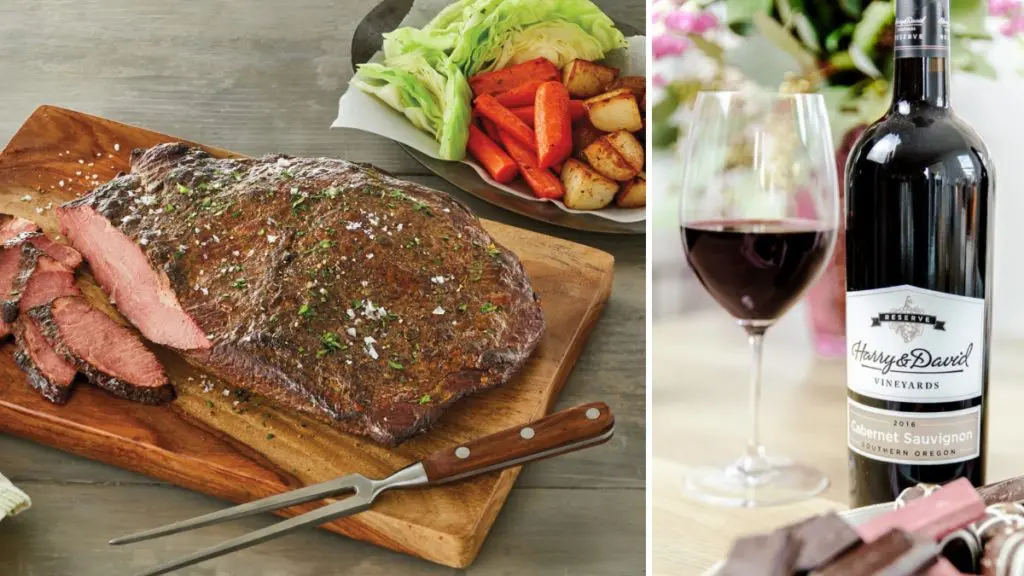 The big and bold Harry & David Cabernet Sauvignon Reserve was delicious here. The blackberry and black currant fruit flavors acted almost like a sauce that it had been cooked in, making for an exciting interplay of fruit and meatiness. You also get a touch of vanilla and appealing spice characteristics.
Wine to pair with sufganiyot
These round jelly donuts are predominantly eaten in Israel during Hanukkah but have recently increased in popularity around the world — as well as in my belly. Like most doughnuts, they are fried in oil, filled with jam or custard, and topped with powdered sugar. If you don't want to fry your own, or just can't find a good doughnut shop nearby, here are two wonderful alternatives, which are also on my list as top Hanukkah gifts.
The first are raspberry galette cookies, with a soft, doughnut-like texture and wonderful balance of tart and sweet in the fruit filling. These were very good with the Harry & David Sparkling Wine as well as with the Pinot Noir, which really amplified the flavor from the raspberry fruit filling and turned a simple cookie into a delectable flavor experience.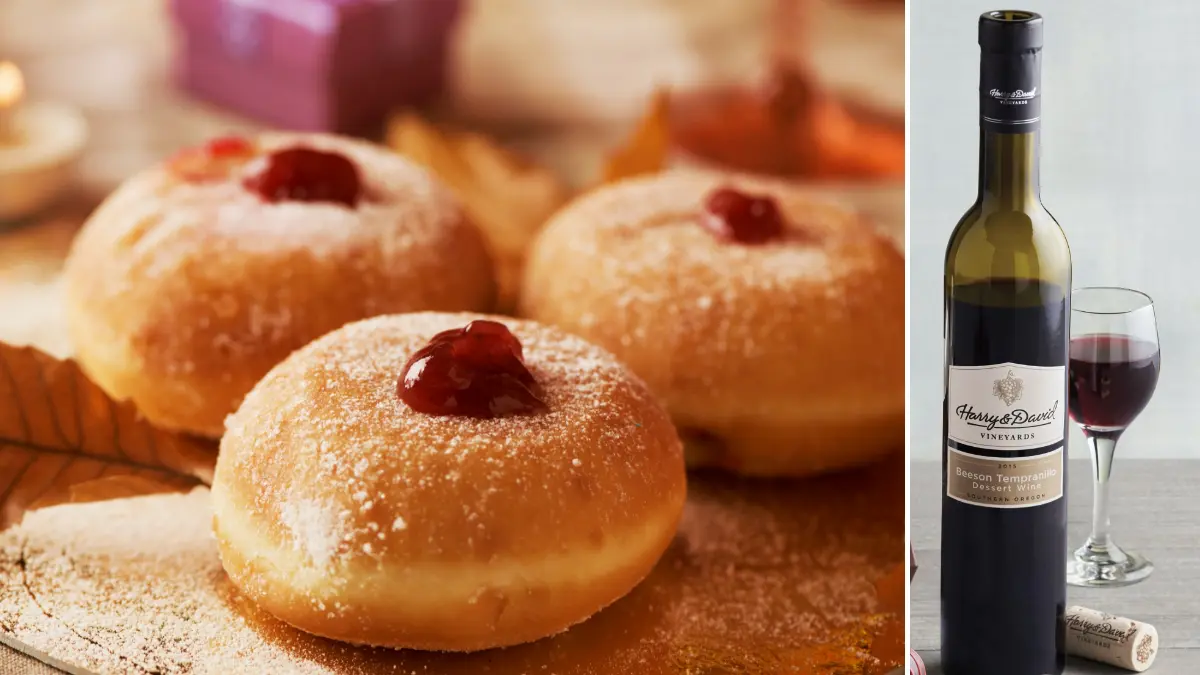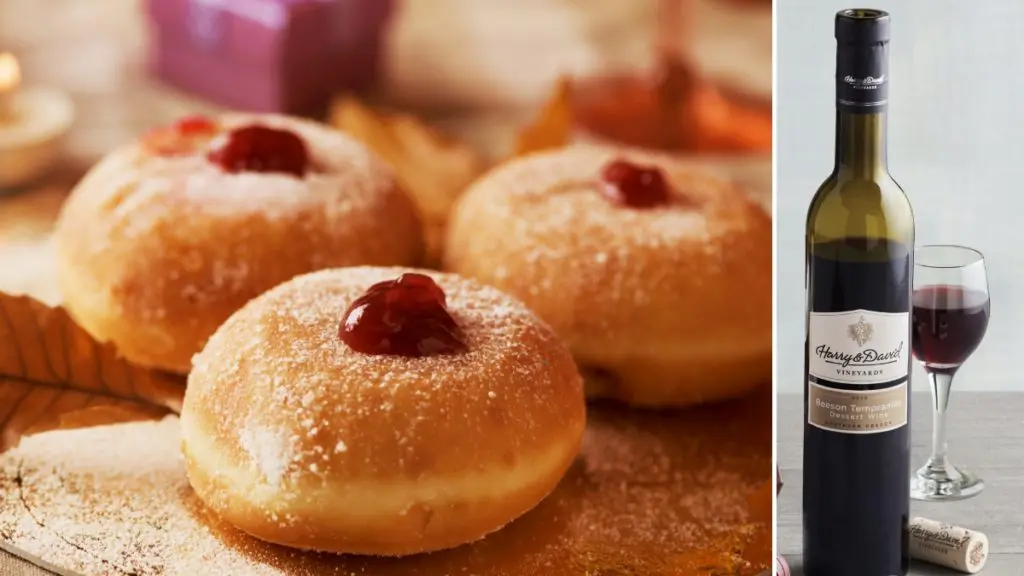 The second alternative involves chocolate-dipped mini doughnuts and a jar of Harry & David Raspberry Preserves. Put these two together to create a sort of alternate do-it-yourself-at-home sufganiyah (that's the singular in Hebrew).
I enjoyed coming up with different ways to get the jam into the doughnut, whether that was cutting off a piece and spreading jam on it or using a small spoon or mini melon baller to create little "pools" on top of the doughnut to fill up with jam. (A slightly more uncouth, but no less yummy, method is dipping pieces of doughnut straight into the preserves jar.)
Any way you go about it, the best pairing with this combination was the Harry & David Beeson Tempranillo dessert wine. The prominent flavors here of sweet dark cherry, a hint of vanilla, and even toffee are a perfect complement to the chocolate-, toffee-, and sprinkle-covered cake donuts.