It's been an eventful first 10 years for Harry & David's award-winning wines. Sure, being in one of the world's best wine regions helps, but getting a brand-new wine program up and running is a big undertaking that involves building relationships with growers and winemakers, designing labels, and deciding what varietals to bottle. But making wine for the Medford, Oregon-based company with deep roots in agriculture makes sense.
Known as a gifting company decades before it started its stellar wine program, Harry & David parlays its two-pronged expertise into beautiful wine gift baskets that overflow with gourmet charcuterie and cheeses and chocolates — all products that pair well with Harry & David's 14 different wines. It's not just customers who have been impressed. Wine judges have taken notice, too.
Awards season
The wines shone at this year's San Francisco Chronicle Wine Competition, with Best in Class going to the 2019 Merlot, double gold awarded to the 2020 Reserve Pinot Noir (not yet released), and the 2020 Pinot Noir winning a gold. Three other Harry & David wines won silver medals.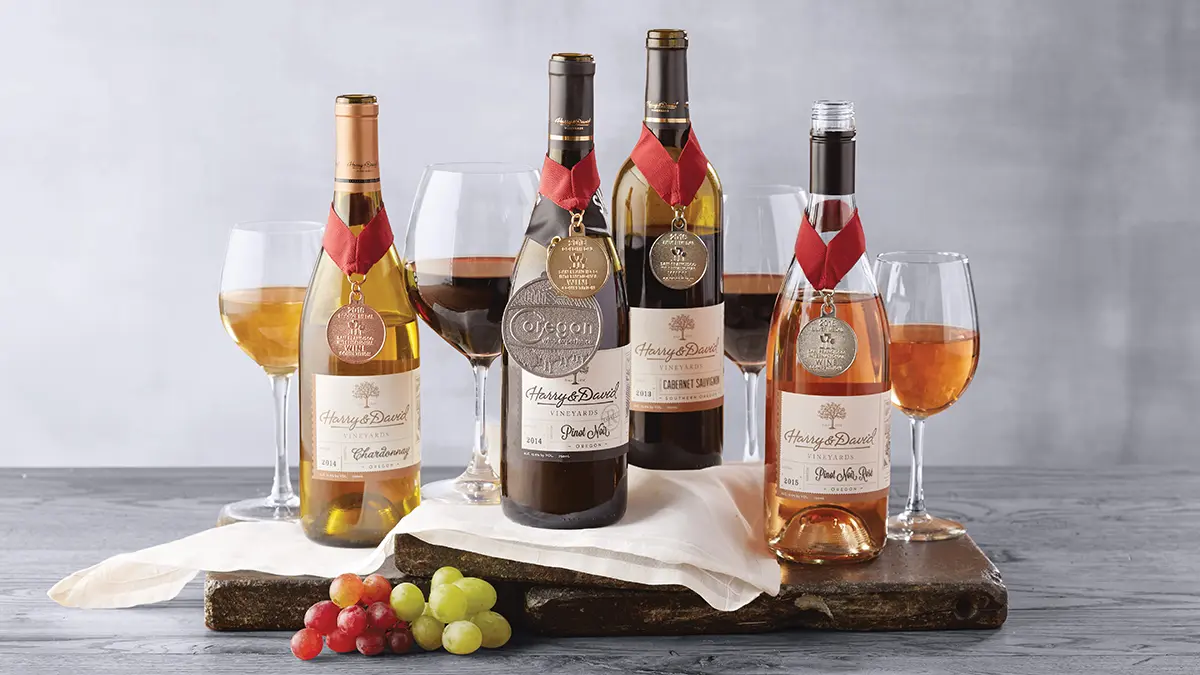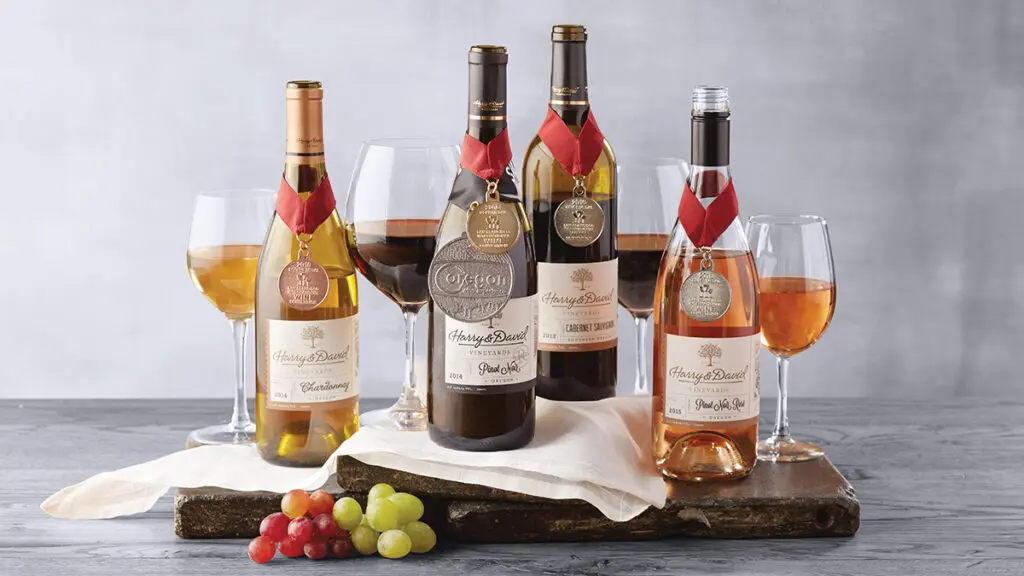 In the Oregon Wine Competition in July 2022, 83 of the state's vineyards entered their bottles. The Harry & David 2020 Cabernet Sauvignon and 2021 Sparkling White won gold medals, while the 2021 Rosé and 2021 Chardonnay earned silver.
Winning awards is nothing new for Harry & David. In total, their wines have won 101 awards over the past decade.
Looking back
Sierra Castellano, Senior Director of Merchandising at Harry & David, was part of the team that launched the wine program in 2012. "It was a natural progression to start pairing our wide array of gourmet food with regional wines, offering the opportunity for our customers to send the wine and the food together," she explains. "It's an extra touch to their gifting experience."
The process to roll out nine different varietals across 10 total wines was a whirlwind. Castellano calls out the teamwork involved in making this come to fruition. "We had an aggressive timeline to launch and a large team across the organization working to make it happen. We gathered weekly to ensure we didn't derail and showed great collaboration across many departments. It was all worth it when looking back."
Ten years later, she's proud of how the program has developed. "Our quality has vastly improved as we have gotten more familiar with different terroirs and what grows best where, along with our wine making techniques," she says. "There's a real sense of accomplishment knowing where we started and where we have come — it's only going to get better and I look forward to watching the wine program continue to deliver smiles."
Expanding taste profiles
Oregon's Rogue Valley, where Harry & David grows many of its luscious pears and first began sourcing grapes for its wines, was recently announced as Wine Enthusiast's 2022 Wine Region of the Year. But that doesn't stop Tony Huckabee, Senior Manager of Fruit Acquisition at Harry & David, from experimenting with fruit from vineyards in new regions.
"Grapes from Eastern Oregon absolutely have different characteristics and flavor profiles than what we've worked with over the past vintages in Southern Oregon," he says. "The berries are smaller and more highly concentrated, making them much richer coupled with a more tannic profile."
Harry & David's recent relationships with premium vineyards in Eastern Oregon and Washington State got off to a great start, he adds. "We're learning a tremendous amount about these new growing areas. We really like where our Chardonnay and Bordeaux varietals are going."
Ellen Sorenson, Harry & David Merchandising Manager, Wine, agrees. "We're excited about the growth and expansion of our program. Working with fruit from different AVAs [American Viticultural Areas. AVAs are a type of appellation of origin that lets growers describe the unique characteristics of their grapes to help buyers make the best choices.] throughout the Pacific Northwest has given us the ability to expand our portfolio creating a diverse assortment that focuses on quality across a wide range of varietals."
Cultivating vines and relationships
Fruit sourcing is extremely critical in a business where consistency in quality is key, Huckabee says. He currently works with approximately 25 vineyards, all carefully selected to meet Harry & David's high quality expectations.
"We work with our select group of vineyards to maintain consistency in quality. It's been super exciting over the last couple of years," Huckabee says.
---
---
He identifies the vineyards that can supply the varietals, and quality and quantities he needs at harvest time, and says he develops sources in multiple terroirs to bring complexity to the wine. Around May he begins visiting to check quality and that the vines are properly cared for.
"One of the favorite parts of my job is interacting with the vineyard owners and managers," Huckabee explains. "They're all so passionate about their vineyards and the fruit it produces." As harvest time nears, he says, "We set a final water and harvest plan, with a goal of creating the perfect outcome.
Hitting the sweet spot
Finally, about three or four months after fruit set, Huckabee and team taste the first grapes. He says the fruit hits the perfect balance of flavors that they're hoping for. "At maturity, we are looking for sugar, pH levels, and flavors that we're targeting for a quality wine."
After the grapes are harvested, they are processed and fermentation starts. Now the expert wine palates come into play, with Sorenson, Huckabee, and the rest of the wine team regularly tasting and adjusting flavors, designing different blends, and making refinements before bottling the perfect wine.
Harry & David offers wines to match all tastes and budgets, Sorenson says. "Wine can be a bit daunting at times, but its popularity has grown and morphed and so have the consumers," she adds, pointing to the company's deliberately diverse slate of wines that appeal to everyone from novice sippers all the way to wine aficionados.
Once the wines are bottled, Sorenson, a certified sommelier, enjoys using her expertise while working with her team to create a wide array of wine gifts. "In our gift assortment, you will find everything from fun and playful gifting like the new Red Wine and Paint-By-Number Kit to gourmet wine and food pairings that have been carefully curated like the Cabernet Sauvignon Wine Pairing Collection," Sorenson says. "We aren't just producing wine; we are creating wine experiences through gifting."
Of course, like any business venture, there are challenges. Whether that's a pandemic or Mother Nature, Harry & David has embraced it.
A booster shot
"The wine program grew considerably during the pandemic," Huckabee says.
The increase in demand led Harry & David to expand its wine business outside of Southern Oregon vineyards. Now, they also source grapes from other powerhouse wine regions of the Pacific Northwest, including Walla Walla Valley in Eastern Oregon and the Columbia Valley region of Washington State, where the reds are chosen for their rich tannins and well-balanced acids, perfect for premium wines, and the whites for the beautiful balance of flavors, aromas, acidity, and varietal characteristics, Huckabee says.
Selling wine may have been fruitful for Harry & David, but getting those bottles from "farm to cart" (shopping cart, that is) hasn't been easy the past few years. They had to deal with climate change, particularly the lack of rainfall. These drought conditions can decrease yield and berry size, but the upside is it can potentially make for intense, concentrated red wines.
The next 10 years
The first 10 years have established Harry & David wines as quality competitors, and Sorenson says the plan for the next 10 years is to build on that encouraging foundation.
"We expect to continue to see success as the program keeps growing and maturing," she says. "Our focus has not only been on growth to meet the expanding business but to take a strong stance on the quality and consistency of our product."