In "Cooking up Comfort," we're walking you through all the classics, whether you want to curl up with soup on a rainy afternoon or bake something delicious to celebrate the weekend. This homemade cornbread recipe comes from Nick Evans of Macheesmo. It uses Harry & David Pepper & Onion Relish to add a touch of sweetness to this classic side dish, perfect for summer entertaining or tailgating in the fall!
Skillet cornbread is one of my favorite side dishes for any occasion. My preferred way to make a good cornbread is in a blazing hot cast iron skillet. This gives you a really nice crust on the outside of the cornbread while leaving it moist and tender in the center.
There's a debate over whether or not cornbread should have sugar in it. This recipe skips the debate entirely by dolloping the batter with Harry & David Classic Pepper & Onion Relish instead. The relish gives the cornbread a delicious tangy sweetness and is the absolute best add-in. You could also try it with any of the other Pepper & Onion Relish flavors, such as the peach relish, for a summer twist, or ghost pepper relish, if you like extra spiciness.
This bread bakes up fast, and once it's done you can serve it with a wide range of dishes. I like it as a side to any barbecue dish, such as BBQ chicken sliders. It also goes great with chili. You can always eat it alone as a tasty treat, especially if you top it with a little honey.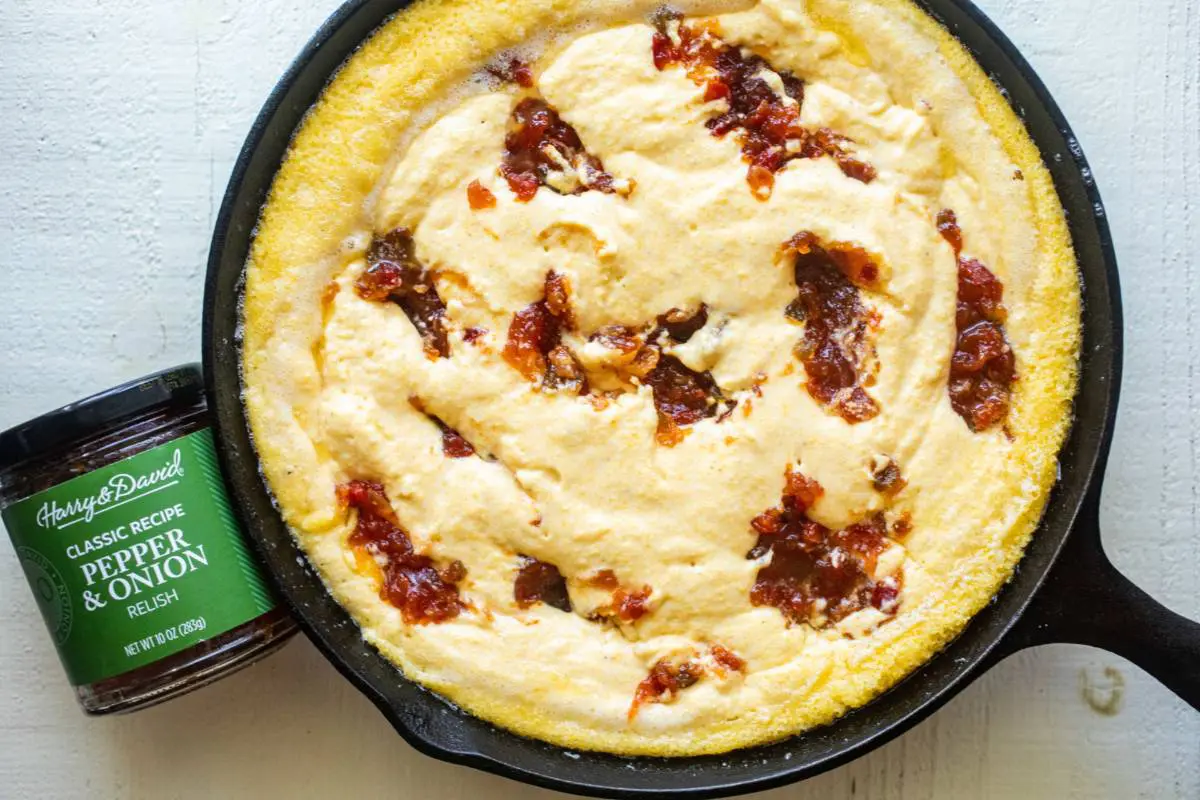 Homemade Skillet Cornbread
Equipment:
10-inch cast iron skillet
Ingredients:
2

cups

yellow cornmeal

1

cup

all-purpose flour

2

teaspoons

kosher salt

2

teaspoons

baking powder

½

teaspoon

baking soda

2

cups

Buttermilk

2

large eggs

4

tablespoons

unsalted butter

(divided)

½

cup

Harry & David® Pepper and Onion Relish

(about 1/2 jar )
Instructions:
Put a 10-inch cast iron skillet in the oven while it preheats.

In a medium bowl, whisk together the cornmeal, flour, salt, baking powder, and baking soda. In a small bowl, whisk together the buttermilk and eggs.

Melt two tablespoons of the butter in a microwave-safe bowl.

When the oven is preheated (at least 10 minutes), whisk the buttermilk mixture into the dry mix until it is well combined.

Whisk in the two tablespoons of melted butter.

Remove the hot skillet from the oven and add the remaining two tablespoons of butter. The butter should melt and sizzle.

Use a spatula to distribute the butter evenly over the skillet. Once the butter is melted, pour in the cornmeal batter.

Using a spoon, add dollops of the Pepper & Onion Relish to the cornmeal batter and swirl it in. Use about a half cup (or half a jar) of the relish.

Bake the cornbread for 20 to 25 minutes, until it is golden brown around the edges and a tester comes out clean from the center.

Let the cornbread cool slightly before slicing and serving.
Notes:
You can use a 12-inch cast iron skillet, but your cornbread will cook faster and be thinner.
Keep any leftover cornbread in an airtight container on the counter for up to two days or in the fridge for up to a week.