Have you noticed the frost appearing on your pumpkins? That means fall is in full effect and Thanksgiving is nearly upon us. With holiday get-together season almost here, you need to be equipped with hostess gift ideas for any party you attend. And what's a better idea for a fall-themed hostess gift than a mulled wine basket? It has everything from luscious wine to full-bloom flowers and all the ingredients you need to make this cozy cocktail. There's even fun glassware to drink from! I loved using the pretty dried citrus slices for garnish. Who doesn't love a nice garnish? It automatically elevates any drink.
Sure, you can have all this shipped to their home, but handing this hostess gift over in person makes it all the more special.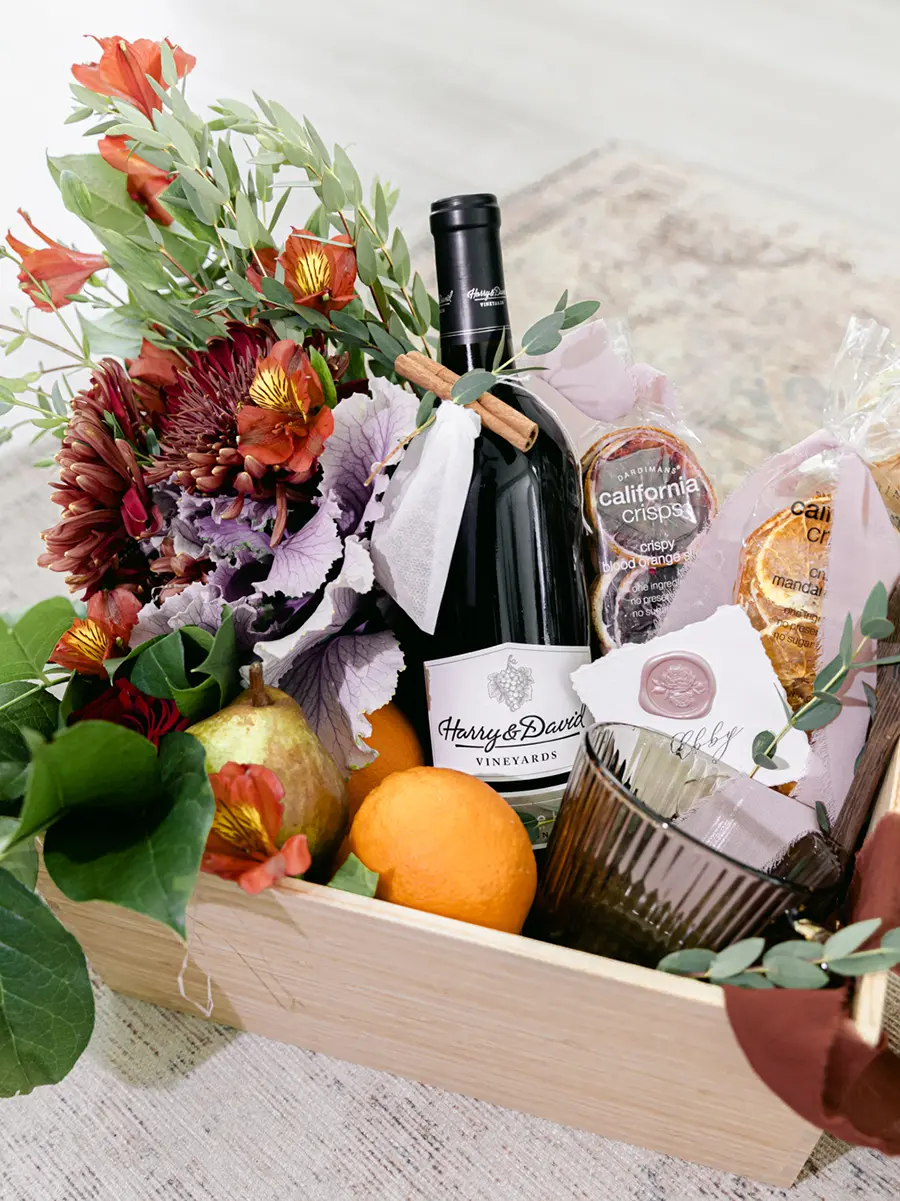 To assemble the gift, just follow these seven quick and easy steps.
1. Decide on a vessel of choice. We used a wooden box, but it can be anything resembling a basket.
2. Take your wine and place it in the middle of the vessel. This is the heaviest item, so putting it in the back will prevent it from mashing anything down.
3. Gather a bouquet of flowers, and tie them up with a pretty ribbon. (Those extra details make the gift that much more personalized and special!) Then, place the flowers next to the wine on one side.
4. Take your dried citrus slices and place them on the other side of the wine. This adds a fresh layer instead of all being in the packages I placed some in the back as well.
6. Place the oranges and pears in the front. These also help keep the citrus bags and dried fruit upright and in place.
7. Add your glassware in the front.
That's it! It's a simple and fun to make this gift, and only takes about 10 minutes to do. Sometimes, I will rearrange the items a couple of times until I get it to look just how I want it. There is no wrong way of arranging the basket either — just have fun with it! This hostess gift idea will surely go down in history.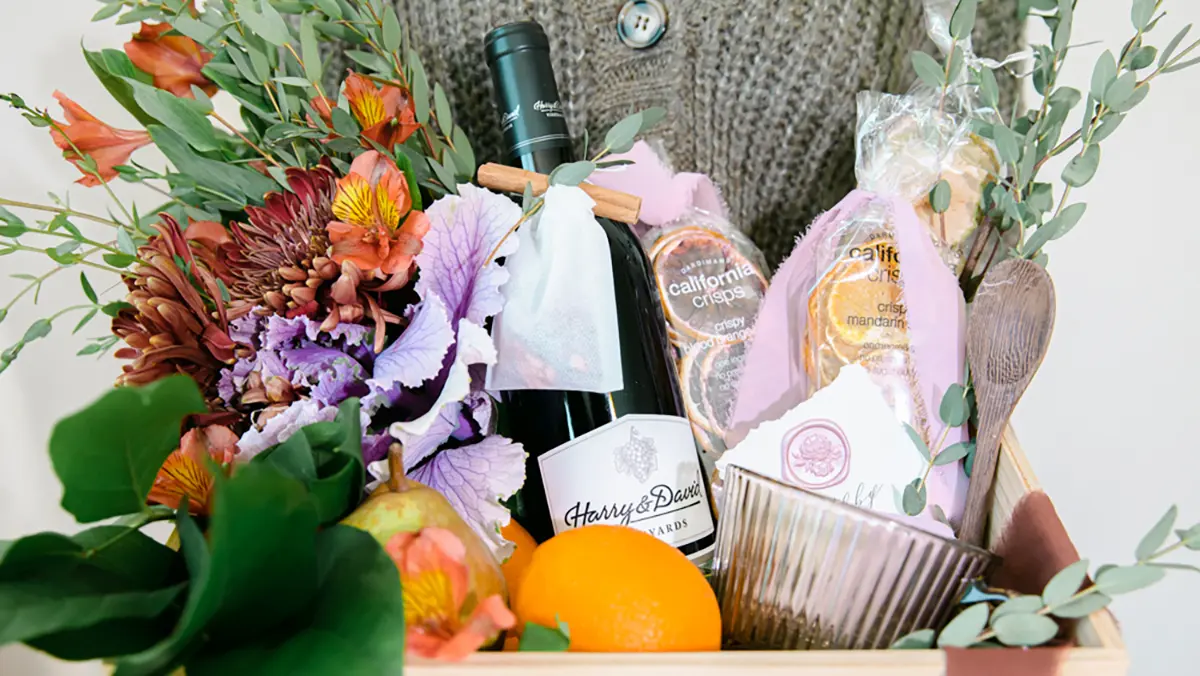 Spiced Citrus Mulled Wine
Ingredients:
1 ½

cups

apple cider

1

cup

orange juice

½

cup

brandy

⅓

cup

maple syrup

3

cinnamon sticks

1

teaspoon

whole cloves

1-2

whole star anise pods

(optional)

2

cardamom pods

2

oranges

(sliced)

2

pears

(sliced)

⅓

cup

fresh cranberries

⅓-½

cup

pomegranate seeds
Instructions:
Add the wine, cider, orange juice, brandy, and maple syrup to a stock pot over medium-low heat and whisk well.

Add the cinnamon, cloves, star anise, cardamom, one sliced orange, and one sliced pear. You can also use mulling spice mix as well. If you go that route, use 1 to 2 tablespoons.

Bring to a very gentle simmer but do not let the mixture boil; otherwise, the alcohol will cook out. Stir every 10 minutes or so and simmer at low heat for one hour (or up to 3 hours).

Remove spices and mulled fruit. Add cranberries, pomegranate, and another sliced orange and pear. Let infuse for 10 to 15 minutes at low heat, then serve warm.
---