Sunshine-filled summer days are great for getting your outdoor grill fired up for a feast of gorgeous steaks. But, according to chef, restaurateur, and cookbook author Geoffrey Zakarian, "Grilling is for all year round — it just depends on what method you want to use." Say hello to indoor grilling.
"Grilling," he says, "is all about the management of heat." And temperature control on an outdoor gas or charcoal grill is a lot more work than an indoor one. Enter Zakarian's indoor grill feast: Gorgeously marbled, 18-ounce bone-in ribeye steaks, seasoned simply with celery seed and a brown sugar rub cooked on the stove top and served with incredibly sweet oven-roasted shallots.
Indoor or outdoor, a terrific grilled steak begins with the best cut of beef. "You want marbling, which is all that interstitial fat," Zakarian says, "because that fat is flavor!" And, he says, "Bone-in is the best since the integrity of the steak will stay put; it holds the steak together, making it easier to cook. And it won't shrink as much." Besides, he adds, "That bone provides sensational flavor, plus the presentation is fantastic!"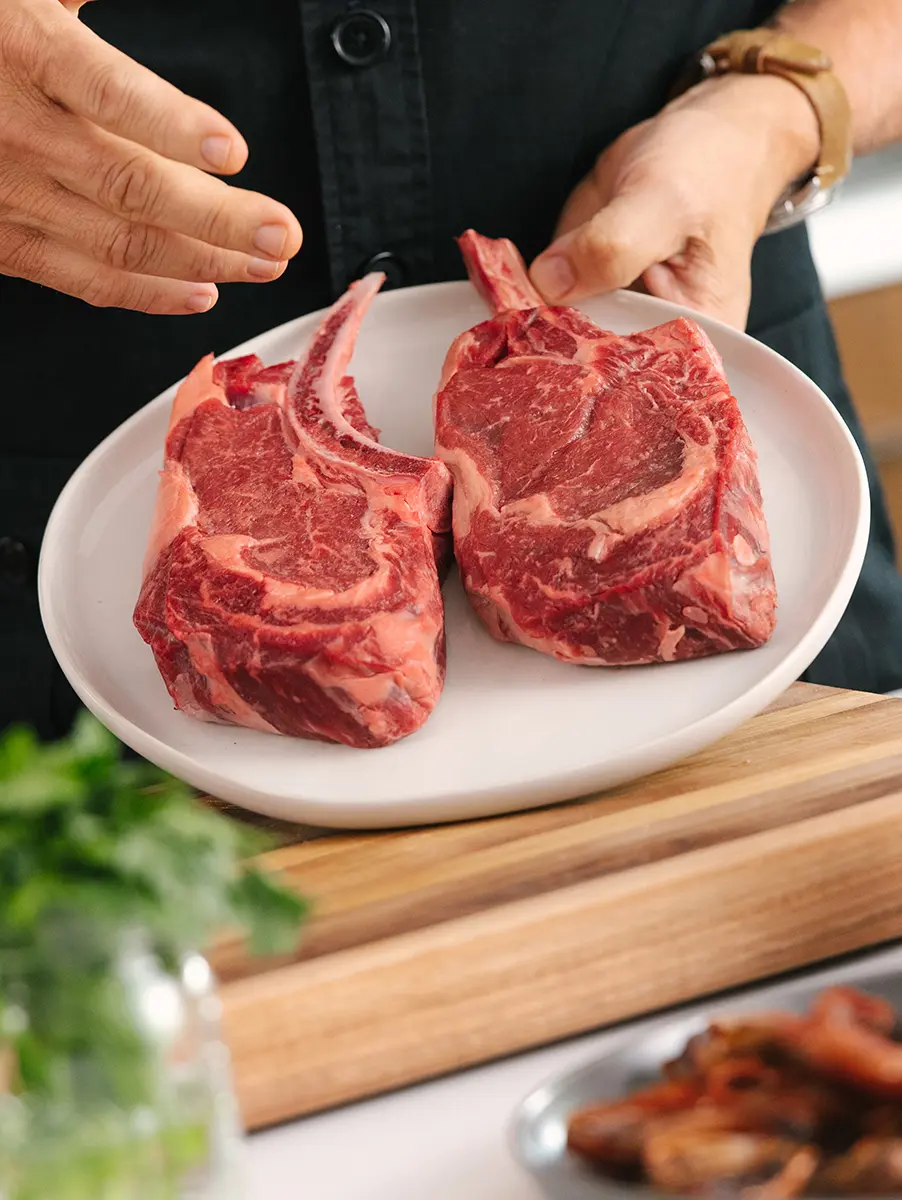 The rub for the steak doubles as a seasoning for the caramelized shallots. Halved lengthwise, skin-on, and roasted, they taste "like condensed French onion soup," Zakarian says.
And just as outdoor grill grates are typically cast iron or strong aluminum, for a superior indoor grill experience, Zakarian recommends cooking the steak in a cast iron skillet since it retains heat best. When the steak meets the heat, the Maillard reaction occurs, a chemical reaction between heat, sugar, and protein that ensures a flavor-rich dark crust on your steak.
A steak dish this good needs to be paired with a complementary wine. Zakarian recommends a young, full-bodied cabernet such as Harry & David Cabernet Sauvignon to serve with his ribeye. "A young wine has a lot of tannin and acidity that you'll need to cut through the delicious part, the fat, but it's also rich!" Zakarian says.
As cabernet wine ages, its tannins — the dry, astringent characteristic from polyphenols in the seeds and stems in the grapes that give the wine its complexity — will soften. However, in a wine such as this one, the dark-cherry and cassis notes and strong tannins will work beautifully with the steak's outer char. And its crisp, tart acidity will balance the steak's rich mouthfeel with each sip.
"This dish is all about summer grilling," says Zakarian, which is to say, it's big on flavor, striking presentation, and what we love most — summer's ease.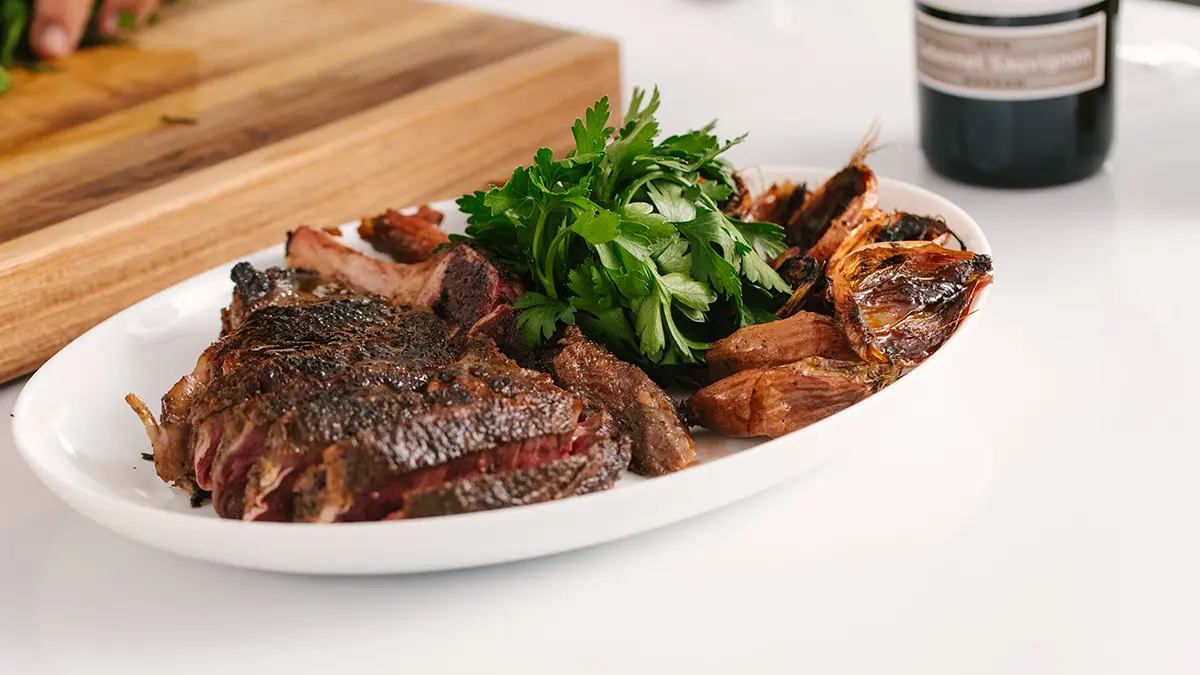 Geoffrey Zakarian's Ribeye Steak and Oven Roasted Shallots
For this ribeye steak, you'll season it with the rub and allow it to rest in the refrigerator for a minimum of six hours in advance to soak up the flavor. Also, it's important to allow the steak to come to room temperature before cooking, since it guarantees an even temperature all the way through. "You want the steak medium-rare top to bottom," Zakarian says.
Once the steak is in the skillet, Zakarian bastes it in a browned butter, called beurre noisette in French, adding sprigs of fresh rosemary, for a toasty warm, rich herbaceous flavor. And, he adds, "I know it's tempting to touch the steak, but you don't have to." Instead, he advises measuring the steak's internal temperature to 120° F for rare — with a digital thermometer. While it rests, the internal temperature will rise to a perfect medium-rare temperature of 125° F. Resting the steak before cutting is essential. Otherwise, Zakarian says, "The juices will come running out, and you'll have a very tasty cutting board, but a not-very-tasty piece of meat!"
Prepare the steak while the shallots are roasting (recipe below).
Ingredients:
1

tablespoon

celery seed

1

tablespoon

brown sugar

1

tablespoon

cayenne pepper

¼

teaspoon

freshly ground black pepper

(plus more as needed)

1 18-

ounce

Harry & David Bone-in Ribeye Steaks

4

tablespoons

butter

fresh rosemary

(A few sprigs)
Instructions:
To make the rub
In a small bowl, combine the celery seed, brown sugar, cayenne pepper, and black pepper.

Generously season both sides of the steak with the rub, reserving a few pinches to season the shallots (recipe follows). Transfer the steak to a tray, and refrigerate, uncovered, for a minimum of 6 hours and up to overnight.
To cook the steak
Remove the steak from the refrigerator and allow to come to room temperature 1 hour before cooking,

Heat a large cast iron skillet over medium-high heat, add the butter and allow to melt. Once melted, stir continuously, and watch as the water content cooks off, (the butter will sputter!), and the color goes from pale to golden tan, about 3 minutes.

Using the bone as a handle, place the steak in the pan away from you so you don't get splashed. Lower the heat to medium, add the rosemary to the pan, and allow the steak to cook undisturbed, 3-4 minutes per side, or until the internal temperature reaches 120° F. when measured with a digital meat thermometer. While the steak is cooking use a spoon to baste the steak with the rosemary-infused browned butter on both sides.

Remove the steak from the pan and transfer to a cutting board to rest for 15 minutes.

Use a sharp knife to slice along the bone. Then slice the remainder of the steak into ½-inch-thick slices and serve with Oven Roasted Shallots.
---


---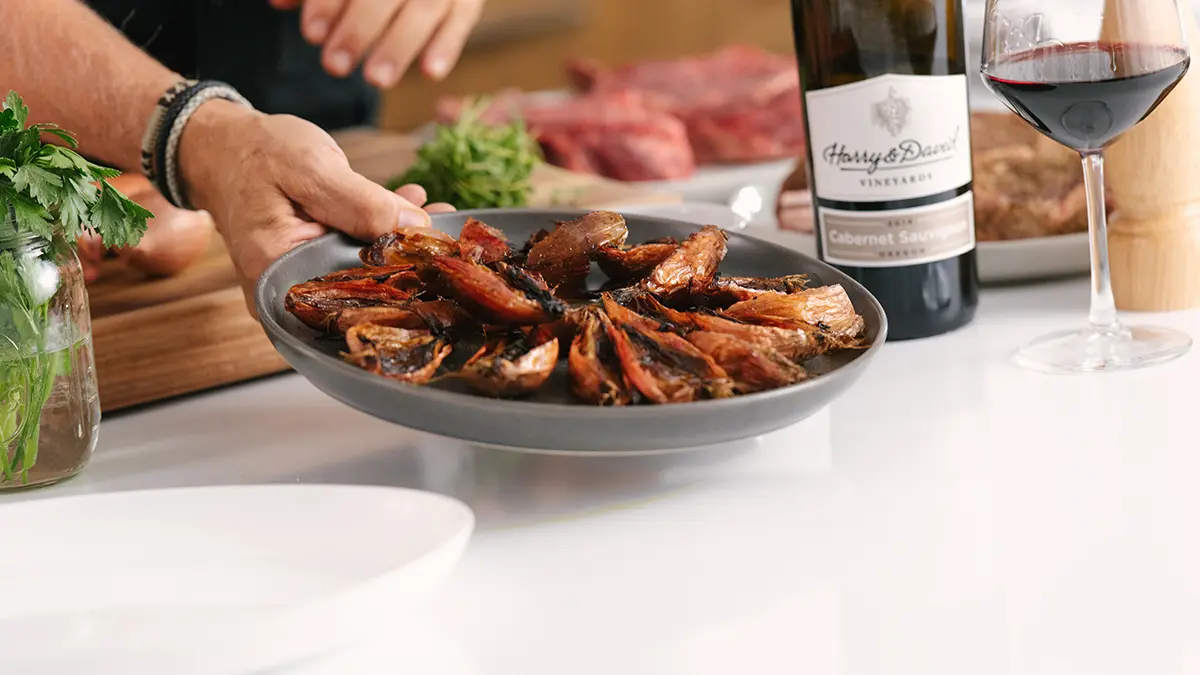 Oven Roasted Shallots
These shallots are so easy to make. You'll only need a sheet pan, "a generous glug of extra-virgin olive oil," some pinches of steak rub, and fresh thyme.
"You want the skin on for these shallots, as they provide a little vessel for them to cook," Zakarian says. You'll roast the shallots until very soft, bringing out all their sweetness. And Zakarian likes extra-virgin olive oil, especially for its flavor profile. "It's dense and has a lot of polyphenols, so you get this grassy flavor that I think is fantastic," he says.
While the shallots are roasting, prepare the ribeye steak (recipe above).
Instructions:
Preheat the oven to 400° F.

Prepare a baking sheet by first covering it with aluminum foil, then coating it with a generous "glug" of olive oil. Set aside.

Cut the shallots lengthwise through the stem, making sure to leave the stem intact.

Next, place the shallots skin side up on the prepared baking sheet and season with pinches of steak rub, then scatter the thyme on top.

Place the pan in the oven, and roast until very soft, about 35 minutes. Serve with the steak.
---
Chef Geoffrey Zakarian has teamed up with Harry & David to share his passion for fine food, entertaining, and healthy living. The Iron Chef known for his award-winning restaurants, TV appearances, and podcasts will wear another type of toque: Chief Culinary Ambassador for Harry & David. In this role, Zakarian will curate a collection of Harry & David products that reflect his philosophy and approach to cooking and entertaining. He will also share his insights and advice in Harry & David's digital magazine, The Table, and host in-person and virtual events.