Instead of a Father's Day gift basket, send Dad one of our stellar gourmet gifts from our Father's Day collection. Here are a few of the highlights.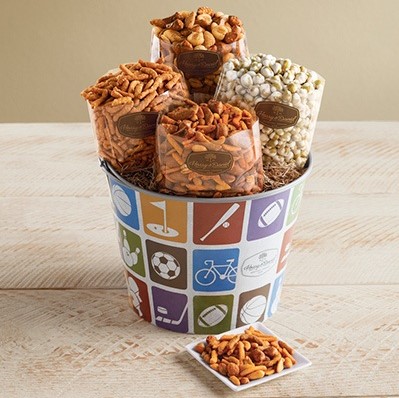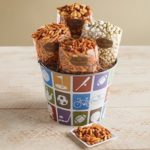 Good Sport Snack Pail Perfect for any sports get-together. The gift is bursting with our super party snack mix, which is a pleasing tabletop mix of pretzels and crackers; Bayou Blend snack mix, a spiced, Cajun-inspired assortment reminiscent of the best bar snacks of New Orleans; wasabi snack mix, a blend of savory rice crackers and crunchy, spicy peas; and sesame sticks, a hearty and wholesome addition to any snack bowl.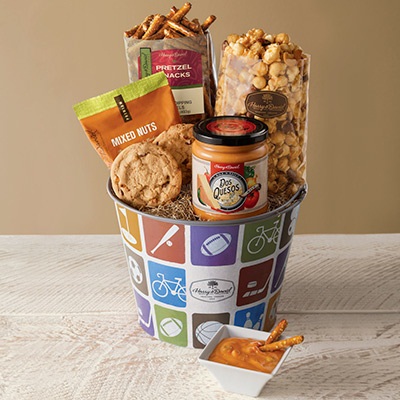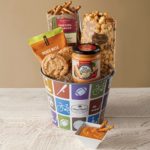 Victory Lap Snack Pail With an assortment of lightly roasted and salted nuts and hearty dipping pretzels along with zesty Dos Quesos cheese dip, there are plenty of gourmet snacks to be had. Packaged in a vintage-inspired sports pail, this gift also includes buttery, sweet and crunchy Totally Caramel Moose Munch® Popcorn and two Moose Munch® Cookies—all made in our in-house bakery and candy kitchen in Southern Oregon.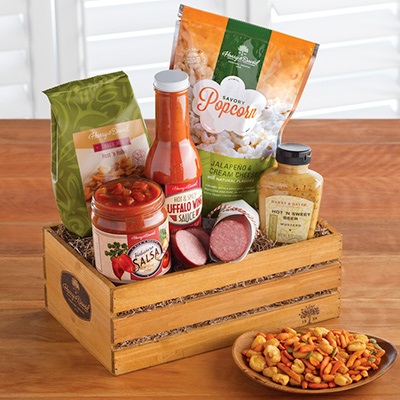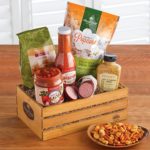 Hot and Spicy Snack Crate Use this unrivaled variety of spicy spreads and sauces to light up any summertime celebration or get-together. From the Hot 'n' Sweet beer mustard and hot wing sauce to the fiery hot habanero salsa, there's a rich selection that's sure to delight any taste or palate. In addition to a hickory-smoked summer sausage and a tasty snack mix featuring pumpkin seeds, crunchy corn, peanuts, seasoned crackers and more, we've also included our new jalapeño cream cheese savory popcorn.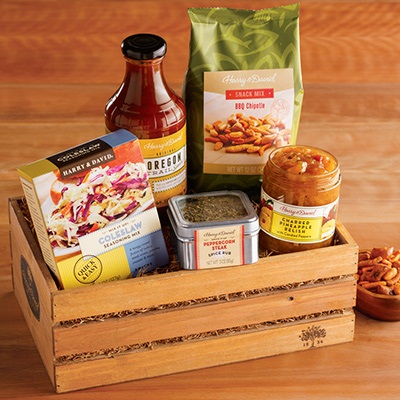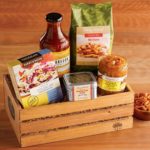 Gourmet BBQ Grilling Crate Contains the essential sides to create superior grilled steaks, burgers or vegetables at any summer backyard barbecue or campsite grill. Our signature barbecue sauce and peppercorn steak rub spice mix will infuse any cut with rich flavor. For those dads who enjoy a touch of sweetness, the charred pineapple relish contains candied peppers and makes for a unique and delicious grilling experience. A refreshing coleslaw salad mix and barbecue chipotle snack mix round out the options.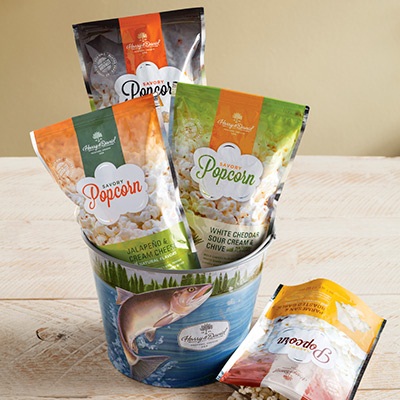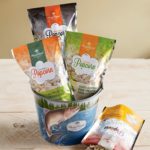 Gourmet Popcorn Pail In addition to our classic caramel corn, we now offer savory gourmet popcorn gifts. The four flavors of savory gourmet popcorn in this snack pail are tantalizing and perfect to enjoy on any occasion. The four flavors include the zesty citrus accents of Meyer lemon and black pepper; the smooth and rich white cheddar and sour cream with chive; the pleasantly complex savory flavor profile of Parmesan and garlic; and the slight Southwestern kick of jalapeño and cream cheese.
How do you plan to celebrate Dad on Father's Day?