Each year, the Harry & David Candy Kitchen works tirelessly to bring you the sweetest gourmet chocolates, and that is no exception with the Limited Edition Holiday Truffles gift box, that draws inspiration from current trends and traditional tastes to craft a balanced box of velvety, chocolatey goodness.
A list of more than 30 unique flavors and fillings is researched and developed, tasted, then culled down to the top 10, says Julie Tuter, senior merchandising manager at Harry & David. From there, she says, the team refines each chocolate and filling to achieve the perfect, final roster of melt-in-your-mouth truffles.
Are there any flavors that never make the cut? "Pear doesn't work," says Julie Taylor, manager of the Candy Kitchen. "It's too wimpy." Very surprising considering the company's history with producing some of the finest pears.
Flavors of the season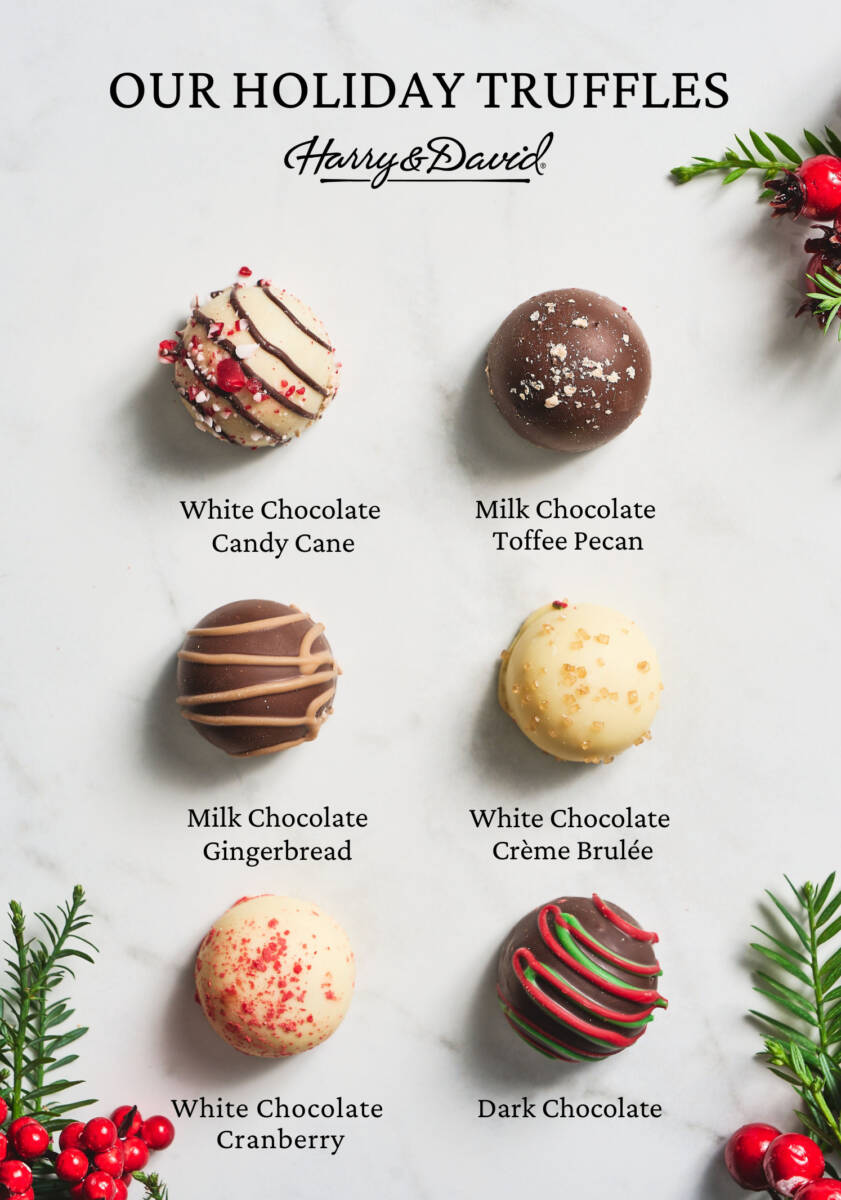 This year's holiday box of 24 gourmet chocolate truffles offers a combination of four seasonal flavors and two classic Harry & David dark chocolate versions with one-of-a-kind holiday decorations.
Your lucky gift recipient will enjoy four each of this year's custom flavors:
Toffee-pecan milk chocolate truffles that taste like grandma's homemade pecan pie
Creamy gingerbread milk chocolate
Candy cane white chocolate made of refreshing peppermint cream and topped with crunchy candy cane bits.
Crème brulée white chocolate (minus the blowtorch).
Cranberry filled with a dried cranberry that's grown and harvested in Oregon.
And a special dark chocolate truffle drizzled with holiday cheer.
Truffles by the thousands
With truffles being a top-selling holiday product year-over-year, we thought it would be fun to have you guess how many custom-flavored truffles were produced for the 2023 limited edition holiday truffle gift box. Was it…
A) 7,500
B) 15,225
C) 20,350
D) 25,200
If you guessed D, you deserve a truffle treat. Harry & David produced 25,200 custom-flavored truffles for their holiday gift boxes. That's a lot of cacao!
MORE: The Complete Guide to Chocolate
Keeping it in-house
The stunning illustrated cover art on the 2023 limited edition holiday truffle gift box is a nod to a classic design: a green box with festive floral patterns surrounding a dove all wishing you "Happy Holidays". Each artistic box is hand-packed. And when the last of these seasonal chocolates is consumed, this colorful container can be repurposed as a holiday card storage box.
Chocolate truffle recipes
---