Learn how to make entertaining easy in our series "A Time to Gather." These Mother's Day brunch recipes from Janine Nyquist will be the most delicious gift you can give to your mom this year.
Find your tribe and love them hard. A mama tribe, that is. Commonly, mothers thrive off communities where friendship and support is free from judgement, and that are full of encouragement and light.
Mothers carry an innate desire to relate to others who share similar experiences; we lean on fellow moms for help and advice, whether it be sleep training or lost teeth, camp recommendations or just navigating life. We seek to find connection with those who truly get how beautiful, yet taxing, motherhood is.
My mama tribe is fierce: diverse, strong, all from different backgrounds and circumstances. Some work and some stay home with their children, and all of them are always busy. They are inspirational, fun, and loyal, sprinkling color and laughter into my world. A mama tribe provides far more than just friendship — it offers unconditional love.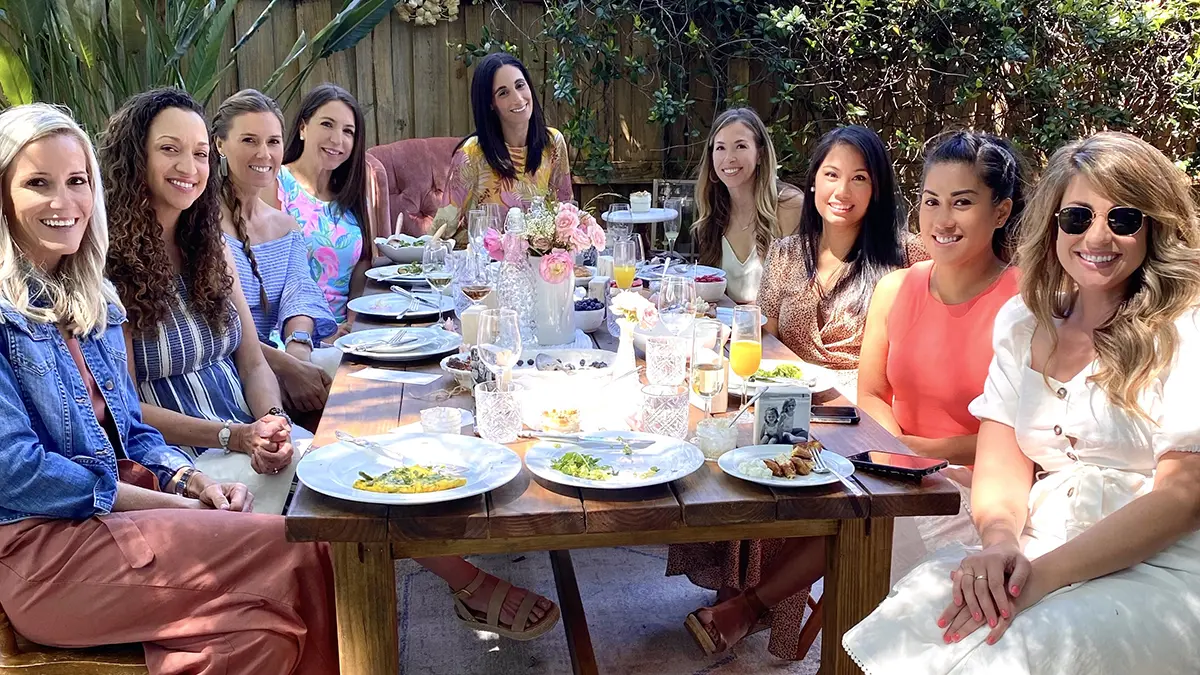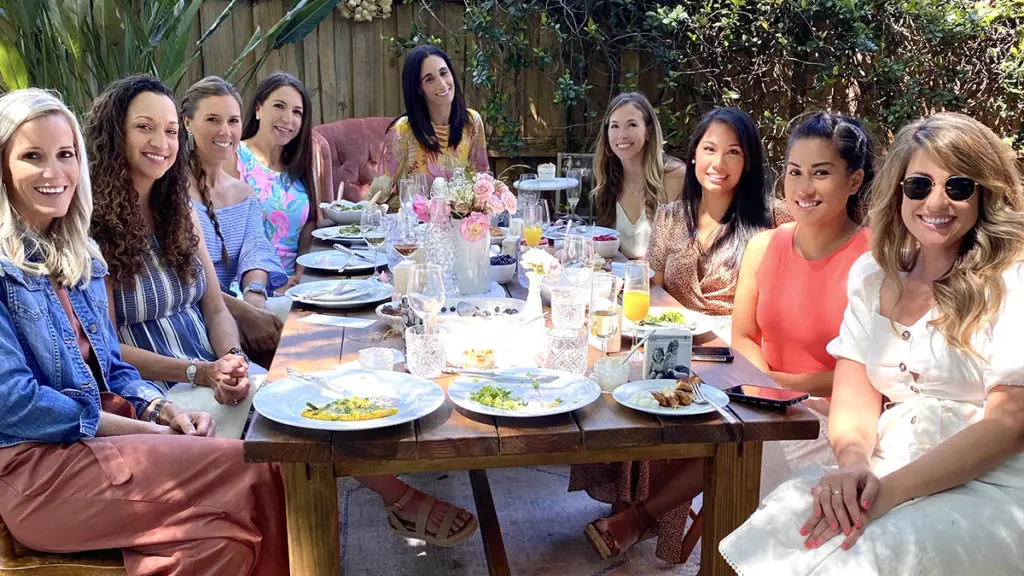 With Mother's Day approaching, I felt it important to honor the friends in my life that lift me up, celebrate and commiserate with me, embrace my children as their own, as I do theirs. These mothers deserve recognition, praise, and most of all to enjoy a delicious, warm meal surrounded by love and uninterrupted conversation. I knew an alfresco brunch would be the perfect way to express my unrelenting gratitude for these amazing women and shower them with adoration.
Mother's Day Brunch Recipes
My life is what I like to call a "beautiful mess," consisting of furniture, décor, plates, and silverware collected and passed down from my mother, late grandmother, and great-grandmother. Beauty lies in the small details and the stories behind each piece. I really don't like anything to look overly perfect. I gravitate toward a slightly eclectic aesthetic, yet I envisioned this brunch being the slightest bit fancy to make the mamas feel special. I adorned the table with the silverware gifted to my grandmother for her 1940s wedding, flowers of varying pinks — ranunculus, wildflowers, and roses — arranged in her milk glass vases, pieces of my mother's china, and a gauzy table runner.
Set atop the white plates: linen napkins folded simply, with a printed menu, secured by a piece of twine. The place cards, handmade by yours truly, were white-washed blocks of wood with black and white photographs of each mama's children. These served as parting gifts to commemorate the time spent with my friends.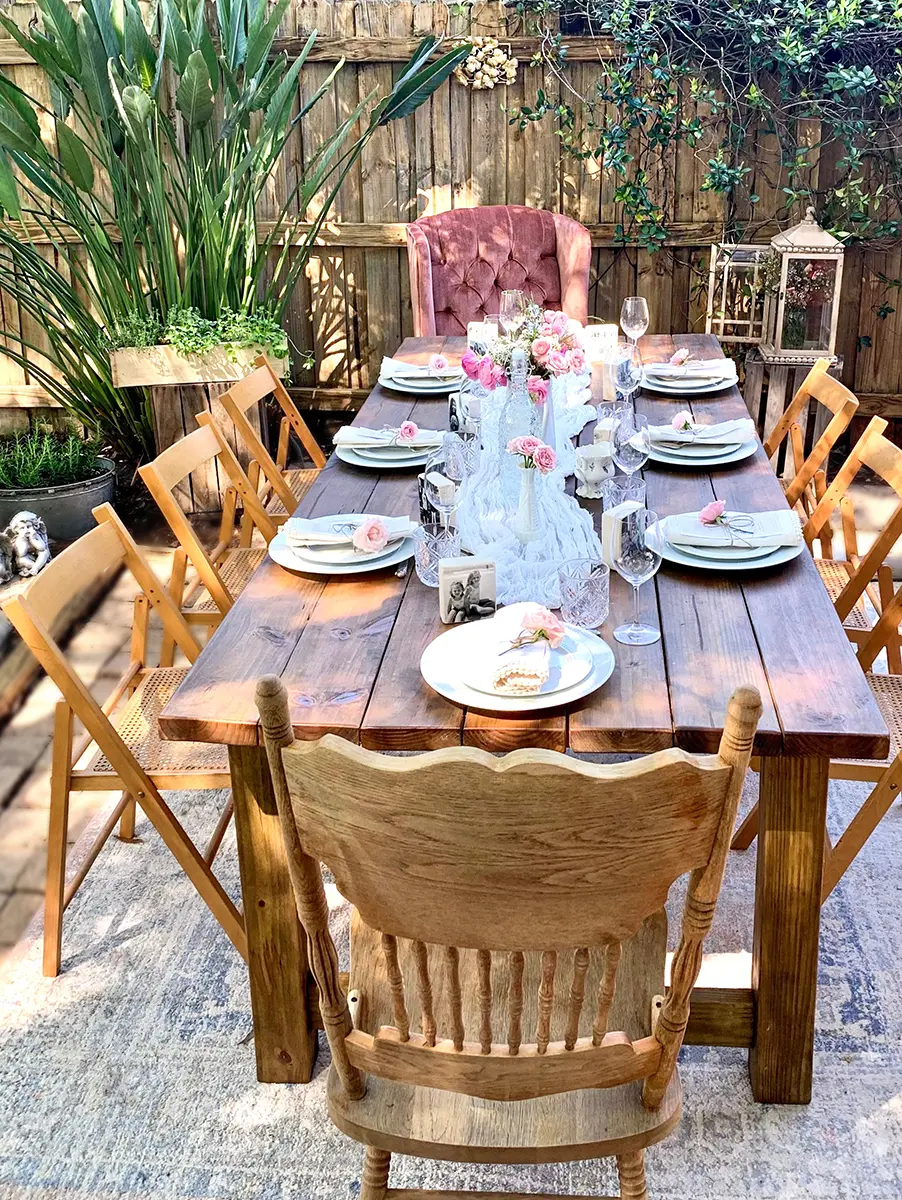 My most anticipated element of the gathering — the food — was a chance to show my love and appreciation for my mama tribe, my opportunity to nourish those I care about. I pride myself on cooking in a simple, purposeful, often nostalgic way, which these Mother's Day brunch recipes reflected. It highlighted gorgeous spring produce, Harry & David products, and dishes inspired by my childhood.
French toast
To start, a cinnamon sugar-crusted French toast using Wolferman's English Muffin Bread, reminiscent of the buttered cinnamon sugar toast my mother prepared for me when I was a little girl. I first soaked the bread in a vanilla and bourbon custard, infusing it with rich flavor, and then griddle-fried it atop melted butter until it was golden brown. After a generous sprinkle of cinnamon sugar, I cooked it a minute or two longer until the sugar caramelized, resulting in a crunchy exterior and the softest pillowy interior. This gives the French toast a crème brûlée quality that is truly divine. Served alongside the French toast, a velvety vanilla bean mascarpone cream and with a drizzle of Brandied Royal Riviera Pear Syrup.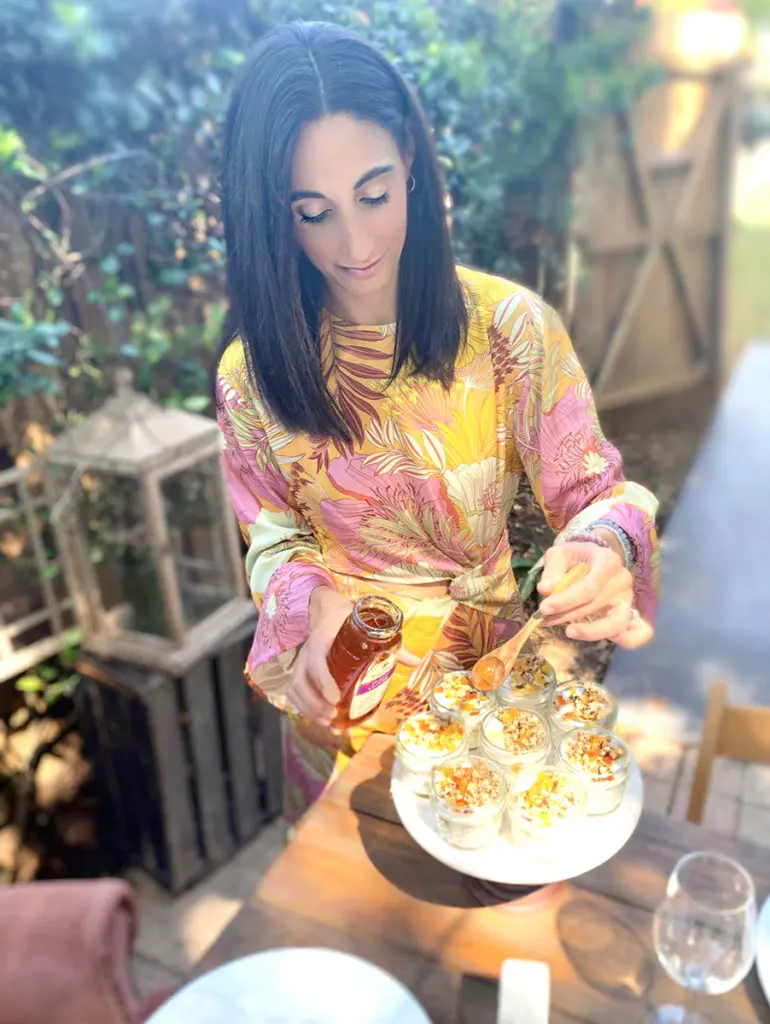 Yogurt parfait
Greek yogurt parfaits with clover honey, vanilla bean, and lemon zest, topped with dried fruit and granola, were both delicious and a cinch to prepare, perfect for a busy mom. I served these in mini mason jars for a rustic approach and as inspiration for my mom friends to prepare these ahead of time for themselves, when the inevitable hectic mornings arise.
Frittata
In my opinion, frittata recipes are a perfect brunch dish. Easy to prepare, nutritious, and a fantastic way to utilize produce, meats, and cheeses, they are just as delicious served at room temperature as hot and are great for a group.
This fluffy spring vegetable frittata, loaded with seasonal leeks, sweet fennel, and crisp asparagus, was a stunning addition. The combination of Harry & David creamy Toma and nutty Bellavitano cheeses melted exquisitely into the frittata. The tangy and buttery qualities of these cheeses make them winners in my kitchen. A medley of fresh herbs — thyme, parsley, and dill — enhanced the vibrant spring vegetables.
Salad
To accompany the frittata, a bright and fresh arugula salad bursting with spring flavors. Peppery arugula surrounded crunchy snap peas and crispy, slightly spicy radishes in this gorgeous green side dish. I dressed it with a punchy lemon shallot vinaigrette and some chopped fresh mint to make this salad even more delicious and fragrant.
Scones
Adding to the dreamy tablescape were freshly baked scones, made with Harry & David's foolproof mix, and served with blueberry preserves and seasonal berries. We sipped on chilled rosé, pinot gris, and Ross Lane white wines, which paired beautifully with the menu. Clean, floral, and refreshing, the variety appealed to all my guests.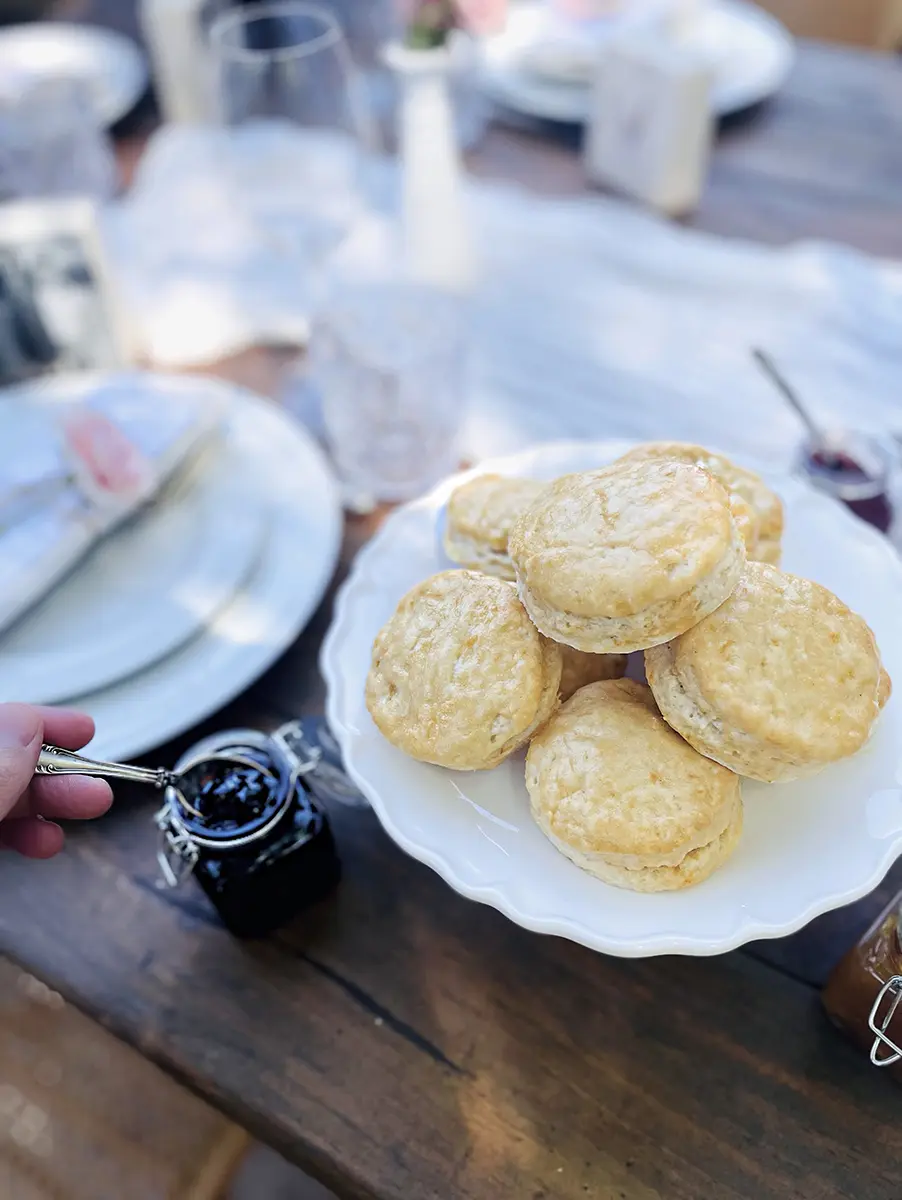 Raising a glass and gathering with these incredible women was a memorable and heartfelt experience, a tradition I hope to continue throughout the years as friendships strengthen and new relationships form. Motherhood is a great challenge, yet one of the greatest blessings, and I am lucky to journey through motherhood with this tribe.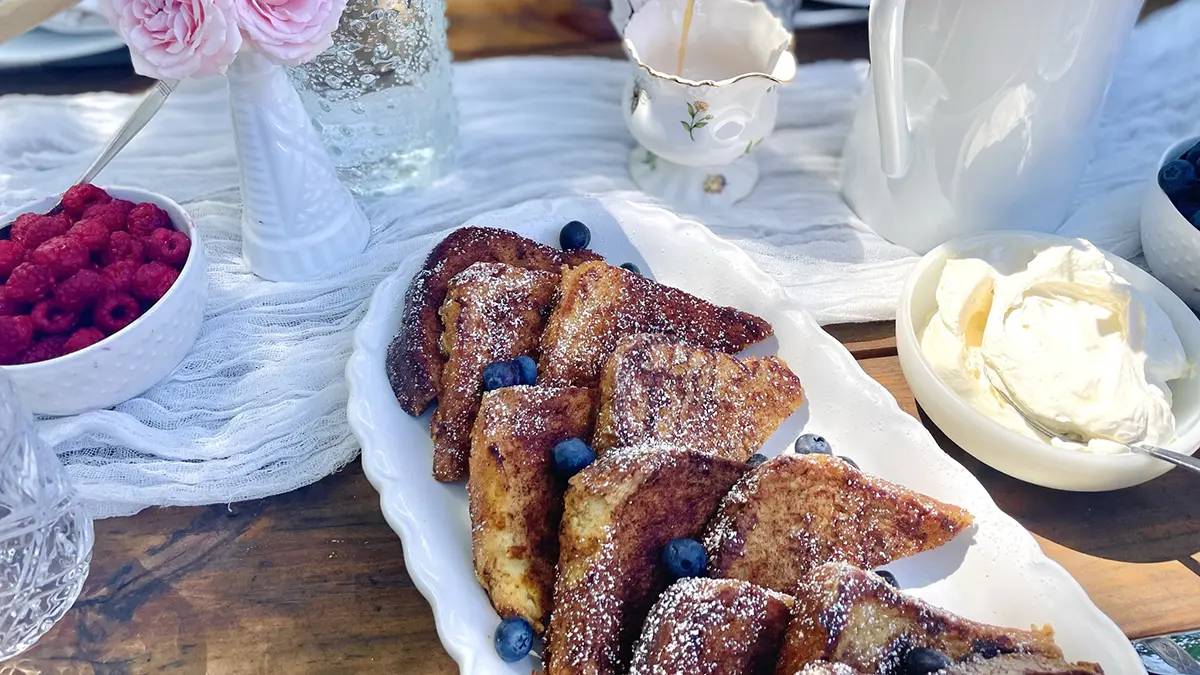 Cinnamon Sugar French Toast
Ingredients:
8

eggs

1¾

cups

Whole milk

1

tablespoon

vanilla extract

1

teaspoon

ground cinnamon

½

teaspoon

cardamom

2

tablespoons

brandy

Kosher salt

2

teaspoons

ground cinnamon

¼

cup

granulated sugar

3

tablespoons

butter

(for the pan)
For the mascarpone cream
4

ounces

mascarpone cheese

(room temperature)

1

cup

heavy whipping cream

1

tablespoon

confectioners' sugar

1½

teaspoons

vanilla bean paste
Instructions:
In a large shallow dish, such as a 9×13 baking dish, make the custard by whisking together the eggs, milk, vanilla, cinnamon, cardamom, brandy, and a pinch of salt. Add the bread slices and soak each side for approximately 10 minutes.

To make the cinnamon sugar, combine the 2 teaspoons of cinnamon and the ¼ cup sugar in a small bowl. Set aside.

While the bread soaks, using an electric mixer fitted with a whip attachment, whip together the softened mascarpone cheese and heavy cream. When soft peaks are achieved, add the confectioner's sugar and vanilla bean paste, and whip briefly until just combined. Do not overwhip the cream. If it seems too stiff, add a teaspoon at a time of heavy cream to loosen to desired consistency.
To cook the French toast
Melt the butter over medium heat on a griddle or in a large nonstick skillet.

Remove the toast from the custard. Place on the preheated pan and cook until golden brown, approximately 3 minutes.

Flip each piece and cook an additional 3-4 minutes until golden.

Sprinkle each piece of toast with the reserved cinnamon sugar mixture. Flip so that the cinnamon sugar faces down on the pan, allowing the sugar to caramelize and become crunchy. This happens quickly, about 2 minutes, so keep a close watch not to burn the sugar.

Serve with the mascarpone cream, fresh fruit, and pear syrup.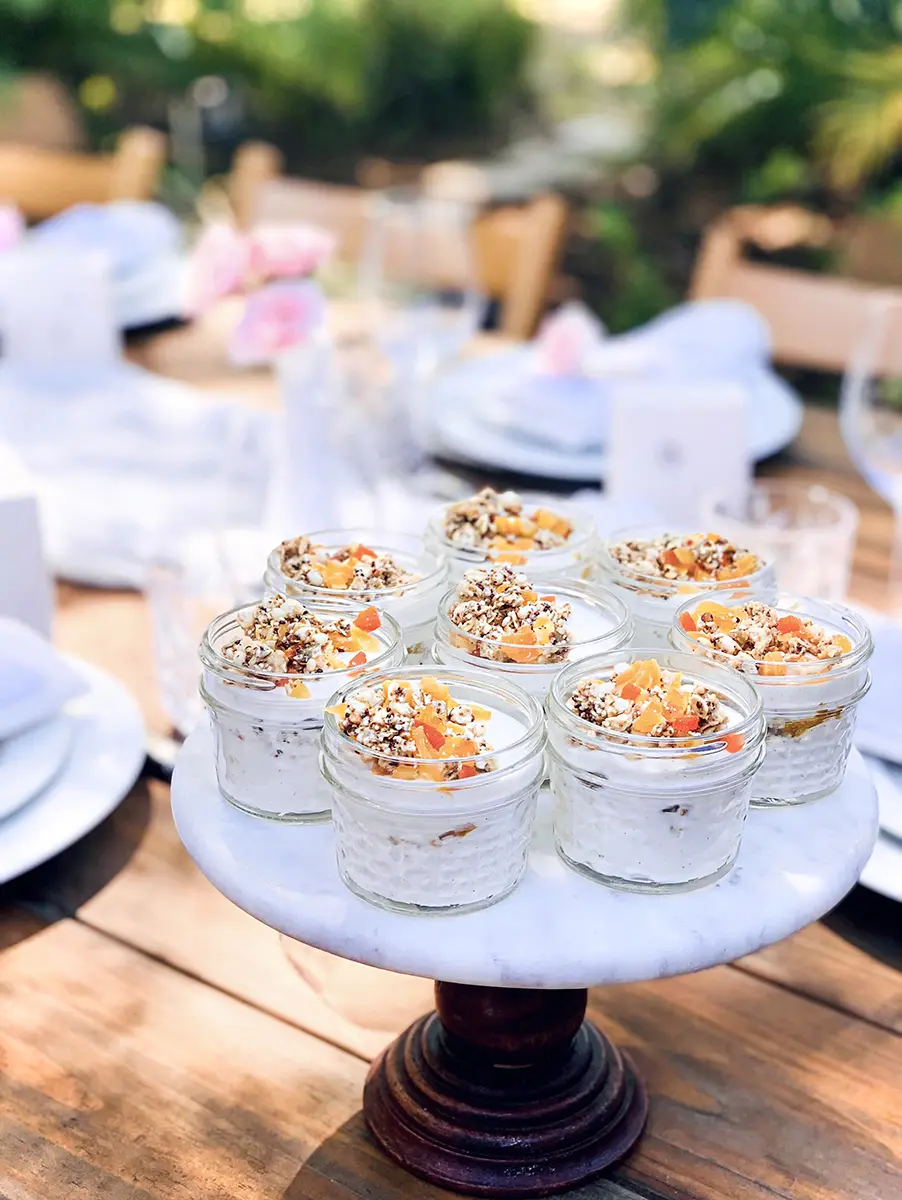 Honey Vanilla Bean Yogurt Parfait
Instructions:
In a medium bowl, add the Greek yogurt, honey, lemon zest, and vanilla bean paste. Stir to combine.

Chop the dried fruit. In a small bowl, mix it with the granola.

Fill 8 small jars or cups halfway with the yogurt, dividing equally among the jars.

Sprinkle 1 tablespoon of the granola dried fruit mixture into each jar, and then top with the remaining yogurt.

Add another tablespoon of the granola and fruit on top and drizzle with additional honey.
Notes:
These parfaits are easily adapted by adding fresh fruit, nuts, or seeds.
Spring Vegetable Frittata
Ingredients:
8

ounces

asparagus

(trimmed, cut diagonally into ½-inch pieces and blanched)

10

eggs

¼

cup

heavy cream

½

cup

Point Reyes Farmstead Toma Cheese

(grated)

½

cup

Sartori Bellavitano Gold Cheese

(grated)

6

sprigs

fresh thyme

(chopped)

1

tablespoon

fresh dill

(chopped)

1

tablespoon

fresh parsley

(plus extra for garnish)

Kosher salt and black pepper

( to taste)

2

tablespoons

butter

(unsalted)

1

leek

(thinly sliced, light green and white parts only)

¼

cup

fennel bulb

(diced )

Olive oil

( to garnish)
Instructions:
To blanch the asparagus, set aside a medium bowl filled with ice water.

Heat a stockpot of salted water (it should taste like broth) to boiling.

Add the asparagus and boil until it is bright green and tender, yet still crisp, about 3-4 minutes.

Remove the asparagus from the boiling water and place immediately into the ice water bath to stop it from cooking.

Drain the asparagus and set aside.

In a large bowl, whisk together the eggs, heavy cream, grated cheese, herbs, salt, and pepper until foamy.

Preheat the oven to 400° F.

Over medium heat, melt the butter in an oven-safe, 10-inch nonstick skillet. Add the leeks and fennel, and sauté about 8 minutes until softened.

Add the asparagus, stirring to combine with the leeks and fennel, and then pour in the egg mixture. Pull the edges of the frittata away from the sides of the pan toward the center so the eggs evenly flow to the center of the skillet.

Once the frittata is half set, transfer the pan to the preheated oven. Cook for about 10 minutes, until it is fully set and puffed. Garnish with fresh herbs and a drizzle of olive oil.
---