A popular steakhouse order, the New York strip steak also happens to be one of the most foolproof cuts to cook at home. The meat originates from the short loin on the top of the cow between the rib and sirloin, resulting in a cut that is tender and, when cooked with the sort of care we outline below, extremely juicy.
History of the New York strip steak
No, this cut of meat didn't get its name from a cow with a Brooklyn accent.
As with many types of meat — even the humble hamburger — there is some debate about the origins of its name. It's called a New York strip, most likely, because the cut became popular at that granddaddy of American restaurants, Delmonico's.
Founded in 1837, the legendary steakhouse (and the second-oldest restaurant in New York City) in Lower Manhattan featured a striploin steak on its menu sometime after opening. Reports vary about whether it was first listed as a Delmonico steak, New York strip, or Kansas City strip — the Missouri city claims to have originated the cut. Some food historians suggest that Delmonico's changed the menu item from the Kansas City strip to the New York strip, while other origin stories state that various New York steakhouses affixed the name to it.
What is clear is that the classic New York restaurant helped popularize the strip steak, which is still sometimes referred to as a Delmonico steak, as well as a club steak, ambassador steak, or striploin steak.
---

---
How to cook a New York strip steak
Names aside, one thing not in dispute is the deliciousness of the New York strip. The marbling in this cut often makes the steak beautiful even before it hits the flame or heat. The thin white strips of fat give the strip its distinct steak flavor, which is a bit less pronounced than the ribeye but deeper than that of sirloin.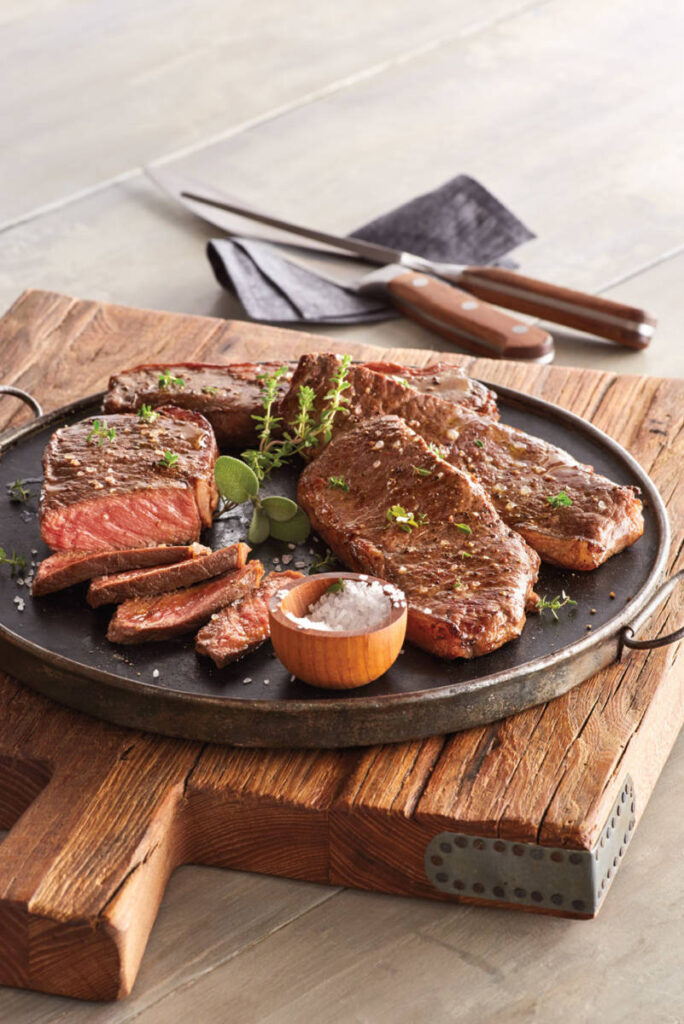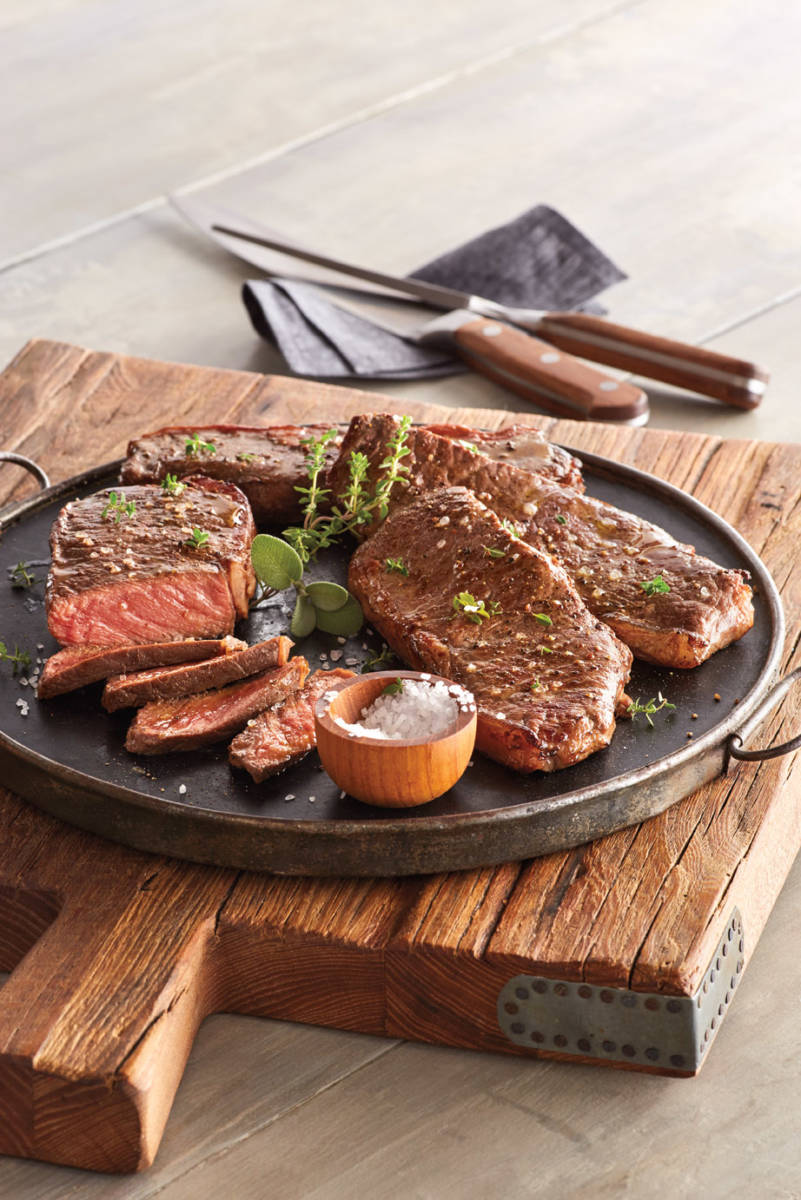 To cook a New York strip, first preheat an oven to 350° F. Bring the meat to room temperature, leaving it out of the refrigerator for 15 minutes. Season the beef simply with salt and pepper. Heat a thick oven-proof pan, like a cast-iron skillet, over medium-high heat, adding a glug (A glug is between one and two tablespoons. And isn't glug so much fun to say?) of cooking oil to keep the meat from sticking. Place the strip steak in the pan, then add a few pats of butter and herbs like chives, parsley, and rosemary, and sear the meat on both sides until nicely browned. Place the pan in the oven and continue cooking the steak until it reaches 130° F for rare and up to 160° F for well done. After it's finished cooking, allow the meat to rest for up to 10 minutes. Slice it against the grain to get the most tender, juiciest steak.
To cook a strip steak on the grill, first sear both sides of the meat over direct heat, and then move it to indirect heat until it reaches the desired temperature. Whichever way you prepare it, a New York strip offers a level of quality that's suitable for just about any occasion.
"With incredible flavor and tender texture, New York strip steak is one of the most versatile cuts you can keep on hand," explains Andy Whitticar, senior merchandise manager for Specialty Foods at Harry & David. "This savory steak comes from family-owned business Rastelli's and is perfect for both gourmet grilling and fine dining at home. It's sourced from Black Angus beef that's raised on the Midwestern plains, corn-finished for 120 days to create that perfect marbling, and specially aged for impeccable flavor."
Whitticar recommends the four-pack of antibiotic-free New York strip steaks, or a good "entry point" set of two New York strip steaks.
New York strip offers superior flavor on its own, but those who like to take their steak to the next level can try a sauce or rub, such as the peppercorn spice rub.
Best wine to pair with New York strip steaks
Given the steak's juiciness and flavor, a big red is in order. Sierra Castellano, senior director of merchandising at Harry & David, says, "I would choose our Royal Crest Red blend or our cabernet sauvignon. Both wines are bold and complement steak nicely."