Our series "Chew on This" serves up the flavorful history of food and how it has shaped the way we cook and eat today.
Few phrases in the English language are more tantalizing than "Let's have a burger.
Americans love hamburgers more than just about any other food, eating 50 billion of them per year and fueling an industry that, according to Statista, is worth over $100 billion annually. How did the humble burger, made of cooked ground beef served on a bun, often with other condiments and toppings, sometimes with cheese, become so popular?
"Americans deep down know that it's their food," says noted burger scholar, author, and media personality George Motz. "It's one of the only true American food inventions. All those different foodways, like the hot dog, croissant, spaghetti, and pizza, are from other places in the world. The hamburger is inherently American."
It's an interesting assertion, given that the history of the hamburger traces back centuries, if not millennia, to other parts of the world — depending on the source. Motz, whose fourth season of Burger Scholar Sessions is airing on Complex Media, attributes the hamburger's origins to state fairs of the late 1800s. He says that today's fascination with it continues thanks to upscale versions served by creative chefs and the rise of what he calls the "better burger category," with more upscale chains like Five Guys, Smashburger, and Shake Shack.
The truth about the burger's origins is certainly cloudy. Better acquaint yourself with its many key points in its history with the timeline below.
A (somewhat) brief history of the hamburger
1st century AD
Some food historians trace the origins of the burger back to ancient Rome, citing a minced meat dish with pine nuts, pepper…and wine. (When in Rome, right?)
1st century AD
13th century
Surprisingly, Genghis Khan and his Mongolian horsemen figure into hamburger history. The emperor and his troops are credited with being the first to form scraps of meat into patties, making for a convenient food for tucking under saddles to take on long journeys and into battle. Khan's grandson, Kublai Khan, invaded Moscow, bringing the meat patties to the attention of Russian chefs, who added ingredients like egg and onions, precursors to steak tartare and burgers.
13th century
17th century
Ships departing Hamburg, Germany, arrive in Russia, with the crews bringing back the meat preparation, which becomes known as "tartare steak."
17th century
1802
The Oxford English Dictionary describes a Hamburg steak as a "hard slab of salted, minced beef, often slightly smoked, mixed with onions and breadcrumbs," according to the book The World is Your Burger: A Cultural History by David Michaels.
1802
Late 1800s
Food stalls, restaurants, and immigrants in New York City are all said to have adopted the Hamburg steak from new arrivals from Germany.
Late 1800s
1885
One origin story suggests that the hamburger's name derives not from Germany but from New York state. Brothers Charles and Frank Menches were sold out of sausage at their stand at a fair in Hamburg, New York, so they swapped in cooked ground beef mixed with coffee and brown sugar to add flavor, and served it as a sandwich. They called it a hamburger after Frank spotted the town's name on a banner at the fair.
1885
1885
At the Seymour Fair in Wisconsin, "Hamburger Charlie" Nagreen wasn't having much luck selling his meatballs, so he squished them between two slices of bread and called it a hamburger. The story is baked into state lore: Seymour is home to the Hamburger Hall of Fame (not to be confused with the International Hamburger Hall of Fame in Daytona, Florida), and, in 2007, Wisconsin's legislature declared Seymour the "Home of the Hamburger."
1885
1891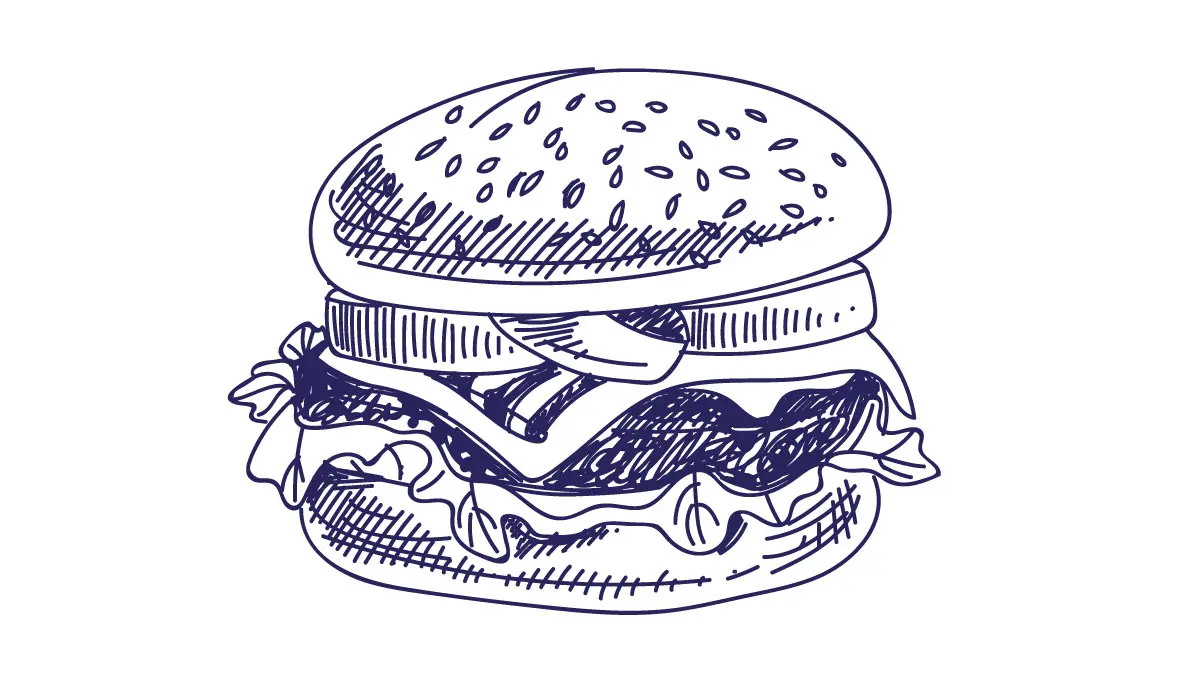 Oscar Weber Bilby of Tulsa, Oklahoma, is the first person to place a burger between two buns, according to his descendants and independent researchers. The Bilbys and others suggest that Oscar invented the hamburger as we know it on July 4, 1891, serving it with root beer in what became an annual tradition. In 1995, Oklahoma governor Frank Keating named Tulsa the "Real Birthplace of the Hamburger."
1891
1900
One of the most well-known origin stories of the hamburger suggests that it was created at Louis' Lunch in New Haven, Connecticut. According to the still-thriving burger joint's website, "One day in 1900, a gentleman hurriedly walked into Louis' Lunch and told proprietor Louis Lassen he was in a rush and wanted something he could eat on the run. In an instant, Louis placed his own blend of ground steak trimmings between two slices of toast and sent the gentleman on his way. And so, the most recognizable American sandwich was born."
1900
1904
Fletcher Davis created an early version of the hamburger for his menu at a small café in Athens, Texas, in the 1880s, but didn't debut his invention to a wider audience until he took his burger to the 1904 St. Louis World's Fair. To this day, some call Athens the birthplace of the hamburger.
1904
1921
Two men in Wichita, Kansas, merged quickly cooked burgers in a themed restaurant they called White Castle, creating the groundwork for the first fast-food chain dedicated to the burger.
1921
1925
The Rite Spot, a diner in Pasadena, California, claims to be the first to add cheese to the burger on a bun.
1925
1948
The McDonald brothers pivot from barbecue to burgers, creating a San Bernardino, California, burger shack that would eventually grow into the world's largest fast-food chain.
1948
1954
The world's second-largest food chain, Burger King, starts in Miami.
1954
1955
Ray Kroc, a failing milkshake salesman from Des Plaines, Illinois, convinces the McDonald brothers to let him join as partner, eventually buying them out in 1961 and growing McDonald's into the most well-known burger chain globally.
1955
1957
Burger King introduces its "Whopper," a full decade before McDonald's launched the Big Mac.
1957
1969
Wendy's starts in Columbus, Ohio. The restaurant is created by former Kentucky Fried Chicken head chef Dave Thomas and introduces a full-sized square patty burger made from fresh beef.
1969
1986
Five Guys opens in Arlington, Virginia. This ushers in what Motz calls the "better burger category," featuring burgers and other menu items made with fresh, more responsibly sourced ingredients.
1986
2001
Famed French chef and New York restaurateur Daniel Boulud, asked by a New York Times reporter to comment on a report about French farmers protesting the arrival of a McDonald's in their town, creates a burger of his own. Boulud fills his high-grade sirloin patty with red-wine braised short rib and foie gras, and serves the thick burger topped with parmesan, pepper, and tomato confit on a brioche-like potato bun. The dish makes it to the menu at his db Bistro Moderne, originally for $29; today it's on Boulud menus worldwide for upwards of $40.
2001
2004
Restaurateur Danny Meyer opens Shake Shack in Madison Park in New York City, and uber-long lines form for the smashed fresh beef patties, crinkle cut fries, and "concretes," or milkshakes. Shake Shack expands rapidly, becoming a publicly traded company in 2015 and boasting more than 275 locations worldwide.
2004
2013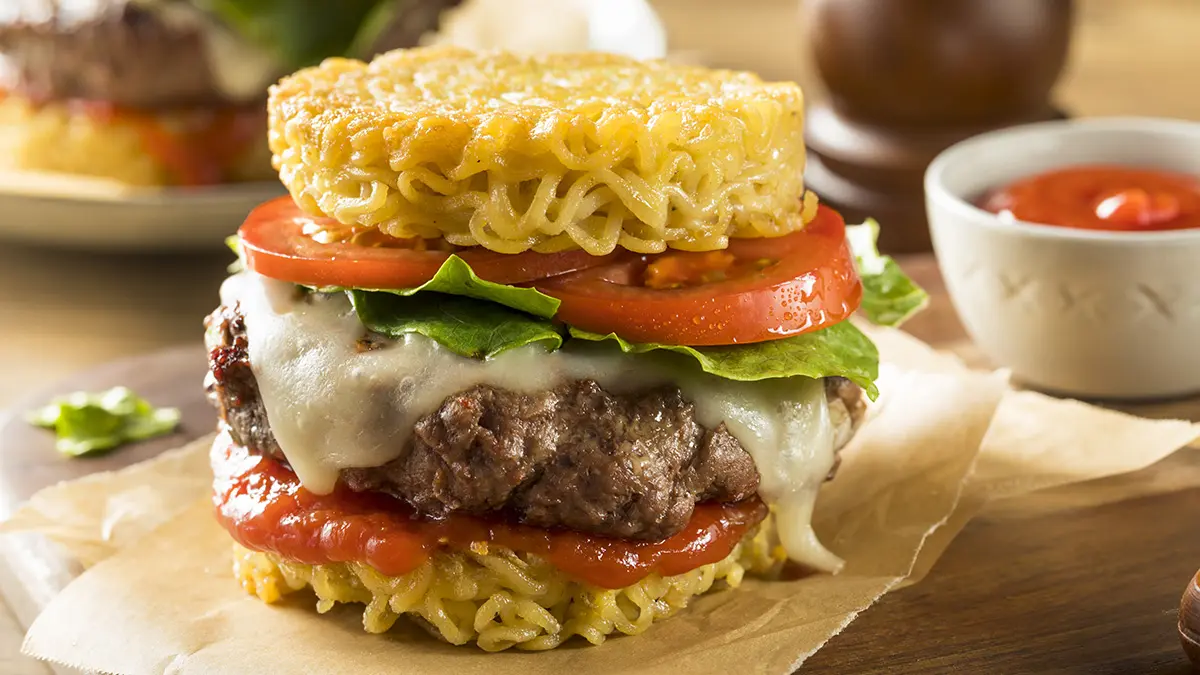 At Smorgasburg in Brooklyn, chef Keizo Shimamoto debuts his ramen burger, a ground beef patty sandwiched between two crispy ramen "buns" seared in sesame oil and topped with arugula and scallions. It becomes an instant smash.
2013
2017
Food giant Sysco begins distributing Beyond Burger, the meat substitute engineered to mimic beef's flavor and texture using plant-based ingredients, and it starts to appear on restaurant menus nationwide. Beyond's competitor, Impossible, grows in popularity as well, leading to the introduction of the Impossible Whopper at Burger King in 2019.
2017
2021
A diner in the Netherlands unveils The Golden Boy, billed as the world's most expensive burger at nearly $6,000. The burger is made of ingredients such as Japanese wagyu beef, Alaskan king crab, white truffles, smoked duck egg mayo, gold leaf, barbecue sauce with Macallan scotch, and beluga caviar — all sandwiched between two Dom Perignon Champagne-infused buns.
2021