For as long as I can remember, I have been a crazy chocolate plus mint lover. Absolutely crazy!
I get it from my mom. She loves the chocolate and peppermint combo – I'm pretty sure it's her favorite and even beats out the classics like chocolate plus peanut butter. I find chocolate and mint together to be refreshing and sweet, satisfying in a small amount and the perfect after dinner treat. Even if I want about ten pieces.
As soon as the holidays roll around, I can't wait to get my hands on a box of peppermint bark. I eat my fair share of it right out of the tin – bite by bite, sometimes with coffee, sometimes with red wine, and always gleefully.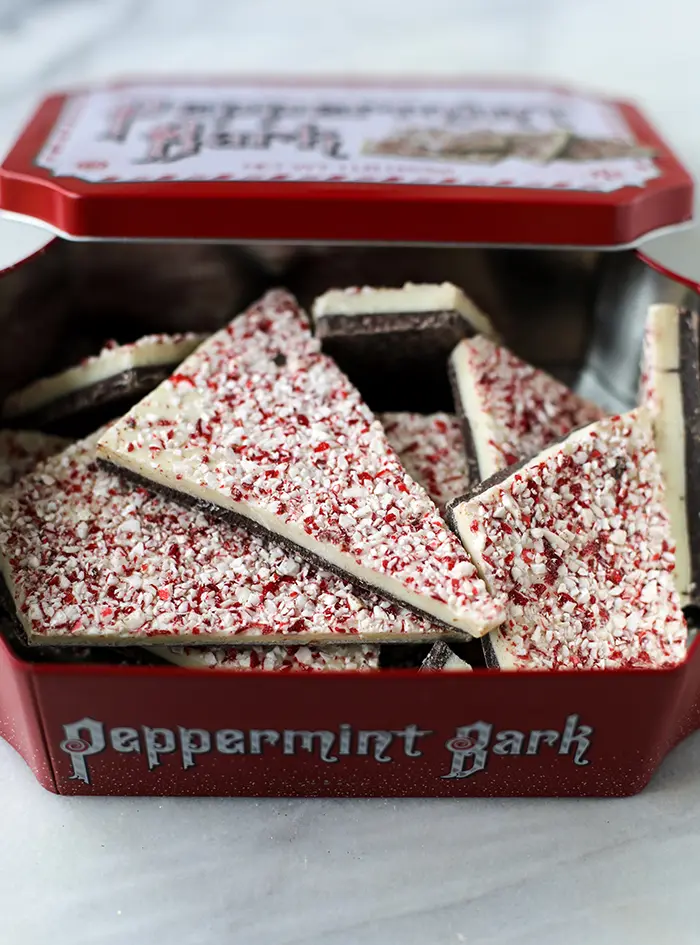 However, I usually end up doing something super fun with peppermint bark too! I just can't let things be.
Of course there are traditional desserts like hot cocoa and milkshakes, but I wanted to go a little more outside the box. Something unexpected, if you will.
Along with my love for chocolate and mint, I have a serious adoration for cheesecake. I might go as far to say that it's my favorite dessert, that last-meal-forever even.
I know. That's huge.
---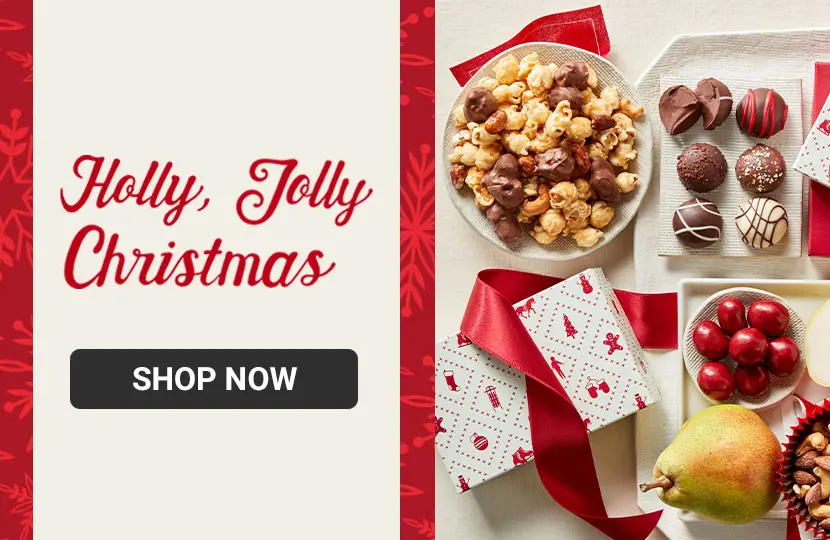 ---
I love the silky texture and, of course, the flavor. I just don't care for the time it takes, the whole water bathing thing and the inevitable cracks on top that mine always seem to possess.
So I decided to change it! This is an easy mini portioned no bake cheesecake that can be made the night before your guests arrive… or the night before you want to eat it. It's filled with chunks of peppermint bark and the cheesecake sits on a bed of fudgey chocolate ganache. It's a wintery dream!
Enjoy and Happy Holidays!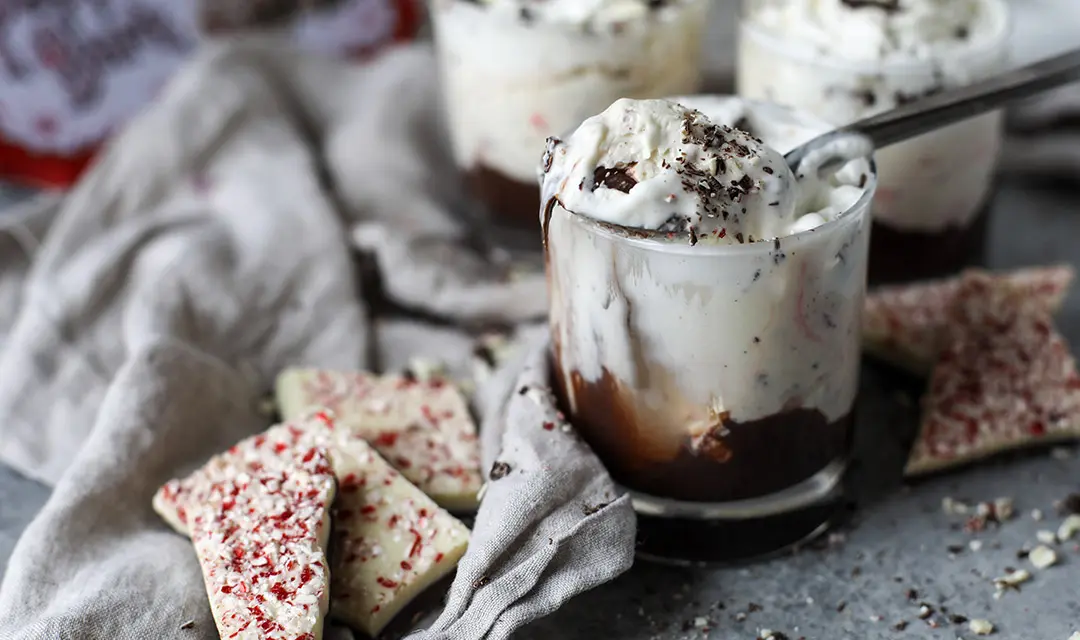 Peppermint Bark No Bake Cheesecake
Ingredients:
4

ounces

dark chocolate

(chopped)

⅓

cup

heavy cream

6

ounces

cream cheese

(softened)

4

ounces

mascarpone cheese

(softened)

2

teaspoons

vanilla extract

⅛

teaspoon

peppermint extract

⅓

cup

sweetened condensed milk

½

cup

chopped peppermint bark

whipped cream for topping
Instructions:
Place chopped chocolate in a bowl. Heat heavy cream in a saucepan until the edges bubble – you want it warm, but not simmering.

Pour cream over the chocolate and let it sit for 1 minute. Stir to melt the chocolate and continue stirring until it's smooth.

Evenly spoon the chocolate ganache in the bottom of 4 glasses or jars. Place them in the fridge.

In the bowl of your electric mixer, add the cream cheese and mascarpone. Beat on medium speed until the cheeses are mixed and slightly creamy, then drizzle in the condensed milk with the mixer still going. Add in the vanilla and peppermint extracts and beat the mixture until it is creamy and smooth, scraping down the sides if needed. Fold in the chopped peppermint bark.

Remove jars from the fridge and top the ganache layer with the cheesecake layer, smoothing out the top with a spoon.

Place cheesecakes back in the fridge for at least 2 to 4 hours, or until you're ready to serve.

Before serving, top with whipped cream, peppermint bark shards and a few chopped pieces of bark. These actually stay fresh in the fridge for a few days – cover them in plastic wrap and skip the whipped cream until right before serving.