Some flavors just make sense together, and the components of this spiced pomegranate and pear punch recipe is proof of that. The pear, pomegranate, and apple in this seasonal crowd-pleasing cocktail truly shine, making for a seasonal favorite that is festive, light, and delicious. This drink is ideal for a busy host or hostess, as it's creative enough to impress but a cinch to put together.
You can even make it ahead of time. The apple cider and pomegranate juice, sweetened with just a bit of honey, simmer on the stove, infusing the juice with the warm mulling spices of cinnamon and star anise. Adding pomegranate gives this punch recipe a tangy, sweet depth, and the color, a vibrant crimson, is simply stunning. The juice also balances out the earthy pears and sweet citrus beautifully.
You will need to deseed the pomegranate, but fear not: This is surprisingly easy to do with just a knife, a bowl, and a wooden spoon.
First, cut the pomegranate in half, along the equator. Push out the center of the half just slightly and hold it, seed side down over a large bowl. Using a wooden spoon whack the back of it (the side with the rind). The seeds should fall out easily into the bowl. Continue whacking with the spoon until there are no more seeds left in the fruit. Repeat with the other half. It's as easy as that!
This punch bursts with a rich, fruity seasonality, yet it is just as refreshing as any summer cocktail. For extra credit, serve it alongside an apple and brie puff pastry tart in front of a toasty fireplace while gathering with friends and family.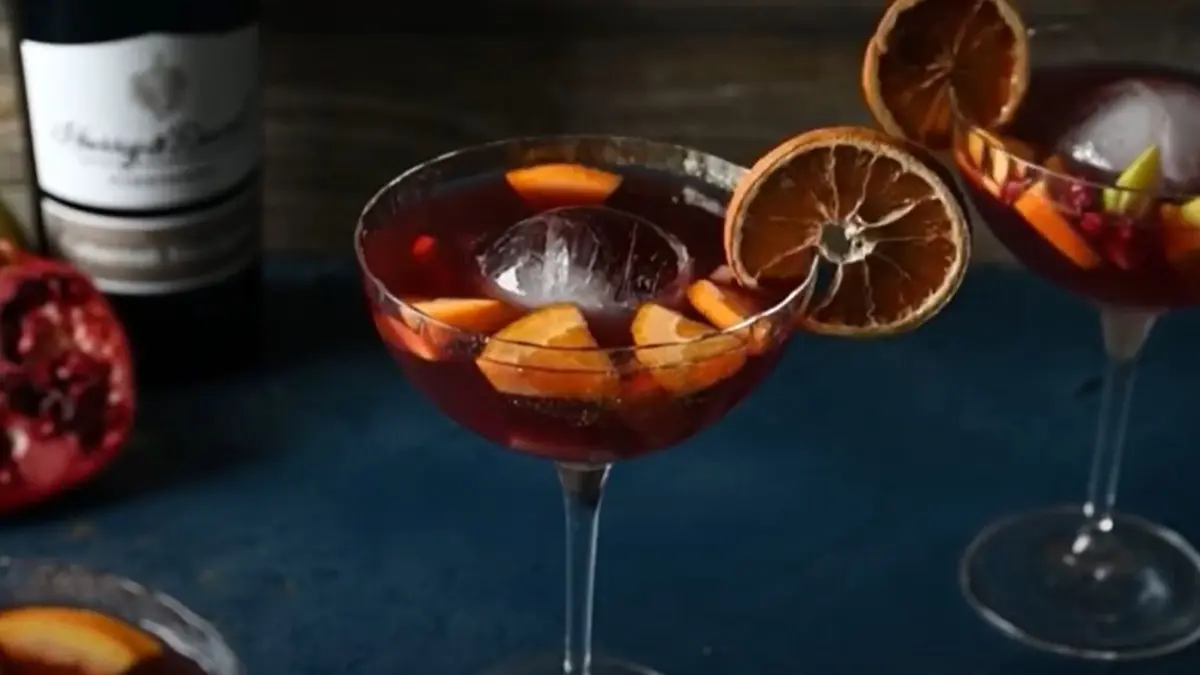 Spiced Pomegranate Pear Punch
Instructions:
In a saucepan over medium heat, warm the apple cider, pomegranate juice, honey, cinnamon, star anise, pear, and orange, about 5 to 7 minutes to allow the flavors to meld together.

Remove from heat and let cool. Remove the cinnamon sticks.

In a pitcher, add ice, juice mixture, the bottle of cabernet, any extra diced pear, sliced oranges, and pomegranate seeds. Stir to combine and pour into glasses and top with soda water.
---