Gina Homolka's Skinnytaste recipes always resonate with us, but this one really hits home. She takes our juicy Royal Riviera® Pears and folds them in with Gala apples, honey, cinnamon, brown sugar, and oats to create an amazingly sweet crumble dessert recipe that has less than 200 calories per serving.
There's nothing better to me than a warm dessert on a chilly autumn evening. I'm all about hot desserts with cold toppings—a dab of fat-free frozen yogurt on top of something warm and sweet is enough to make me swoon. With this nutrient-packed dessert, you'll score an impressive 3 grams of filling fiber and 2 grams of satiating protein, all for less than 200 calories.
Good-bye, guilt!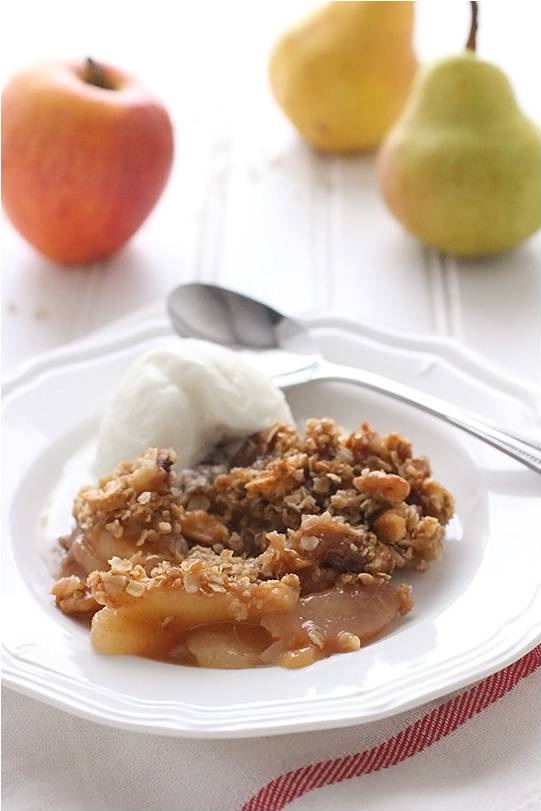 Pear Apple Crumble Dessert
Ingredients:
For Filling:
2 ½

cups

peeled

(sliced Royal Riviera® Pears)

2 ½

cups

peeled

(sliced Gala apples)

¼

cup

honey

1

Tbsp.

fresh lemon juice

1

Tbsp.

all-purpose flour

½

tsp.

ground cinnamon

1

can cooking spray or oil mister
For Topping:
¾

cup

quick-cooking oats

¼

cup

packed light brown sugar

¼

cup

chopped walnuts

1

Tbsp.

all-purpose flour

¼

tsp.

kosher salt

3

Tbsp.

virgin coconut oil
Instructions:
Preheat oven to 325°F.Lightly spray 9" x 9" baking dish with oil.

For filling: In a large bowl, combine Royal Riviera® Pears, apples, honey, lemon juice, flour, and cinnamon.

Pour the mixture into prepared baking dish.

For topping: In a separate bowl, combine oats, brown sugar, walnuts, flour, salt, and coconut oil. Sprinkle topping evenly over filling. Bake until browned and bubbling, 55 minutes to 1 hour.

Serve warm.