Thanksgiving is widely known as the food holiday in the United States, and who doesn't love a roasted or smoked turkey with all the trimmings? Rather than cooking all the meals yourself this year, try hosting a Thanksgiving potluck and share the wealth (and the load) with friends and family.
Of course, a Thanksgiving potluck is all about the food, but organizing the time, location, and guest list must come first. We have compiled our favorite potluck hosting tips to serve up at your next gathering for a Thanksgiving feast to remember.
Invitations
Make a guest list, then create your invitations that include a food request (remind them to bring serving utensils if needed). Give guests plenty of time to plan (at least a week if not two). Make sure you tell your guests how much food they need to bring so that everyone has enough to eat.
Determine your seating arrangements
Are you having a formal sit-down meal or a casual buffet style dinner? Regardless of what direction you go, make sure you have enough chairs and account for any other needs guests might need when they sit down to eat. Double check that you have enough plates, napkins, silverware, and glassware in case you need to purchase anything for the event. Remember, the potluck is just relegated to the food. As host, you're responsible for all the aforementioned items.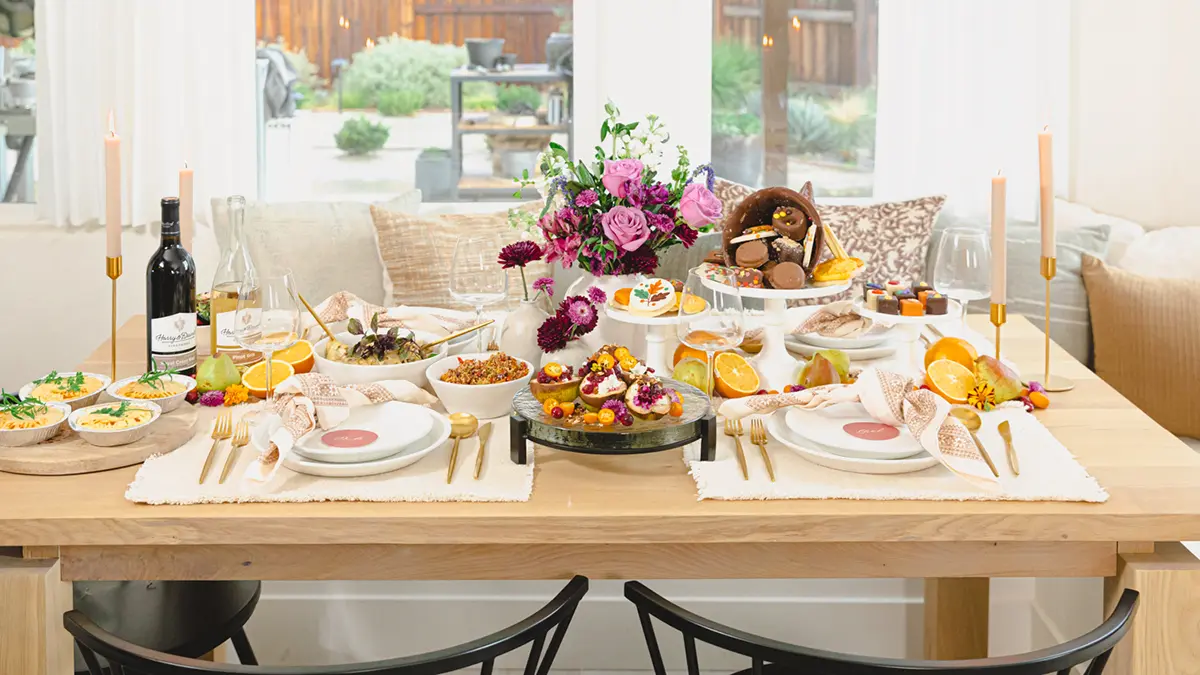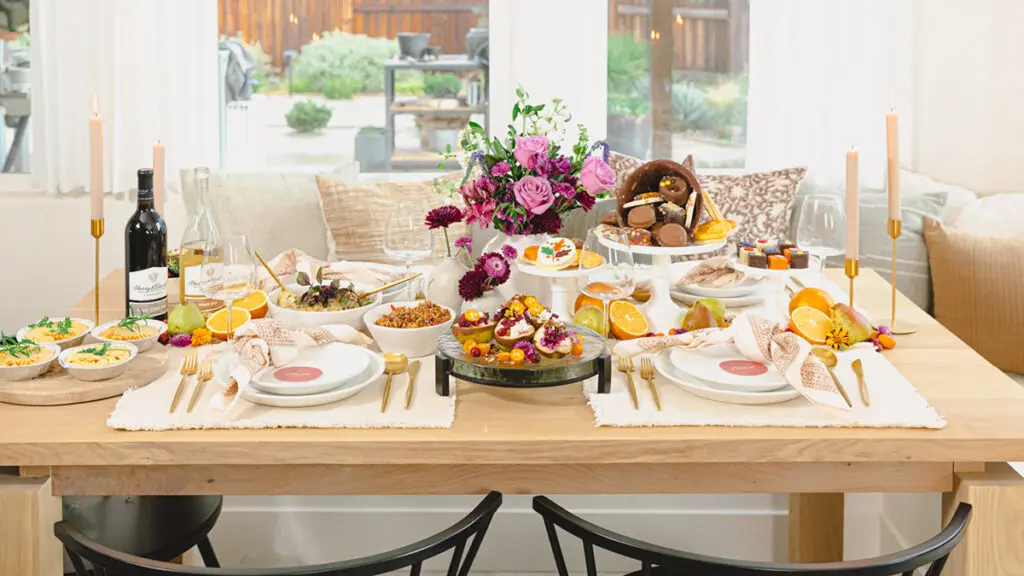 Don't be afraid to create a shabby-chic experience by mixing and matching an eclectic variety of plates, napkins, and silverware. It will be a great conversation starter.
Consider tablecloths or runners for the tables. Simple fall foliage or leaves are great options for fall décor. If you're doing a sit-down dinner, we recommend preparing your table settings and arrangements the night before, or first thing the morning of so you can focus on cooking the day of the potluck.
Create the Thanksgiving potluck menu
This is the most important aspect of your Thanksgiving potluck. Create several categories (hors d'oeuvre, main, sides, salad, dessert, drink) and assign one to your guests. But allow them to choose the specific dish. Your guidance still allows them to bring their own unique flare to the meal. Confirm at least a week ahead of time with each guest the meal they plan on bringing in advance to avoid duplicate dishes. The hostess/host should prepare the Thanksgiving turkey.
Be sure to have extra spoons, ladles, and other serving utensils on hand for guests who, despite being reminded in the invitation, forget to bring their own. When the meal is over, provide tin pans and tin foil for guests to take food home in. Everyone will want some Thanksgiving leftovers!
MORE: What to do with those Thanksgiving leftovers
Extra Thanksgiving potluck tips
Worried about dull conversation or awkward pauses during dinner? Prepare a few fun games or activities for your guests like ice breaker questions (Would you rather be invisible or able to read minds?), food pun competition, or a Thanksgiving gratitude game.
Consider background music and prepare your playlist. Whether it's a fall-themed collection of songs or a lineup of your favorite low-key albums, pick something that's not too distracting so people can enjoy conversation with each other.
Lastly, should you wish to become known as the hostess with the most-ess, give out party favors at the end of the night. A simple bag of chocolates or a Thanksgiving gourd with an attached thank you note is easy to prepare and will be gratefully received.
---