In 2013 we rolled out an extension of our private label Harry & David™ wine collection. The prior year's debut of our wines met with positive acclaim from wine enthusiasts, vintners and, most importantly, our customers. The collection now consists of six charming red wines: Cabernet Sauvignon, Pinot Noir, Merlot, Tempranillo (a dessert wine) and blends called Ross Lane Red and Royal Crest Red, along with five elegant white wines: Chardonnay, Moscato, Sauvignon Blanc, Riesling and Viognier. The total number of varietals will change based on customer demand. Previously only available in a few of our retail stores, we can now ship our private label wine gifts to 34 states.
We thoughtfully paired some of our favorite gifts with our new varietals. These gifts with wine proved exceptionally popular and most sold out by mid-December. Because our wine baskets include savory snacks, delicious pears and decadent chocolate truffles they make any get-together more spirited.
True to our heritage, most of the wine grapes are grown near our pear and peach orchards in the Rogue Valley. The grapes are processed in a brand new custom crush facility housed in a refurbished building located in the heart of downtown Medford. Because of its architectural significance, the building is listed on the National Historic Registry.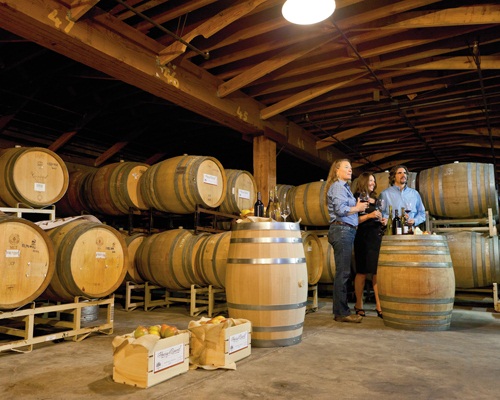 Looking forward to 2014, we have a Late Harvest Viognier aging in the barrel. According to our winemaker Linda Donovan, "Conditions were perfect to make a Late Harvest Viognier—a warm, dry summer and plenty of cool nights allowed fruit to mature with flavors we don't achieve every season. The result is a sweet, lower-acid wine with distinct flavors of pear, peach, melon and tropical fruits. This pale yellow beauty will pair perfectly with a lighter-side dessert of fresh or dried fruits."
We will also introduce a Pinot Gris that's promising to be slightly dry with a lot of fruit nuances. Oregon vineyards are gaining increased recognition from wine connoisseurs because of the diverse terroir and agreeable climate. We're glad to grow a wide variety of grapes so that you can enjoy an exquisite glass of your favorite wine delivered directly to your door.