Every year the internet is inundated with "Best Wine Gift" lists. They're chock full of the usual suspects: wine totes, chillers, stemware, openers. What's missing from these lists is an all-inclusive, jaw-dropping, envy-inducing gift for the gourmet food and wine lover in your life. Until now.
2021 marks the inaugural year for Harry & David's luxury, wine-centric gift that is essentially a holiday party-in-a-box for up to 50 people. The Ultimate Wine Gift is so immense that it arrives at your lucky recipient's office or home — or even yours (treat yo' self!) — in two separate gift boxes. (Tip: If you're buying the Ultimate Wine Gift to place under the tree on Christmas Eve, don't plan on hiding it under the bed. It's too big.)
So, what's in those two boxes?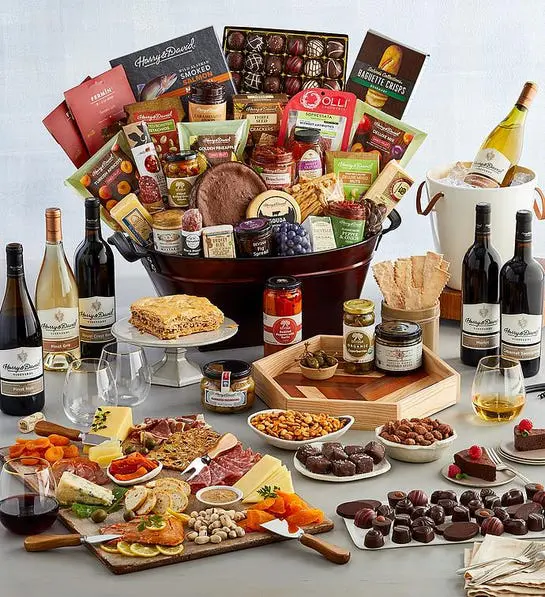 "A better question is, what's not in the boxes," says Ellen Sorenson, merchandising manager at Harry & David and a Level 2 Certified Sommelier. Sorenson and a team of gourmet food and wine experts have sourced the most decadent sweet and savory treats to pair with a half case of Harry & David's own top-selling, award-winning Oregon wines.
"The Ultimate Wine Gift is essentially a Harry & David wine portfolio-at-a-glance," Sorenson adds.
It includes one 750-millileter bottle each of:
2020 Chardonnay
2020 Pinot Gris
2019 Pinot Noir
2019 Merlot
2019 Royal Crest Red blend
2019 Cabernet Sauvignon
Epicurean treats to please all palates
Hold onto your Santa hat because just the specialty food items selected for the Ultimate Wine Gift weigh in at a whopping 22.5 pounds of mouthwatering joy — the whole gift basket, which has more than 40 items, weighs in at over 70 pounds!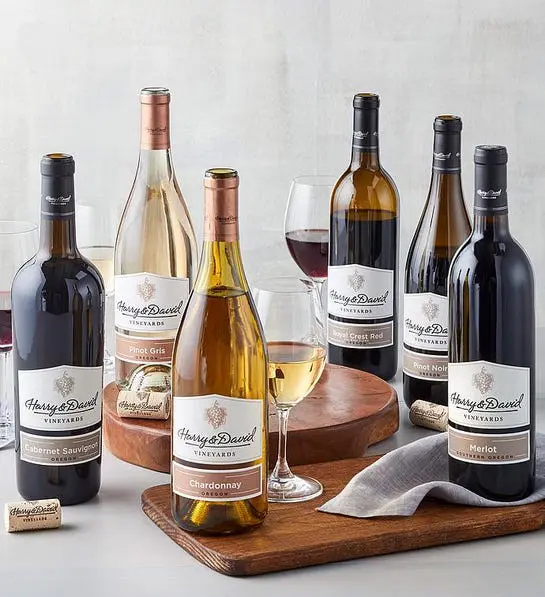 For Serrano ham lovers, there's Lomo Serrano and Serrano Paleta from family-owned-and-operated Fermín. Located about 185 miles due west of Madrid, the Fermín farm is nestled in the heart of the Sierra de Francia mountain range, where the unique microclimate of the region creates the ideal environment for naturally drying and aging meats. The result? Award-winning, high-quality cured meats that tantalize the taste buds.
Salami connoisseurs will be in sausage heaven with a choice of four salamis. Wild-caught sockeye salmon that's been smoked to perfection rounds out the surf and turf options.
To create the perfect pairing, the Ultimate Wine Gift includes five domestic cheeses, including a buttery Promontory from Utah's Beehive Cheese Company.
Two other standouts come from Southern Oregon's Rogue Creamery: Touvelle, a Rogue Creamery original recipe combining nutty cheddar with creamy Jack; and Smokey Blue, which is cold smoked over Oregon hazelnut shells to subtly infuse each block with aromas of barrel-aged vanilla, bread pudding, and candied bacon. With this much meat and cheese, it only makes sense to create a charcuterie board. Thoughtfully, this gift comes with an assortment of olives, marinated mushrooms, relishes, mixed nuts, chutneys, and spreads for you to complete the display. Layer all that goodness on top of four different artisanal serving vessels, aka crackers, flatbreads, and crisps.
For the sweet-toothed recipient, you'll be happy to know this also comes with the finest chocolates and sweets handcrafted in the Harry & David candy kitchen: chocolate-covered cashews and blueberries, dried fruits, baklava, Chocolate Decadence Cake, and sea salt caramels.
Rounding out the sweet treats are a tray of signature chocolate truffles and three dozen decadent dark chocolates. All these treats are made with Harry & David's secret dark chocolate recipe. It's even more secret than the Colonel's recipe for fried chicken.
Exclusive entertainment ware
This brand spankin' new gift comes replete with limited edition hosting items meant to be used throughout the holiday season and year round. The hosting and serving ware include:

A set of four gold-rimmed stemless wine glasses
Artisan-designed, tri-colored wooden serving tray
Modern, mixed-material wine chiller made of ceramic and leather
Oversized, bronze-finished storage bucket, perfect for tidying up toys, magazines, or blankets after the holiday hoopla has ended
Whether you're shopping for a large family gathering or an office-wide celebration, the Ultimate Wine Gift is sure to be a showstopper and party starter.