Do you have some of our famous Royal Riviera® Pears left over from this season? Great, then you'll love this pear tart recipe created by Reegan Lessie, author of California Yoga Living.
Take it from us, this dish tastes as good as it looks! Savory-sweet baked pear slices blend well with the crispy crust for a truly unique flavor profile, and it makes a great dessert…or midday snack. Serve with ice cream for an "a la mode" dish, or on its own.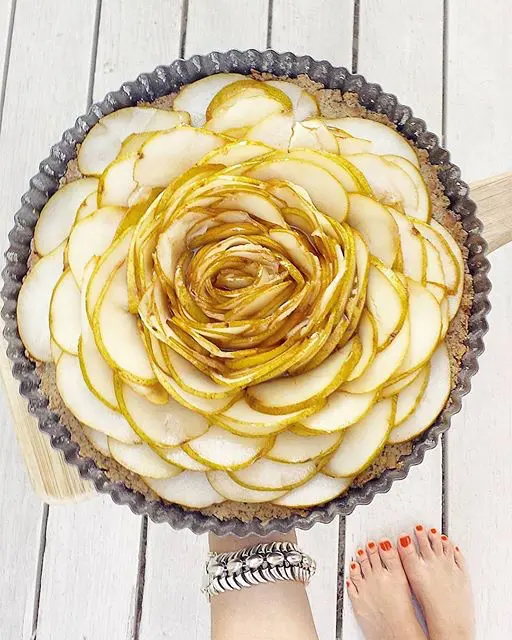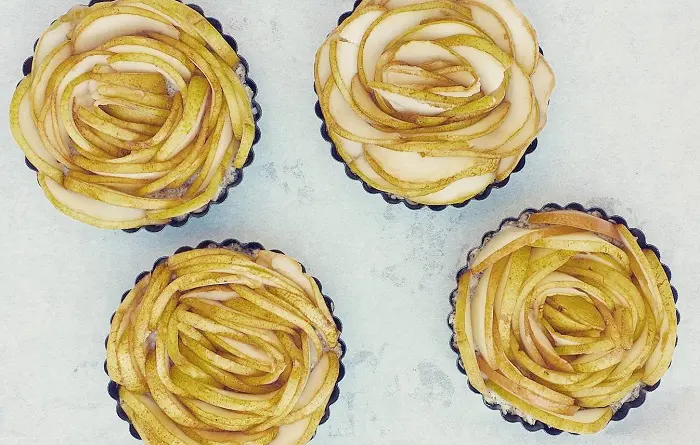 Pear Tart Treat
Ingredients:
1

cup

quinoa flower

½

cup

gluten-free white all-purpose flour

¼

cup

arrow root starch flour

½

cup

ground chia seeds

Maple syrup

2

tbsp

vegan cane sugar

1

tsp

apple cider vinegar

½

cup

coconut oil

¼

cup

canola oil

1

cup

unsweetened dehydrated coconut flakes
Instructions:
Preheat oven to 350 degrees.

Use coconut oil and paper towel to oil the tart pan. Cut a round piece of parchment paper to fit your pan. Once the pan is well oiled, place the parchment round into the pan and brush with coconut oil, then set aside.

In a mixing bowl combine 1 cup of quinoa flour, 1/2 cup of gluten-free all purpose flour, 1/4 cup arrow root starch flower, 1/2 cup of ground chia seeds, 2 tablespoons of vegan cane sugar.

In a separate mixing bowl whisk to combine, 1/2 cup of coconut oil, 1/4 canola oil with a teaspoon of apple cider vinegar.

In a mixer or using a hand mixer combine the dry ingredients with the wet ingredients until combined (do not over mix) then add 1 cup of unsweetened dehydrated coconut flakes and mix just enough to incorporate the coconut into the pie crust.

Press the dough into the prepared tart pan so it is even.

Thinly slice the ripe pears place them on top of the crust. You can make any pattern you like.

Drizzle and baste the tart with 8oz of 100% pure maple syrup and bake for 20 minutes at 350º then another 20 minutes at 425º or until the edges begin to brown.
Notes:
You can make even more delicious dishes with any of our other recipes, each containing easy-to-follow, step-by-step instructions. Our Royal Riviera Pears® have proven to be an incredibly flexible fruit. You can make almost anything with them from cocktails to desserts, and even pair them with wine or cheese for unique combinations of flavors.
*Photos by Reegan Lessie