Mulled wine, like so many other things that we prize in modern civilization, began with the Romans. The Romans didn't invent wine, but they did invent boiling it (which sounds horrible, I know, and probably was, at first, come to think of it).
Pragmatically, they came up with this method to keep their soldiers warm as they conquered the colder parts of Europe during the 2nd century AD. They added spices, honey, and dates, the latter of which they'd picked up from the warmer parts of the known world they had already conquered. This improved the bitter taste considerably, and they called the liquid confection conditum paradoxum, which means, roughly, and sweetly, "surprise spiced wine."
They also pollinated the by-now vast Roman Empire with a taste for this delectable concoction, one that never left. Every European country has its own version, and, frankly, they all taste basically the same — which is to say, great. It's hot, spiced wine, sweet and strong, and it has warmed me up on the streets of Paris, Prague, London, and Vienna, and all over Germany (where they call it glühwein), where, don't ask, I was on a tour of Christmas markets.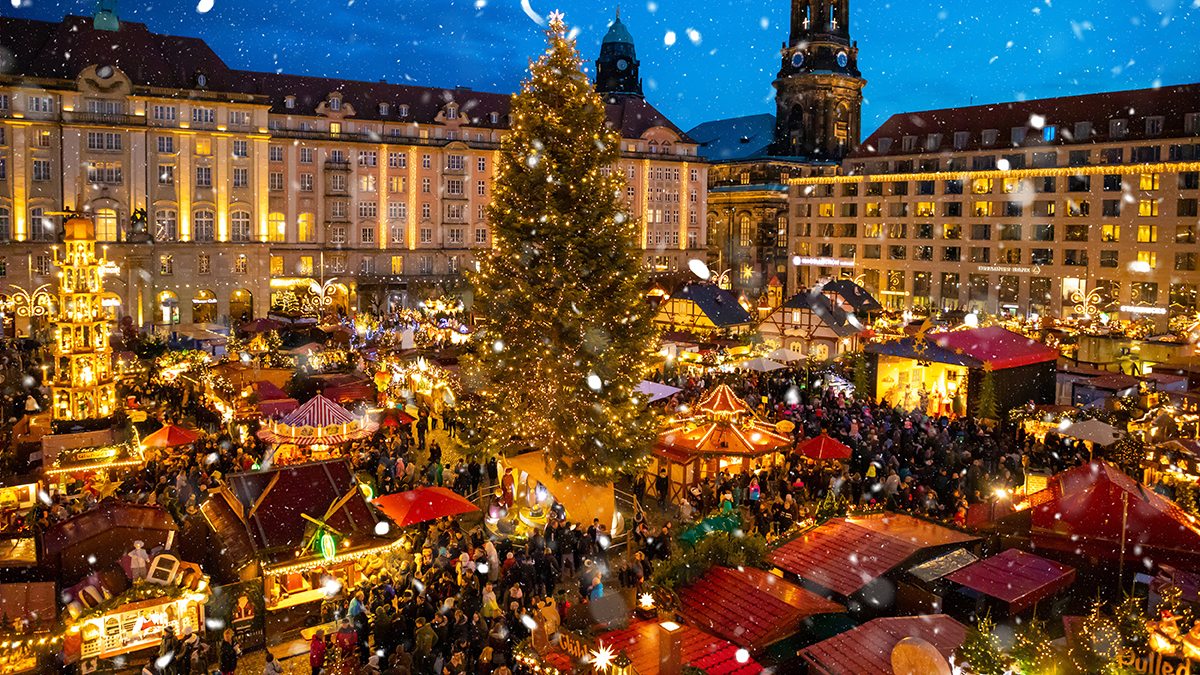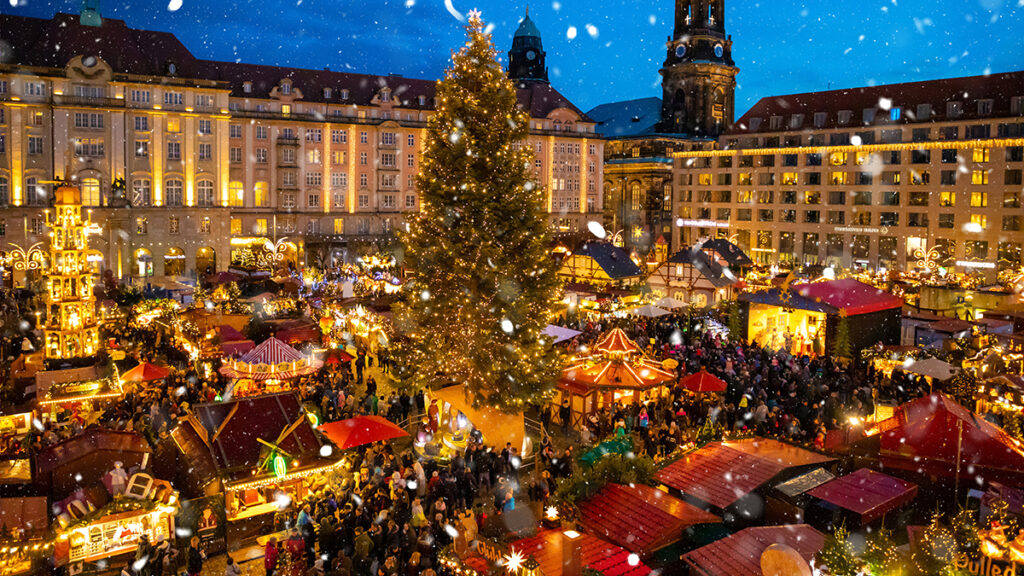 Traditionally, mulled wine is made with inexpensive, sweeter red wine — expensive and heavier reds don't work because the tannins compete with the spices — although in the French Alps they use white wine. Leave it to the French to be different.
In Latvia, they add a local black liqueur called, ominously, Black Balsam. Bulgarians add apples, and Moldovans add pepper. The Swedish have their own formidable — and, in my experience, extraordinary — interpretation, glogg (pronounced glook). The Swedes use port, because the spices can overwhelm an ordinary wine, and throw in whiskey and rum, plus raisins and almonds. The English add brandy. Because they're English. They add brandy to their cornflakes. (Alright, that's an exaggeration.)
There's nothing quite like — not an exaggeration — standing among thousands of people in sparkling, fairy tale-like Christmas markets from Aachen to Nuremberg, your feet invariably frozen, holding a hot cup or glass of mulled wine, sipping from it, slowly, and feeling its warmth and calming spirit glide down your throat and, pleasantly, throughout your body.
But, if you're like me and don't live near a Christmas market, how can we replicate this experience at home? Luckily, Harry & David anticipated this great hole in our lives and vowed to fix it. It has put together a special Mulled Wine Kit, which consists of not one but two bottles of its own Southern Oregon Ross Lane red wine, crispy Mandarin orange slices (an enticing and more shipping-friendly variation on fresh orange slices), and a blend of essential mulling spices, which consists of cinnamon, cloves, allspice, and orange peel.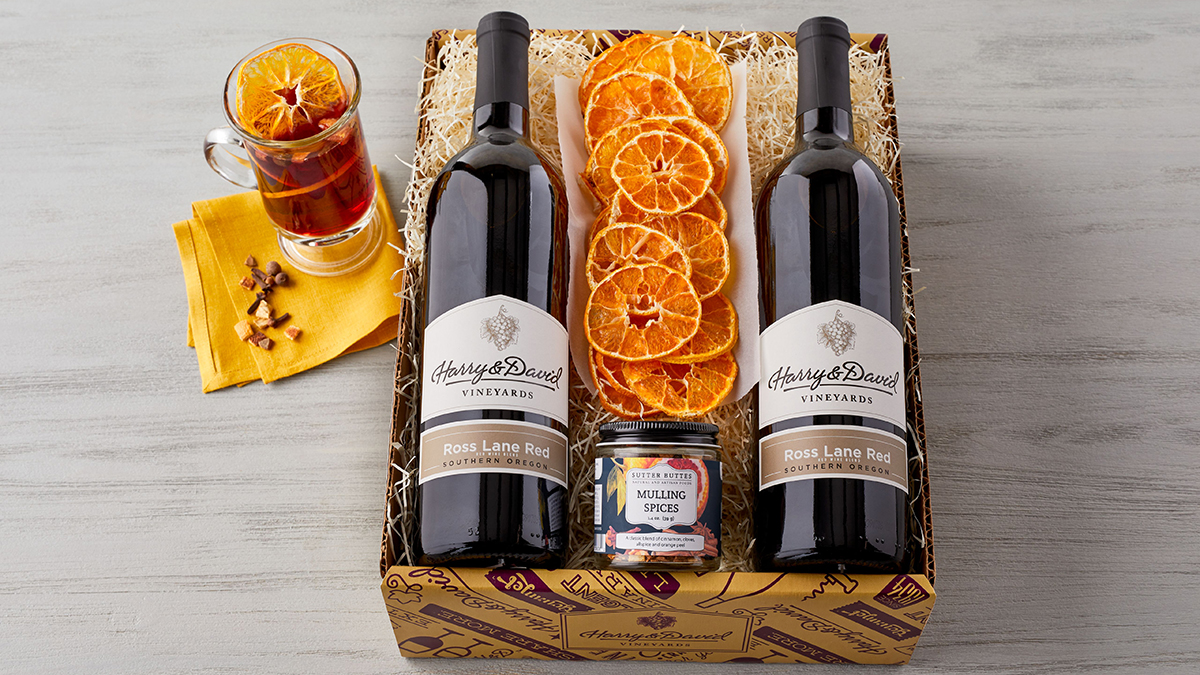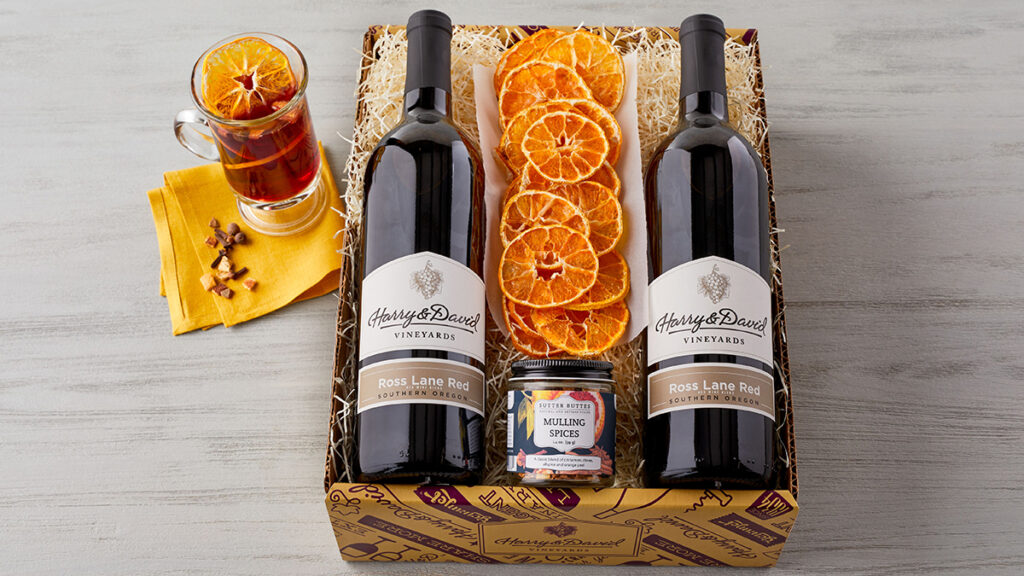 "I like a wine that is medium to medium-plus body that is a bit more fruit forward," says Ellen Sorenson, Harry & David merchandising manager, wine. "The goal was to find a wine to stand up to all of the spices, where the fruit and the spice play nicely together. If the wine is on the lighter side, like a pinot noir, the spices might take over the wine."
The recipe is incredibly complicated: Put all the ingredients in a pot and simmer them for a while. You'll know when. This kit couldn't be easier if Harry & David came to your house and made it for you.
Sorensen's tip: "Patience is key! You want to heat the wine so that the spices can incorporate; however, you do not want to bring it to a full boil."
And don't throw out the wine bottles! Use them for your new favorite seasonal drink.
This is a brilliant gift to give others because there is no one who drinks alcohol that doesn't like mulled wine. While you're at it, get one for yourself. You're on Santa's nice list, right?
For those who cannot get enough mulled wine, there's even a box of Knipschildt Mulled Wine Truffles — ganache and wine filled — made by the namesake award-winning chocolatier. These chocolates make for an excellent pairing with, well, mulled wine, of course — because you can't get enough of it in winter.
---