In "Gifting 101" we're bringing you all the best advice on gifting, whether you need advice for what to share for the holidays or tips on how to continuously impress your loved ones with gifts they'll cherish.
Comforting a loved one during a time of loss is no simple task, but even when it feels like there's nothing you can say or do to help, keep doing your best. It's important to remember that you can't take away their pain, but don't let that discourage you. Your presence or a phone call can make a huge difference in their grieving process. Even the smallest gestures, like a bouquet of flowers or delivering a meal can bring a smile during a hard time. Here's our list of sympathy gift ideas to help you show your loved ones they're in your thoughts.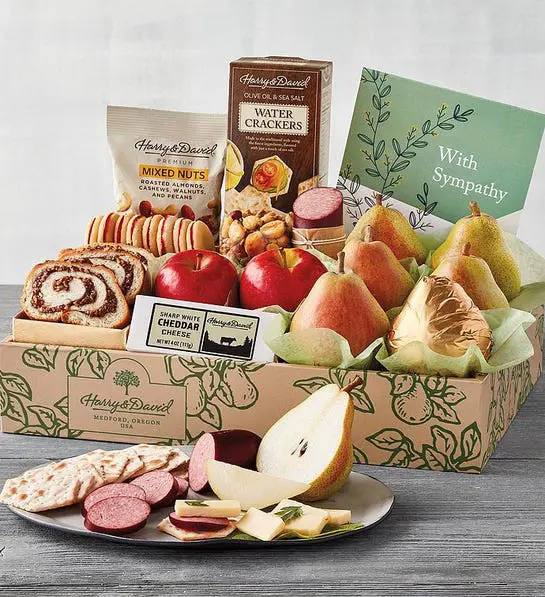 This elegant Sympathy Gift Box contains a thoughtful collection of gourmet foods, each carefully selected from beloved favorites. Included are the juicy, handpicked Royal Verano® Pears, sweet raspberry galettes, sea salt and olive oil water crackers, white cheddar cheese, and more. Nestled into all of these goodies is a touching printed sympathy statement letting your recipient know they are in your thoughts.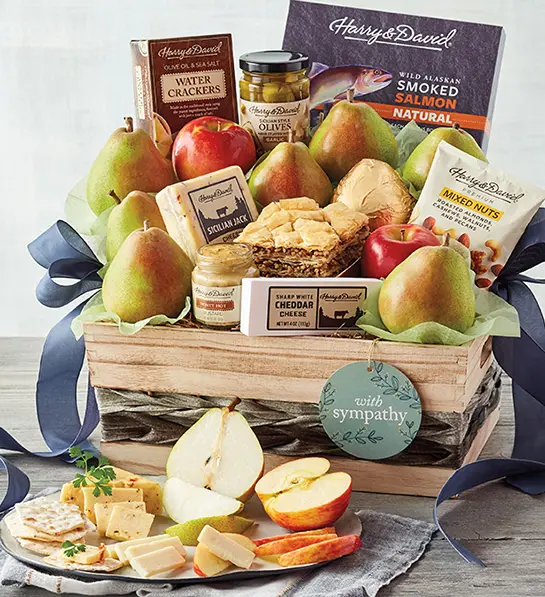 A gift of heartwarming gourmet food can be a big comfort during a difficult time. This Sympathy Gift Basket includes something for everyone, like Royal Verano® Pears, rich handmade baklava, and silky smoked salmon. Tucked into a reusable, wooden rattan basket with a thoughtful "With Sympathy" tag, this gift basket brings a smile to any grieving household.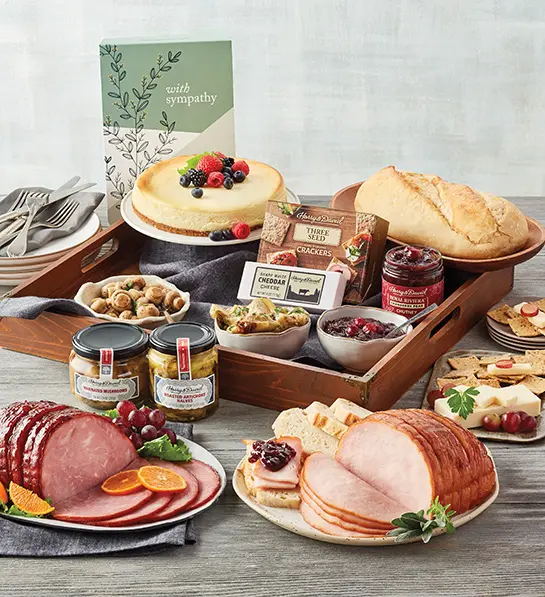 Cooking isn't always the first thought for someone who just lost a loved one. Send a thoughtful gourmet dinner that helps make any tough time a little easier to manage. This Deluxe Sympathy Meal includes premium spiral-sliced, honey-glazed ham, and three-cheese scalloped potatoes. And, if that weren't enough, creamy spring peas with bacon, and an artichoke, mushroom, and bacon frittata star as supporting actors. For dessert, they'll enjoy a signature New York-style cheesecake. Everything arrives ready to heat and serve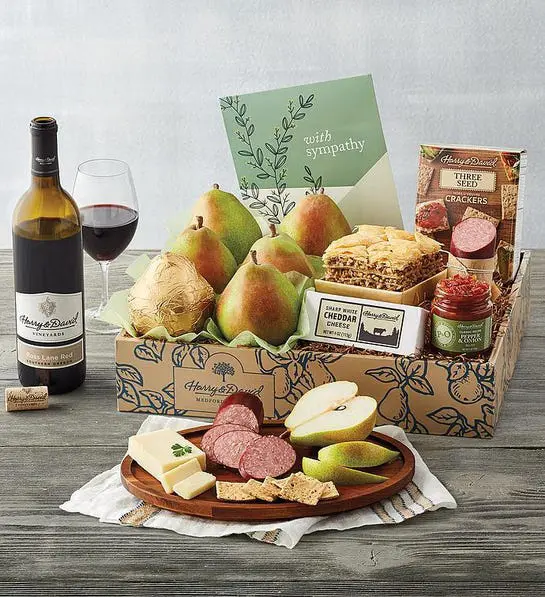 Show your support for a friend in need with a thoughtful delivery of gourmet goodies. This Classic Sympathy Gift Box with Wine is packed with Royal Riviera® Pears, baklava, hickory-smoked sausage, and more. To top it off, it's accompanied by Harry & David Ross Lane Red Blend and comes with a pre-printed sympathy placard.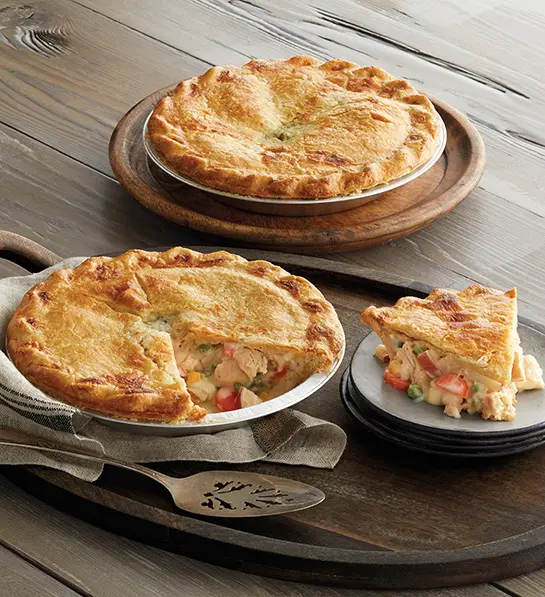 True comfort food will help to ease a difficult time. Sent already prepared, these two classic Chicken Pot Pies are filled with tender white meat chicken, sautéed onions, carrots, peas, celery, chunks of potato, and the perfect blend of herbs and spices. This is one of our favorite meals, made the traditional way with a flaky, buttery, hand-crimped crust, and a hearty, home-style filling.
Send your condolences with the comfort of baked goods. This Sympathy Bakery Gift Tray is perfect for anyone who needs some comforting sweets during a hard time. This gift tray offers lemon shortbread, walnut chocolate chunk cookies, and two different kinds of cookie bars (German chocolate and white chocolate raspberry). An apple streusel loaf cake accompanies baklava, a rich and fudgy chocolate cake, and raspberry galettes made right here in the Harry & David bakery. Nestled into a pine wood tray, this gift will surely bring a smile to those who need it.
Flowers are always an appropriate and welcome sympathy gift idea. Seven white Oriental lilies are displayed among green huck, salal, and beargrass. Each lily stem produces three to five magnificent blossoms. This sympathy bouquet arrives in a graceful, reusable glass vase.