Move over, cheese; we're here for the cookies! I love a good holiday charcuterie board, but what about a dessert charcuterie board, with sweet treats instead of meats and cheeses? I decided to try it out. Everyone likes desserts, so what could go wrong?
I used all my favorite Harry & David holiday sweet treats to create this dessert version of a charcuterie board. I included all kinds of chocolate on the board with holiday truffles, sea salt caramels, holiday chocolate grahams, and chocolate strawberry pieces. The classic holiday peppermint flavor comes in with the peppermint bark and peppermint pretzels. Yogurt-covered snowflake pretzels add some festive variety and a different flavor. And then there are the cookies–gingerbread men, raspberry tree-cutout cookies, chocolate-covered macadamia and cranberry orange shortbreads, and more!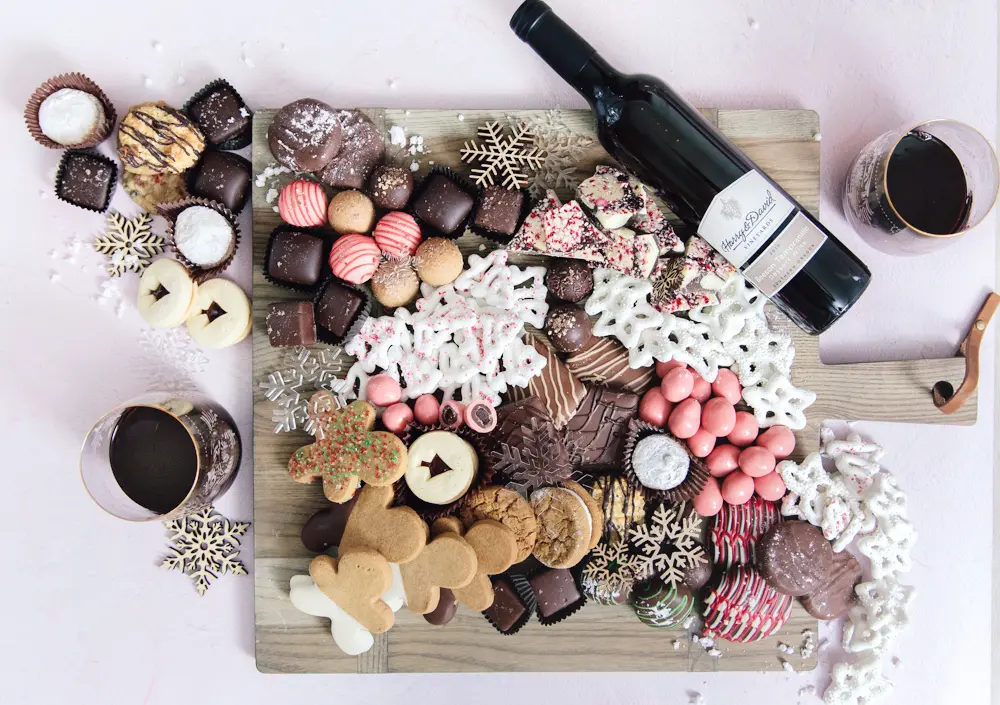 Putting the cookie board together
Creating the cookie board is quite easy, and I have some tips that can help if you don't know where to start. My first recommendation is to group the items. For this dessert board, I started with the chocolate grahams and arranged them in the center. From there, I placed groups of different treats around them, building out from the middle of the board. It looks good to mix it up a bit. Try adding two groups of chocolate strawberries, for example, or placing different cookies on one side of the board than the other.
My other advice is about the little details–space, and decorations. I love the look of extra space on the tray; it adds color and a dynamic layer behind the sweets. For the decorations, I used wooden and acrylic snowflakes and fake snow. This helped tie in the holiday season and provided extra texture and festivity.
This cookie board is perfect for a holiday party or happy hour. I threw in some bowls of ice cream and added a bottle of dessert wine for the adults, too. With all the sweet fixings, this holiday charcuterie board will be an easy hit with family and friends of all ages!
---