Halloween is just around the corner and these are a few of our favorite Halloween party food ideas to create a frightfully fun gathering.
Plan ahead for entertaining by stocking up on fabulous gourmet food from Harry & David, such as our Deluxe Crooked House Halloween gift. This unique tower arrives filled with Halloween party snacks including a fresh twist on Halloween candy gifts: Royal Riviera® Pears from the orchards.
Our Crooked House includes other, more traditional Halloween candy gifts, such as Moose Munch Gourmet Popcorn—our own candy popcorn—which is also included in our Halloween Treats gift. This gift offers surprises, such as a spider web lollipop, in addition to other delightful sweets.
If a gourmet cake delivery is on your list, consider our Chocolate Spice Cake. It's an autumn feast for the senses.
If you're planning a Halloween get-together and need to easily create a spread to scare up smiles, look no further than our Halloween Book of Spells Gift Tower or our Halloween Candy Book of Spells. Each is filled with a variety of gourmet food like espresso truffles, hot cocoa, pumpkin spice maltballs, and our gourmet harvest candy corn.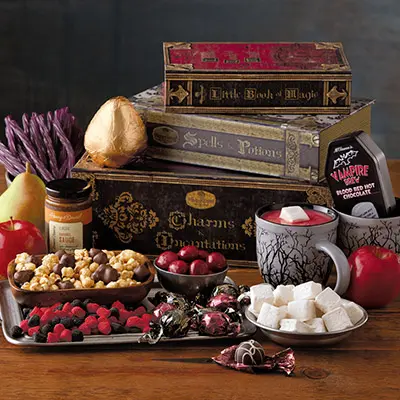 Your Halloween gift baskets would not be complete without a sweet Halloween Book of Cookies.
You may want to have a few Halloween Ghost and Spiderweb Cheesecakes on hand in addition to all the fresh fruit and Halloween candy gifts as well.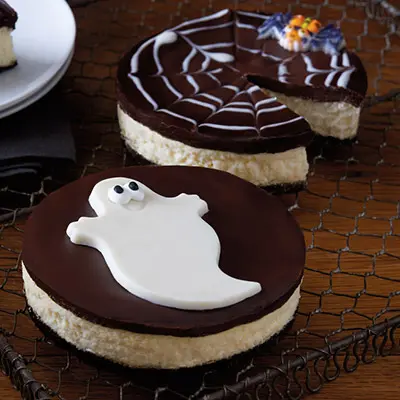 Our Halloween Moose Munch® Gourmet Popcorn might top your list of Halloween party snacks. It brims with our exclusive irresistible sweet, crunchy and salty caramel popcorn.
If chocolate lovers are on your guest list, consider including a Halloween Chocolate Grahams Books of Spells gift with lots of chocolate and graham cracker snacks.
And finally, if you are looking for a spooky centerpiece, consider ordering our exclusively designed Halloween Coffin Gift Box with an assortment of gourmet food.
Harry & David has your Halloween party snacks covered!
---
What To Do Next…
How will you create a party that's a monster hit this Halloween? Please let us know in the comments. We'd love to hear from you.
Order your Halloween party snacks today.