It's Labor Day, which means you should not spend hours prepping in the kitchen to create an amazing spread for friends and family. The last ("unofficial") hurrah of the summer deserves celebration and, better yet, to be enjoyed fully with minimal effort in the cooking department and these easy dinner ideas will do just that.
The best way to approach this end-of-the-season get-together is to prepare some quick appetizers, a side dish or two, an easy entrée (the grill is your best friend), and a simple make-ahead or no-bake dessert, all served family style. You do minimal work a day or two ahead of time with these easy dinner ideas and then assemble quickly and serve, leaving more time to mingle with your guests.
Labor-free appetizers
For appetizers, Smoked Salmon Cucumber Bites and Whipped Ricotta and Cherry Crostini are perfect, as they both use in-season ingredients. You can make the cream cheese mixture for the cucumber bites as well as toast the crostini ahead of time — leave the latter at room temperature until you whip the ricotta. Then, quickly assemble them close to the start of the party, and they are on the table for when your guests arrive.
Smoked Salmon Cucumber Bites
Slice an English cucumber into rounds. Combine 4 ounces softened cream cheese, 4 tablespoons Greek yogurt, 1 teaspoon lemon juice, salt to taste, and chopped fresh dill. Spoon a small amount onto each cucumber round and top with smoked salmon. Garnish with fresh dill.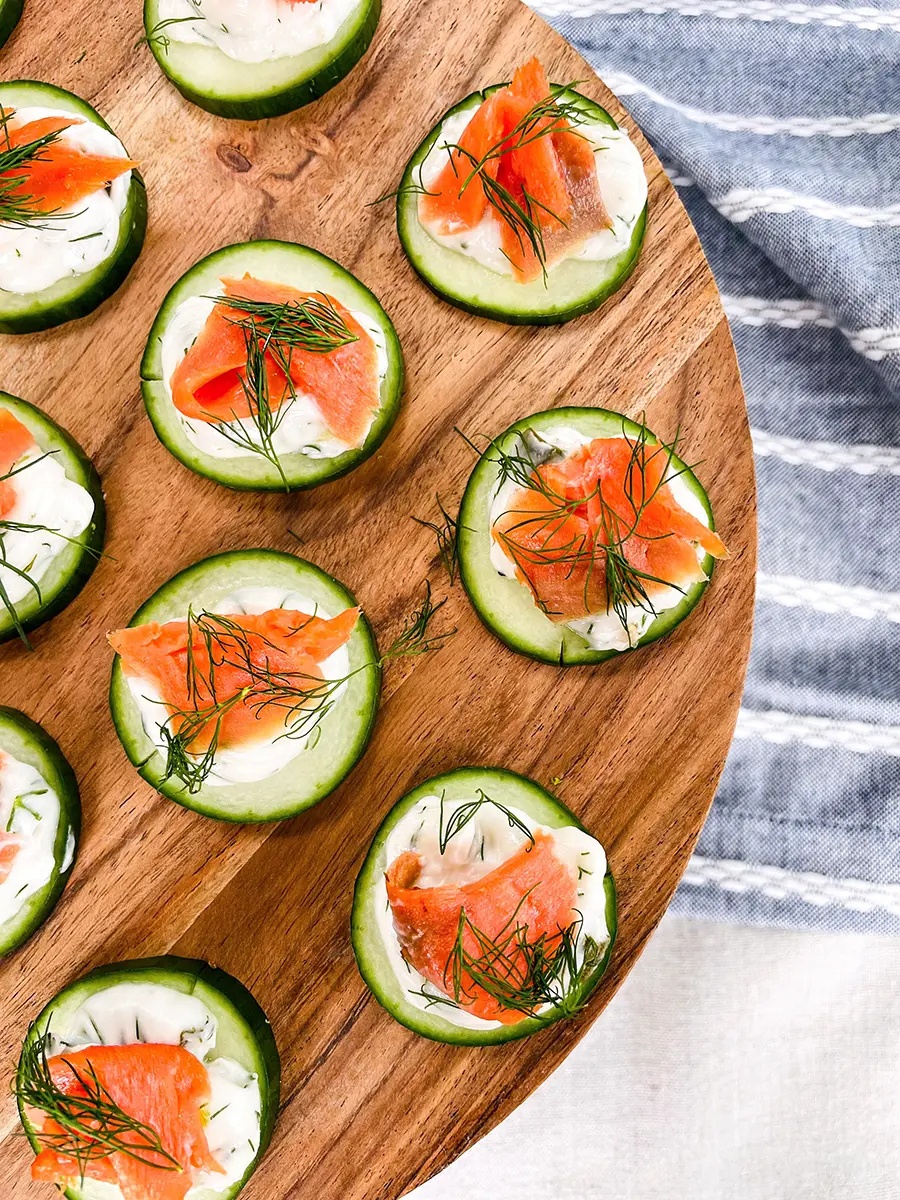 Whipped Ricotta and Cherry Crostini
Toast slices of a baguette. Whip 16 ounces whole milk ricotta, 1 tablespoon of honey, a pinch of salt, and zest of one lemon in a food processor. Spread the whipped ricotta over toasted bread and top with cherry preserves, a drizzle of aged balsamic vinegar, and torn fresh mint leaves. Chop some sweet cherries and put those on top, too. Refrigerate until ready to serve.
Labor-free side dish
For side dishes, I went with a very seasonal Tomato and Peach Burrata Salad with Basil Vinaigrette, and Sautéed Corn with Jalapeño, Lime, and Basil. Go ahead and make the vinaigrette up to three days in advance. The corn is amazing cold or at room temperature, so make this the day before and add the basil just before serving to ensure it stays vibrant and fresh.
Tomato Peach Burrata Salad with Basil Vinaigrette
For the vinaigrette, add 2 ½ cups loosely packed basil leaves, 3 tablespoons red wine vinegar, ½ cup olive oil, one clove garlic, a pinch of crushed red pepper, 1 teaspoon kosher salt, and a drizzle of honey to a food processor. Blend until smooth. This can be made up to three days in advance and refrigerated.
Slice grape tomatoes in half and slice peaches into wedges. Arrange on a platter and season with salt; then add burrata, basil vinaigrette, and fresh basil leaves.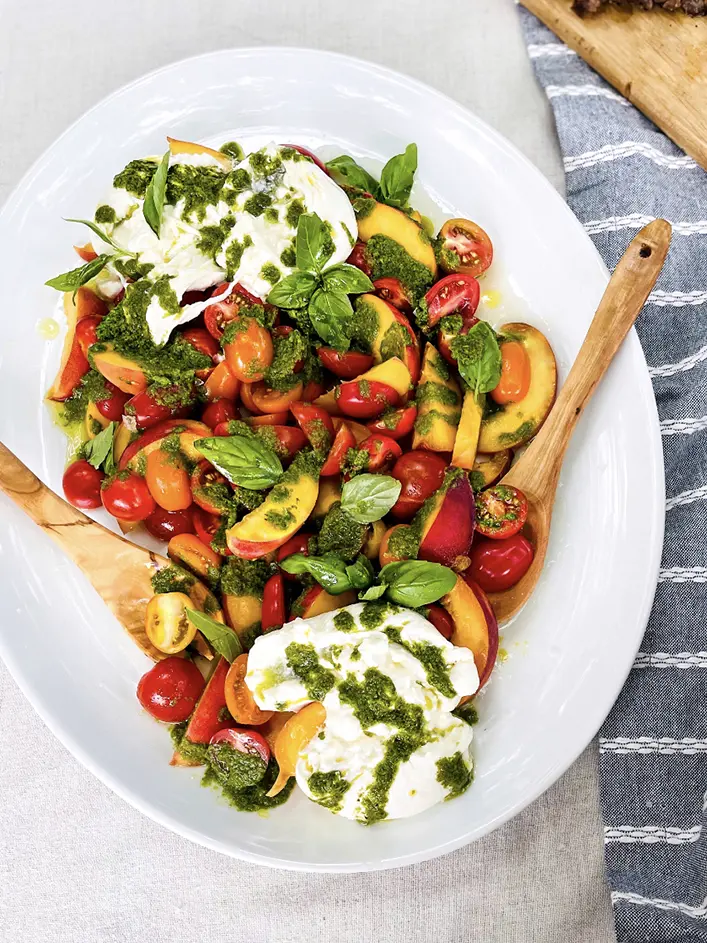 Corn with Lime, Jalapeño, and Basil
Cut the kernels off eight ears of corn. Add olive oil to a sauté pan and add corn. Sauté 3 minutes, then add kosher salt, 1 tablespoon jalapeño jelly, zest and juice of one lime, and 1 tablespoon apple cider vinegar. Sauté another 2 minutes. Stir in finely chopped basil if serving immediately, or reserve and add right before eating if making ahead. Can be served hot or cold.
Labor-free main course
I served these sides with Peppercorn-Rubbed Ribeye Steaks grilled to perfection and then sliced so guests can grab them easily, buffet style.
To prepare the meat, season liberally with a peppercorn steak spice on both sides and let it come to room temperature (30 minutes to 1 hour).
Grill on high (450-500° F) for 3 minutes on each side. Then, lower the heat to medium-low and continue cooking to medium rare (until the internal temperature reads 135° F). Feel free cook to your desired doneness. Medium-rare is about 8 minutes of total cooking time, so allow for slightly longer if you prefer a more well-done steak.
Allow the steaks to rest for 10 minutes before slicing.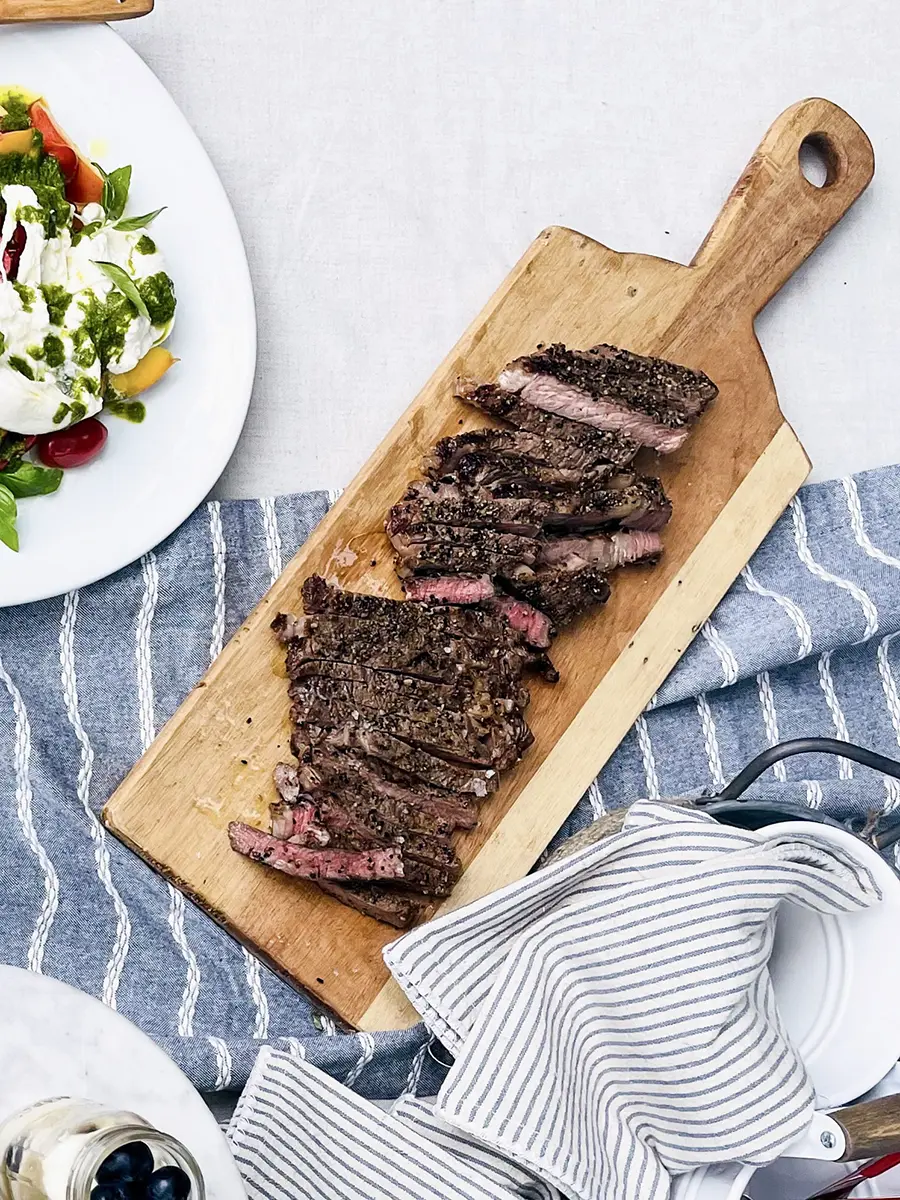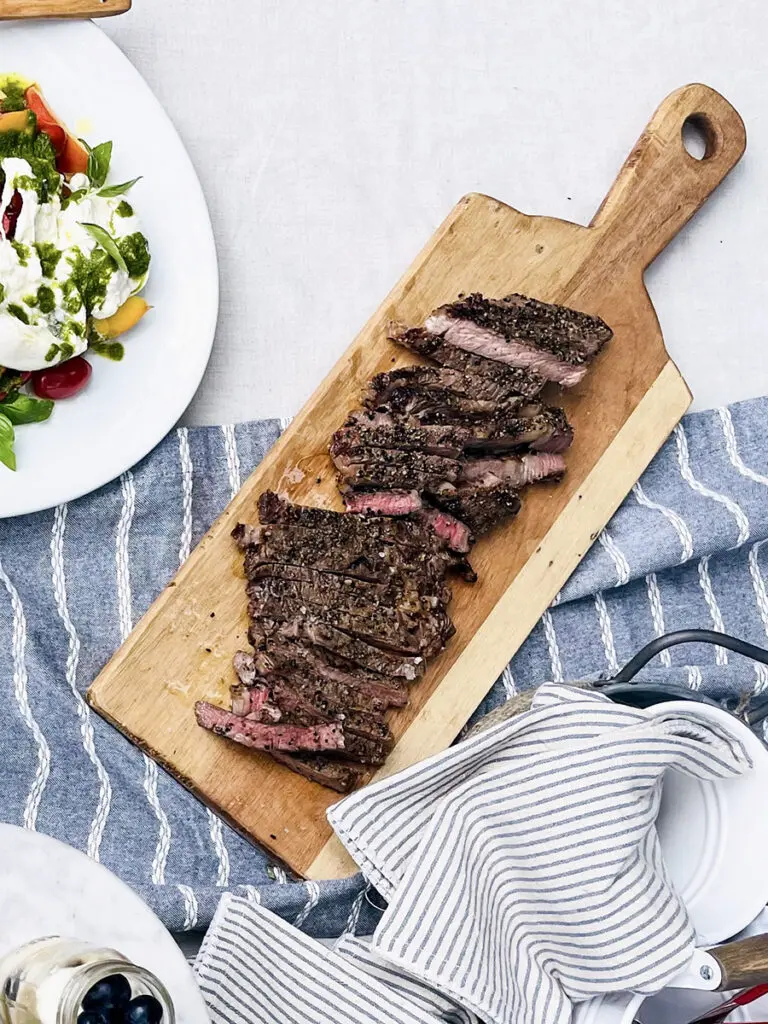 Labor-free dessert
Finish your labor-free Labor Day feast with make-ahead and no-bake Blueberry Lemon Trifles. Serve them in little jars to see all those pretty layers of lemon pound cake, mascarpone cream, lemon curd, blueberry preserves, and, of course, fresh juicy summer blueberries.
Blueberry Lemon Trifles
Slice lemon pound cake into ½-inch squares. In a small bowl, stir together 8 ounces softened mascarpone cream and ½ cup heavy cream until smooth. Layer the jars or small cups with squares of cake, cream, lemon curd, fresh blueberries, more cake, blueberry preserves, and more cream, and finish with fresh blueberries on top.
Round out these easy dinner ideas with some ice cold drinks, a festive playlist, and great company. Here's to a very happy — and labor-free — Labor Day!
---