While this beautiful lush centerpiece may look like you would need an advanced floral degree to create it, it's really quite easy to make. You just need the right tools and someone to guide you along. That is where I come in.
How to make a fall wreath
Most people think of a wreath as something you would hang on a wall or door — and only during Christmas. But these festive decorations are perfect as centerpieces, too, and can be displayed any time of year. Having the center of the wreath open provides endless design opportunities for personalizing it with lanterns, candles, or any number of other accessories.
For this fall wreath, I used a beautiful amber Fenton glass vase as a candleholder. I really like how the amber glow complements the rich hues of the seasonal flowers in the wreath. You'll want to select flowers that have lots of different textures and air dry nicely, such as hydrangea, rice flower, colored roses, fall leaves, and berries. Adding non-perishable seasonal accents like dried pods and burlap roses not only fill up the wreath but help extend the life of the it for weeks.
As the flowers begin to dry, the accents keep their color and shape. Then, when it is time to discard your fall wreath, you can remove these elements and reuse them in your holiday décor. Did someone say upcycling?
Watch this video to see how easy it is to make this fall wreath, and then I'll walk you through some of the details.
There are five simple steps to assembling this arrangement: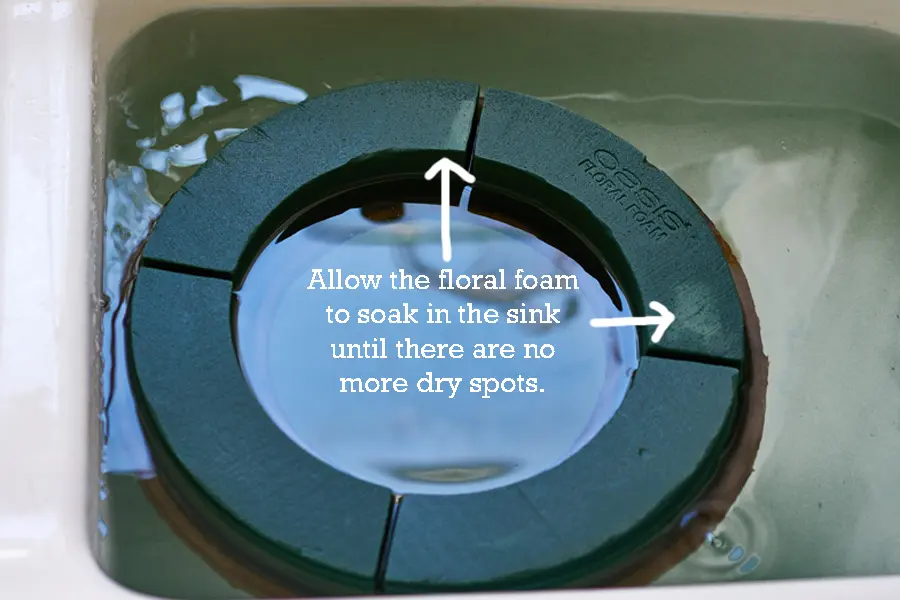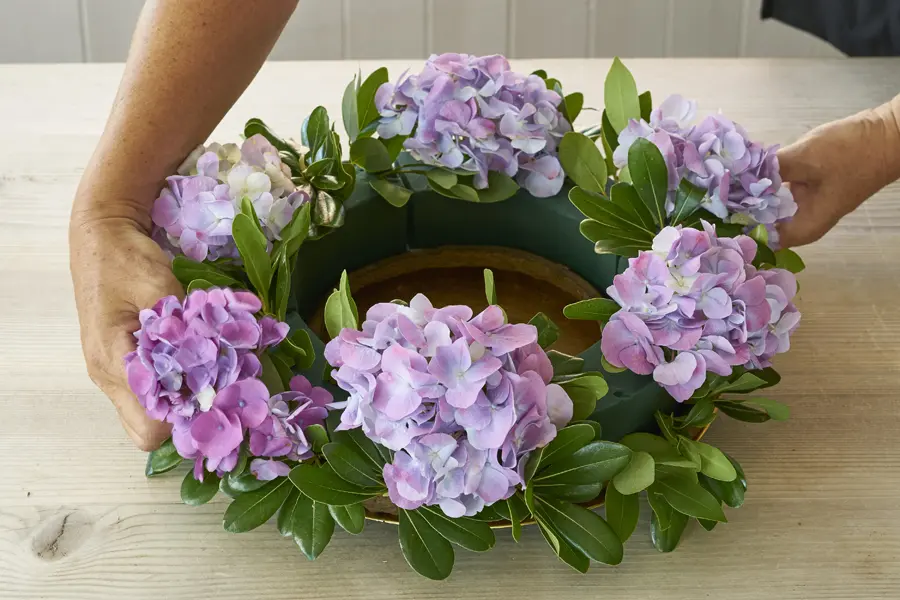 Start with a floral foam base that has been thoroughly soaked. Cut the stems of all the flowers and accents short, about 3 to 4 inches.
Starting with a base of foliage, insert short pieces around the outside of the foam and add additional sprigs on the inside rim as well as the top. Your foam does not have to be completely covered at this point. You can always go back and fill in any empty spaces after you have added the flowers and other accents.
Insert the largest flowers first; this establishes the size and basic shape. When inserting the floral stems, make sure the bottom end of the stem is in the foam and has not gone all the way through.
Next, add the dried pods and burlap roses.
Continue adding the remaining floral pieces, and finish up with berries and autumn leaves.
Adding a candle to the center of the wreath is a perfect touch for a centerpiece, but it is not necessary. It's all up to you and the look you want.
How to make ribbon roses
Don't you love these burlap roses? They are very easy to make and can be fashioned out of lots of different types of ribbons and fabric. I use burlap ribbon. The process is the same for any type of ribbon. And be patient. Remember: Practice makes perfect.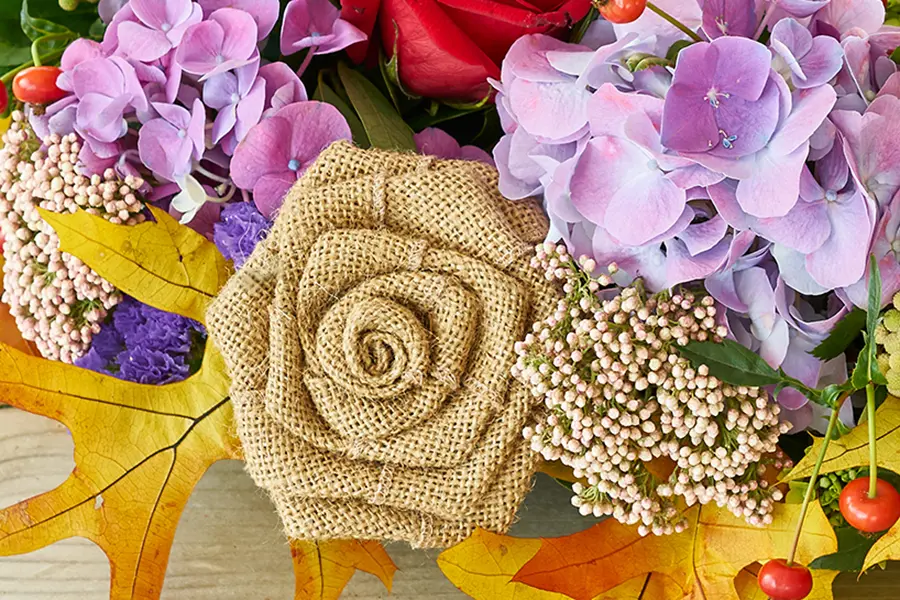 To make a 3-inch burlap ribbon rose, you will need:
36-inch piece of wired burlap ribbon (You can make these ribbon roses without using wired ribbon, but I find it easier to use wired ribbon.)
Glue
Wood sticks (I used green floral sticks, but you can also use a wood skewer.)
Floral tape
Start by folding one end of the ribbon over the stick and glue in place. Start rolling the ribbon around the stick tightly to create the center of the rose. Then, continue to roll the ribbon around the stick to create each "petal." Twisting the ribbon as you go helps to mimic the way each rose petal opens up from the center.
No two ribbon roses will be exactly alike, so don't feel pressure to make each of your roses perfect. Give it a try and remember to just have fun with it.
---