Chef Geoffrey Zakarian's newest curated collection is the perfect starting point for creating a memorable holiday meal that inspires connection and celebration with friends and family. This product assortment includes offerings from his signature line of entertaining and pantry items, paired with classic favorites from Harry & David, Vital Choice, and Wolferman's Bakery.
With preparations for seasonal gatherings underway, the Harry & David culinary ambassador and award-winning chef shares a peek into his holiday plans, tips for effortlessly hosting the ultimate feast, and insights into some of his favorite products for making the months ahead truly magical.
Harry & David: What do holidays with the Zakarians look like? Anything special planned this year for Christmas? Are you hosting?
Not surprisingly, our holidays are completely planned around the meals we will enjoy together. There is a lot of emphasis on Christmas Eve celebrations — we have a big dinner where we go all out! We always do a rib roast of beef served family-style. It's cooked slowly for four hours and served with an array of roasted root vegetables and Yorkshire pudding. And, we usually travel north in hopes of finding ourselves some snow.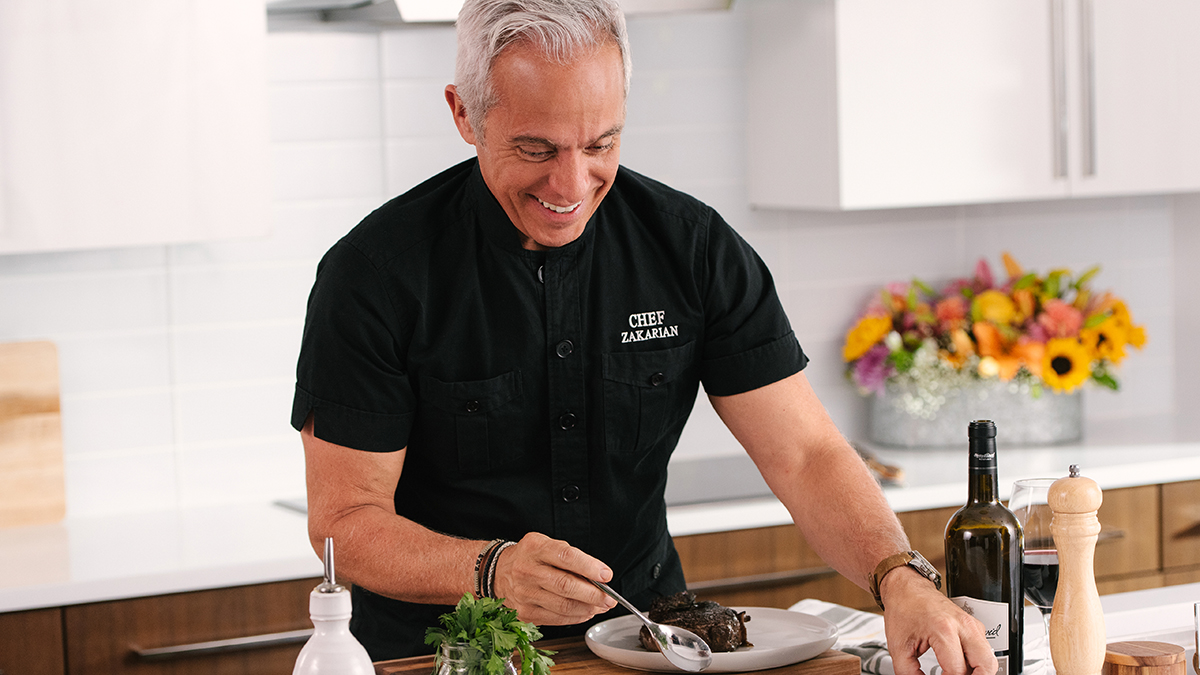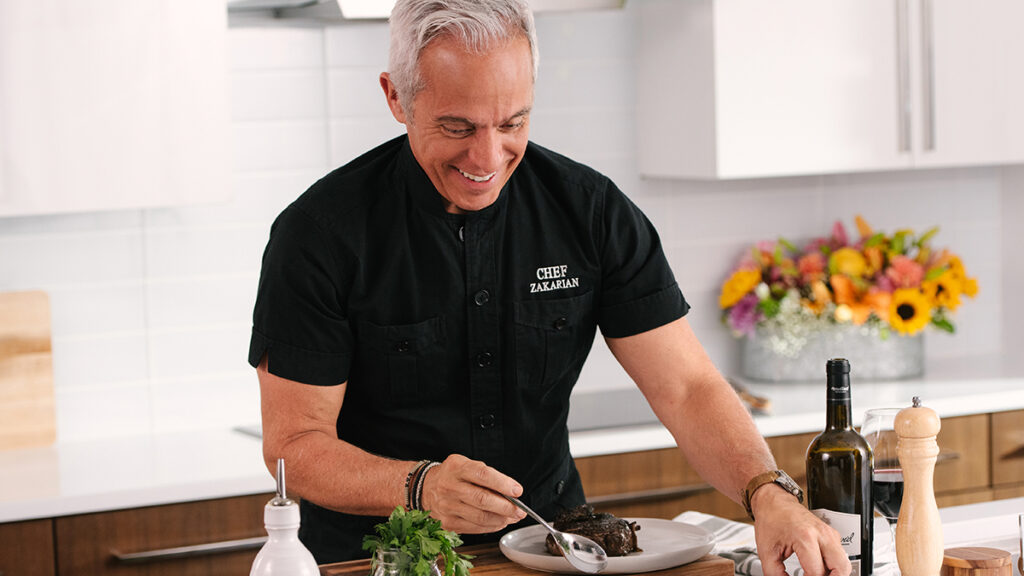 Do you handle most of the cooking or does everyone in the family make their own special contribution to the holiday menu?
My wife, Margaret, and I usually try to make holiday dinner together, which is a fun challenge that we always look forward to. First things first, we make the menu. At this point we also decide who will take the reins on preparing which dishes. I typically handle grocery shopping three to four days prior, as well as the bulk of the prep. If the prep is all taken care of, then everyone can actually have fun in the kitchen when the real cooking begins! The kids might jump in and help remove stems from the string beans, peel vegetables, or grate cheese — simple tasks that don't take too long.
What's your favorite thing about cooking a holiday feast?
The best thing about making a holiday feast is that the fridge is stocked with delicious leftovers that last at least a few days. And, this is definitely by design. I look forward to planning what other meals I can create based on what is left over. There's a stew that turns into a marvelous pasta dish and a roast pork that makes the perfect sandwich.
What are the most memorable holiday traditions you had as a child?
When I was a kid, food was a big focus of the holidays — it's been that way for as long as I can remember. We talked about lunch at breakfast and dinner at lunch. We ate in a very European style, meaning we planned our meals based on what was in season and in abundance at the market. I remember lots of fresh sliced tomatoes, fresh cheese, eggs, and some kind of meat at breakfast. We also made the most of leftovers and let nothing go to waste.
When I was about 14 years old, my father and I used to go to the tree farm to cut down a tree. We tied it to the car and drove it back home. The smell of the freshly cut tree and dragging it through the snow make this such a special memory. To this day, I find ways to include festive touches of green throughout the house during this time of the year.
What dishes does your family get most excited about having on the table this time of year?
In the late afternoon on Christmas Day, we have a very casual, fun pizza and Champagne party. For about two hours, I make pizza after pizza as people rotate in and out of the kitchen. It's a great way to end the day, and since we had so much food the night before, everyone really enjoys something more laid back.
You're always creating something delicious with fresh fruits or vegetables. How can people incorporate more healthy options into their meals during the holiday season?
One very simple way to make your holiday meals a bit healthier is to substitute butter for extra virgin olive oil. I also fill our table with 60% vegetables and 40% protein. There are so many delicious vegetable-centric side dishes out there, and if you stick to this, a slice of cake for dessert won't hurt!
Gingerbread? Mulled spices? What seasonal scent would we find filling your home this time of year?
I have a recipe for mulled wine that really doubles to make the house smell so warm and inviting during the holidays. I love to have this heating on the stove right when guests arrive. I use plenty of orange, cinnamon, stone fruit, cloves, and star anise — there really is nothing like it.
What is your favorite holiday cocktail?
In the winter months, anything with bourbon is a winner. A Gold Rush is an outstanding cocktail — very simple, yet celebratory. I also love a Manhattan, made properly, which means very cold. If I am serving a Manhattan to guests for the holidays, I batch it ahead of time. That way, I can keep it super cold in a beaker in the refrigerator.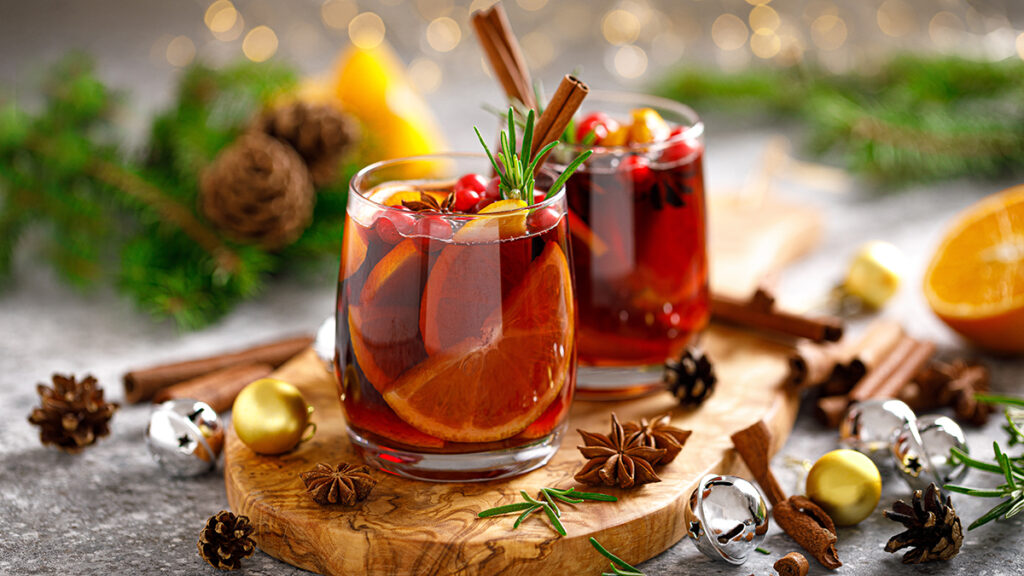 Another thing I always do to control the temperature is freeze the glasses. Whenever someone is ready for a drink, I take the glass from the freezer, fill it, and serve!
What are your three must-haves to keep in any kitchen during holiday meal prep?
As much as I wish I only had three must-haves during the holidays, the truth is, I have many holiday-feast essentials. I really rely on having a properly stocked pantry. Just to name a few, you need good olive oil, red wine vinegar, Champagne or white wine vinegar, Dijon mustard, kosher salt, high-quality finishing salt, black pepper, dried spices that aren't passed their expiration date, plenty of dried pasta, rice, and beans. The list goes on! Hors d'oeuvres and snacks are always laid out on the table so that when guests arrive, I can concentrate on any finishing touches for the big dinner.
What are the biggest mistakes that you see people make when hosting at home?
People don't realize that the prep work is really what takes up most of your time. You have to get organized well before you begin so that the process is seamless. Plus, you will be able to spend more time with loved ones, rather than doing all the cooking.
What are your favorite Harry & David offerings to incorporate into holiday meal planning?
The Holiday Charcuterie and Cheese Collection is my go-to because it's ideal for entertaining guests during the holidays. It includes an assortment of sausage, salami, asiago and cheddar cheese, flavorful mixed nuts, pretzels, sesame sticks, honey balsamic glaze, and honey mustard dip. To make it extra special, I like to pair this with a few bottles of wine. And for something that feels special, yet is very simple to prepare, I love serving Alaskan halibut filets. Season the fish with salt and pepper, then cook in a skillet with butter, rosemary, and a bit of garlic and you have an easy holiday-worthy entrée.
---


---
Any advice for entertaining guests with different dietary restrictions?
Swapping butter for olive oil is going to eliminate a lot of dairy from your dishes. And, if your table is full of gorgeous produce and vegetable-centric dishes, you will likely have plenty to feed anyone with dietary restrictions.
This is the season of gratitude. What are you most grateful for?
I am always grateful for my family and my health — there's nothing else that matters to me more.
---
Chef Geoffrey Zakarian has teamed up with Harry & David to share his passion for fine food, entertaining, and healthy living. The Iron Chef known for his award-winning restaurants, TV appearances, and podcasts will wear another type of toque: Chief Culinary Ambassador for Harry & David. In this role, Zakarian will curate a collection of Harry & David products that reflect his philosophy and approach to cooking and entertaining. He will also share his insights and advice in Harry & David's digital magazine, The Table, and host in-person and virtual events.