With its porous skin and bumpy peel, the Gold Nugget mandarin may not be the prettiest produce out there, but don't let its ugly duckling appearance fool you. When it comes to overall flavor, you won't find a better-tasting piece of citrus.
The gold standard
Named for the naturally bumpy texture of its peel, which is considerably rougher — and has larger visible pores — than other mandarins, Gold Nuggets are significantly larger than clementines and tangerines but not quite as hefty as the average orange.
A relatively young fruit biologically speaking, this progeny of the Wikling mandarin and the Kincy mandarin was first hybridized in the 1950s, says Dr. Mikeal Roose, a geneticist and tree breeder at the University of California, Riverside, who worked on the development, and eventual public release, of the Gold Nugget.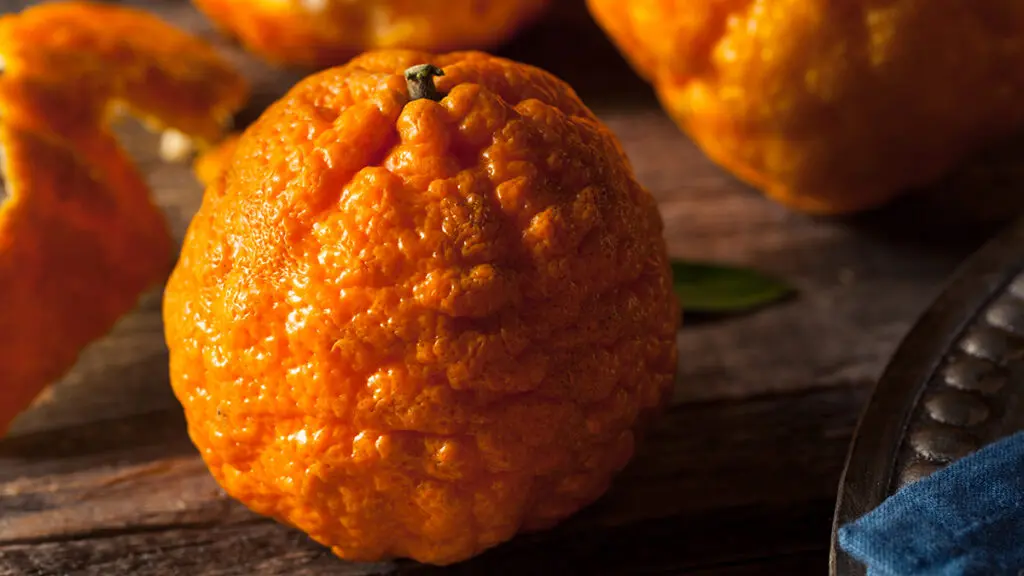 Officially known in scientific circles as citrus reticulata, the Gold Nugget, Roose says, has three main traits that make it special.
"Gold Nuggets are what's known as late-maturing fruit," he explains. "While most varieties of mandarins are ready to harvest in late fall and early winter, and have typically all fallen off trees by spring, Gold Nuggets hit the peak of ripeness starting in March."
Ripe fruit left on the tree lasts incredibly well and can be eaten into late summer, he says.
"Another essential attribute of the Gold Nugget is that it's highly seedless," Roose adds. "It's very hard to find a Gold Nugget with any seeds. They are one of our first and earliest truly seedless fruits."
And finally — and, perhaps, most important — the Gold Nugget has a unique flavor that really sets it apart, Roose says.
"I don't usually have favorites," he says, "but I think it has to be one of the best-tasting mandarins available. It's really outstanding."
Mass ap-peel
Jane Hunts, merchandise manager for fruit at Harry & David, shares Roose's sentiments.
"In terms of the eating experience, there is nothing I don't love about Gold Nuggets," she exclaims. "They have the perfect balance of sweet and tart, are easy to peel and chew, and are incredibly juicy and the perfect size for snacking."
Lisa Tate Soury, a grower of Gold Nugget mandarins based in California's Ventura area, agrees, saying, "Gold Nuggets are appropriately named. They are little golden treasures that come from incredible little trees."
The best way to enjoy Gold Nuggets, not surprisingly, is to peel and eat them as a standalone snack. "But they also work well in any recipe you would use citrus in," Hunts advises. "The rind of the fruit has a high oil content, which makes it a great choice for any recipe using orange zest. Because of their high sugar content, they are a good counterbalance in savory presentations, such as salads and seafood, and they make a delicious addition to any dessert due to their sweetness."
"My mom loves them covered in chocolate, but I love them straight off the tree," Tate Soury says. "They are delicious on their own."
The giving tree
Because of their thin, oil-infused peels, Gold Nuggets can bruise easily, so growers must take great care in harvesting the fruit. Fortunately, many growers have also perfected this process, turning it into something of an art form. With farms based in the heart of southern California's produce belt, AC Foods is one of the nation's leading growers of grapes and citrus fruit, and also Harry & David's leading supplier of Gold Nuggets.
According to company spokesperson Sunnia Gull, the care lavished on not only growing Gold Nuggets but also ensuring they are picked at the peak of ripeness is one of the main reasons the fruit is so delectable year after year.
"We prune our trees by hand, and all of our fruit is picked into small totes instead of large bins to protect the delicate nature of the mandarins," Gull says. "Once they arrive in our packing facility, they are processed over a dedicated line, and we use a special curing process to ensure maximum quality and shelf life."
---

---
"Gold Nugget trees are a farmer's dream," Tate Soury adds. "They are hardy little trees that produce lots of fruit — their branches get loaded. As growers, we make sure to take good care of them, feeding them, watering them, and making sure they are kept warm in the winter, cool in the summer, and are always protected from pests. But the trees get the credit for the amazing fruit that they share."
"Anyone who has not tried a Gold Nugget has no idea what they are missing out on," Hunts says. "This is one of the best tasting citrus fruits out there!"