From winning gift ideas to card message suggestions, "Birthdays Reimagined" provides tips to help you make your loved one's birthday wishes come true. In this story, we offer four inspiring birthday party themes for adults.
Planning a friend's blowout birthday bash with a grownup appeal? How do you make it simple, seamless, and guaranteed good time? Try on one of four birthday party themes for adults: the Cocktail Party, the Dinner Party, the Tailgate Party, and the Milestone Party for the ultimate birthday celebration. And be sure to read closely because there's a lot of great ideas you won't want to miss!
1. The Cocktail Party
Who: The birthday girl's best friends, plus a few more
What: Drinks and hors d'oeuvres
When: 5 p.m. – 7 p.m.
Where: Your back patio with an outdoor fire pit roaring
Why it's great: Everyone gets a taste of fun, and there's not a huge commitment. You can always continue to dinner at someone's place or a restaurant.
The details
How you invite your guests sets the tone. For a last-minute small group gathering, a casual text with all the details works — but expect jeans, not little black dresses. Looking to elevate? Hand deliver or mail a chic card with a special icon that reflects the guest of honor or the event's theme, such as a fishing rod, skis, or a palm tree.
Flowers + Conversation Pieces
Flowers are a must and can be conversation starters if they are original, like a party cat made from ruffled carnations. Other selects should include something the guest of honor can take home as a special favor. Next to your bouquet, place some conversation cards. DIY suggestions: "What is the age you most associate yourself with?" "Where do you see yourself on this day in 10 years?" "What did you do for your 21st/30th/40th birthday?"
Drinks
Set up drinks at a different spot from the food to encourage mingling. Serving just wine or one signature cocktail is acceptable for a smaller event.
What to serve
A wooden serving board with assorted cheeses, grapes, dried fruits like figs and apricots, nuts such as cashews and Marcona almonds, cured meats, olives, and a sprig of rosemary is a gorgeous focal point. Provide small china plates and cocktail napkins.
Pro tip: The fastest way to cool a bottle? Put some water and salt in your ice bucket with the ice.
2. The Dinner Party
Who: The birthday guest of honor and date, plus three other couples
What: Appetizers, dinner, and dessert
When: 6 p.m. – 9 p.m.
Where: Your dining room
Why it's great: Very few people throw a seated dinner anymore. It seems exclusive and unique to sit down with friends sans devices for a few hours and connect over candles.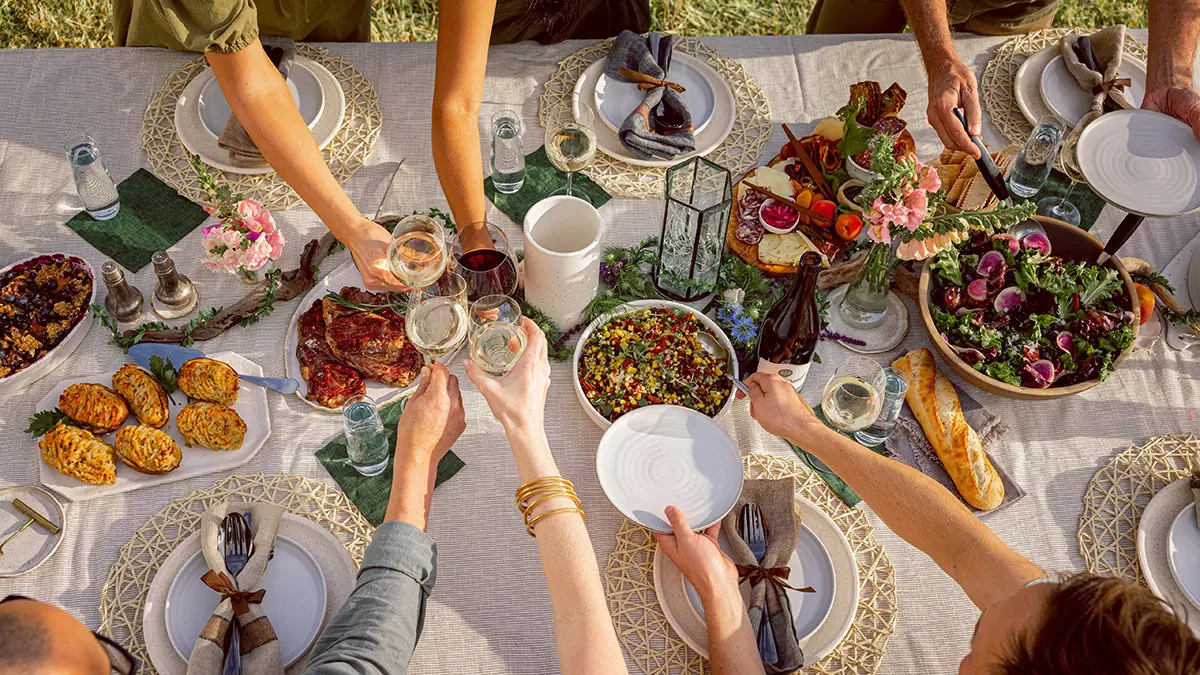 Drinks
Welcome guests with a wine glass of seltzer or wine – pre-pour at your prepared "bar" (any table will do). The setup: still water with lemon slices in a pitcher, individual seltzer bottles, red wine, and Prosecco and white wine in a wine bucket with ice. Don't forget some cocktail napkins that match your theme – keep in mind the guest of honor's favorite colors or hobbies. Tennis or golf enthusiast? Find or make clever ones: "Tennis begins with LOVE" for the doubles player or "Queen of the Green" for the golfer.
Dinner
Have your dinner prepped as much as possible in advance (Not a chef? Outsource dinner: order steaks and twice-baked potatoes that you can pop in the oven.)
Tablesetting
Set the table before guests arrive. Lots of candlelight and low lighting are a must. Flowers, too, with a range that can be as simple as a favorite flower to a fun floral birthday cake made with colorful blooms and a mylar balloon. Keep them low to the table so you can keep the conversation flowing as the main focal point. A few thin, tapered candles add height to the table.
---

---
Pro tip: Use place cards. Put people together who wouldn't choose to sit next to each other, but who you know could connect. Then, have everyone switch spots for dessert – let the women sit at one end, the guys at the other – which is where everyone wanted to be in the first place! Or "retire" to the living room for coffee and tea, petit fours, and other small treats. Give small boxes of cookies or mini bags of popcorn for everyone to take home.
Pro tip: Remember BMW for setting your table: bread, meal, water. The main plate goes in the middle, a bread plate to the upper left, and your glassware to the upper right. Forks go to the left of your plate and the right in order: knife, then a spoon.
3. The Tailgate Party
Who: All of the birthday guy's buddies from town, plus their significant others
What: An afternoon of friends, football, and a fire pit
When: Noon – 4 p.m. (or around the guest of honor's favorite team's kickoff time)
Where: Your backyard
Why it's great: Who doesn't love a tailgate? Grilling in the cooler temps, local IPAs, and tossing the pigskin around make for the perfect party for your football-loving friend.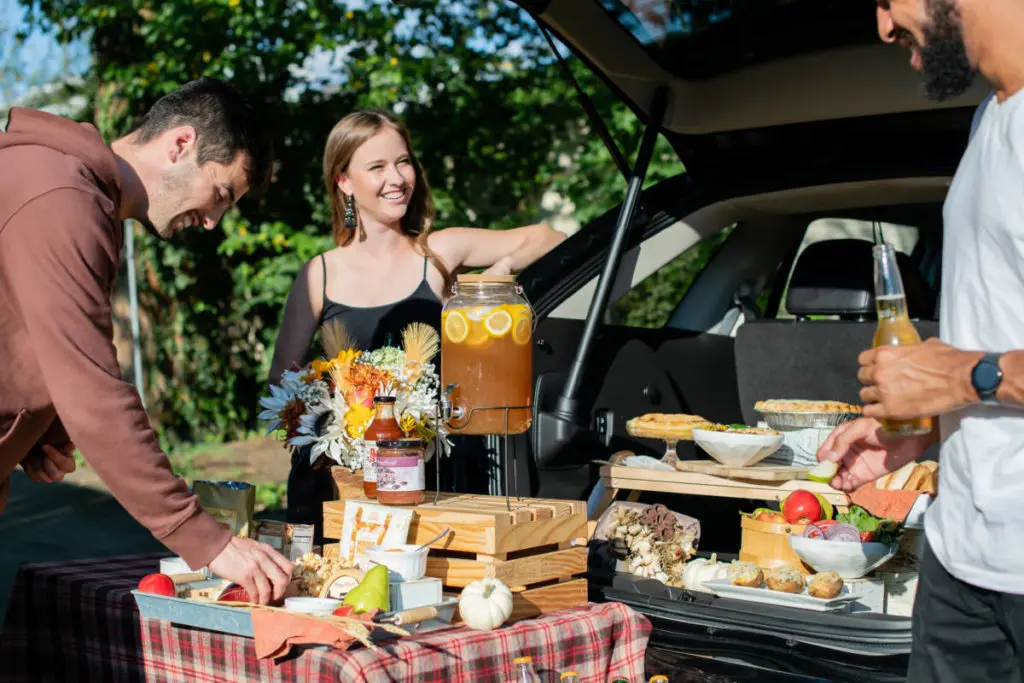 The details
Backyard game day calls for fun hay bales covered in cozy blankets and apple cider (you can spike with rum and bourbon and add cinnamon sticks for a signature alcoholic cocktail).
Entertainment
Set out a corn hole game and footballs to toss, and put out a galvanized bucket with seltzer and beer cans. Other fun outdoor activities: Have friends play the classic game of guessing how many candy pieces or cookies are in the Mason Jar, and whoever wins gets to take it home (make sure to give one to the guest of honor, too). Look into moving the TV outdoors under a covered patio and set up your outdoor furniture with fuzzy blankets for cozy viewing. Finally, this party needs photographic evidence with all these cute details — don't forget a photo booth!
Pro tip: Outdoor festivities still need tunes! Invest in a portable or all-weather speaker for your event.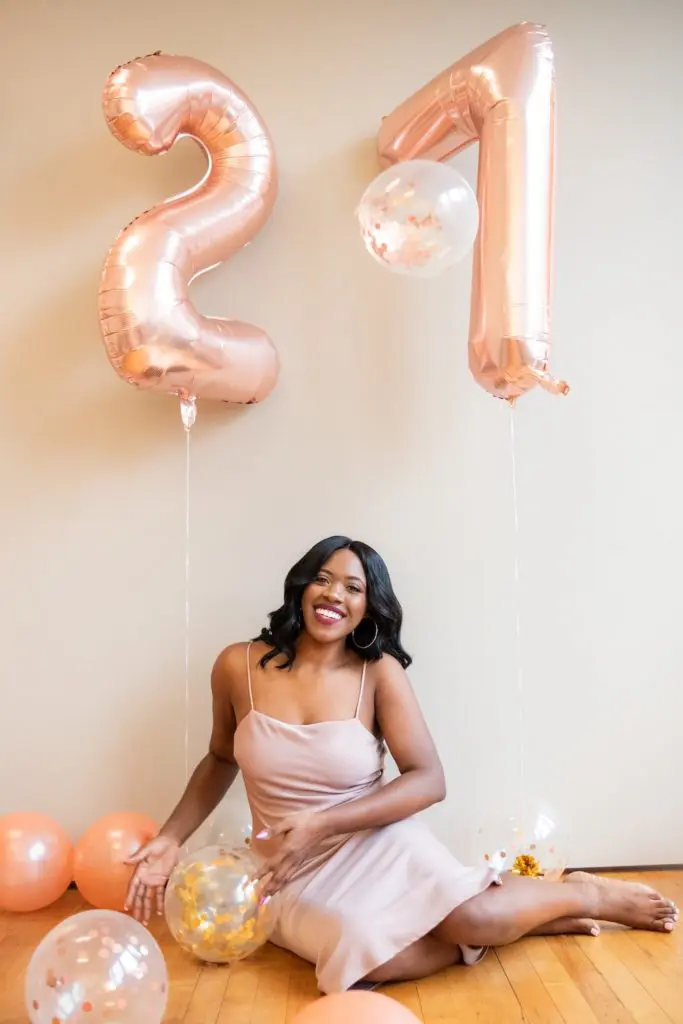 4. The Milestone Party
Who: Family, friends, and acquaintances
What: An evening celebration with drinks, appetizers, dinner, dessert, and toasts
When: 7 p.m. – 10 p.m.
Where: A local venue, restaurant, your house (or a destination!)
Why it's great: Celebrating a milestone birthday, such as a 30th or a 50th, is a wonderful excuse to get old friends together to meet new ones — and bring the family to town.
The details
For this party, a text or an email won't do. Printed invitations with an icon of your theme and all the details are a must. Remember to include the honored birthday guest in the planning to know exactly who she'd love to see, what part of her personality would be the focus (meaning does she want a party at the beach or with seaside décor because she lives for toes in the sand or does she prefer having people dress up in their 80s best because she still puts Madonna on to get into the groove) — even what colors she'd like the party to have. Let your preferences go by the wayside and make this about her. Send the invitations a month in advance but spread the word earlier if you want people to save the date. Ask for responses two weeks before the main event.
Sometimes it is the little things that count: order personalized wine cups with the guest of honor's name and a fun motif representing them. Hiring a local band will take the event to the next level, but you can also create a playlist of favorite bands or plugin a song to Spotify and have the app create one for you. Make sure that you have a few areas for people to mingle.
Food + drink
Put your signature cocktail bar in one spot, cheese and crackers with apple and pear slices in another. For dessert, have cupcakes decorated with the letters of the guest of honor (G and P, for example, for Gwyneth Paltrow) – the trick here, though, is to have guests match up with someone at the party with the same letter so that they can meet new people.
Entertainment
If everyone is well-acquainted, play Two Truths and a Lie, where each person comes up with three statements about themselves, but one isn't the truth! The others have to guess which is the lie. Take a moment to toast the honored guest. They can choose to say something in response, or skip it! It's their day!
Pro tip: If you've sent an invitation and asked for a reply date, note the number of guests who have said yes by that date. That's the number of guests to go by for planning purposes. True, you'll have stragglers who respond they will attend, but people get sick or cancel at the last minute, so it all works out.
Birthday party gift ideas
Closing details
Party planning is about focusing on one element or theme and letting it bloom. Work with the guest of honor so you throw a party they are going to want to attend. Don't forget the little details, but when in doubt, dim the lights, turn up the music, and, like Bridget Jones said, "introduce people with thoughtful details." And if you're the guest? Your job is to mingle, meet new people, and have a great time. Let the fun begin.