Refreshing and vibrant flavor bombs of juicy sweetness, oranges are a prized winter fruit. Enjoy them by the segment or wedge (and do your best Don Corleone impression), drink their juice, spin them into marmalade, bake or roast them…even eat their sunshine-colored peel! There's more than meets the eye when this beautiful fruit is ripe for the picking. Here's your comprehensive guide to oranges!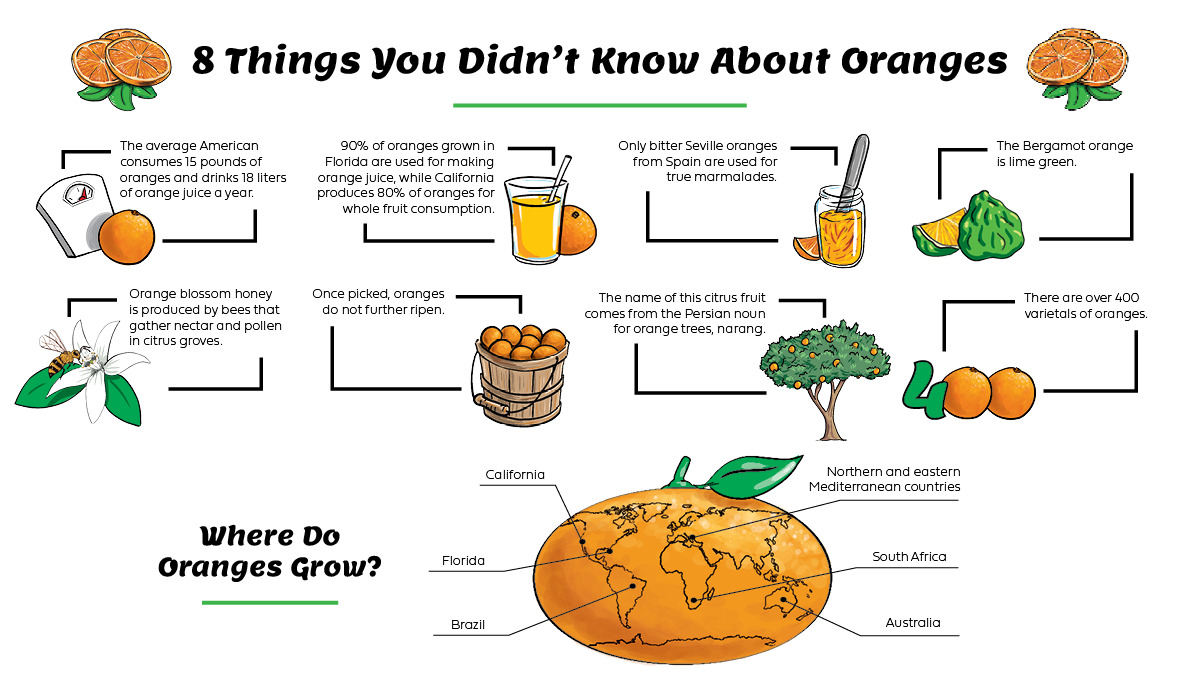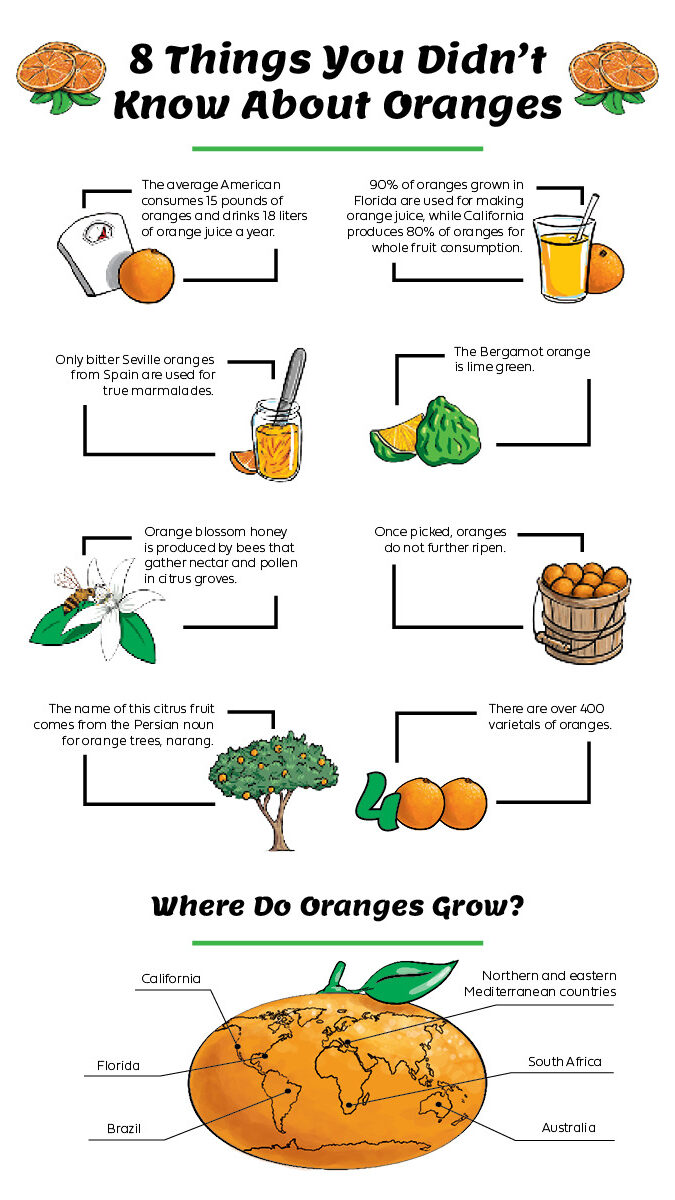 Scientific name: Citrus sinensis (sweet oranges) or Citrus aurantium (bitter oranges)
Family of fruit: Rutaceae
How did it get its name? The name of this citrus fruit comes from the Persian noun for orange trees, narang. It wasn't until 1600 that the word, which became orenge in old French, was used as an adjective to describe a color.
How many varietals are there? Over 400, including Blood, Cara Cara, HoneyBell, Navel, Seville, and Valencia.
Where do oranges grow? Florida, California, Brazil, northern and eastern Mediterranean countries, Australia, and South Africa
When are they in season? December through March
How to pick the perfect orange: Feel for a firm, heavy orange with brightly colored smooth skin.
How to ripen an orange: Once picked, oranges do not further ripen.
Storage: Refrigerating oranges will extend their shelf life by about two weeks. Bringing them back to room temperature will yield the most juice, however.
Should you wash them? Yes, this prevents any bacteria from seeping into the flesh once sliced.
What should oranges taste like? Cultivated oranges taste sweet, or sweet-tart. Wild oranges are very bitter.
Can you eat the skin? Yes, which is why you should wash an orange. Caveat: Though rich in fiber and vitamins, and its essential oils have been linked to protection from skin cancer, an orange peel, if too large a piece is eaten, may be hard to digest and can cause stomach discomfort.
Health benefits: The flesh, pith, and peels of oranges can all be eaten, and contain high amounts of immunity-protecting vitamin C, and collagen for skin repair and cell renewal, as well as folate, fiber, and micronutrients.
Guide to orange terms and lingo:
"To zest" an orange means to finely grate the orange-colored peel.
"To supreme" an orange means to remove the white pith and membrane of the flesh that surrounds each segment.
"To be orange" means to be sincere in your actions.
"A clockwork orange" is a British cockney phrase that means something appears normal on the outside but is wonky internally.
Orange recipes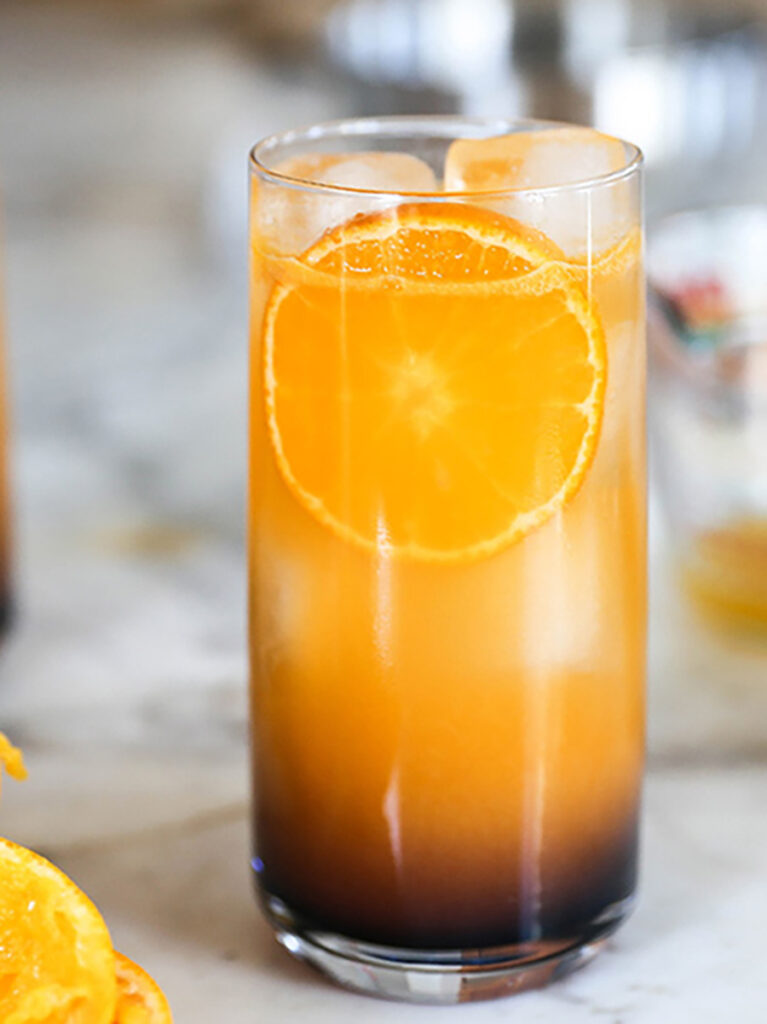 When you cook with oranges, the juice, flesh, and zest of the fruit balance the salt and fat in dishes by adding sweetness, acidity, and bitter notes. And they are a versatile ingredient for everything from appetizers to desserts.
Here are four orange recipes to get you cooking with citrus this winter.
Orange mocktail: The Shirley Temple gets an upgrade in this fizzy drink that combines fresh orange juice with aromatic, spicy ginger beer and grenadine.
Citrus Kale Salad with Honeybell Oranges: Juicy sweet HoneyBell segments mingle with fresh kale — a leafy green that is in its prime in winter, too — for this hearty salad that also uses fresh orange juice in the dressing.
Seared Tuna with Spicy Honeybell Sauce: Make a tangy, sticky, savory, zesty orange sauce to accompany wild ahi tuna in this recipe from Mexican-born chef Pati Jinich.
Chocolate Dipped Candied Orange Slices: Enjoy oranges — from peel to pith — by giving them the candy treatment. Simmer in simple syrup, then dry and dip the edges in melted chocolate.
Get your oranges now!
Sending fruit to friends and family is a tradition that dates back centuries. During the Middle Ages, oranges and other citrus were considered exotic and rare, making receiving a basket of fruit extra special. Fruit like this also helped ward off certain health issues like vitamin C deficiency, which back then, was fatal.
Today, oranges are readily available (and vitamin C deficiency is commonplace), but the juiciest oranges are available for only a limited period in winter. Cushman's HoneyBells, from the eastern banks of Florida's Indian River, are seedless beauties that are a type of tangelo, a hybrid of the Dancy tangerine and Duncan grapefruit.
---

---
Sure, HoneyBells are the most prized orange of the citrus season, but if they're sold out, not to worry. There are Navels, Sugar Belles (which are sweeter than HoneyBells), and Mandarins to choose from. Can't get enough oranges, why not order yourself up a citrus Fruit-of-the-Month Club collection that includes the aforementioned varietals, along with clementines, Valencias, and honey tangerines.
"Orange" you glad you read this? Check out these other delicious food puns.
---
Power of Fruit
Learn more about nature's candy with our series on seasonal fruit.