When planning a charcuterie board, I always start with the most important part: the cheese! Although the theme is important to the aesthetics of a cheese plate, you want to make sure the pairings on the plate work together. The flavors are the best part!
If I'm making a winter-themed cheese board I'd want to include some decadent cheeses, like an alpine-style cow's milk cheese or a whiskey-washed BellaVitano. I'll pair these with sweet accouterments like fig jam or dried apricots. In the summertime, I'll incorporate fresh cheeses like mozzarella or feta paired with fresh veggies and charcuterie. Once you set your foundation of ingredients, you can start to get creative with the prep and arrangement. Having a theme is a great way to determine which garnishes and colors to incorporate.
To create a beautiful cheese plate like this one, you can follow the method I created called Cheese By Numbers! This breaks down the building process into six easy steps.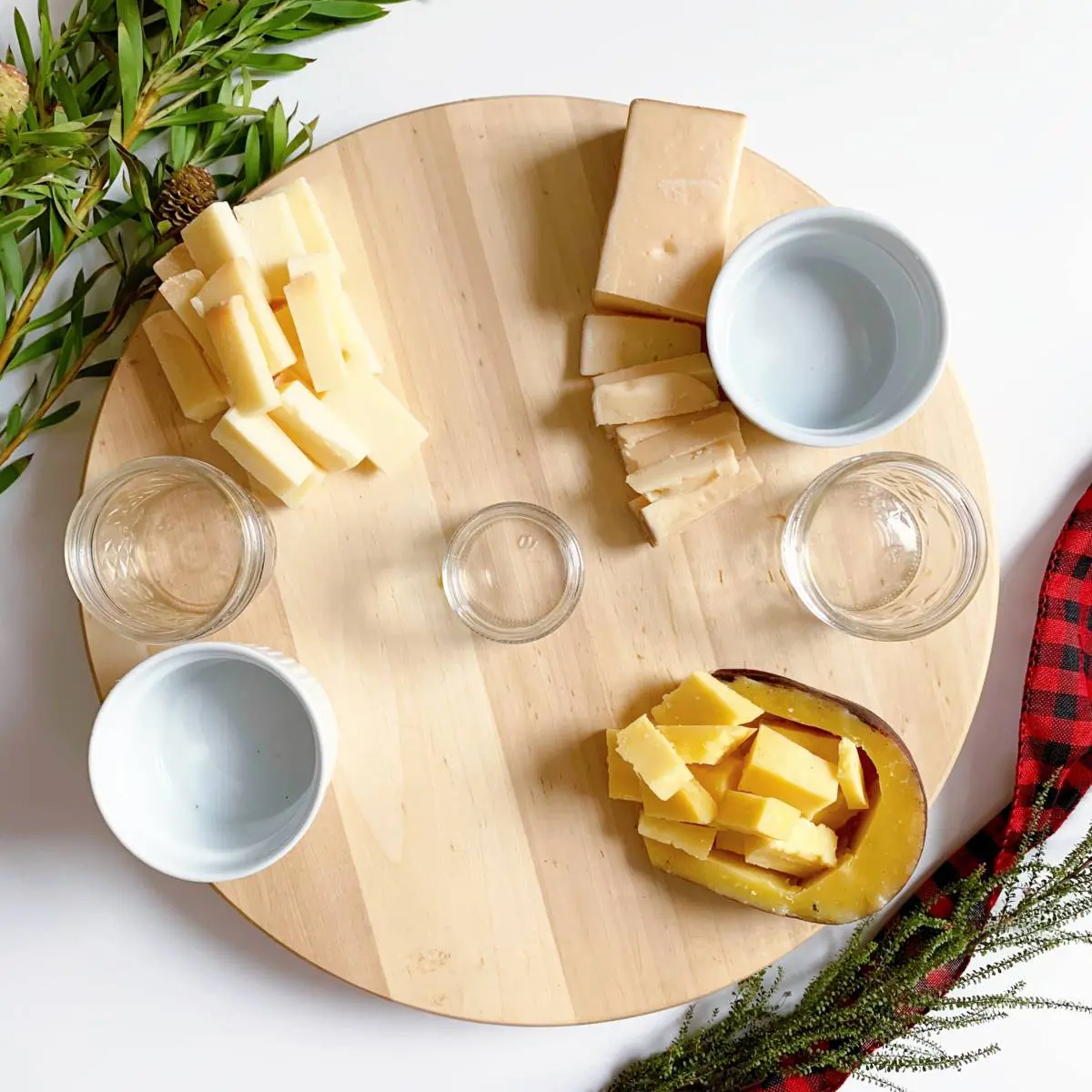 2: Meat
Next add some charcuterie to the plate, such as salami or prosciutto. If your guests don't eat pork, you can add beef or poultry-based items like bresaola or turkey.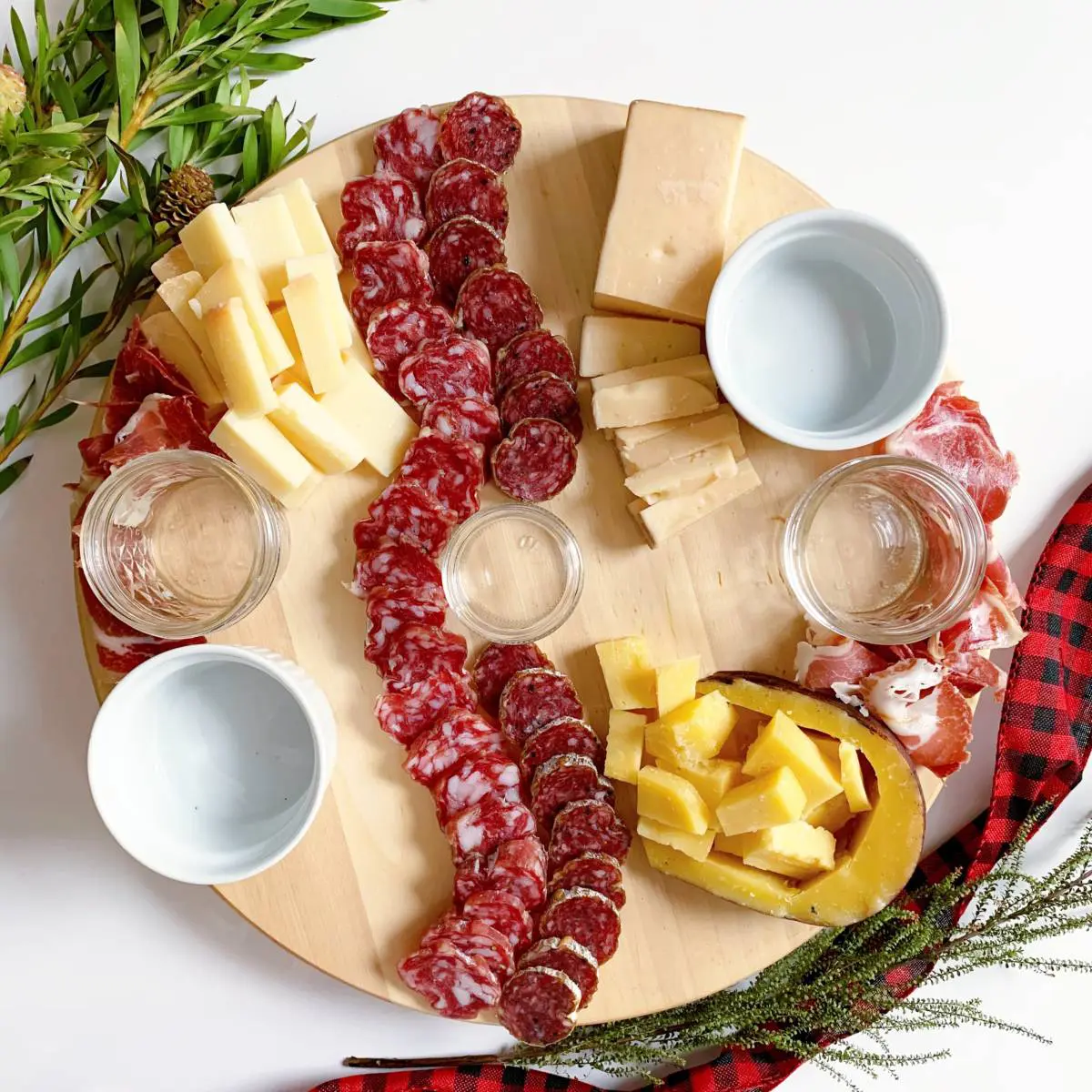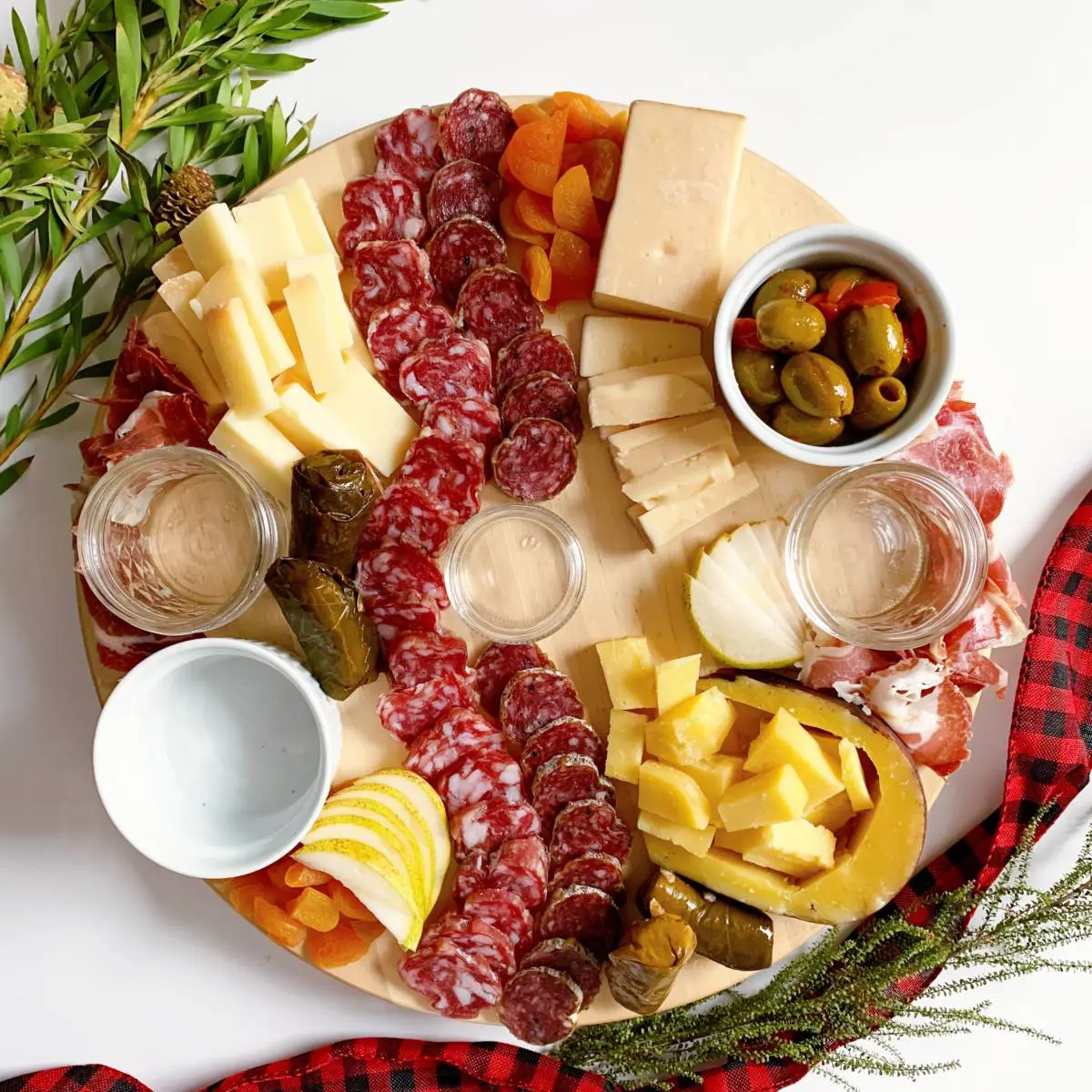 3: Produce
Pair your cheeses with fresh fruits, veggies, dried fruits, and items in brine like olives or cornichons. Consider what flavors will pair well together. For example, I love pairing goat with fresh berries and gruyere with dried apricots. Royal Riviera Pears are a staple for any board around the holidays!
4: Crunch
Add in texture and vehicles for your cheese with crackers, bread, and mixed nuts. While it's nice to have a few crackers or pieces of bread on your charcuterie board to get guests started, I like to serve an additional plate of crackers on the side to keep replenished as people snack.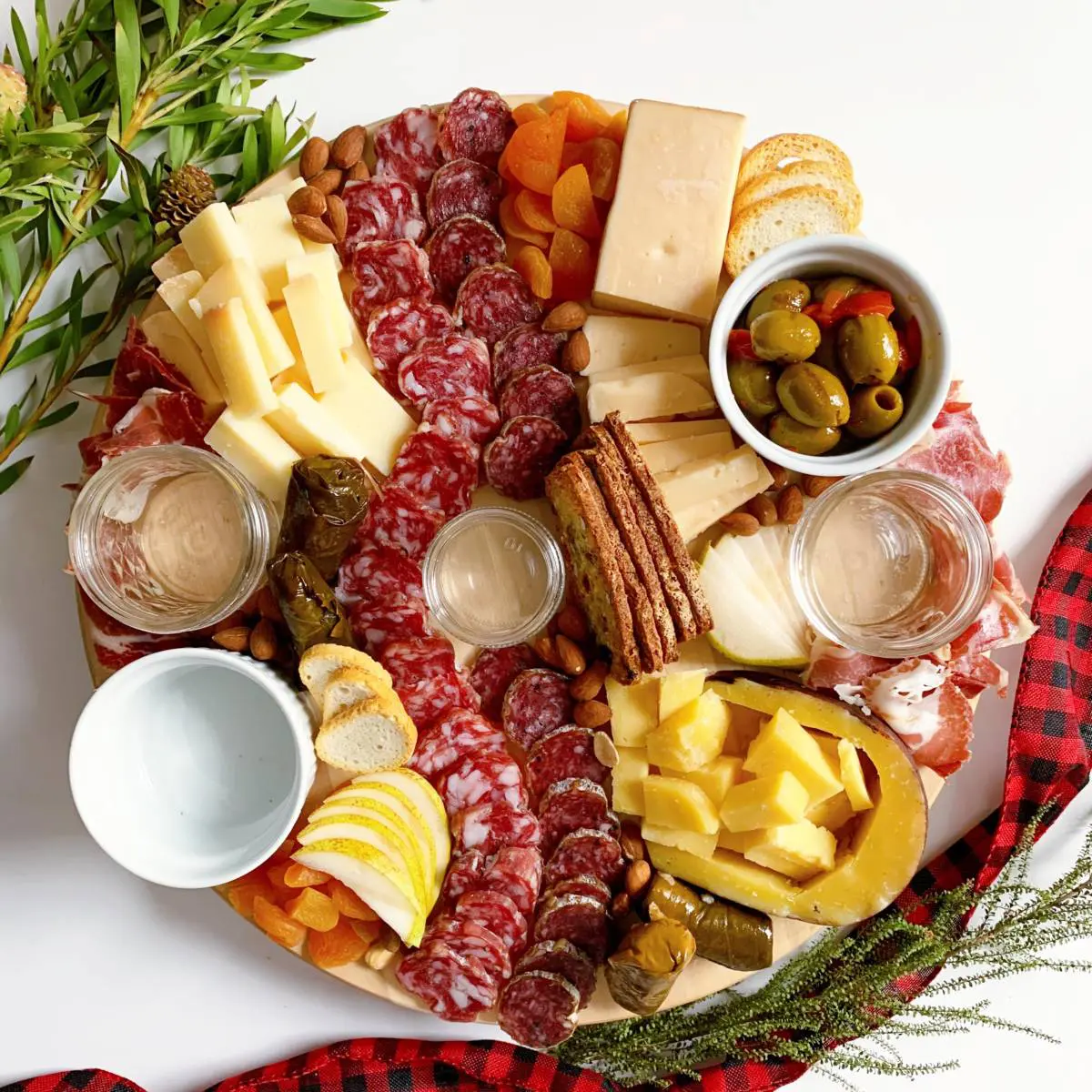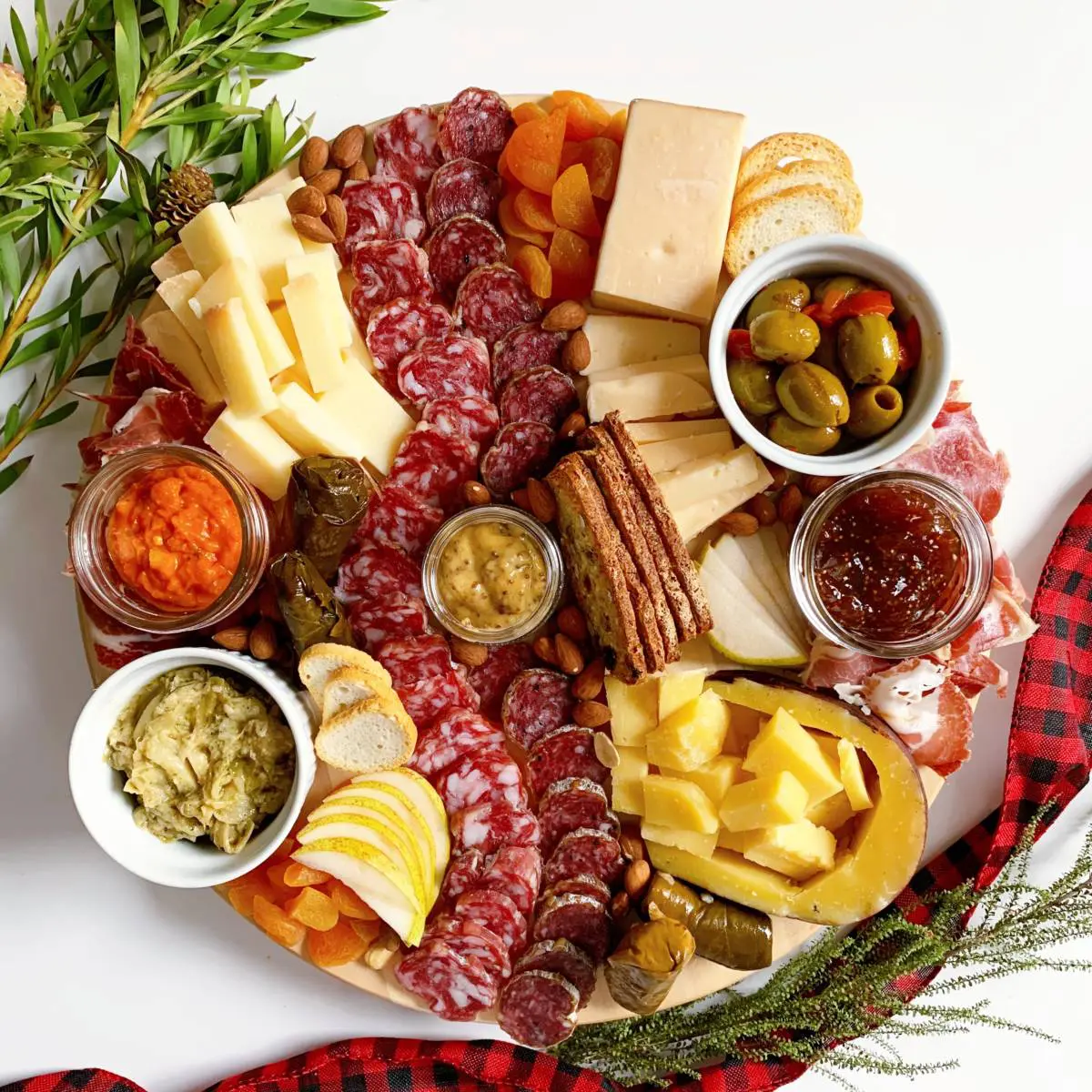 5: Dip
Fill in your bowls with a dip to pair with your cheeses. I like using fig jam, honey, or a grainy mustard for something more savory. Dips add color and flavor diversity to an otherwise simple cheeseboard and help enhance and elevate your meat and cheese pairings.
6: Garnish
Add fresh herbs to the plate for a pop of color to tie everything together. Eatable flowers are a fun addition as well if you have access to them. In the case of this board, fresh rosemary adds a festive flair.
Just like that, your cheese plate is ready! Pair it with a lighter wine that won't overpower the charcuterie board's flavors, such as a fruity Pinot Noir, or mix up a festive holiday cocktail. The final step? Dig in!