Learn how to make entertaining easy in our series "A Time to Gather." This Mother's Day, treat Mom to an outing she'll never forget. With helpful foodie tips, suggestions on finding the perfect basket, and more, this handy picnic guide is just what you need to knock her big day out of the park.
This Mother's Day, do something unexpected to celebrate your mother and plan a one-of-a-kind custom picnic in her honor. Picnics are a great way to get outside and enjoy the spring weather, are good for families of any size, and can be scaled to any budget. And, best of all, they can be designed specifically around the things your mother loves most, creating a unique event she'll never forget.
Here are 11 expert tips to help you get started with your planning and preparation for your Mother's Day picnic.
1. Think outside the park
Your local grassy knoll is great for taking the dogs out or grabbing some fresh air, but for a picnic your mother will cherish on her special day, think grander. Beaches, lakesides, and riverbanks — basically anywhere near water — can all provide fantastic lush and unexpected settings. Or go for a short drive into the country, up into the mountains, or anywhere else near your home where the scenery is especially memorable.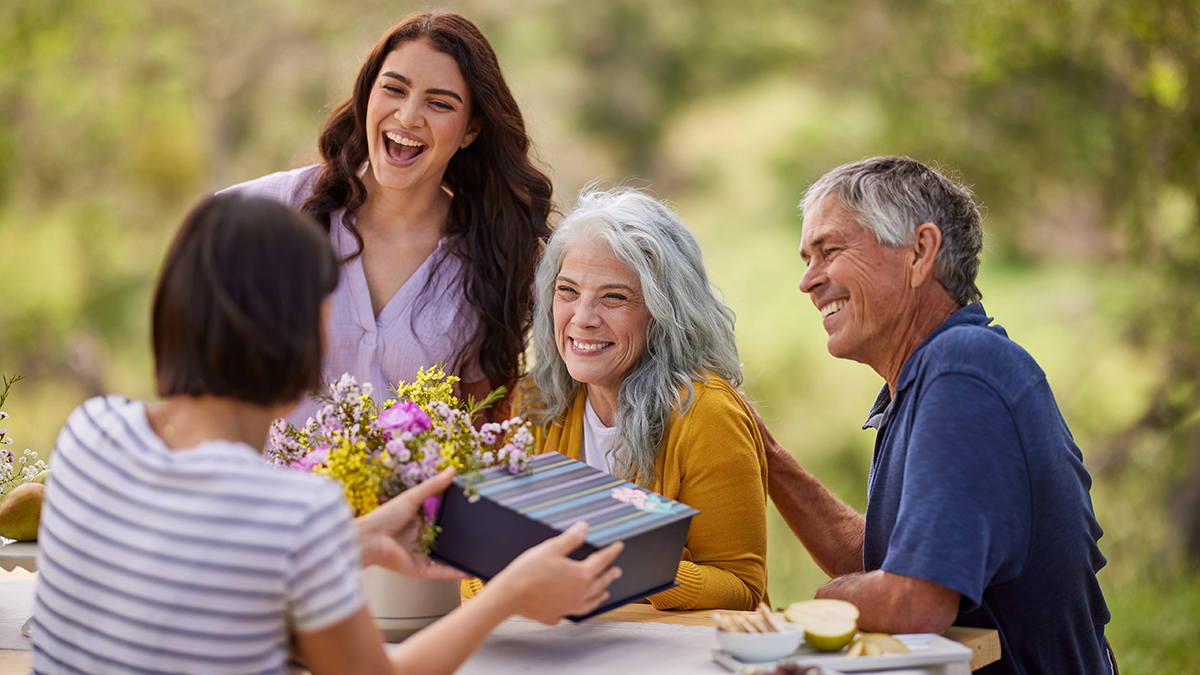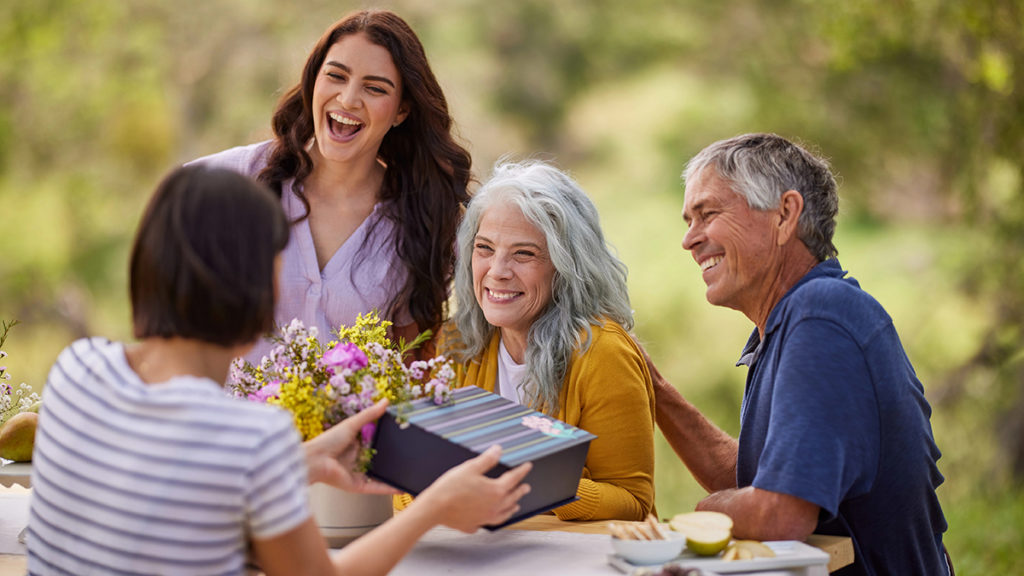 "Our favorite type of picnic would definitely have to be somewhere with great views," say Jocelyn Chin and Coco Chan, event planners and founders of the Bay area picnic planning company Picnic 'n Chill. "A great view can really elevate your picnic experience and set the tone for the whole event."
To find a scenic location to explore in your area, type your zip code in at MyScenicDrives or search Yelp for nearby scenic views.
2. Select a theme
Whatever theme you choose doesn't have to be elaborate — it can be as simple as a color, a type of food you want to focus on (think French, Italian, or American), or the type of mood you want to create (reflective, celebratory, or perhaps adventurous). Once your theme has been decided, Chan says, your other decisions — from menu planning to decorating — should stay consistent with it, to ensure your picnic feels whole, cohesive, and well thought out.
3. Plan an appropriate menu
When it comes to ideal picnic foods, Wendy Weston, a picnic expert and founder of New York City's Perfect Picnic, recommends centering your picks around fresh seasonal foods, such as fruits and salads, along with prepared foods "that hang well and can withstand some time in the open air." That means meats, cheeses, olives, jam, baguettes, and some sort of sandwich you've made in advance.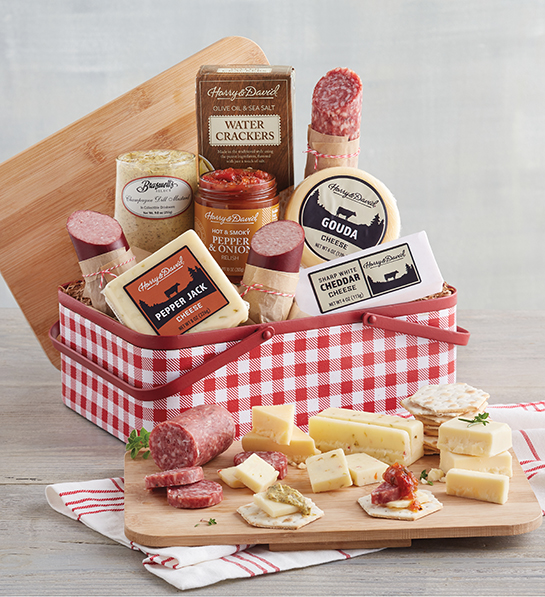 The Meat and Cheese Picnic Tin contains a selection of summer sausage, dry salami, sharp white cheddar, gouda, and Pepper Jack cheeses, along with olive oil and sea salt water crackers.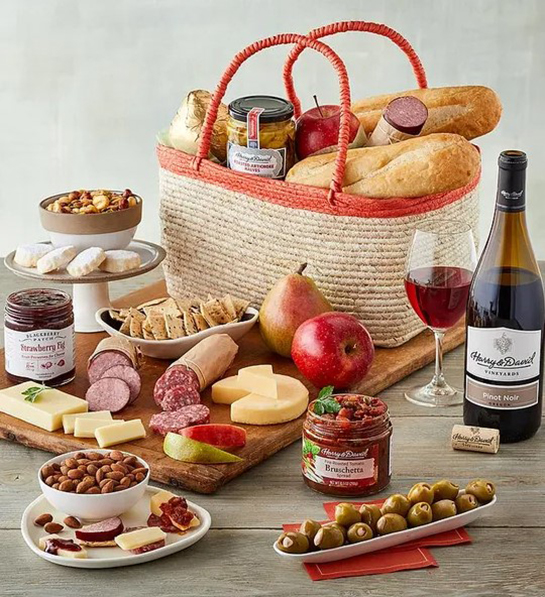 The Market Tote with Wine packs a selection of pears, apples, roasted almonds, sourdough baguettes, garlic-stuffed olives, fire roasted bruschetta spread, roasted artichoke heart halves, and more. Both are perfect on their own or paired with more of mom's faves.
Weston recommends prepping as much of the food as you can in advance. That way, you're only dressing salads and spreading things out for mom and the rest of your guests to enjoy once you get to your picnic site.
4. Don't think too fancy
Social media is filled with photos of elaborate picnic spreads with formal dishes and silver and china…but don't think you have to fall into that trap. "I like to buck the trends and stay as close as possible to my picnic roots," Weston says. "I say, leave your fancy stuff at home and bring a nice melamine plate and some cute plastic tumblers. There's a time and a place for luxury, and it can be really special, but bringing fine glassware on a picnic is challenging. Don't be afraid of a casual vibe — you know, it's still a picnic."
5. Pack smart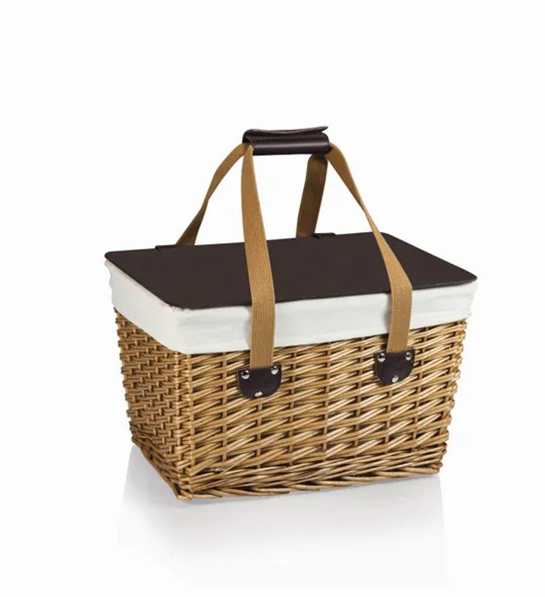 For old school picnic charm, you can't beat storing all your food and dishes in a basket, such as our Canasta Wicker model.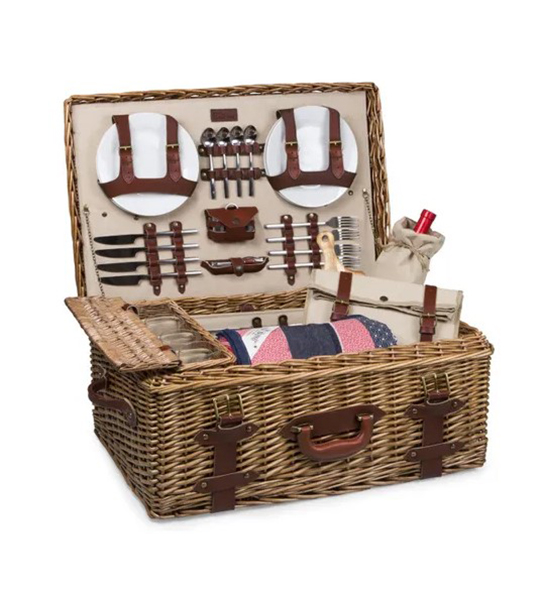 The Charleston Picnic Basket includes full service for four (plates, silverware, corkscrew, bottle stopper, cheese board, and knife, and even an insulated cooler bag).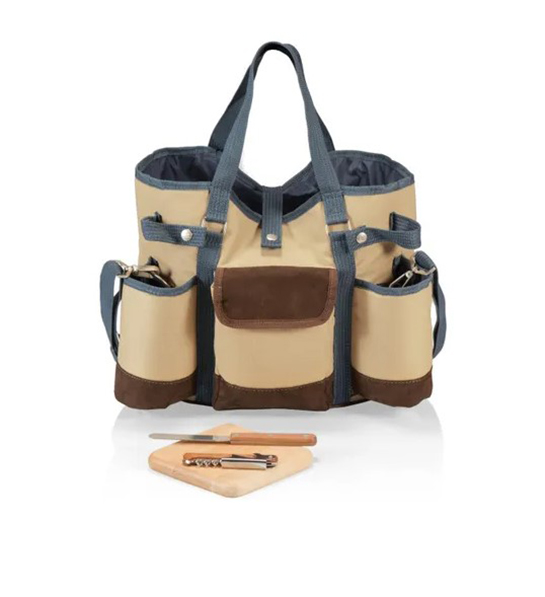 To save on space, Weston recommends soft-sided bags and coolers, which are less bulky and easier to tote. The Wine Country Tote and Frontier Picnic Utility Cooler are both ideal options.
6. Borrow some wheels
Weston's biggest insider picnic tip — after years spent hauling picnic materials by hand to Central Park — is: Buy a wagon! (Or, if you don't have one, borrow one from the kid next door.) An old-school little red wagon, or even a collapsible gardening wagon, will work save your back and get all your picnic essentials from point A to point B. "I learned the hard way," she says, "and a wagon makes things so much easier!"
7. Set up for comfort — and in layers
You want mom to be able to relax on her special day, so pack plenty of comforts from home: blankets, a lawn chair or two, and a bunch of throw pillows. You can even surprise your mother and make the pillows part of her Mother's Day gift. (The Family Is Everything Personalized Throw Pillow and Mother Acronym Personalized Throw Pillow are both great options.)
But before you spread all your blankets and pillows out on the ground, put a tarp down first. "We use tarps under everything we do," Weston says. "We like to create a nice big area for people to lounge and relax, but before anything goes on the ground, we put down a thick canvas tarp from the hardware store. And then we layer on top of that!"
8. Go heavy on water
Drinks are an essential part of every picnic, whether mom enjoys a frosty glass of lemonade or a glass or two of pinot. And don't forget to bring plenty of water as well, says Picnic n' Chill's Chin.
"Being out in the sun all day can leave you dehydrated," she warns, and advises bringing more water than you think you need. She also suggests toting an extra bag or two of ice and a small bucket you can fill with ice to keep everyone's drinks chilled. Pre-frozen water bottles are another great option; these help keep food cold early in the day and give you extra cold water to drink as they melt.
9. Opt for single-serving desserts
Elaborate cakes, pies, and tarts are amazing when you're grilling by the pool or entertaining at home, but serving these types of desserts outside and away from home on a picnic is just too complicated, Weston says. She prefers bringing cookies, brownies, and fresh fruits, such as strawberries, to the events she helps plan. Chan agrees, adding donuts, cupcakes, and macarons to her go-to dessert menu list.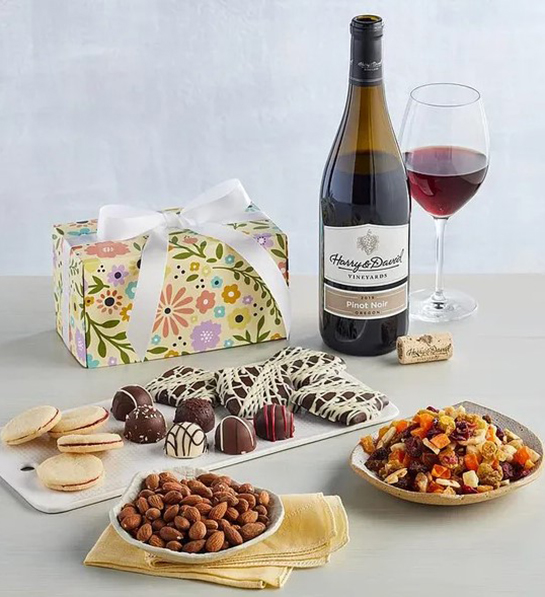 A few of our favorite options that mom and the whole family are sure to love: the Springtime Wine Gift, which includes raspberry galettes, chocolate-covered grahams, and chocolate truffles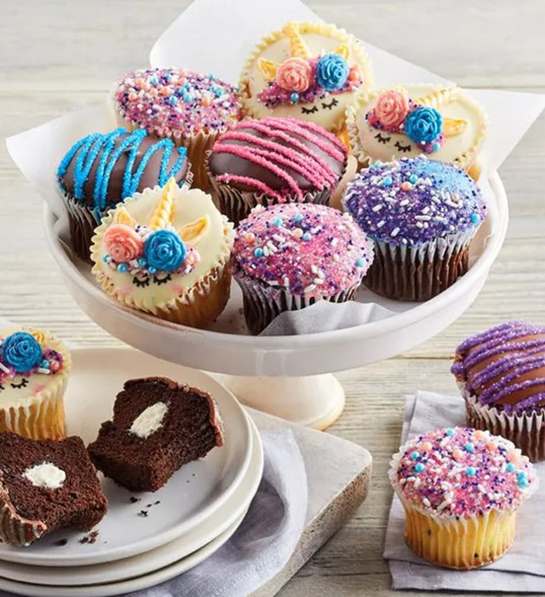 Unicorn Sparkle Treats Cupcakes (buttercream-filled, chocolate-covered cupcakes with sprinkle-covered "unicorn" frosting);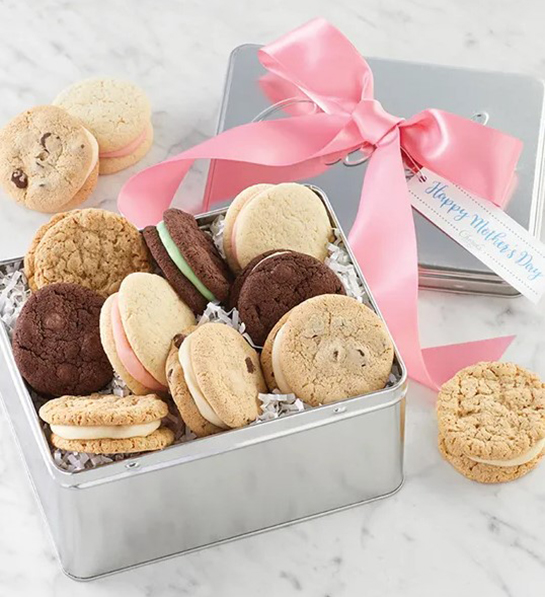 Cheryl's Mother's Day Sandwich Cookie Gift Tin, which is filled with delectable oatmeal cream, mint chocolate, chocolate chip, and strawberry sugar sandwich cookies.
10. Break out a few special finishing touches
If your mom likes a little extra attention, Chin and Chan recommend bringing a special sign, banner, or letter board to display at your picnic site. This, they say, will make the outing seem more personalized and special.
Umbrellas can help break up the midday sun, but for a more unique and unexpected option, try a colorful parasol. They look great in photos and really bring a special element to your picnic, Weston says.
"Potted plants and topiaries are another great picnic addition," she says. They add to that outdoor, lush feeling and can bring in unexpected colors and scents. And they can be another gift for mom to take home and enjoy after the picnic has wrapped.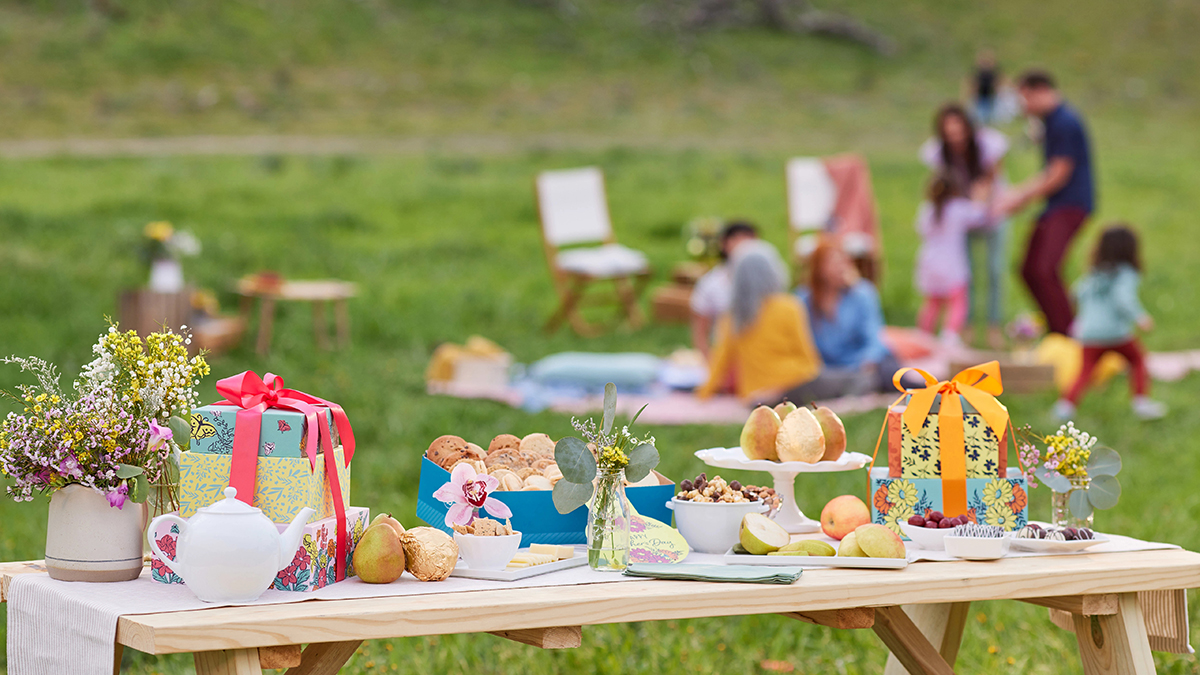 Lavender, azaleas, mums, daisies, and hyacinths are all great options.
"If you pick a few really lovely, beautiful extra items for your picnic set-up, it can really create a special, memorable event," Weston says.
11. And, most importantly…
"Don't try too hard!" Weston says. "A picnic should be more than an Instagrammable moment."
Don't overdo it with too much technology or fancy tents or elaborate candelabras or foods that are too hard to pack, prepare, or serve.
"Leave your phone at home, and remember: The picnic is time to unwind and spend time outdoors, relaxing and enjoying delicious food, and making memories with the people you care most about," she says.
---