Celebrating doesn't have to stop if you're staying "Home for the Holidays." In this series, we share the positives of celebrating virtually, tips on keeping your traditions alive, and creative decorating ideas to bring some holiday cheer home. This Mother's Day, toast Mom with a mimosa bar featuring three flavors of "mom-osas."
Handmade crafts, thoughtful notes and cards, and personalized experiences are the kinds of Mother's Day gifts that can last long after the special day. This year, skip the wrapping paper and give your mom something fun, interactive, and memorable — a magical mimosa bar that's designed just for her.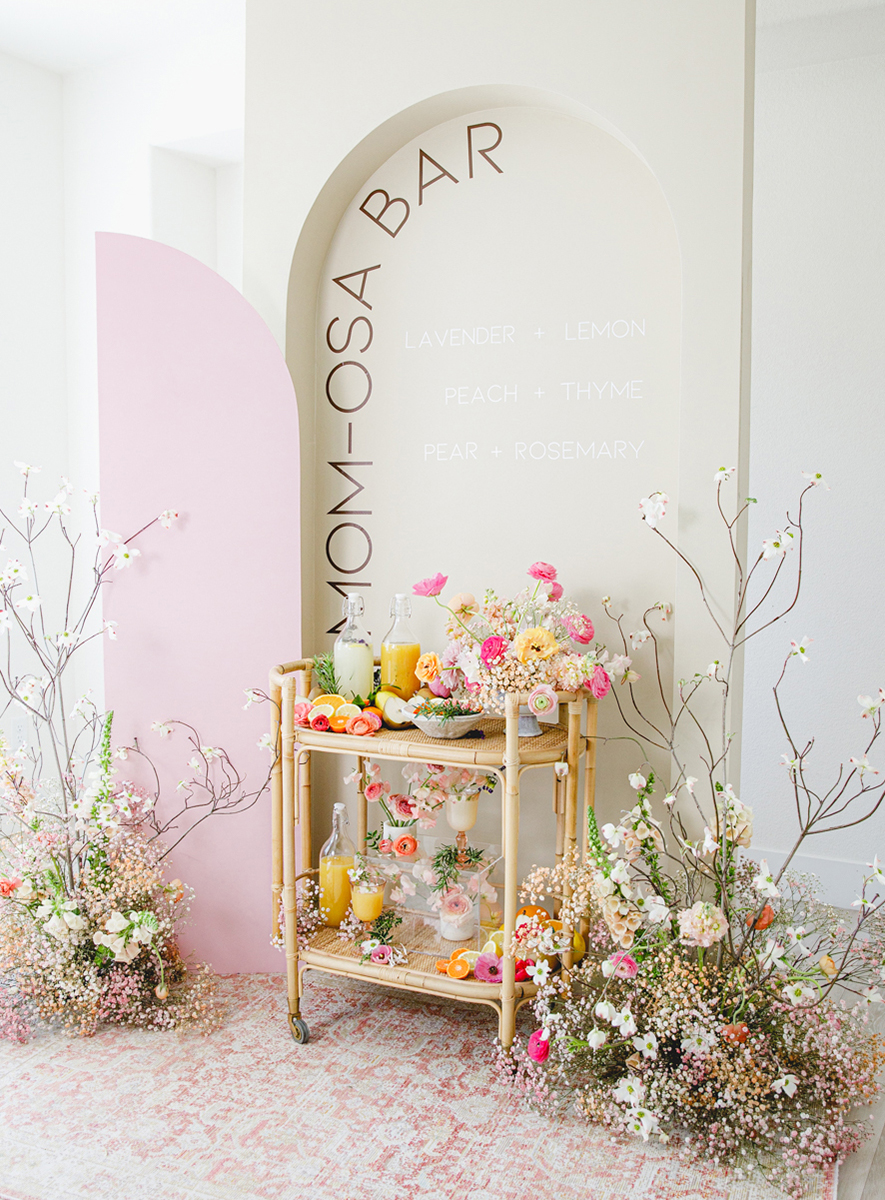 Creating a mimosa bar
To create the ultimate Mother's Day mimosa bar, start by making a list of supplies and gathering them at least a day in advance. You don't have to go overboard (though you can); just make sure you have a cart or table to act as a bar, some decorations like flowers and fresh herbs, and the right ingredients to make these special Mother's Day mimosas.
The mimosas
When it comes to mimosas, go beyond the ordinary Champagne and orange juice. These Mother's Day mimosas are fun, beautiful, and delicious thanks to fresh herbs that act as both decoration and add a unique flavor. After all, the moms in your life deserve the very best.
Lemon & lavender

mimosa

Capture spring with a light and refreshing drink that will have mom asking for seconds. These mimosas combine lemon juice with a lavender-infused simple syrup. You can make the simple syrup the night before. The lemon juice and hint of lavender in the syrup will give these mimosas fresh, floral perfection.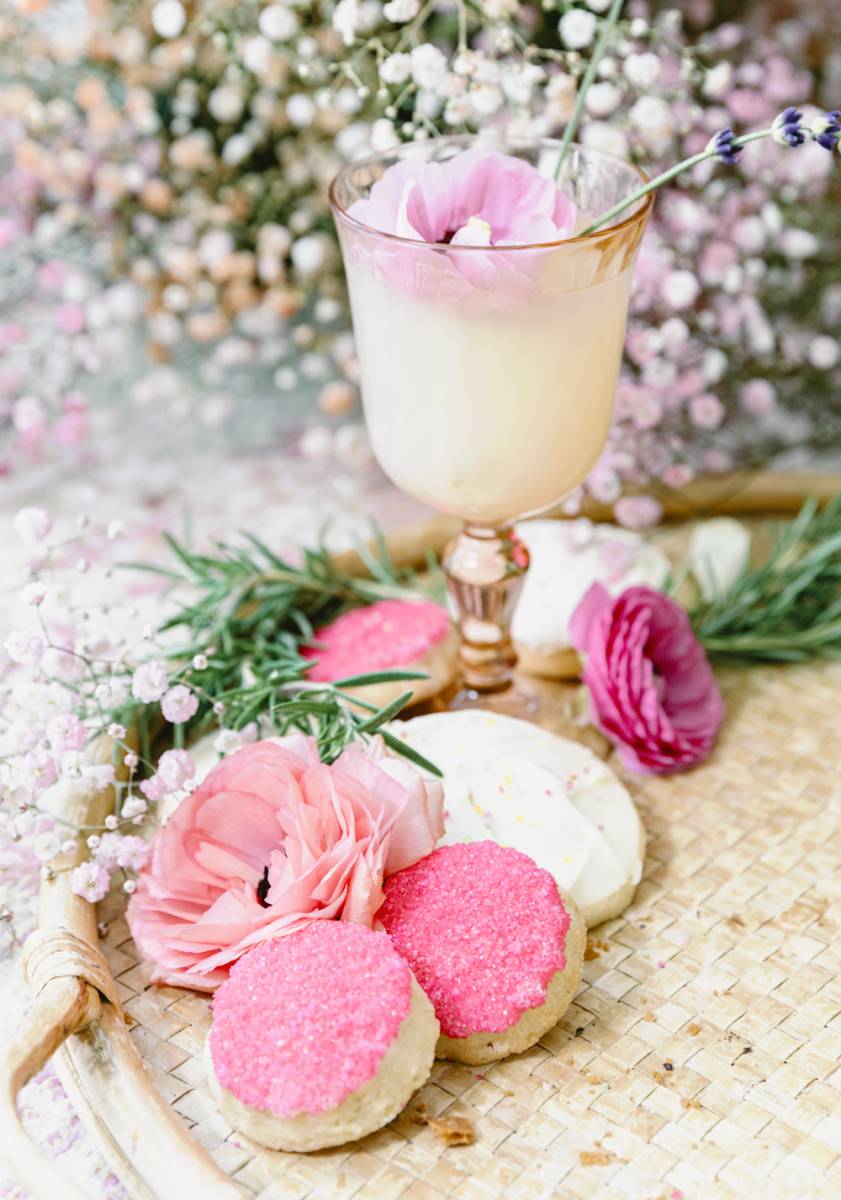 Peach & thyme mimosa
Sweet, herby, and delicious, this mimosa blends thyme-infused simple syrup with fresh peaches to create a purée that you'll top with the sparkling wine. This one may look like a normal orange mimosa, but it boasts a delicate balance of flavors that is sure to dance on mom's taste buds.
Pear & rosemary

mimosa

These elegant flavors pair together like best friends, just like you and your mom. The sweet, fruity notes of the pear juice blend flawlessly with the minty, earthy tones of the rosemary, giving this mimosa a subtle yet unmistakable balance of delicious flavors. Garnish it with a slice of pear and sprig of rosemary for extra flair.
Snackable mimosa pairings
Complete your mimosa bar with some snackable bites whose flavors complement the mimosas.
Consider baked goods that have simpler flavor profiles and won't sit too heavy in the stomach, like shortbreads and macaroons. If you have treats that include icing, make sure they're light and airy, not dense. These more subtle flavors and lighter-weight treats complement rather than overpower the mimosas' complex flavors and bubbly texture.
A variety of fruits can also add a fresh spring touch to the mimosa bar, acting as a bright palate cleanser between sips.
Mimosa bar
styling
The mimosas will taste amazing no matter how they look, but styling their setup can create an even more memorable Mother's Day.
Keep colors light and bright with pastels and natural floral shades. The décor and textures should follow this pattern. The fruit can double-up partly as decoration, too. Arrange everything in a way that allows easy access to the drinks and the snacks without crowding everything together. And don't forget the flowers. Pinks, yellows, and pastels will match the spring theme and the colors of the mimosas and sweets.
No matter what you choose to do for your mom on Mother's Day, be sure to slow down and enjoy every moment you get to share together. The best experiences aren't defined by gifts but by the genuine connection you share.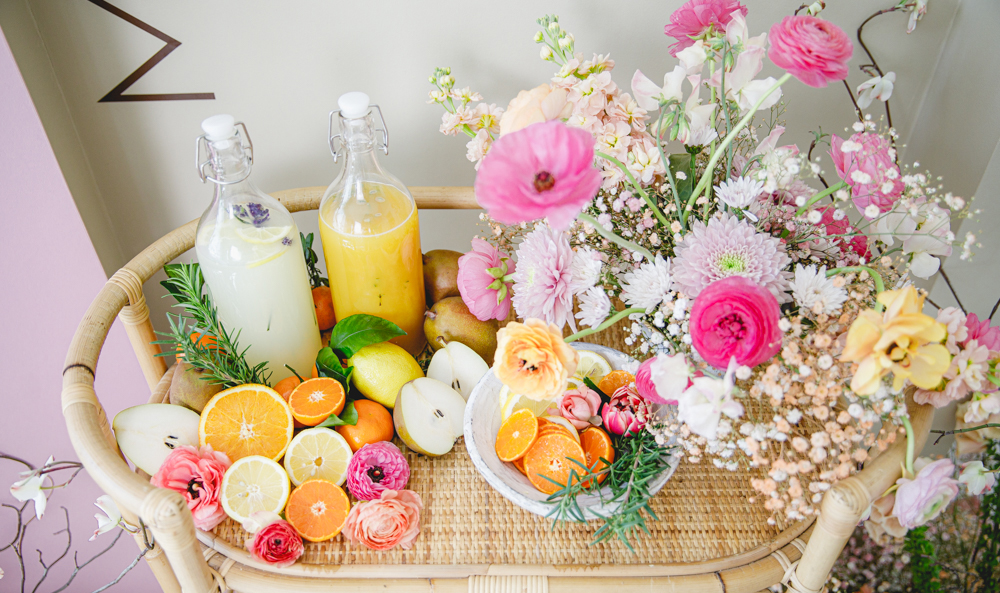 Mother's Day Mimosas
Ingredients:
For the Lemon + Lavender Mimosa (makes 9 mimosas)
2

cups

water

(divided)

1

cup

sugar

(packed)

2

tbsp

dried lavender

((culinary grade))

2

cups

lemon juice

(preferably freshly squeezed)

1

bottle

Harry & David® Sparkling Wine

Fresh lavender

(for garnish)

Lemon slices

(for garnish)
For the Peach + Thyme Mimosa (makes 4 mimosas)
For the Pear + Rosemary Mimosa (makes 1 mimosa)
Instructions:
For the lemon + lavender mimosas
in a medium, heavy-bottomed pot, combine 1 cup water with the sugar. Place over medium-high heat and bring mixture to a boil, stirring often to dissolve sugar. Reduce heat to medium-low and add the dried lavender. Stir and simmer for 1 minute. Turn off heat, cover, and allow lavender to steep and syrup to cool; 20 minutes.

Strain syrup and discard the lavender. Place strained syrup in the fridge to chill completely; around 30 minutes.

In a pitcher combine chilled, freshly squeezed lemon juice with the lavender simple syrup. Stir thoroughly to combine. Stir in the remaining 1 cup of cold, filtered water. Place in the fridge until cocktails are ready to be made.

When ready to serve, fill each glass with about 1/3 cup of sparkling wine. Top with 1/3 cup of the chilled lemon-lavender-ade. Garnish with a sprig of fresh lavender or a lemon slice. Serve immediately.
For the peach + thyme mimosas
in a small saucepan, combine water, sugar, and sprigs of thyme. Bring mixture to a boil; lower to a simmer and continue to cook for 5 minutes. Remove from heat, stir, and completely cool in the refrigerator; about 15 minutes. Remove sprigs of thyme and pour the syrup into a blender. Add the peaches; purée mixture until combined and smooth. Divide the peach purée evenly between 4 glasses. Pour sparkling wine into each glass, and serve.
For the pear + rosemary mimosa
combine all ingredients into a chilled mimosa glass, garnish with a slice of pear and sprig of rosemary.
---