In "The Ultimate Gift Guide" we're bringing you all the best advice on gifting, whether you need something to share for the holidays, bring to an event, or gift just because! If your looking for the perfect present for a foodie, here are our favorite birthday gifts for the epicurious.
There are two things in life that we all have in common: we all have birthdays and we all eat. So why not combine the two and give the perfect birthday gift in the form of gourmet food! If your dad loves salty snacks or you need a cake to feed a whole party (or just yourself, should the mood strike), this list has gastronomical gifts for everyone. Harry & David has it all, from birthday gift baskets and baked treats to sweets and snacks, and fresh fruit — some even come with wine!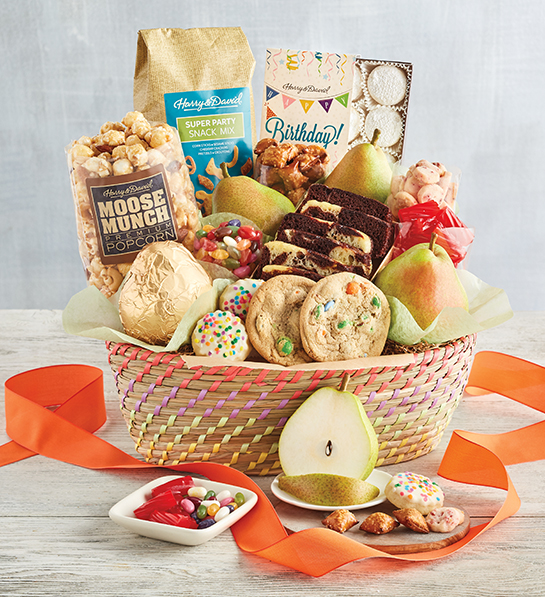 When in doubt, stick with a classic gift. This Deluxe Birthday Basket features a variety of treats crafted in
the Harry & David candy kitchen, including a delicious chocolate swirl cake, classic Moose Munch popcorn, and the legendary pears. Finished off with lemon raspberry button cookies, this birthday basket is a delicious surprise.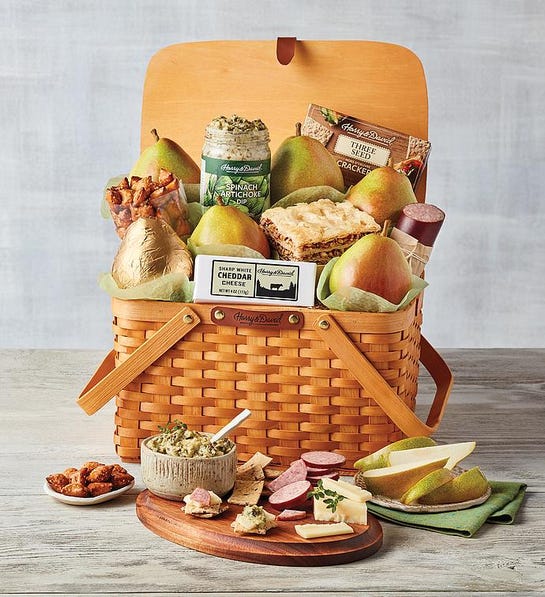 Can youDo they prefer salty snacks over birthday sweets? A picnic basket that's woven chipwood comes with three-seed crackers, Thuringer summer sausage, peanut butter pretzels, and more pears. The recipient may want to eat everything themselves, but convince them it's the perfect gift to take to the beach or the park and enjoy with their loved ones.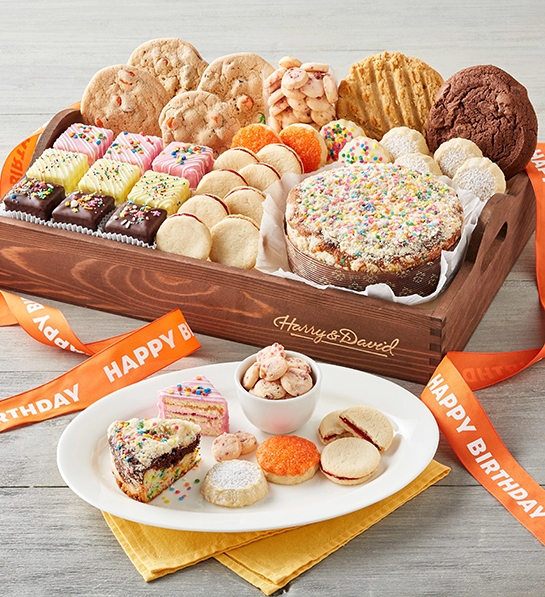 What's better than stopping by the bakery for a sweet treat on their special day? The whole bakery delivered right to their door! This Birthday Bakery Tray is a sugar rush to the max, with eight kinds of cookies to a rainbow of petit fours, even a frosted confetti birthday cake. There are enough treats in this bakery gift to feed a party, or to spread them out over multiple days to
keep the celebration going.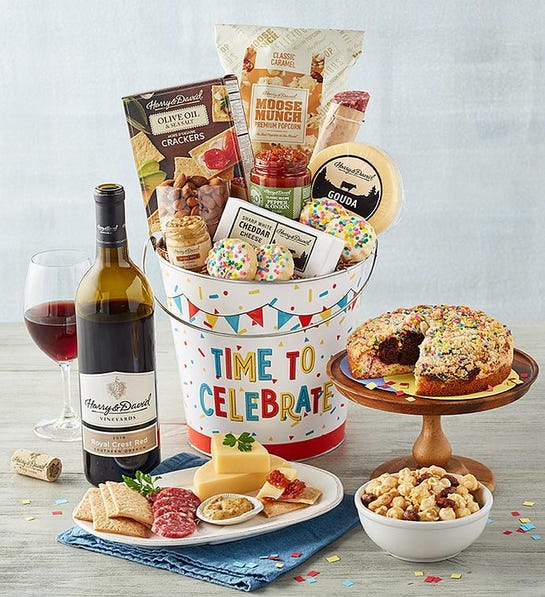 This Birthday Wine Gift is the deluxe version, so you know it's going to be a-maz-ing! It's filled to the brim with plenty of sweet and savory goodies: salami, cheese, and crackers complement sweets like Moose Munch and shortbread cookies. A bottle of Harry & David wine accompanies all of this, and the gift all comes beautifully packed in a reusable galvanized tin bucket, which you can use to chill your wine. How lovely!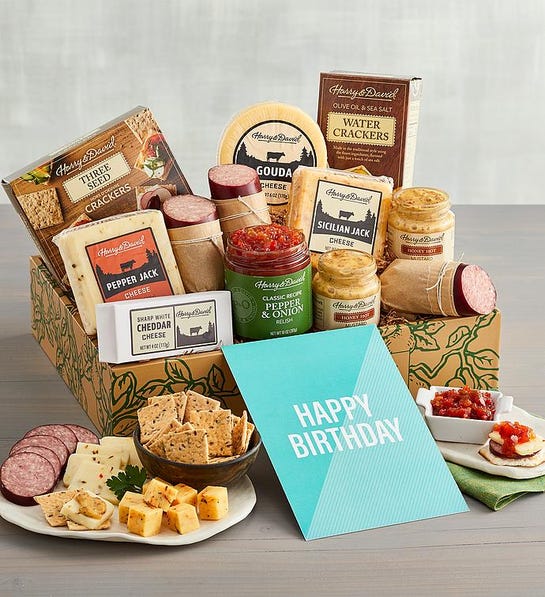 Every charcuterie lover will thank you when they open this "Happy Birthday" Meat and Cheese Gift Box. It comes with not one, but two different kinds of sausage, a delectable range of cheeses, including gouda and pepper jack, all paired with the classic pepper and onion relish.
The four-tiered Tower of Chocolates is perfect for, well,? any chocolate lover. Milk chocolate mini mints and milk chocolate-covered cherries are packed with Moose Munch. The pièce de résistance is the chocolate truffles that come in four flavors: raspberry, coffee, milk, and dark chocolate.
Everyone knows the most memorable celebrations end with the perfect chocolate cake. Made with rich dark chocolate, this birthday cake is split into two decadent layers with a chocolate cocoa cream cheese filling. Hand-decorated cream cheese frosting and confetti sprinkles top it off.
Whether you're celebrating their birthday in person or over a video call, sending them a little something sweet will get everyone excited to sing the "Happy Birthday" song. Maybe even get them to shed a tear or two. You can also surprise them with something homemade, like these small batch pink cupcakes or this decadent truffle cherry cheesecake.