There's something about the holiday season that brings a sense of hope, happiness, and optimism for the new year. Right around when Thanksgiving preparations begin, I feel myself getting excited for the upcoming get-togethers, present wrapping, and hustle and bustle of getting our home ready for the holidays.
As a chef, my life revolves around what is going on in my oven and on top of my stove. I love getting out of my comfort zone (of savory cooking) and taking on a baking project around the holidays. This year, inspired by the legendary Royal Riviera Pears, I decided to make a chocolate pear loaf cake with tea-poached pears. Whole pears, a deep chocolate ganache, and a moist crumb make this recipe divine. I love hearing the oohs and ahhs when I cut the first slice and the beautiful center of the poached pear reveals itself.
The holidays are also a time to take the season's magic and create a special moment for a friend or loved one. I love sending flowers to friends to brighten their week. Fresh cut bouquets and a special note are always appreciated and show those we care about that we are thinking of them.
The special deliveries we receive this time of year make the season memorable: holiday cards that reveal how families are growing and thriving, packages of gifts to receive or wrap, and, of course, gift baskets that fill us with joy as we dig in to see what treats they contain. I love opening a curated holiday gift box and enjoying a mouthwatering pear, the fruit and nut mixes, and — my favorite — chocolate covered cherries.
So this year, as we inch closer to what the holidays of years past felt like, I will be celebrating with more gratitude and appreciation for those I love. Through good food, renewed cheer, and special deliveries for all, I predict this holiday season will be the best one yet.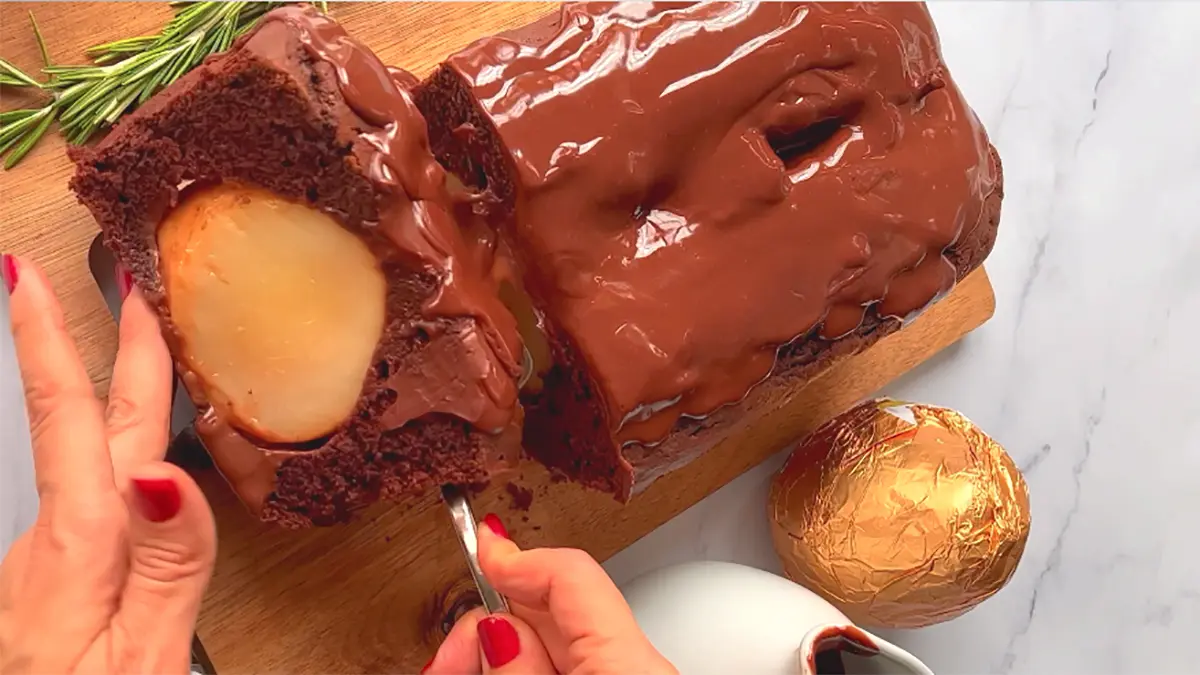 Poached Pear Chocolate Cake
Ingredients:
For the poached pears
4

cups

water

4

chamomile tea bags

¾

cup

sugar
For the loaf
1 ⅓

cups

all-purpose flour

½

cup

Dutch process cocoa powder

1

teaspoon

baking soda

1

teaspoon

kosher salt

½

cup

unsalted butter

(softened)

1

cup

dark brown sugar

2

large eggs

¾

cup

Milk

¼

cup

sour cream
For the ganache
8

ounces

Dark chocolate

1

teaspoon

vanilla extract

½

cup

heavy cream

4

tablespoons

unsalted butter

(cut in cubes)

1

tablespoon

sugar

Pinch

kosher salt
Instructions:
For the pears and loaf
Bring water to a boil in a medium pot. Reduce to a simmer and add the tea bags. Allow the tea to steep for 10 minutes. Remove the tea bags and add the sugar.

Once the sugar is dissolved, add the pears and bring back up to a boil. Then, reduce to a simmer and allow the pears to simmer for 20 minutes, beginning to check their doneness at the 15-minute mark. Pears will be fork tender when done. Carefully remove them from the pot and allow them to drain on a paper towel-lined plate. Set aside as you mix the cake.

Preheat oven to 350° F.

Grease a loaf pan with butter or non-stick spray. Line the pan with parchment paper.

In a large bowl, add the flour, cocoa powder, baking soda, and salt, and mix to combine.

In another bowl, beat the butter until light and fluffy, about 5 minutes. Add brown sugar and mix to combine. Add eggs one at a time.

Add half the flour mixture. Then, add the milk and sour cream, and beat again until fully combined. Add remaining flour mixture. Using a wooden spoon, mix until just combined.

Line the bottom of the pan with a quarter cup of the batter. Place the pears, standing upright in the pan, an even distance apart.

Carefully pour the remaining batter around the pears.

Bake for 50 minutes. Remove from the oven and allow to cool completely in the pan.

Remove from tin. Pour ganache (instructions below) on top. Slice and serve.
For the ganache
Place chocolate and vanilla in a bowl and set aside.

Place cream, butter, sugar, and salt in a saucepan and simmer over low heat.

Once everything is melted and combined, remove from heat and pour over the chocolate and vanilla.

Let cool and allow to thicken for one hour.

Pour over cooled cake and allow to set before serving.
---