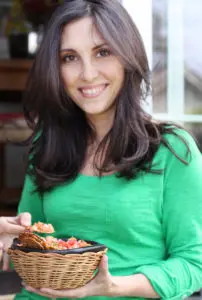 On November 12, 2014, we invited the entire community for a Tweetchat with Skinnytaste Cookbook author Gina Homolka. Over the course of an hour, more than 50 participants joined a Q&A with Gina as she shared delicious food-related memories, ideas for healthy recipes, and tips for holiday entertaining.
The following is an abridged transcript of that Tweetchat. Although it's been cleaned up and reformatted into chronological order, we've done our best to preserve the excitement and communal atmosphere of the event.
In addition, we recommend visiting the Skinnytaste-Harry & David partnership page for some of Gina's favorite recipes and Harry & David products. Of course, we also recommend you consider buying her cookbook.
Friendly warning: reading through this transcript will leave you feeling hungry. Guaranteed.