Spring birthdays land at the perfect time for celebrating. We're leaving the winter behind and welcoming warmer temperatures, blooming gardens, and more sun. Who wouldn't be in the mood for a party?

"I love spring birthdays so much," gushes Brittany Young, CEO and founder of Certified Celebrator and author of "Celebrate with Sprinkles: More Than 100 Party Possibilities to Add Joy and Sparkle to Any Occasion." "Spring makes us feel new; it's a season with new opportunities. We just all start to feel a little happier when the weather starts to turn."
Young likes to keep things light, such as serving fresh fruits, chicken and pasta salads, and fun finger foods. She also suggests always being prepared for the notoriously unpredictable spring weather by having backup plans in place for outdoor parties and keeping things easily mobile and ready to relocate in case of spring showers. But, at least they bring us these…
Spring birthday party ideas for all ages
Spring is ideal for outdoor parties, and embracing bright and fresh birthday party themes. Here are a few of our favorites.
Blooming ice cream crawl
Who says you have to wait until summer to welcome back this beloved treat? It's easy to decorate around this concept, with plenty of fun ice cream-themed decorations and other desserts to choose from. Make it a true "crawl" experience by putting out plenty of flavors to sample, along with toppings like sauces, cookies, nuts, pretzels, and cereals to help guests customize their creations.
Spring tea social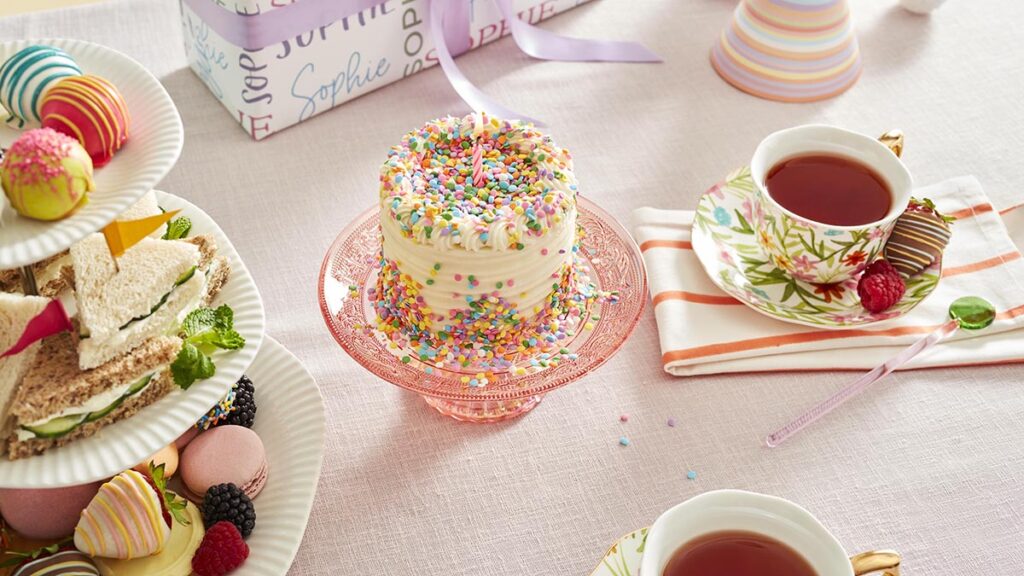 A spring tea party offers loads of possibilities, Young says. For fans of Jane Austen or "Bridgerton," you can easily incorporate these elements into the classy theme. Stack tea pots, teacups, antique-styled books, pearls, and vintage tchotchkes to create a look sure to inspire raised pinkies. Take a nod from Young and chill wine bottles in buckets with eatable flower ice cubes. Of course, no spring tea party would be complete without some fancy sweets like petits fours, authentic British crumpets, and peach galettes.
Kids who love to play dress-up can also enjoy the mystique of bite-sized tea sandwiches, lacy table settings, and tiaras at the table.
Grow your garden party
Spring inspires us to want to celebrate the rebirth of nature around us. Translate that energy into a garden potting party. For little ones, dig into their fascination with bugs and playing in the dirt by serving up the quintessential "worms and dirt" cake along with some delicious chocolate strawberry ladybugs.
Young suggests encouraging guests to collect bits of nature from outside for crafts. "We do a lot of rock painting, finding things from the yard, and gluing them all together lets them use their imagination to create something unique."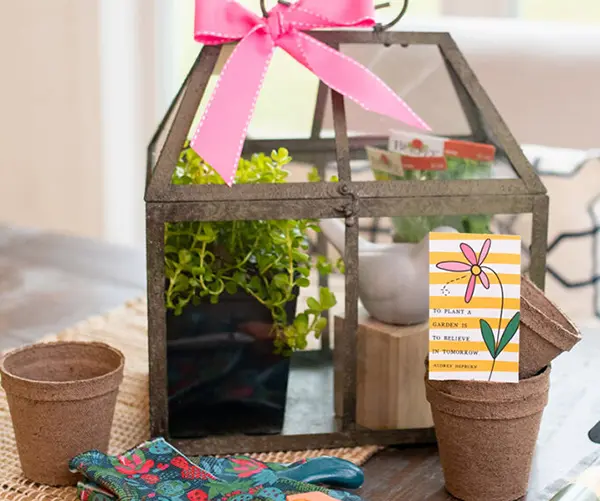 She suggests gifting pots with personalized seed packets for grow-at-home party favors. Decorate a table with terracotta pots (which Young uses as cute cupcake holders), sheets of moss, and pretty gardening tools. For adults, offer a variety of plants that they can use to create their own container garden and feature cocktails with sprigs of fresh herbs.
Festive and fruity
Spring is all about vibrant colors, and fruits offer a rainbow of ways to create a unique spring birthday party theme. Whether it's strawberry, lemon, or pineapple, you can either choose a single fruit to create a birthday party around or mix and match with a variety of flavors.
Southwest fiesta
Combine Tex-Mex fare with Southwest charm for endless party possibilities. A fiesta is one of Young's favorite themes because it's suitable for both kids and adults. The latter can enjoy a make-your-own-margarita bar while guests of all ages will love a taco-making station with all the fixings.
For kids, keep these toppings spill-proof in muffin tins to cut down on clean-up. Decorate with succulent-themed cookies, Southwest-style plants, papel picado banners — traditional Mexican crafts consisting of intricate designs cut into pieces of tissue paper — and piñatas. Don't forget to include plenty of cactus-themed accessories, such as these adorable felt napkin rings and stackable glasses. Add in a fun cacti or succulent potting activity based on the age range of your guests.
Spring birthday party ideas for kids
These ideas may be specifically intended for little ones, but they are still big on fun.
Happy "bee day"
Get the kiddos buzzing with this party theme Young designed to celebrate spring's beauty. Combine baby's breath with sunflowers as the centerpiece of your tablescape along with touches like woodsy decor, mason jars, and bottles of bear-shaped honey. Play bee-themed versions of party games and serve up treats like bee cake pops and Buzzing Bee Dipped Strawberries.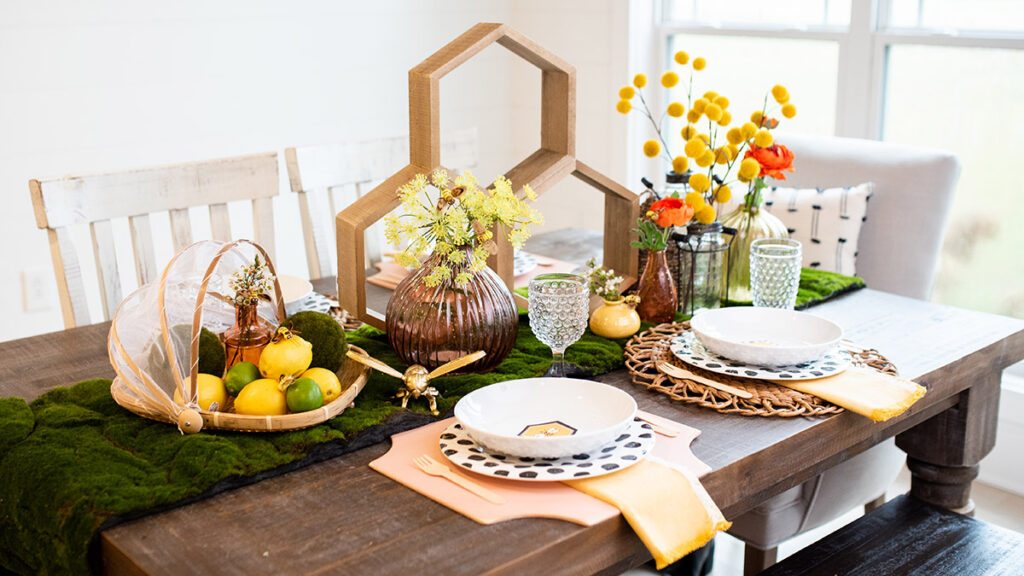 Peter Rabbit vegetable garden party
Let guests experience the magic of Beatrix Potter by recreating the woodland world of this beloved storybook character. Deck out the decor in the classic colors of this mischievous rabbit, including bright baby blues, yellow and brilliant greens. Don't forget to supply plenty of veggies along with some yummy Buttercream-Frosted Walnut Carrot Cake Cookies.
Spring birthday party ideas for adults
If you're planning a more grown-up birthday blowout, you can't go wrong with any of these choices.
Go big on the blooms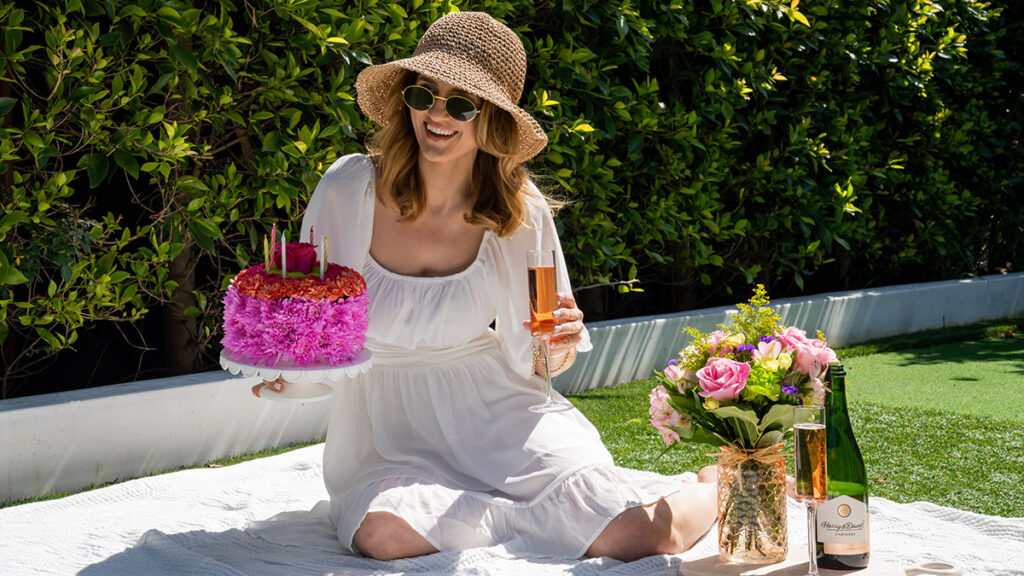 Spring reminds us how much we missed the fragrance of flowers, so celebrate the season in a big way with plenty of fresh blooms. Dot a dinner table with an overabundance of gorgeous spring flowers — but don't stop there! Offer a flower arranging workshop for guests outside (if the weather's nice enough) or around a kitchen island. "Everyone is able to make their own bouquet and take it home with them," Young says. "Doing a project like this together really opens up the door for lots of conversation and deeper connections."
Pretty in pastels
By March, most of us are ready to ditch the deep dark colors of winter for brighter hues. Create a chic pastel-themed party using plenty of pink, mint, purple, and peach decorations, such as streamers and plates.
"I'm a big believer in balloons," Young says. "They take up a lot of space and are very affordable." She adds that a color-themed balloon arch display makes the perfect spot for guest photos. Serve up equally pretty treats in soft, subtle shades, such as a dreamy cotton candy sampler.
Host a luxury picnic
Take full advantage of the season's mild temps by hosting a picnic. Begin setup by using tarps as a base to protect picnic blankets. Add pillows and poufs to outfit the setting, and combine small folding picnic tables for place settings. Line the table with a complementary table runner and deck out the scene with flowers, candles, and place mats.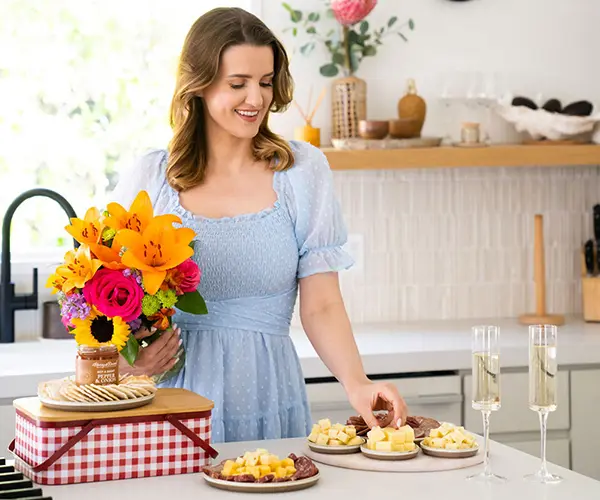 For a backyard party, serve a gourmet brunch that includes ready-to-cook croissants, casserole, smoked salmon, dessert, and drinks. If you need more portable delights, a snack-filled picnic basket or bakery tray overflowing with springtime favorites is sure to fit the bill. Add backyard party games, such as cornhole or ladder toss, or make it a "Rosé and Croquet" party for a truly luxe experience.