In "Board Games," learn to level up your Sunday brunch, create a holiday board with all your favorite cookies, or style a cheese board for a night in. This spring-inspired charcuterie board comes from Rosana Machiela of Yoga of Cooking.
Serving a charcuterie board is one of my favorite ways to entertain in the spring. Whether for a brunch or late-afternoon weekend gathering, this striking display of meat, cheese, and other snack foods keeps every palate happy and engaged.
This charcuterie board was inspired by the Mediterranean ingredients I grew up eating and that also remind me of spring. I'm Spanish on my mom's side, and even though I grew up in Venezuela, every family gathering was filled with dishes that featured Mediterranean flavors.
Pinchos (or pintxos) are bite-size Spanish snacks typically enjoyed in bars. Commonly served on a piece of bread with a cocktail skewer, they can be enjoyed in one or two bites. They are synonymous with socializing, and you'll often see groups of friends going from one bar to the next, enjoying drinks and these small bites.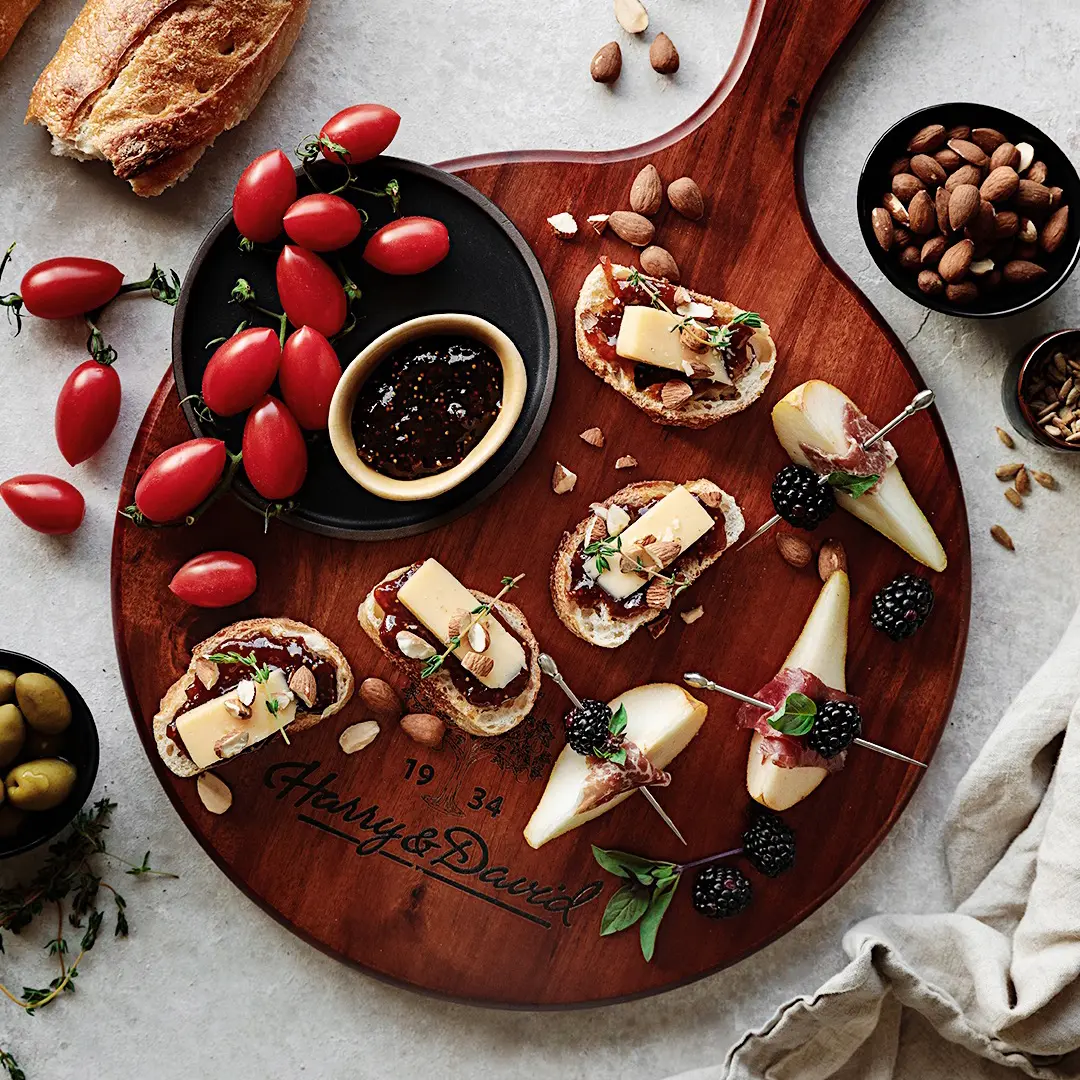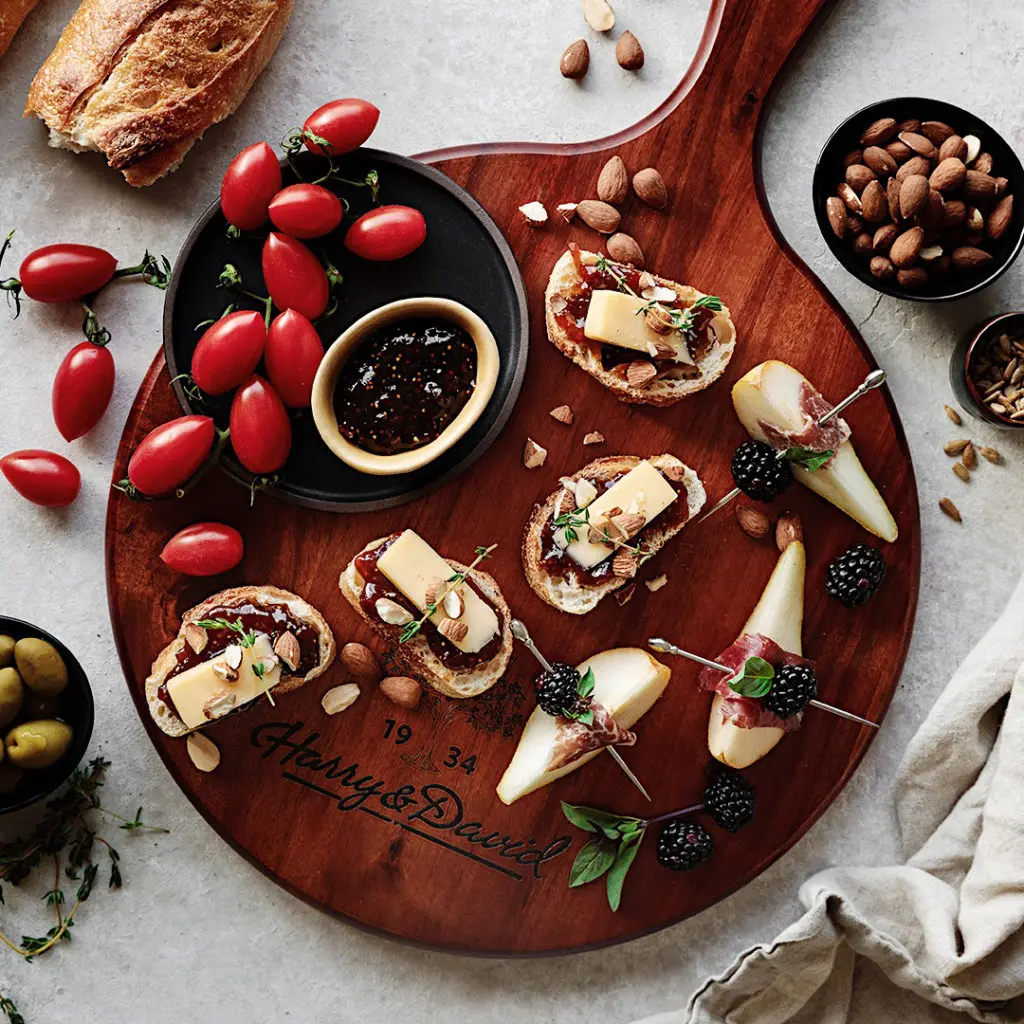 I often prepare a few pinchos for my guests to try before letting them make their own; that way, they see how it's done. Pear, Iberico ham, blackberries, and honey on crusty bread is one of my favorites for a sweet-and-salty vibe. Roasted red pepper and artichoke spread works well with three-seed crackers. The nuttiness of the crackers pairs nicely with the tangy red peppers and piquant artichokes. My favorite, though, is fig spread with Gouda cheese, roasted almonds, and a sprinkle of fresh thyme on slices of crusty bread. Figs go together with thyme, and the creamy Gouda is just divine with crunchy almonds and fresh bread.
A trio of salamis — Barolo, fennel pollen, and applewood smoked — offer something for all taste buds. Fennel always reminds me of springtime in Italy — and California, where I live now. Add a pop of color with a few sprigs of herbs, which can be saved after you're done for flavoring soups or stews.

Fruit, nuts, and olives add texture and color to charcuterie boards. For an unexpected twist, add some orange slices. Figs, blackberries, and sweet cherry tomatoes are easy to grab, and kids love them, too.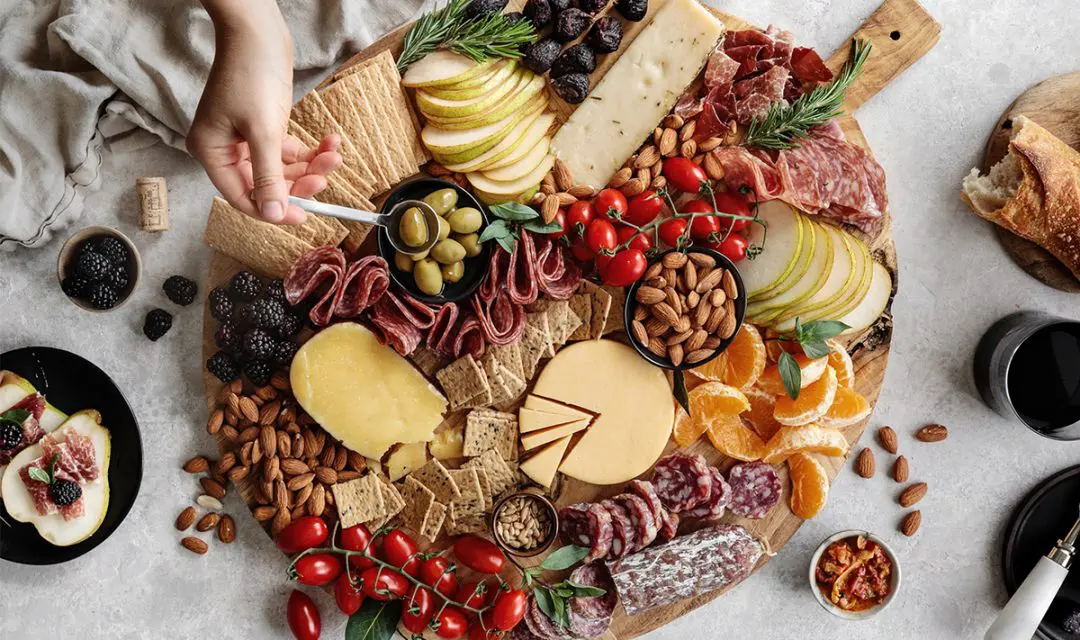 The Ultimate Spring Charcuterie Board
Equipment:
Mini bowls or ramekins for nuts and spreads

Cheese knives

Toothpicks
Ingredients:
Harry & David® Gouda Cheese

Sartori® rosemary & olive oil Asiago cheese

Rumiano California-crafted dry jack cheese

Fermin Iberico ham

Creminelli Fine Meats Barolo salami

OLLI Toscano Fennel Pollen salami

Napoli Applewood Smoked salami

Soppressata

cherry tomatoes

(on the vine)

2

Harry & David® Oranges

(peeled and segmented)

Harry & David® Royal Riviera® Pears

(sliced for the board and cored for the pinchos)

Blackberries

1

sprig

rosemary

1

sprig

thyme

Crusty bread

(rustic Italian or baguette works, sliced)
Instructions:
To create the board
Arrange mini bowls with roasted almonds, green olives, and spreads. Place the three cheeses — Gouda, Asiago, and dry jack (cubed or sliced) — separate from one another in a triangle shape.

Slice the salami and place next to the Gouda wheel, fold soppressata slices in half and place next to the dry jack cheese, and place the Ibérico slices next to the Asiago cheese.

Arrange the fruits and vegetables, starting with the tomatoes, followed by the sliced pears and peeled tangerines.

Fill the gaps with crackers, mission figs, blackberries, and almonds, and style with herbs, such as rosemary, thyme, and bay leaves.

Place appetizer plates, cheese knives, and toothpicks on the side, as well as small bowls with the artichoke spread and honey.
For the Pear & Ibérico Pinchos
Core a pear and cut it into 8 slices.

Wrap each slice with Ibérico ham, place a blackberry on one side, and secure with a toothpick.

Drizzle honey on top just before serving.
For the Fig & Gouda Apps
Top each slice of bread with 1 teaspoon of fig spread, 1 small cube of Gouda, chopped almonds, and a thyme sprig.

Drizzle honey on top before serving.