Learn more about the wonderful world of wine in our series "Uncorked," in which we explore everything from winemaking and wine lingo to wine drinking and wine pairings. Learn what to pour this spring season with recommendations from David A. Cohen, a Level 2 Certified Sommelier, who is joined by Tyrone Taylor, a WSET (Wine & Spirit Education Trust) Advanced Level Sommelier and an active member of the National Guard. Here, the two test and pair five great, refreshing wines for spring.
For many wine drinkers, spring is a welcome respite from the long and cold winter months spent drinking full-flavored reds like cabernet and Syrah with heavy roasts and stews. When choosing wines for spring, opt for wines that are light, delicious by themselves, and compatible with a wide range of foods, including cheese and charcuterie.
2020 Harry & David Pinot Noir Rosé
This wine starts off with a lovely nose (smell/aroma) of crushed strawberry candy and fresh raspberry, along with a bit of orange zest and lemon curd. Tyrone and I both agree that the palate (taste) is not as flamboyant or complex as the nose, and that's a good thing. If it was, this wine wouldn't be anywhere near as versatile with food.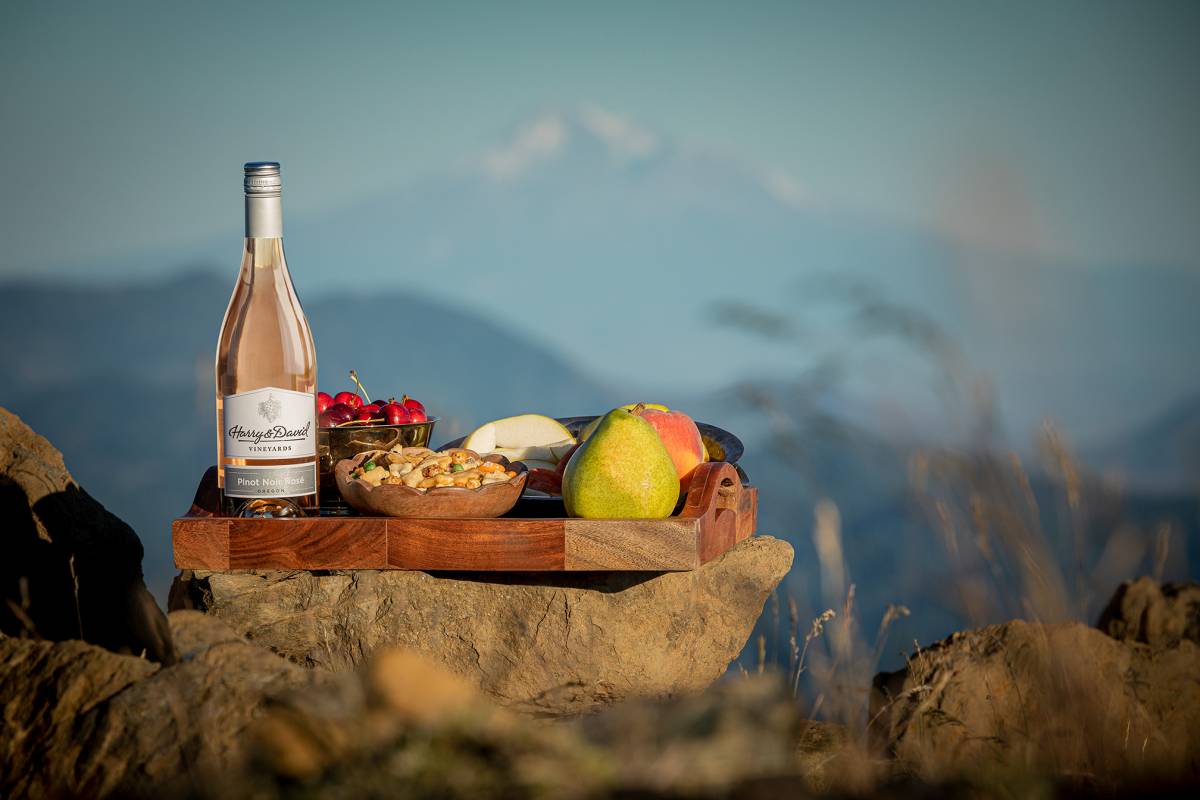 Harry & David's rosé pairs perfectly with cheese, especially Harbison cheese from one of my favorite cheesemakers, Jasper Hill Farm in Vermont. Harbison is a soft-ripened, spreadable, bloomy rind cheese. A bloomy rind is a soft white rind that is wrapped in strips of spruce bark.
The acidity of the wine is tempered a bit by the creamy texture of the cheese, but then it pops right back up at the finish, leaving you wanting to go back for more, or as Tyrone puts it: "They boomerang. The cheese and the wine refresh themselves with every sip and bite."
This rosé also pairs well with smoked or grilled salmon, prepared any way you like. The fresh acidity of the wine balances the strong flavor of not just the salmon, but the sauces and other ingredients that often accompany it, such as tarragon cream, dill, capers, or herbed garlic.
2019 Château de Pizay Morgon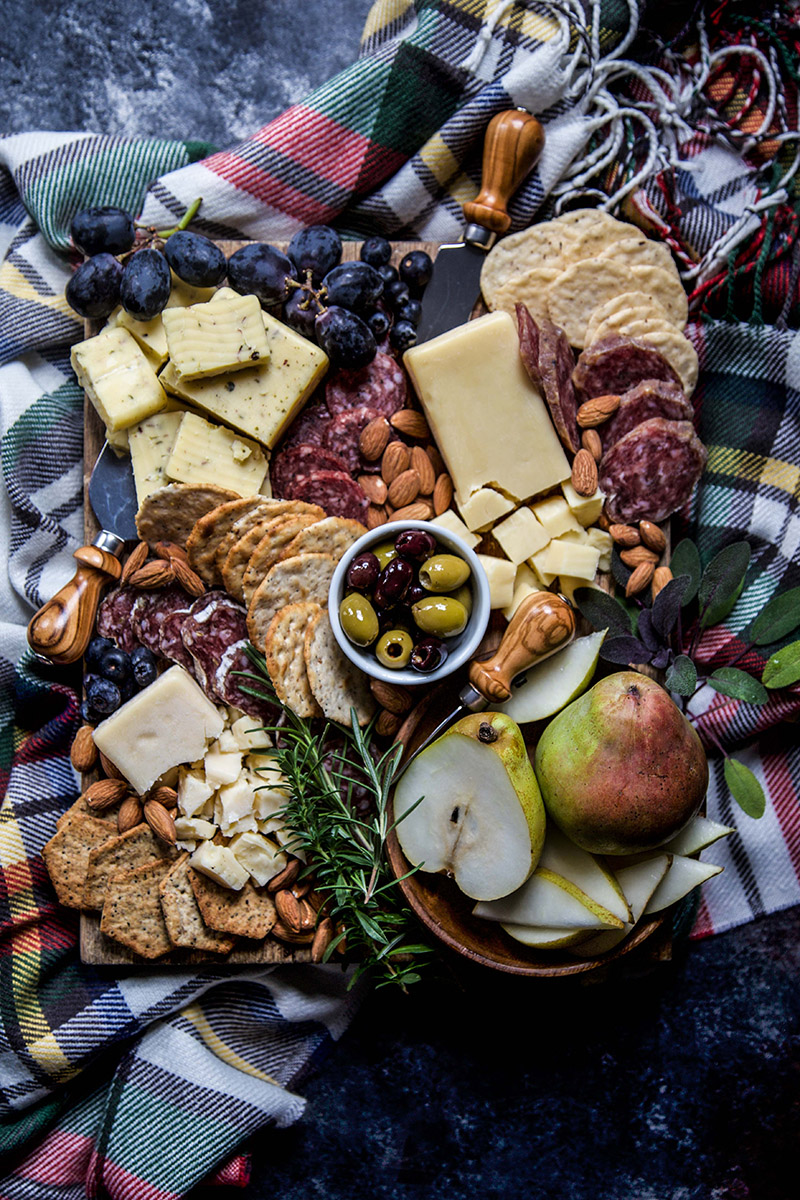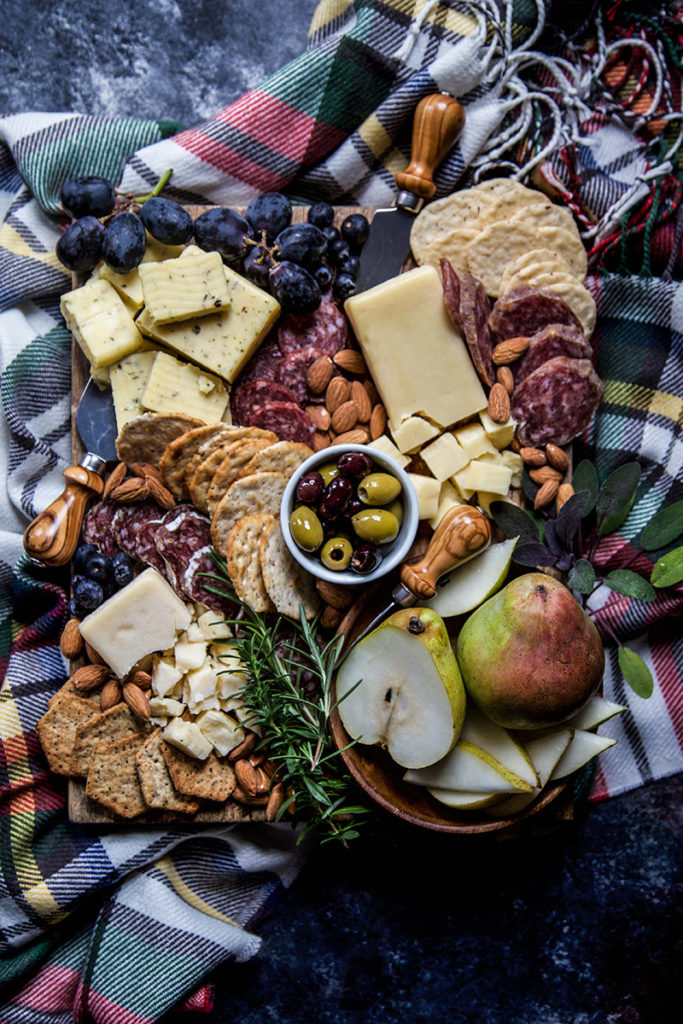 Not to be confused with the nouveau Boujolais we see every fall, this wine is a cru Beaujolais. It is hand harvested and has strict production and quality-control requirements during the winemaking process. Almost as light as the Harry & David rosé but with more grip and a creamier texture, the Château de Pizay Morgon is a fun, crowd-pleasing wine with an array of lesser-known red fruit flavors like brambleberry, elderberry, and loganberry.
This wine, and most cru Beaujolais in general, pairs naturally with salami, and thankfully Harry & David carries some of the best from Creminelli Fine Meats and Olli Salumeria. All of these salami pair well in different ways with this wine, but two that stand out are the Creminelli Tartufo (truffle) salami and the Creminelli Barolo salami.
Tyrone was particularly impressed with the way in which the Tartufo "brings up the light earthy notes from the glass, while the wine's acidity tones down the aggressiveness of the truffle flavor. And feel free to throw a little Harbison on top of the salami for a complete flavor explosion."
Paired with the Barolo salami, the punch of Barolo flavor shows up toward the end, which is perfect, because most of the Pizay's flavors show up early in the experience. So just as the wine starts to dissipate off the palate the taste of the salami starts to fill in.
The Pizay would also be a very nice complement to Harry & David signature beef enchiladas, as the wine's light body and low alcohol content make it perfect for slightly spicy and heavily seasoned dishes.
2019 Harry & David Sauvignon Blanc
With a surprisingly subtle aroma when you first approach the glass, this wine is a nice departure from the many other overly aggressive sauvignon blancs on the market. Unlike the rosé, this wine is much more complex on the palate than it is on the nose. I get freshly peeled orange and sliced canned peaches, while Tyrone picks up elements of mandarin orange, pineapple, and ripe melon. He also commends the wine's "easy drinking, non-confrontational style that still packs a lot of flavor."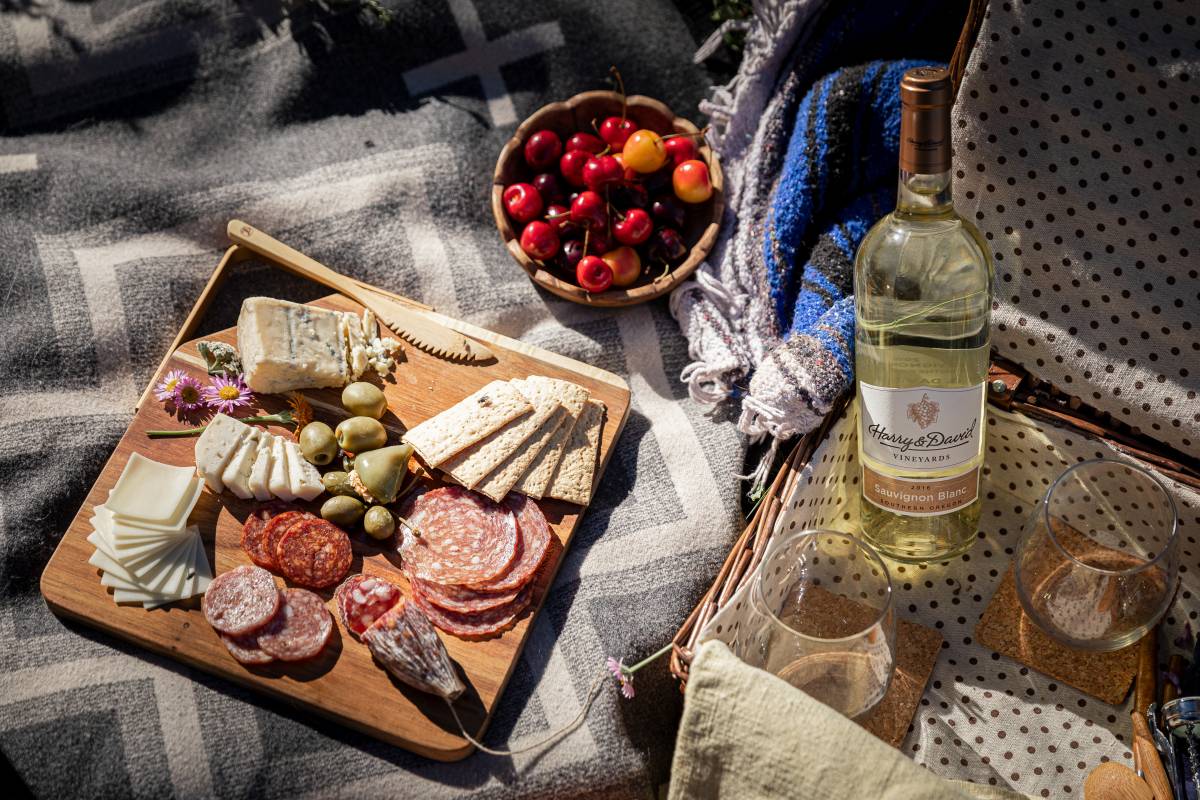 All these ripe fruit flavors pair very well with serrano and Iberico hams. The wine helps to extend the enjoyment of the ham significantly. This wine also pairs well with a number of different salads and seafood dishes, but if I had to pick only two, it would be a spicy Thai papaya salad and a simple preparation of Chilean sea bass. The ripe, fruit-forward style of this sauvignon blanc helps temper the spiciness of the salad, while its medium to full body is a great complement for the rich and tender Chilean sea bass.
2013 Red Newt Cellars Riesling, Sawmill Creek Vineyard, South Block
This stunning, bone-dry Riesling from upstate New York's Finger Lakes region has just the right amount of age on it. For Tyrone, the wine "offers up a broad but very well-composed spectrum of flavors ranging from golden apple to apricot and tangerine." This classic Riesling also has a brisk minerality that makes for a multilayered, long-lasting flavor experience with every sip.
The Red Newt pairs well with a wide variety of foods, so feel free to be adventurous. While you can play it safe and open this bottle up with just about anything on a cheese and charcuterie board, I happen to like this wine particularly with anything encrusted in pastry. It's good with chicken pot pie, better with lobster pot pie, and a must with baked brie en croute.
---

---
Harry & David Ross Lane Red Blend
A nonvintage blend in the style of French Bordeaux, this wine delivered way more than we were expecting. Tyrone loved the "tons of cherry, cherry cola, vanilla, and light oak influence" and I picked up on the laid-back notes of clove underneath and some darker fruits, like blueberry and blackberry on the finish.
This red blend is also great with cheese, and was an absolute knockout alongside Jasper Hill's Alpha Tolman Alpine-style cheese. It also plays nicely with Rogue Creamery's Oregonzola (their version of Gorgonzola) and Wood River Creamery's cheddar Gruyère.
The medium-weight, subtly complex wine leaves room for a lot of big flavors on the palate. Feel free to bring on the bold marinades and spicy sauces with this wine. Think bourbon-marinated peppercorn steaks — perfect on the grill during a cool spring evening.