At first glance, wine and barbecue seem like polar opposites. Everything about wine seems to have its own formal process, from presenting and opening the bottle to sniffing and swirling the wine in a glass. It even has its own vocabulary to discuss what you have just tasted. It's easy to understand how wine has had difficulty shaking its reputation for being the drink of high society, country clubs, and Michelin-starred restaurants.
Barbecue, on the other hand, is more often associated with informal, five-napkin messy meals, eaten out of Styrofoam containers at picnic tables. However, a closer look at barbecue and wine reveals more similarities than initially meets the eye.
---

---
The flavor profile of good barbecue involves the proper balance between some combination of sweet, spicy, smoky, and tangy flavors, which requires a lot of time and a high level of discipline to successfully achieve. If any of these goes out of balance, the quality of the 'cue will be compromised.
The same is true of good wine. It requires winemakers to balance all the components that affect a wine — from the grape to the terroir to the weather — into a harmonious combination that still has personality.
What this means in terms of bbq wine pairings, barbecue actually goes well with wine because the flavor profiles leave room for each to complement the other. For instance, a smoky, peppery piece of brisket leaves a lot of room for the bright, fruity flavors of red wine to fill in on top.
Now that we've established drinking wine with barbecue makes sense, here are my favorite suggestions for bbq wine pairings a variety of barbecued dishes with a selection of four Harry & David wines.
Harry & David Chardonnay 2019
Take a break from the many high-alcohol, heavily oaked wines in the marketplace with this nicely crisp, lightly oakey chardonnay. With a broad but subtle spectrum of fruit flavors ranging from orange flesh to golden apple to Meyer lemon (not sour lemon), the wine leaves a lot of room for the smoky and sweet flavors of barbecue to fill in your palate.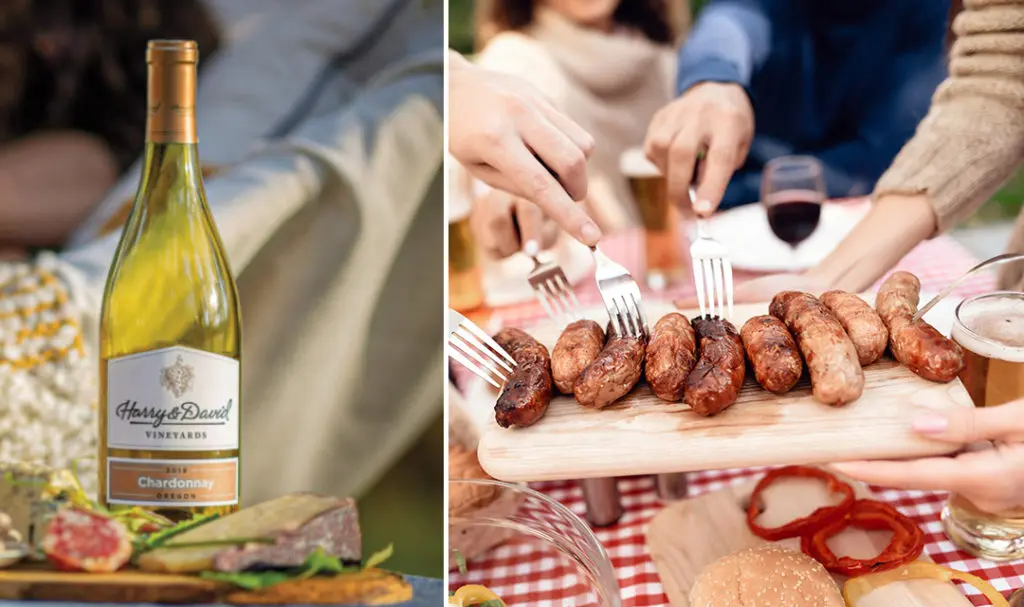 This chardonnay pairs well with the widest range of barbecue and sides compared with the other bottles in this tasting. The two standouts were Harry & David's whole roasted organic chicken with its charred-pineapple bourbon sauce (smoked chicken would also work well) and everything in the sausage sampler. The jalapeño-and-cheddar smoked bratwurst won by a nose over the chicken sausage with Canadian bacon and Swiss cheese.
Harry & David Pinot Noir 2019
I had high expectations for this wine considering pinot noir is the grape that put Oregon wines on the map. Starting with an array of earthy fruit flavors like red raspberry, ripe strawberry, and even maraschino cherry, this wine then seamlessly begins revealing some woodsy mushroom, secondary flavors that nicely play off the fruit, leading to a clean, crisp finish.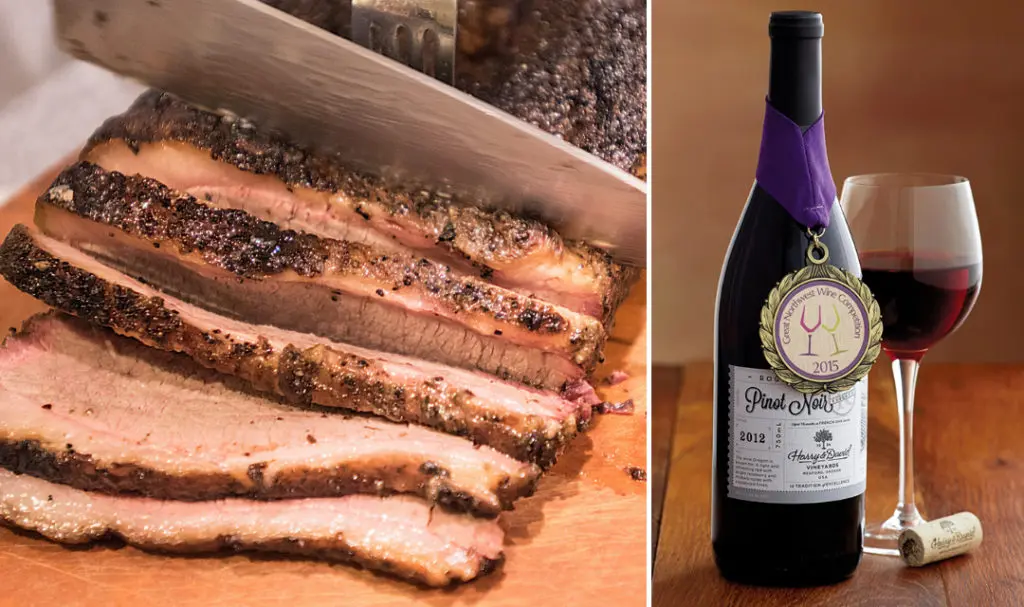 Like the chardonnay above, this pinot noir is very diverse when it comes to pairing with food and is another safe bet for picky dinner guests. I was pleasantly surprised at which two pairings came out on top. The first was collard greens and pork. The fruit from the wine brightens up the bitterness of the greens, while the greens help accentuate the earthy flavors of the wine, leading to a nice tennis volley of earthy sweet and bitter playing back and forth across your palate. The second was brisket, with the smoky, meaty, and peppery flavors harmoniously blending in with the earthy mushroom notes of the wine, allowing the fruit to carry you all the way to the finish with an increasing intensity.
Harry & David Royal Crest 2018
The Royal Crest is a Bordeaux-style red blend from Southern Oregon that delivers big flavors in a refined package. It leads with a darker-fruit profile than the pinot noir, with black cherry, black currant, and ripe plum above a complex foundation of thyme, red bell pepper, bay leaf, and even hints of rosemary.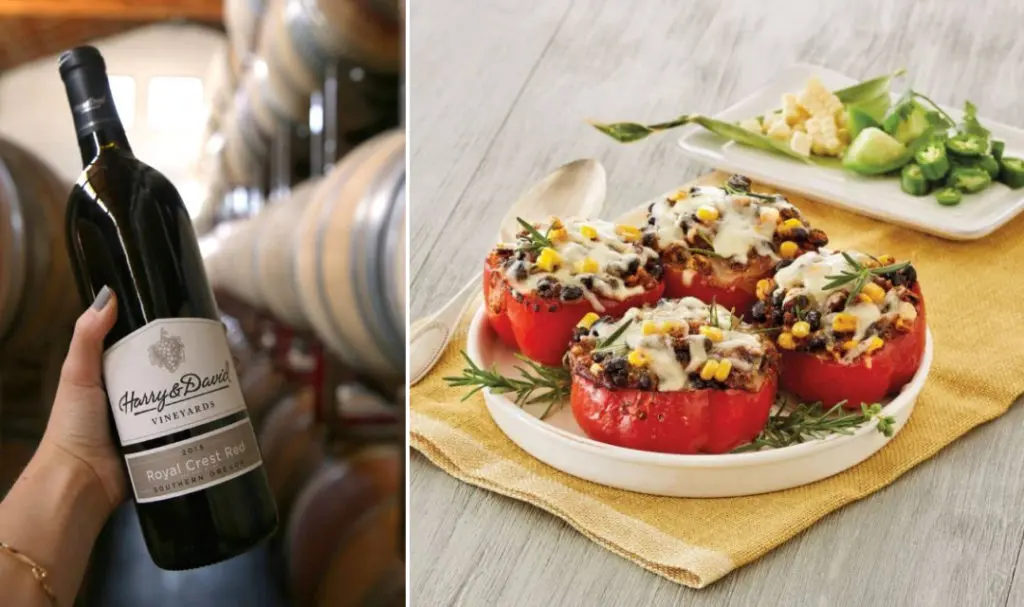 These herbaceous notes make this wine a natural pair for vegetable side dishes like Brussels sprouts with bacon or green beans with black truffle and almonds, but the real knockout was the Southwest stuffed bell peppers. The tomatillo dressing acts as the perfect negotiator between the earthy herbaceous wine and the brighter flavors of roasted corn and pepper in the pepper jack cheese.
Harry & David Reserve Cabernet Sauvignon 2018
This wine has all the characteristics that I look for in a big, oaky Napa Valley cabernet without being as overpowering as other young vintages. The 2018 release has had just enough time to soften up the tannins (the stuff in grape skins that makes your mouth and gums dry after you take a sip) so that the wine is now approachable.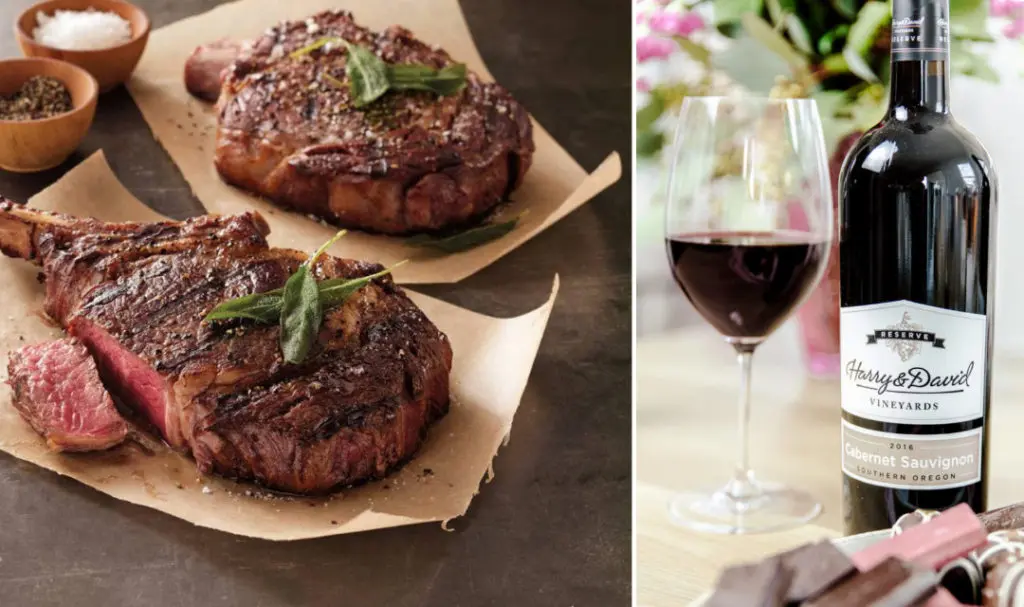 While there is a good amount of dark fruit here, with blackberry and black currant being the two most prominent, it is the well-balanced, secondary characteristics of vanilla and spice coming from just the right amount of oak that make this wine special for me. In a world of cabernets with way too much oak and way too high alcohol content, it is refreshing to taste a release like this that still embraces all those flavors but with a little more refinement and restraint.
I thought for sure this wine would work best with the brisket, but I had to give that nod to the pinot. That said, cabernet and brisket still go very well together. The cabernet initially was overpowering everything, but as the wine dissipated off my palate, it made for quite an enjoyable experience. The best pairings for this wine, however, and most cabernets in general, is a properly seasoned steak cooked just the way you like it. In this case, it doesn't get much better than a peppercorn-rubbed, Chicago-cut bone-in rib eye.