With a focus on fine meats and seafood, and how to cook them, our series "A Cut Above" will guide you to become the ultimate grill master. Honor Dad with these Father's Day recipes, from an over-flowing charcuterie board to a celebrity chef's bourbon peppercorn steak salad.
For a fine Father's Day fete, we've culled these gourmet recipes featuring Harry & David's fine meats. A splendid, overflowing charcuterie board, along with a ton of "fixins," gets the party started. And tender, marinated steak surrounded by a summer's bounty of vegetables makes for a great main course. Sumptuous sesame-seed-crusted tuna is stellar summer fare. And juicy-sweet chicken kebob skewers make for fast, easy grilling.
There is something for every hungry Dad to love in this lineup. But Father's Day wouldn't be complete without a classic side of slow cooked, smoky baked beans.
This feast is worthy of a king. "King Dad," that is.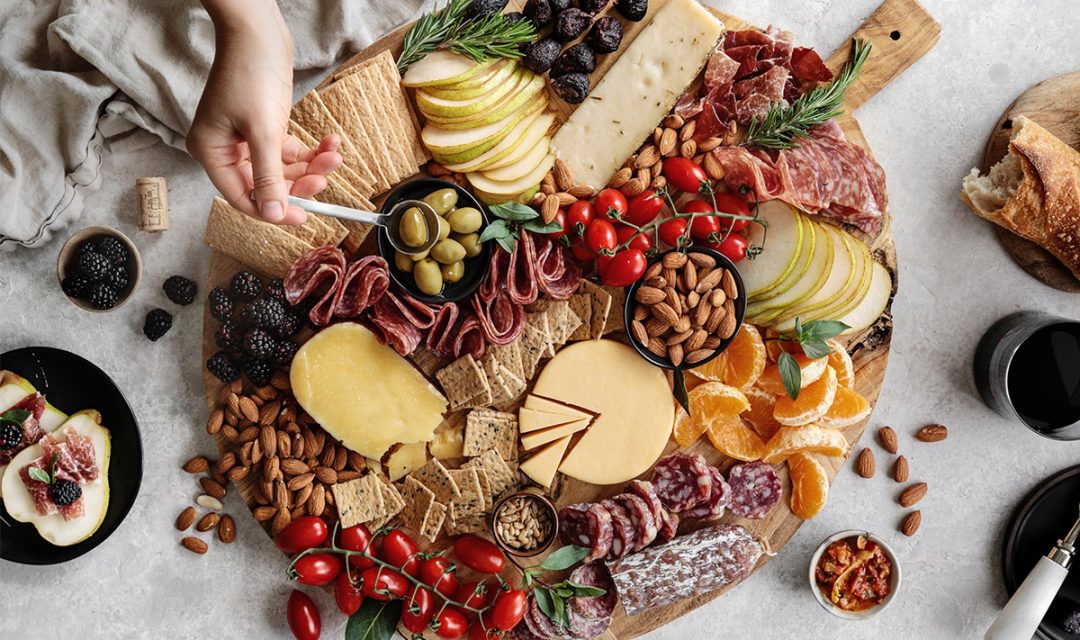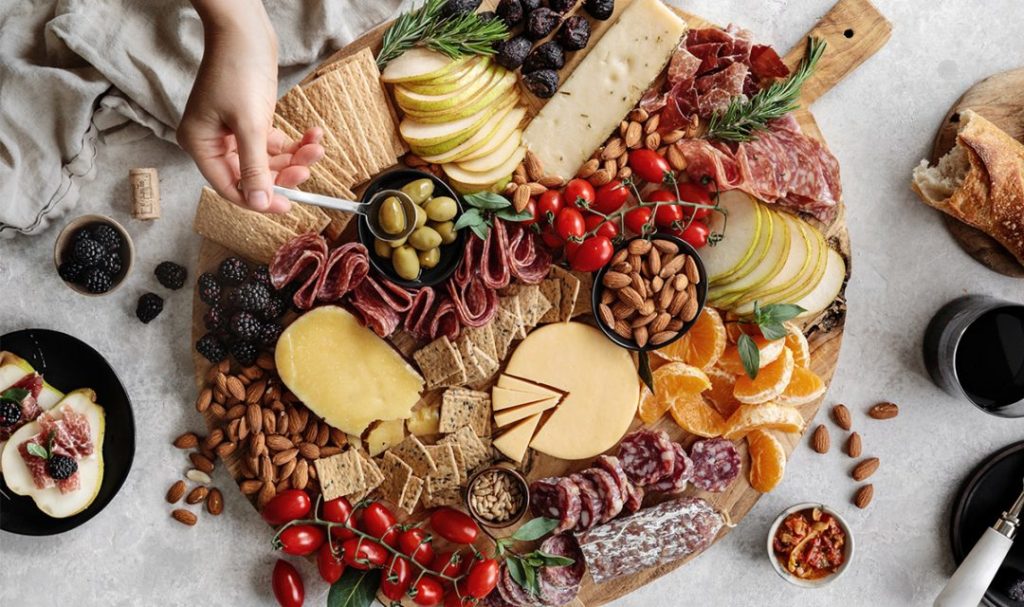 This overflowing array of cured meats, nutty and sharp cheeses, salty nuts, olives, fresh and dried fruits, and a mix of piquant and sweet spreads, including Harry & David's Roasted Red Pepper & Artichoke Spread, their Sweet Clover Honey, and fresh herbs is a grand gesture of love for Dad. And your guests. You'll delight in watching everyone create unique appetizing combinations from this smorgasbord array of flavor and fun.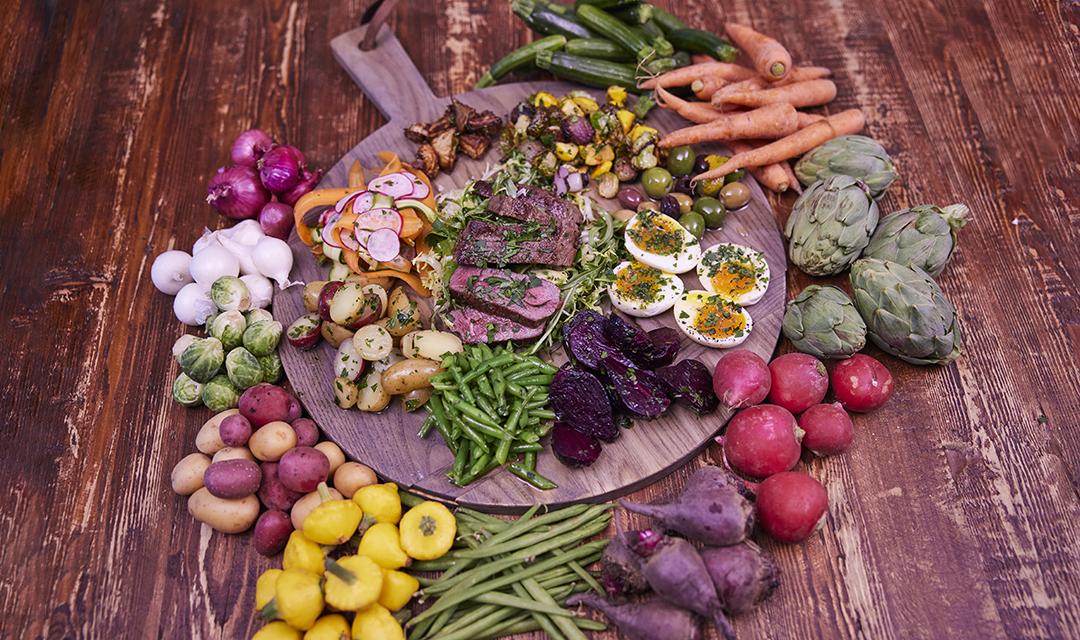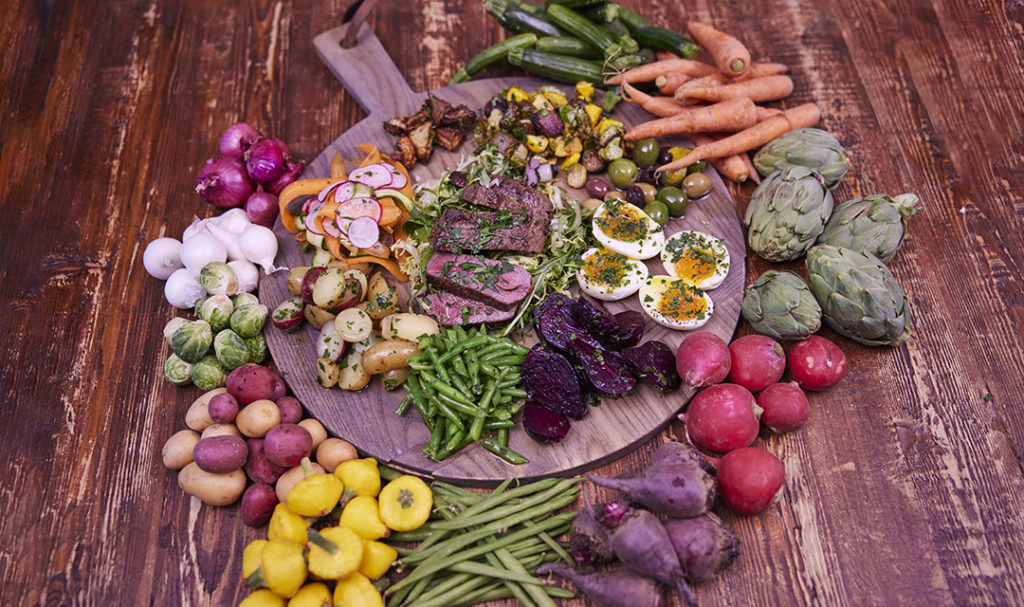 Chef Antonia Lofaso nestles a perfectly cooked Harry & David bourbon-peppercorn marinated steak among a plethora of hearty vegetables for her spin on the traditional tuna Niçoise salad. Tender-crisp string beans, roasted baby potatoes, pattypan squash, and Brussels sprouts intermingle with shaved carrots, spicy radish, and zucchini. Each vegetable lends incredible texture and bursts of gorgeous color in a salad that can be offered family-style or plated for the guest of honor as the main course.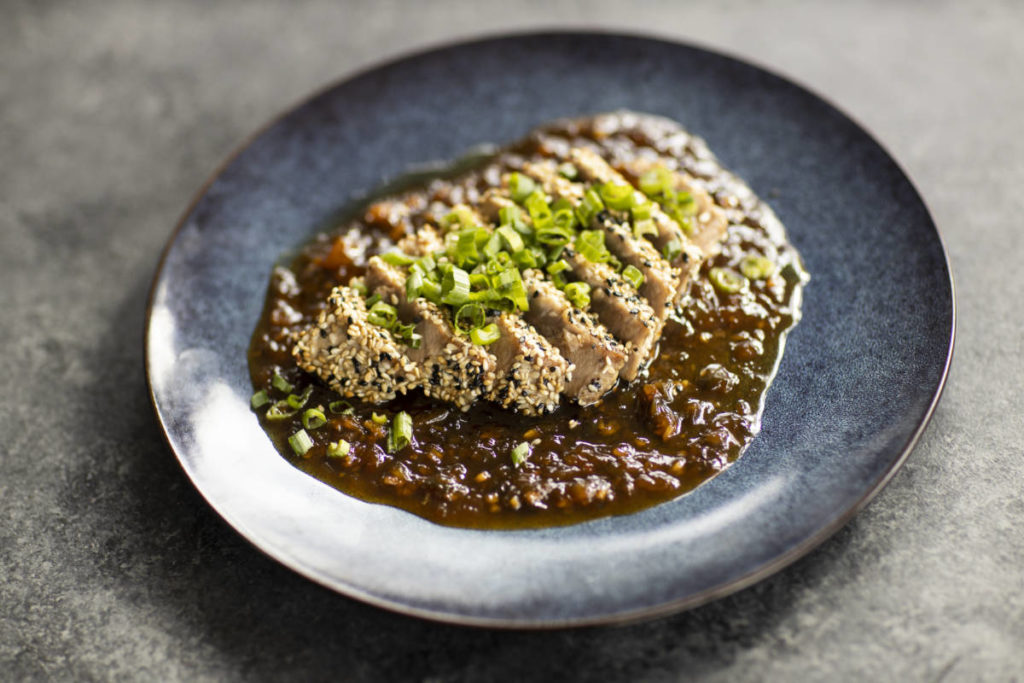 Pati's recipe for Tuna Steaks with Spicy HoneyBell Sauce is inspired by her Mexican heritage and love for the bold juxtaposition of spicy, tangy, sour, and salty flavor profiles in one meal. (And her husband loves tuna!) She also borrows Asian influences for a soy sauce base and sesame seeds for the tuna's coating. To protect the moist and supple interior of the fish, you'll give excellent quality sushi or sashimi-grade tuna a quick sear in peanut oil to release the nutty warmth of the sesame seeds.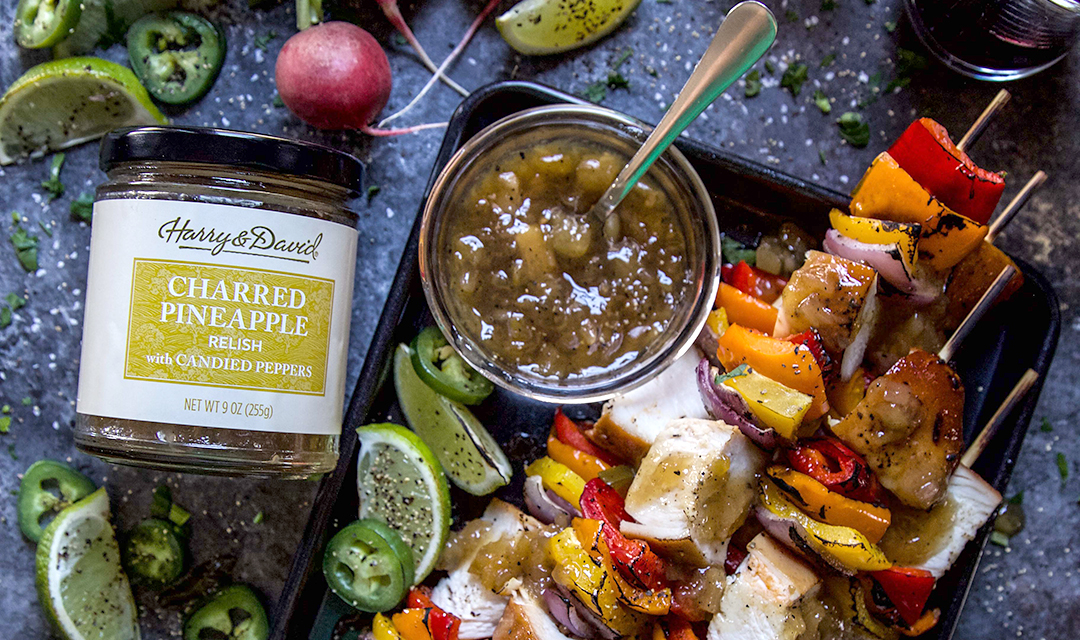 Are you thinking of grilling for an outdoor Father's Day soirée? These succulent Grilled Teriyaki and Pineapple Chicken Skewers are an easy make-ahead dish. Marinate chicken breasts overnight in unctuous teriyaki sauce, then thread them on a skewer with onion and fresh, bright summer peppers. The salty and umami flavors in the chicken get a pop of sticky-sweet glory when you glaze them with Charred Pineapple Relish. Keep extra relish on hand for dipping chips, or even use it to top grilled burgers, or drizzle it across grilled fish tacos.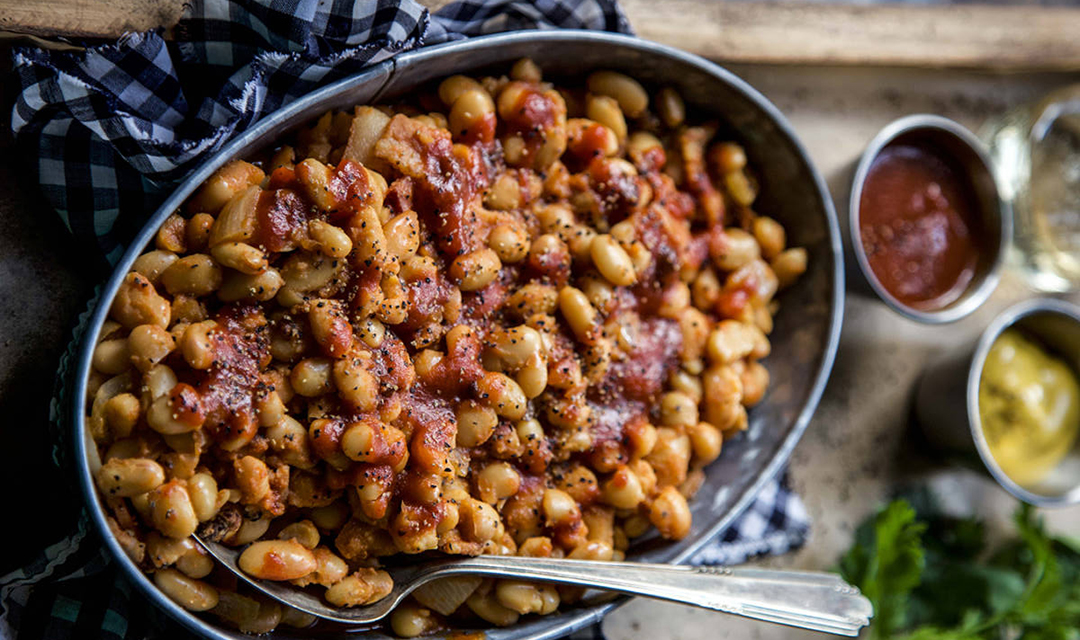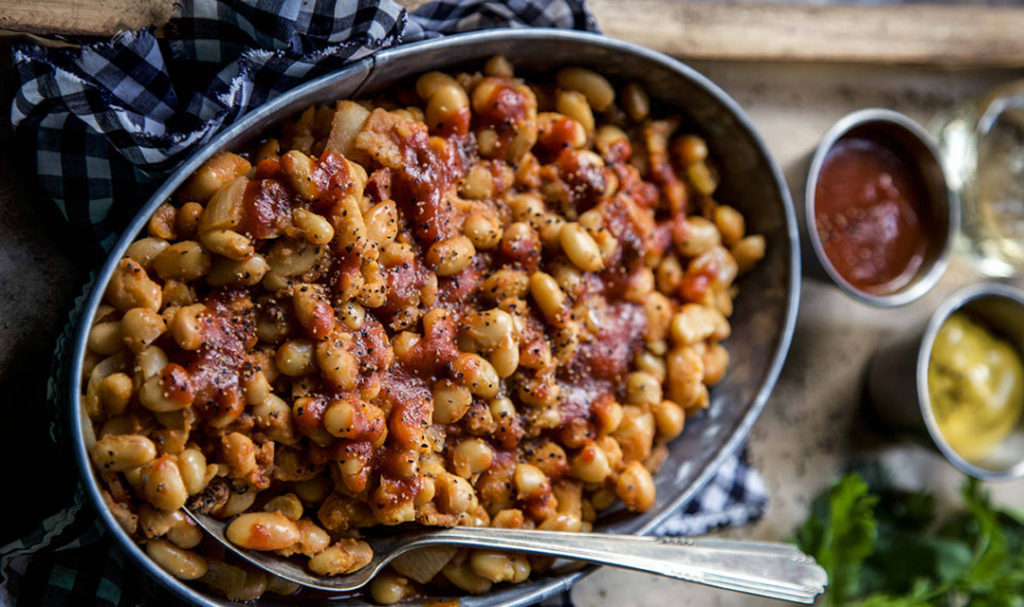 Just like a great Dad, these baked beans are comforting and sweet. And this slow cooker recipe delivers an edge of smoky, tangy chipotle pepper flavor from the addition of Harry & David's Bacon Chipotle BBQ Sauce in place of traditional tomato. And for the record, the beans you'll find on store shelves aren't even baked — they're "steamed!" Abomination, we know.