The holidays are all about family, and nothing brings all the generations together like food! In "Homespun Holidays" we explore recipes perfect for new family traditions, shareable plates for your next holiday get-together, and small-batch desserts and sides for more intimate gatherings. These tips for how to cook the perfect ham come from Nick Evans of Macheesmo. Use Nick's sweet heat harissa glaze for extra flavor ahead of your big holiday meal.
If you're cooking for a special occasion, I have three words for you: savory baked ham. I understand ham can be a bit intimidating to cook. It's a large entrée, and the last thing you want to do is make a mistake while cooking your special dinner, especially if you're entertaining guests. Fortunately, it's actually very easy to make a perfect ham suitable for any special occasion.



Tips for Cooking a Perfect Spiral Ham
For starters, pick a great ham.

Harry & David's Spiral Ham

is already seasoned and cooked, so all you need to do is just warm it up, glaze it up, and serve.

Whether you're cooking your own or reheating a pre-cooked ham, the key is to not overcook it. Ham, like

brisket

, can dry out if you cook it for too long or in an oven that's too hot. Remember, no two ovens are alike, so be mindful of your cooking temperature and time.

Make your own glaze or use the included Harry & David glaze. It adds some extra flavor to each slice and also helps keep the ham juicy, which will keep your guests happy.
When the ham is ready to serve, you'll want to turn it on its side so the spiral slices run vertical. Then use a sharp carving knife to carve off the slices one at a time. For extra flavor besides the glaze, serve the ham with juices from the roasting pan or gravy.
The best part about cooking such a large main course is you will almost certainly have leftovers. Ham keeps well in the fridge for up to seven days, or you can freeze it by sealing it in an airtight container. It will keep in the freezer for three months. To enjoy again, thaw it gently in the fridge. You can warm it up again, but this ham is equally delicious served cold.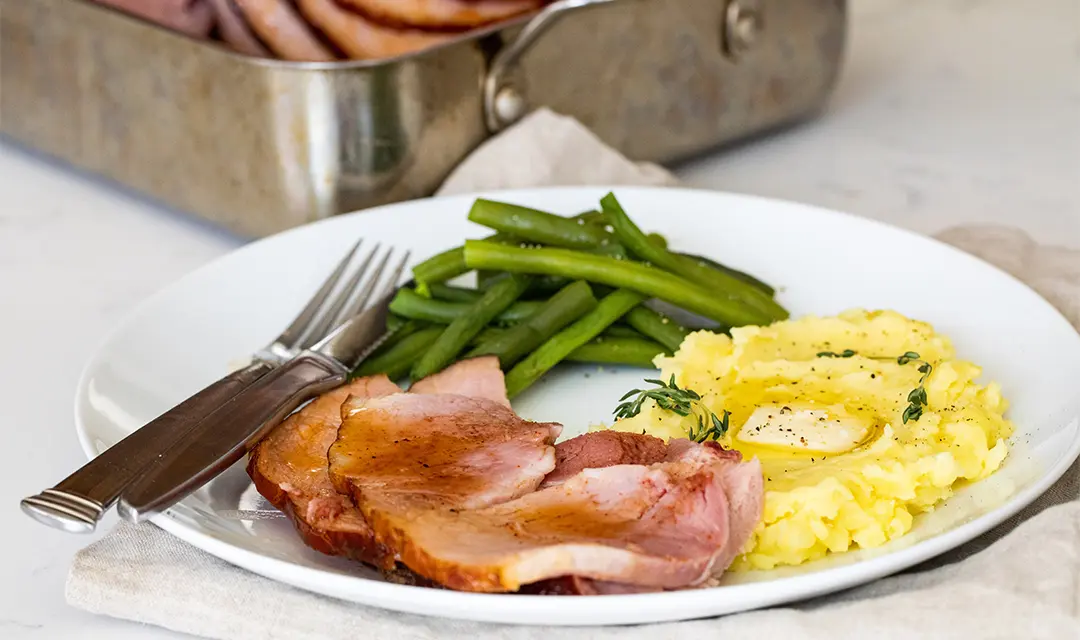 Spiral Cut Ham
Ingredients:
1

Harry & David Spiral Cut Ham

Included glaze or Sweet Heat Harissa Glaze

For the Sweet Heat Harissa Glaze

½

cup

butter

2

tablespoons

orange juice

⅔

cup

brown sugar

½

teaspoon

cinnamon

1

teaspoon

harissa spice
Instructions:
Preheat oven to 250?F. Unwrap ham, removing plastic wrap and plastic button on the flat side of the ham. Place ham in a roasting rack with the cut side down. Cover the roasting pan in foil.

Roast ham for 10-12 minutes per pound to warm it through. Remember the ham is completely cooked so this will warm up the ham without drying it out.

Meanwhile, make the sweet heat harissa glaze by adding all the ingredients to a small pot and stirring over medium-low heat. Bring the glaze to a slight simmer and turn heat down to low. Simmer for five minutes to allow sugar to dissolve and glaze to thicken. Remove from heat. Glaze will continue to thicken as it cools.

When ham is done roasting, remove from oven and remove foil. Heat oven to 450?F. Brush glaze over the surface of the ham, very generously.

Return ham to hot oven for 12-15 minutes.

Remove ham from the oven and allow to cool for 5 minutes before slicing. Serve.