"There's only one way to make really good Baklava — the hard way," states the ad in Harry & David's 1978 Christmas catalog.
The hard way starts by buttering 60 paper-thin leaves of specially made pastry — known as phyllo — by hand. Each sheet of phyllo is carefully placed atop another and intermittently layered with a filling made from Sumatran cinnamon and finely chopped and toasted English walnuts. The prepared baklava is popped into the oven and baked for 65 minutes, until it's golden and flaky. While still hot, the luscious layers are bathed for one hour in honey and lemon to soak in the citrusy syrup. The baklava is removed from the baking pans and cooled completely, resulting in a crisp, light, buttery dessert that has delighted admirers for decades.
History of baklava
The first written evidence of baklava was found in the kitchen notebooks of Topkapi Palace in 1473. For hundreds of years, the grand palace in Istanbul, Turkey, was the administrative center of the Ottoman Empire, whose conquests helped popularize baklava across the Middle East and beyond.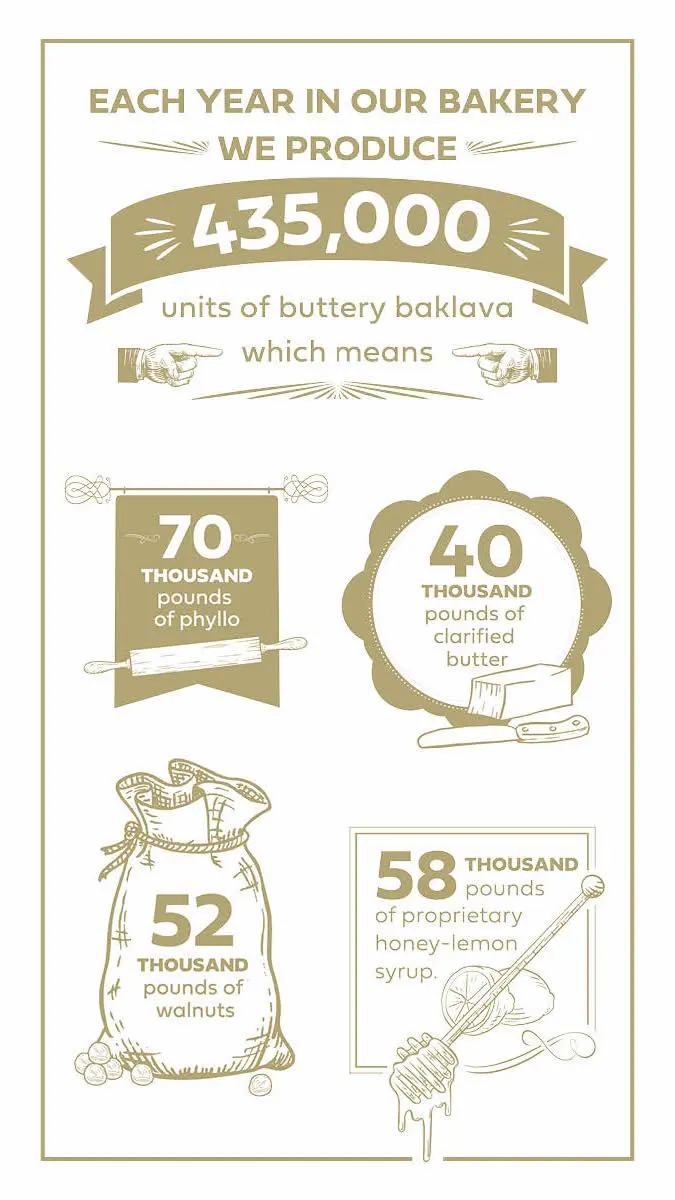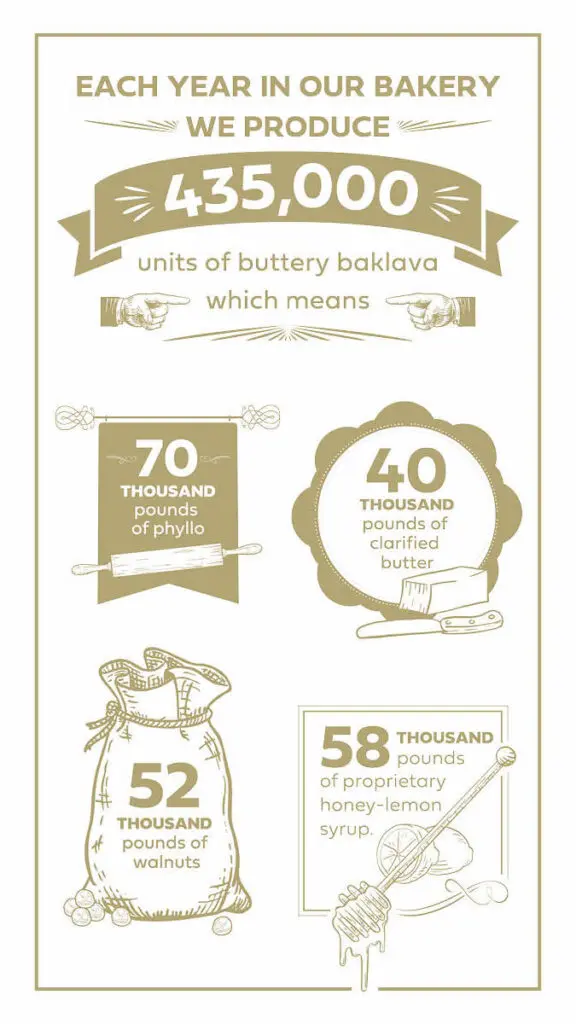 Turkey is still considered the mecca of baklava, but, this decadent dessert plays a role in ceremonies and celebrations around the world. It is often served at Christian holidays, such as Christmas and Easter, when it is made with 40 sheets of phyllo dough to represent the 40 days of Lent. In Greece, it is traditionally made with 33 layers to symbolize each year of the life of Christ. Also, in some regions in Greece, it is the most important sweet served at weddings and is even taken to the church before the ceremony. Muslims commonly eat baklava during Ramadan and also enjoy it during Eid al-Fitr to mark the end of fasting.
There's even a National Baklava Day, on Nov. 17, which offers another great reason to indulge in this wonderfully light and flaky dessert. Or enjoy it anytime with morning coffee, at high tea, or as an after-dinner treat.
Baklava by way of Southern Oregon
Adding this traditional Arabic and Middle Eastern dessert to the Harry & David product line in the late 1970s was a daring venture for a company whose mainstays were traditional classics like Royal Riviera Pears and Tower of Treats gift boxes. But the decision paid off.
Since its introduction in 1978, baklava has become one of the most popular items to come out of the Harry & David kitchen. That is especially true during the holidays, when the delightful chocolate-covered version is added to the production line. In a single year, the bakery produces approximately 435,000 units of buttery baklava that range in size from 5 ounces to 1 pound. That massive quantity of pastry requires a staggering 70,000 pounds of phyllo brushed with 40,000 pounds of clarified butter, layered with 52,000 pounds of walnuts, and coated in 58,000 pounds of proprietary honey-lemon syrup.
Harry & David baklava has been a long-standing customer favorite for good reason. It has a delightful crunch when you first cut into the flaky golden layers of phyllo. Each bite is sweet and nutty with a trace of lemon, and a hint of honey blending in with perfect harmony. Five minutes after you take the last bite, the flavors still dance on your taste buds, and you find yourself searching for crumbs and nuts left on the plate, or even your shirt.
For those who live in or are visiting the Southern Oregon area, Harry & David offers tours during which guests get a behind-the-scenes look at its bakery, confectionary, and fruit-packing and gift-making processes, as well as learn about the company's long history in the Rogue Valley. Maybe you'll be lucky enough to be there when the kitchen is making its signature baklava and the building is filled with the irresistible aromas of cinnamon and honey. You'll also notice the folks at Harry & David are still making it the hard way — buttering its flaky layers by hand and then baking it until it's golden and delicious, just like they have since 1978, because there's only one way to make really good baklava.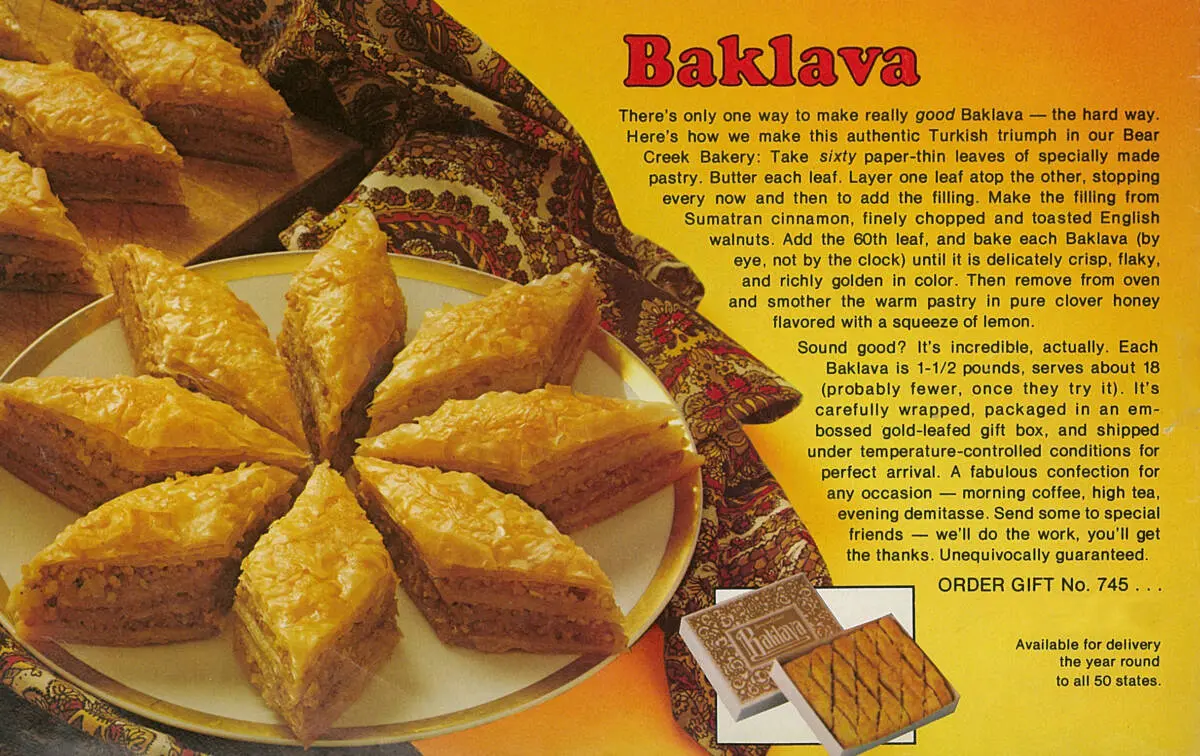 Our favorite baklava gifts