Take a tour of our bakery, candy kitchens, and gift-packing facilities.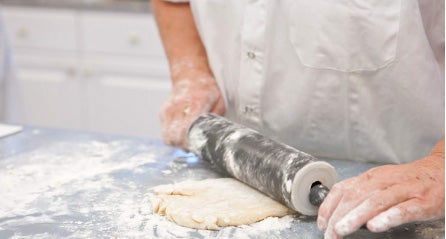 We craft many of our exceptional Harry & David® products at our headquarters in Medford, Oregon. We invite you to tour our on-site facilities, where you can see these delights come to life. From our entertaining tour guides, you'll learn about our rich company history while you watch our dedicated culinary team create silky-smooth chocolate truffles, creamy cheesecakes, and baklava. See how we make our incredible Moose Munch® Premium Popcorn, with buttery caramel, nuts, and chocolate. Watch our talented packaging teams hand assemble our gourmet gift towers and baskets, and view our famous Royal Riviera® Pears as they're sorted and packed by hand.
Frequently Asked Questions
How much does the tour cost?
Tickets are $5 per person and include a coupon for $5 off your purchase of $40 or more at the Harry & David Country Village store.
How do I buy tickets?
Tickets are paid for at the Country Village store. You may make reservations in advance by calling 877-322-8000. Reservations are not required, but there may be a wait during busy seasons.
Is there a minimum or maximum number of people allowed on the tour?
We can accommodate any number of people. If your party includes one or two people, you'll join others on the tour. We can transport groups of up to 27 people on our vans. Please contact us to make arrangements for groups larger than 27 by calling 877-322-8000.
Do you offer senior or veteran discounts?
While there is no discount on tour tickets, we do offer discounts to seniors and veterans on purchases made in our stores.
How do we get to the factory?
All our tours start at the Country Village, where you'll board one of our custom vans. During the short ride to our factory, your tour guide will share a video and information about our company's rich history.
When is the best time of year to take the tour?
Late summer to early fall is the optimal time to experience the world of Harry & David, as we prepare for the holiday season. You'll see freshly harvested pears being sorted and packed and thousands of Christmas gifts being assembled. There is still plenty to see during other times of the year, including the making of our incredible Moose Munch® Premium Popcorn, truffles, chocolates, and bakery treats. Do keep in mind that the fall season gets busy, so reservations are recommended.
I have allergies; will the tour be safe for me?
Please note that many of our products contain nuts, however the manufacturing process takes place behind a glass window so you won't be exposed.
Do you offer samples?
Yes. The tour includes a bakery treat and a chocolate.
Is parking provided?
The tour leaves from the Harry & David Country Village store at 1314 Center Drive. We have ample parking, and if you have an RV or a tour bus, there is even more parking directly across the street in the Fred Meyer parking lot. Get directions here.
Are pets allowed?
As a food manufacturer, we are subject to health restrictions. No animals are permitted on the tour or on factory grounds.
Is the tour accessible for those with limited mobility?
The tour covers multiple buildings and floors. Wheelchairs and walkers are difficult to maneuver through much of the tour. Accommodations may be made for a more accessible tour by calling 877-322-8000or emailing tours@harryanddavid.com.
What should I wear?
The tour covers multiple buildings and floors, so comfortable shoes are a must. Temperatures during the tour will fluctuate, so a light jacket is recommended.
Is there anything loud or possibly scary on the tour?
Most of the machinery you will see in action is behind glass, so the noise is minimal. You will be walking on catwalks above a factory floor, so even though the catwalks are wide and sturdy, a fear of heights might be a factor.
How long does the tour take?
The complete tour takes about an hour. Please allow some extra time before or after the tour to explore the Harry & David Country Village store and enjoy samples of some of our favorite products. Beer and wine tastings are also available to anyone over 21 years of age.
Can I take pictures or video?
Photos are encouraged and tour guides can even help you get a "selfie" or two at several places designed for photo opportunities, including some with props. In the actual factory, no photo or video is allowed.
What if you're not making anything the day we're there?
We produce such a wide range of products year 'round that it's highly unlikely tour factory will be still. From the candy kitchen to the gift packing facility, there is always something in the works.
I'd like to bring a group of kids, is that possible?
If you're an educator, call 877-322-8000 for information about field trips. We also book tours for church groups, scouting groups, clubs, and other children's organizations. Call to get more details.
Are restrooms available?
There are restrooms at the Harry & David Country Village store and at several locations during the tour.
Are there smoking facilities available?
The tour is a smoke-free environment. You are welcome to smoke in the parking lot at the Country Village store before and after the tour.
Behind the Scenes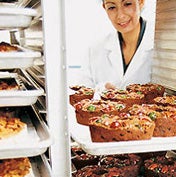 Our bakers make over 130,000 Fruit Cakes every year.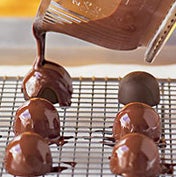 Our Truffles are second to none.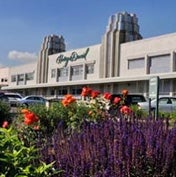 The original company was founded in Medford in 1934.