Pack your bags! "Latitude" will take you to the best places to eat, drink, and stay to experience the planet's most unique destinations. This Mother's Day, treat Mom to a mini vacation with five curated day- and weekend Mother's Day trip itineraries, from outdoor activities to food-fueled adventures in and around southern Oregon.
Moms are amazing people who deserve to be celebrated every day, but Mother's Day is the perfect reason to do something a little more special. Flowers and sweets make great gifts, but if you're looking to go bigger — and outside — this year, take Mom on a microadventure in southern Oregon that fits her personality: adventurous, artsy, creative, food-loving, or mindful.
5 Ideas for Mother's Day Trips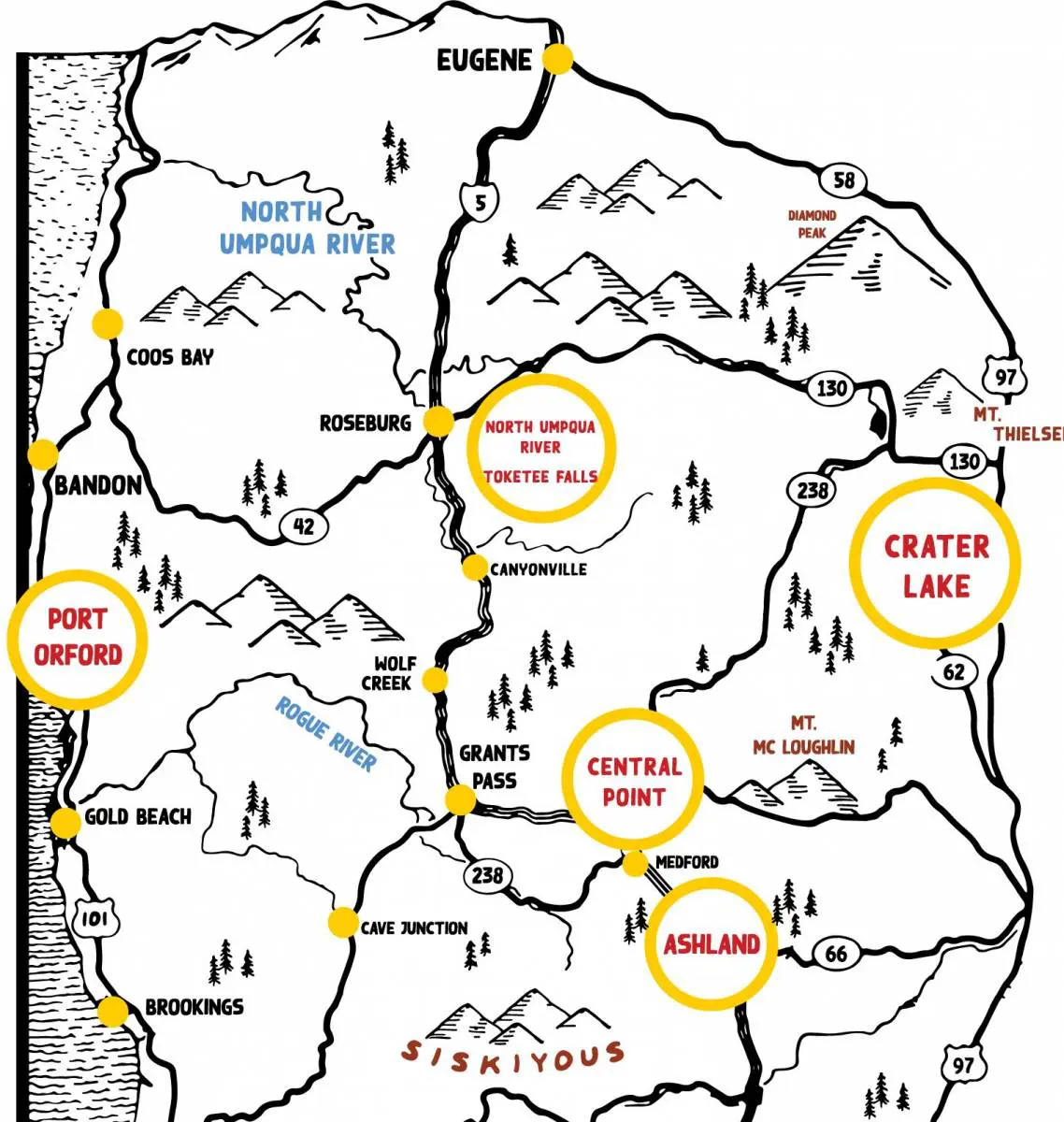 For the Adventurous Mom: Crater Lake National Park
Sitting atop the Cascade Mountain Range is the most gorgeous blue lake. Formed 7,700 years ago from the collapse of Mount Mazama, Crater Lake (top) is the deepest lake in the United States — 1,943 feet! It offers everything for adventurous moms, from biking to hiking, and even a scenic drive around the rim. Park maps can be found just outside the Steel Visitor Center.
Hiking trails are often still buried under snow during the spring, so don't forget your snow boots. Or you can just walk along the plowed section of West Rim Drive. It's closed to motor vehicles, so hikers, bicyclists, and leashed pets can have their fill. On clear days, head to Discovery Point for breathtaking views of this awe-inspiring natural wonder.
---

---
Should you want to drive, Rim Drive goes around the entire lake. The distance? Thirty-three impressive miles! Even more impressive is the wildlife that roam the park, such as elk and bobcats. No matter how adventurous mom is, do not feed the animals…
Spend the night surrounded by tall Douglas firs at one of Union Creek Resort's rustic cabins. Its on-site restaurant, Beckie's Café, has been serving comforting homestyle fare since 1926. Crater Lake Resort is also near the park and offers cabin rentals and sites for RVs, tent camping, and glamping. Its general store is a one-stop shop for grocery items, toiletries, and other supplies. Consider packing a lunch or eat before heading over to the national park, as on-site food and beverage options may not be available.
For the Artsy Mom: Port Orford to Bandon Art Trail
The natural beauty of the Oregon coast has attracted artisans and artists for generations. The 27-mile stretch between Port Orford and Bandon is home to a lot of great art, from outdoor murals to polished galleries.
If you begin your art adventure in Port Orford, a small fishing town with an active art community, start at Hawthorne Gallery. The airy, light-filled gallery is filled with a variety of paintings and sculptures from the Hawthorne family and other nationally acclaimed artists. You'll find works by glass artist Chris Hawthorne, and paintings and sculptures made by his brother, Greg. The Hawthorne family also owns Redfish, a fine-dining restaurant located next door serving coastal cuisine complemented by ocean views so sweeping you'll want to paint them.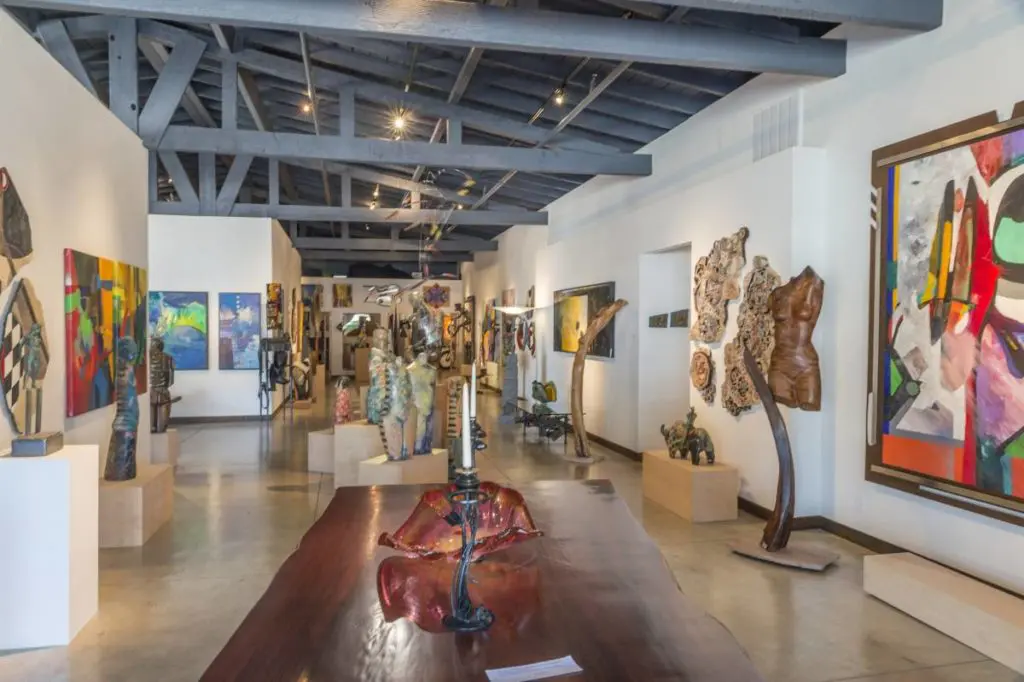 Eight other art galleries and artist studios in Port Orford are within walking distance of one another. There's public art too, including a mosaic at the intersection of Fifth and Oregon streets that overlooks the ocean. If spending the night, WildSpring Guest Habitat has luxury cabin suites in a serene forest setting.
On the 30-minute drive to Bandon, stop at Raincoast Arts in Langlois, an artist-run gallery highlighting work from regional artists, and Vines Art Glass in Coos County, which has handcrafted pieces available for purchase.
Once you get to Bandon, grab a coffee and take in the area's artwork at local favorite Bandon Coffee Cafe. Mom will be hooked by what's next door: a fish sculpture made from plastic pollution. The sculpture is by Washed Ashore, a Bandon-based nonprofit organization that works to educate people about plastic pollution and spark positive change by making striking sculptures from discarded plastic. After, stroll along the Port of Bandon Boardwalk, which is dotted with large wooden sculptures and Myrtlewood benches. Pop into galleries around Old Town Bandon and finish the day with a lovely meal at Alloro Wine Bar & Restaurant. All of this art can make you tired (along with indulging on Alloro's chocolate flight dessert). Spend the night at Bandon Inn, which has recently updated its guest rooms.
For the Creative Mom: Ashland
This southern Oregon city is famous for the Oregon Shakespeare Festival. While live performances are on pause until the fall, there are still lots of experiences for Mom while the curtain is closed on Ashland's stage.
Bring your creative mom to the Lithia Artisans Market, an outdoor arts and crafts market across the street from sprawling Lithia Park. You'll find dozens of booths run by local artists selling everything from homemade soaps to woven tapestries. If you're in need of a last-minute Mother's Day gift, you can always sneak away to one of the many jewelry makers or potters and pick up something handcrafted just for Mom. But don't be surprised if she gets you a gift for bringing her here.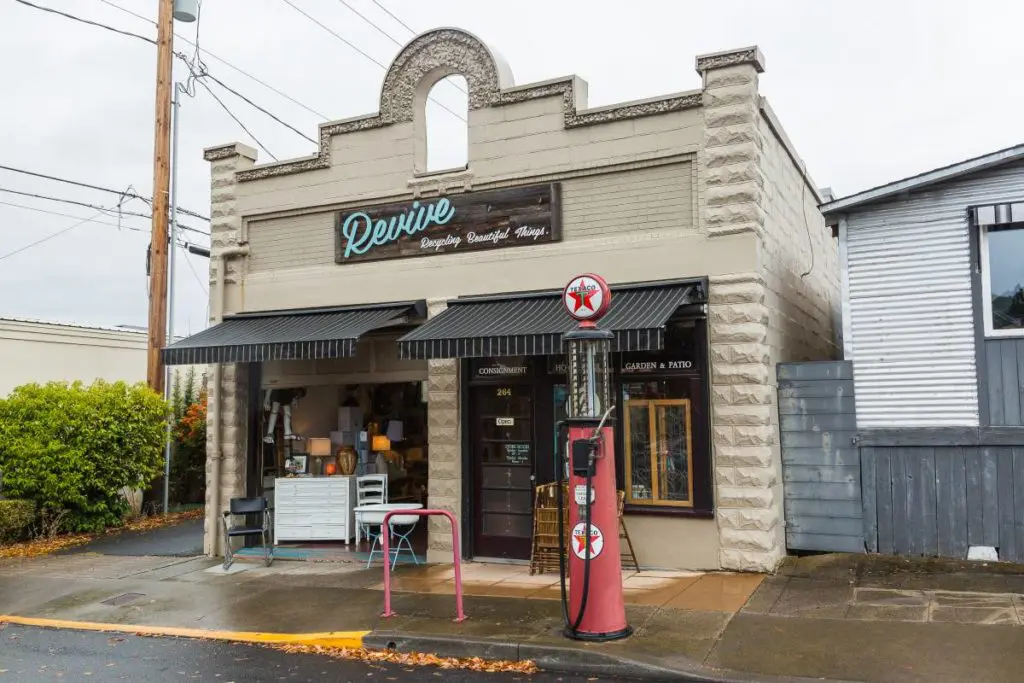 On your way into the market is a colorful mural depicting Ashland's sister city, Guanajuato, Mexico. This mural, which was commissioned in 2016, overlooks a street bearing the same name. "Las Calles de Guanajuato" ("The Streets of Guanajuato") was painted by Loreta Rangel Villasenor, an artist from Guanajuato.
After visiting the market, take a stroll along Ashland Creek or pop into the many galleries dotting the downtown area. Nearby restaurants include Greenleaf Restaurant (a casual spot that offers vegetarian-friendly food and features a back patio overlooking Ashland Creek) and Brothers' Restaurant (a longtime eatery that serves all-day breakfast and sandwiches).
For accommodations, the Ashland Springs Hotel is in the heart of downtown Ashland (a less than 10-minute walk to the Artisans Market) and has an on-site restaurant specializing in locally sourced fare.
For the Foodie-Loving Mom: Southern Oregon Artisan Corridor
In Central Point, Oregon, is an area known as the Southern Oregon Artisan Corridor. You'll find a row of artisanal makers specializing in three of our favorite food groups: cheese, chocolate, and wine. First up is Rogue Creamery, a local organic cheesemaker that's been around since 1933. Its blue cheese is legendary (it was crowned the world's best cheese in 2019), and at the shop you can pick up provisions for a picnic (jams, nuts, olives, cured meats, honey, etc.) or sit at outdoor tables and enjoy grilled cheese sandwiches made on solar-powered sandwich presses. Large windows allow visitors to peek into the cheddar production room.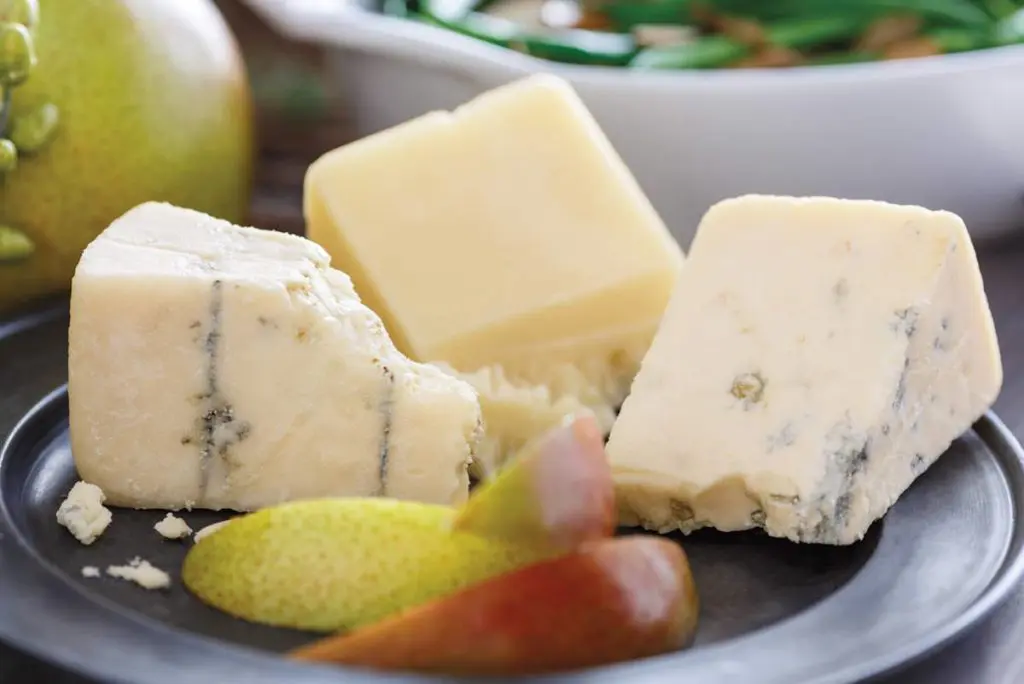 Next door is Ledger David Cellars, where you can sample estate wines like sangiovese and tempranillo, red blends, and its signature chenin blanc in their Le Petit Tasting Room.
Rounding out the Artisan Corridor is Lillie Belle Farms, a chocolate shop named after the owner's wife and daughter. All sweet tooths will be satisfied here, with handmade offerings including chocolate bars and bonbons that are almost too pretty to eat — make sure you try the cayenne caramel.
After your foodie feast, head to Table Rock for some hiking and stellar views. Stay at the Rogue Regency Inn in Medford, which has a restaurant, a bar, and an indoor pool; it's also pet-friendly.
For the Mindful Mom: North Umpqua River
Unplug in the North Umpqua River area. From fly-fishing to hiking, it's a great place to be one with nature. (Should your mindful mom want to turn it up a notch, whitewater rafting offers a more thrilling experience.) You can also drive down the Highway of Waterfalls to check out more than a dozen of these cascading water features sprinkled throughout the Umpqua National Forest. More than 30 miles of the North Umpqua River have been designated as a Wild and Scenic River, meaning that the area's natural beauty remains widely untouched and is used for recreational purposes.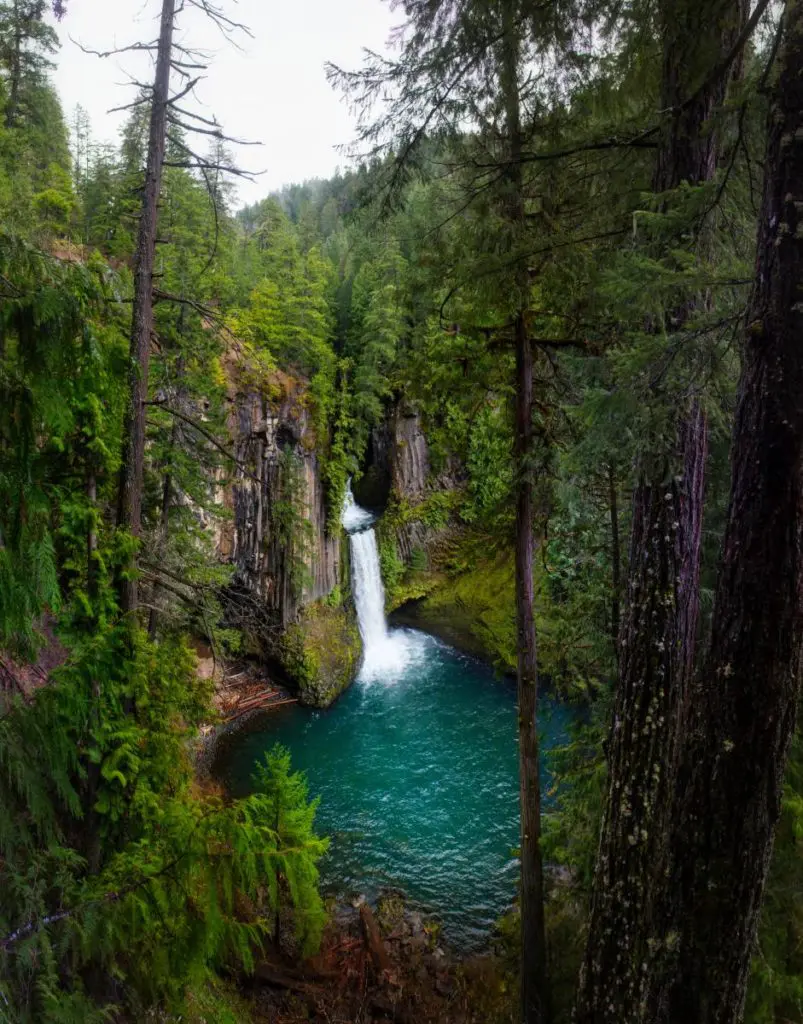 For accommodations, check into the Steamboat Inn. It has well-outfitted suites, cabins, and cottages, most with glorious views of the river. The Steamboat Inn prides itself in having "no phones, no TV, no Wi-Fi, no distractions," making it the perfect base for Mom to disconnect. The hotel is a wealth of knowledge too, offering information on fishing regulations, local guides, trail system maps, mountain bike tours, you name it. So, whatever Mom wants to do this weekend, the Steamboat Inn is at your service.
The inn also has an on-site restaurant highlighting Pacific Northwest flavors. It serves cafe fare for breakfast and lunch, which can be packed to-go. Dinner is a more formal occasion, with an ever-changing menu driven by farmers market finds. Otherwise, head to Roseburg, about 45 minutes west, for wider dining options, including True Kitchen + Bar. It's worth the drive for these two words: seared scallops. End your Mother's Day weekend with a plate of bivalves served with bacon jam, parsnip puree, lemon-Parmesan-herb orzo, sautéed greens, heirloom carrots, and olive-oil-grilled haricot verts.