Cookies are great. Cake can be incredible. But when you want a truly spectacular, melt-in-your-mouth, flavor-packed dessert that's seasonal, comforting, and filled with memories and emotions — and even some fruit — nothing compares to pie.
It might be the lemon meringue pie your grandma used to bake on your birthday growing up, or the rhubarb cream pie your mom baked without fail as soon as the weather started warming up each spring, or maybe that pecan pie you just couldn't wait to dig into during the holidays. Whatever your slice of choice might be, pies provide unique flavor combinations, tastes, and textures you just can't get anywhere else.
And, even more importantly for so many of us, pies also bring back thoughts of people and places and times in our lives we just don't get with other desserts. Pies truly are an incredible treat, both in the summer and fall, when they're filled with fresh in-season fruit at the peak of ripeness, and all year-round, when they fill our hearts with joy and take our taste buds to places no other dessert is capable of reaching.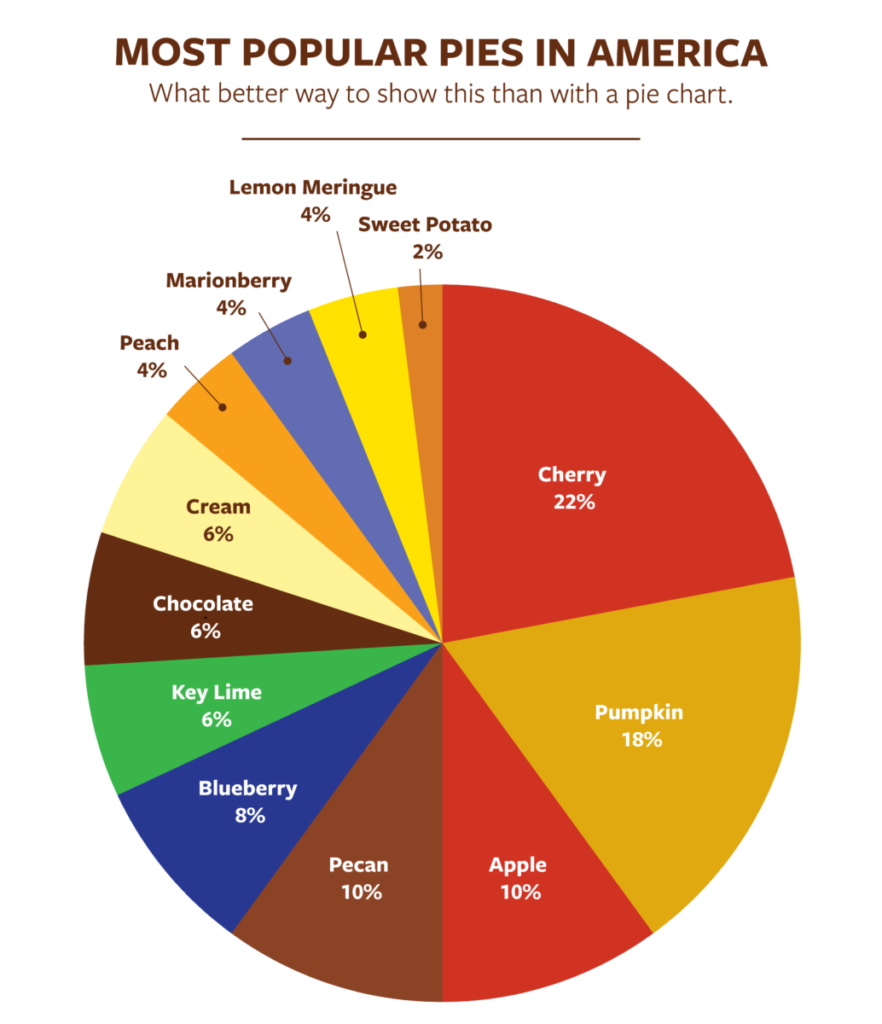 Here's a look at some of our favorite types and varieties of pie (including two that may not be actual pies) — the pies with the longest histories, the most interesting back stories, and the ones we go back to for a slice of life.
Our favorite types of pies
Apple pie
Once a popular breakfast dish, apple pie is believed to have been created in the 1500s and later brought to the United States by English immigrants. This sweet yet tart holiday essential quickly became the most popular flavor of fruit pie in America, and was beloved by a number of former Presidents, too, including Ronald Reagan, Bill Clinton, and Barack Obama. Apple pie also became an enduring symbol of national pride when World War II soldiers told reporters they were fighting in the war for the protection of "mom and apple pie."
As easy as pie: Use Granny Smith or Golden Delicious apples. Serve warm, topped with a giant scoop of vanilla ice cream. Oddly, apple pie pairs incredibly well with cheese.
Blueberry pie
A Fourth of July staple due to its unique blue color and ideal summertime taste, blueberry pie originated in the 19th century and was inspired by the cooking habits of the Native Americans. For the best tasting blueberry pie, always soak the berries in a bit of water, sugar, and lemon juice. This maceration process softens the fruit and enhances its natural sweetness, juiciness, and flavor.
As easy as pie: Serve at room temp with an ample amount of whipped cream.
Fun fact: Almost all blueberries from the U.S. are grown in just eight states: Washington, Georgia, Michigan, Oregon, New Jersey, California, North Carolina, and Florida.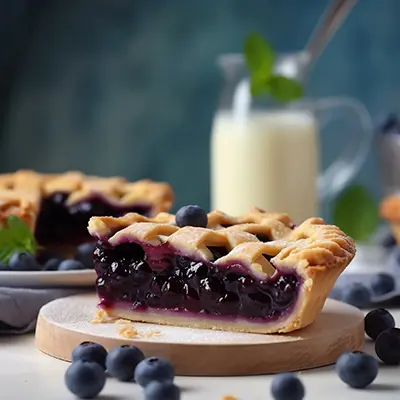 Cherry pie
One of the oldest varieties around, cherry-based desserts date back to the time of ancient Greece and were popular throughout Europe in the Middle Ages. Today, cherry pie is popular year-round but most common during the summer months, when cherries are in season and the vibrant red, luscious, and gooey dessert can take the starring role at any number of backyard barbecues, picnics, and family gatherings.
As easy as pie: For the best cherry pie dough, use a blend of butter and shortening instead of just one or the other. For the filling, use naturally tart Montmorency cherries. If you're in a rush, a bent paper clip can serve as a DIY cherry pitter.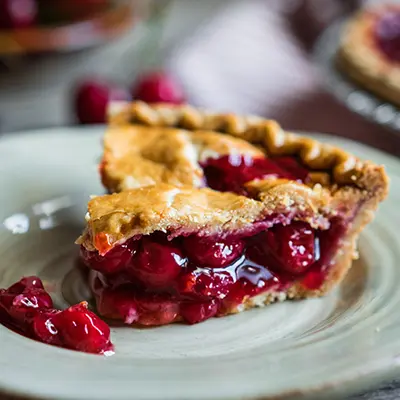 Peach pie
One of the most refreshing desserts around, especially on a hot summer day, peach pie has existed since the 14th century but didn't become an American institution until the 1800s, when production of the fruit fully blossomed in the South. With hundreds of different types of peaches out there, the flavor of these pies can vary widely: Some are made with grilled peaches and have hints of smoky char, some are spiced with cinnamon and nutmeg, and some are even super hot and can be made with jalapeño and habanero peppers.
For those who love peach pie, your chance to celebrate it is Aug. 24 — National Peach Pie Day!
Easy as pie: Serve with a drizzle of caramel sauce and a cold glass of milk.
---

---
Cream pie
This mouthwatering variety of pie is unique from other pies in that the crust is typically baked first. A pudding-like mixture of milk, sugar, eggs, and other flavorings is then cooked on the stovetop until thick and poured into that pie crust to chill and set until firm. (A cousin to the cream pie, custard is also made with a mixture of cream, eggs, and sugar but is instead baked in the pie crust until the filling sets.)
The most common and popular cream pies include banana cream, coconut cream, chocolate cream, lemon cream, and Key lime pie. Boston cream pie is actually a cake; however, it was inspired by the early popularity of traditional cream pies, so we'll let it slide.
Easy as pie: Serve cold right from the fridge. Consider topping yours with meringue, a mixture of egg whites and sugar that's whipped until stiff and frothy, and then baked 'til golden brown.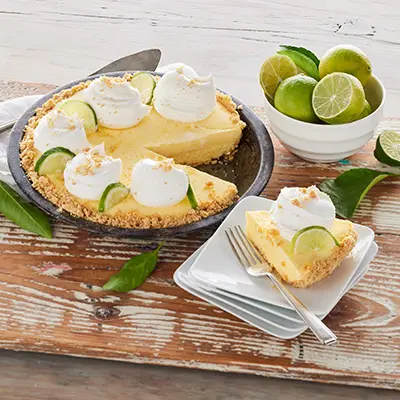 Pumpkin pie
The dessert of choice for fall, especially between Halloween and Thanksgiving (researchers estimate that Americans devour more than 50 million pumpkin pies each November), pumpkin pie has changed a lot since it was first created. The earliest recipes involved hollowing a pumpkin, filling it with spiced milk and honey, and baking it in hot ashes. (Guess we should start preparing for the #pumpkinpiechallenge on TikTok.) Modern pumpkin pie filling carries over some of that legacy — it includes lots of evaporated milk and spices like cinnamon, nutmeg, close, ginger, and allspice.
If you prefer eating pumpkin pie not as a dessert, search out the savory variety made with onions, garlic, and cheese!
Easy as pie: Classic pumpkin pie topping is a dollop of whipped cream, but the key to a successful bake is the thick, buttery, crispy crust.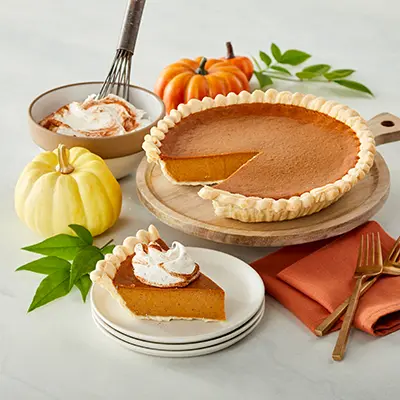 Pot pie
Despite the fruit flavors we all know and love today, pie didn't start out sweet — it was originally a savory mixture of meat, veggies, and sauce or gravy inside a baked shell. And in Medieval times, these shells (made simply from flour, water, and fat) weren't actually edible. Instead, in an era without refrigeration, they were cooked until almost rock hard in order to protect and preserve the precious ingredients inside. Morbidly, folks back then used to call them not "pies" but "coffyns."
Today's pot pies are most popular in the winter months, served nice and hot, right from the oven. They can include either a "double crust" or just a single crust on top of the pie.
The most popular pot pies contain poultry — chicken, followed closely by turkey; beef, pork, and seafood (lobster, anyone?) round out the list.
Pizza pie
How does this Italian delivery staple sometimes get classified as a pie? Blame the round shape, which gives it a "pie-like" form. Pie also traditionally has a crust and filling — and the structure of pizza, with its crust and toppings, technically meets that criteria. You also order both by the slice. The commonalities are great enough that, in many regions, today's pizza does indeed qualify as a pie!
Let's take a look at the famed deep-dish pizza in Chicago. It has decadent mounds of cheese, sausage, pepperoni, mushrooms, and sauce — plus its pastry-like crust bares the closest similarity to what most of us consider an actual "pie."
MORE: A Pizza Lover's Guide to the World's Most Craveable Food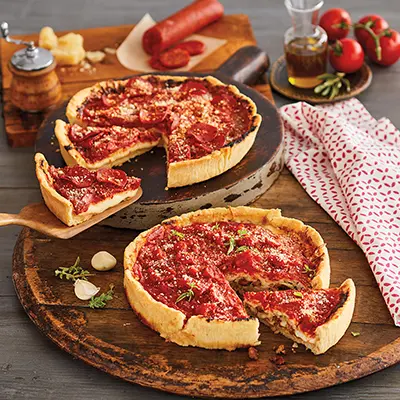 Hungry yet? Go ahead and grab a slice! We're right behind you…
Just desserts
It's baked. It's fruity. But it's definitely not a pie. So what is it? Here's how to ID a handful of different easily confused — and incredibly similar — summer dessert favorites:
Cobbler: Created by English immigrants in the mid-1800s, cobbler is a layer of thick fruit filling topped with biscuit-like batter before being baked. The name comes from the finished dessert's resemblance to a cobblestone street. (Sonkers are essentially deep-dish cobblers.)
Crumble: Typically, a crumble consists of a layer of sweetened, spiced fruit, topped with a streusel-like layer of butter, flour, sugar, spices, and nuts. A crisp is essentially the same thing, with the addition of oats in the topping.
Galette: Made from a free-form piece of flat pastry dough that's partially folded around some fruit filling, with the center left visible, and then baked. A nearly identical Italian variation is called the crostata.
Hand pie: Designed to be eaten on-the-go, a hand pie is a circle of pie dough that's topped with fruit, folded in half, and baked until golden brown, locking in that delicious filling.
Pandowdy: Like a crumble, except made with crumbled pie dough as its topping. Swapping chunks of bread or crackers in place of the pastry dough? Then you've got a Betty.
Slump: A no-bake version of a cobbler, a slump is made on the stovetop and consists of fruit that's topped with biscuit-like dumplings and then steamed in a pot. (Depending on your region, slumps are also sometimes known as grunts; the name comes from the noise they are said to make while cooking.)
Tart: This shallow, open-faced dessert consists of fruit filling baked on a thick layer of buttery cookie-like "shortcrust" rather than traditional pie dough.
Our favorite types of non-pies