Thanksgiving is all about the four Fs: family, friends, football, and, of course, food. But if your holiday plans involve commercial air travel, you're going to want to give some extra consideration to any dishes you're planning to bring — lest your homemade holiday jam jars end up in the trash by the body scanner.
"Here's some food for thought: Before you agree to bring a family favorite to contribute to the table, it's important to think about how you're planning to transport it," says Lisa Farbstein, the public affairs spokesperson for the Transportation Security Administration (TSA). "Most foods can be carried through a TSA checkpoint, but there are some items that will need to be transported in checked baggage."
Agents are looking to toss out items that could be used to cause a catastrophic incident — like assembling an explosive device — and those are generally liquid or viscus. So, you could bring a container of stuffing but not your famous French onion dip.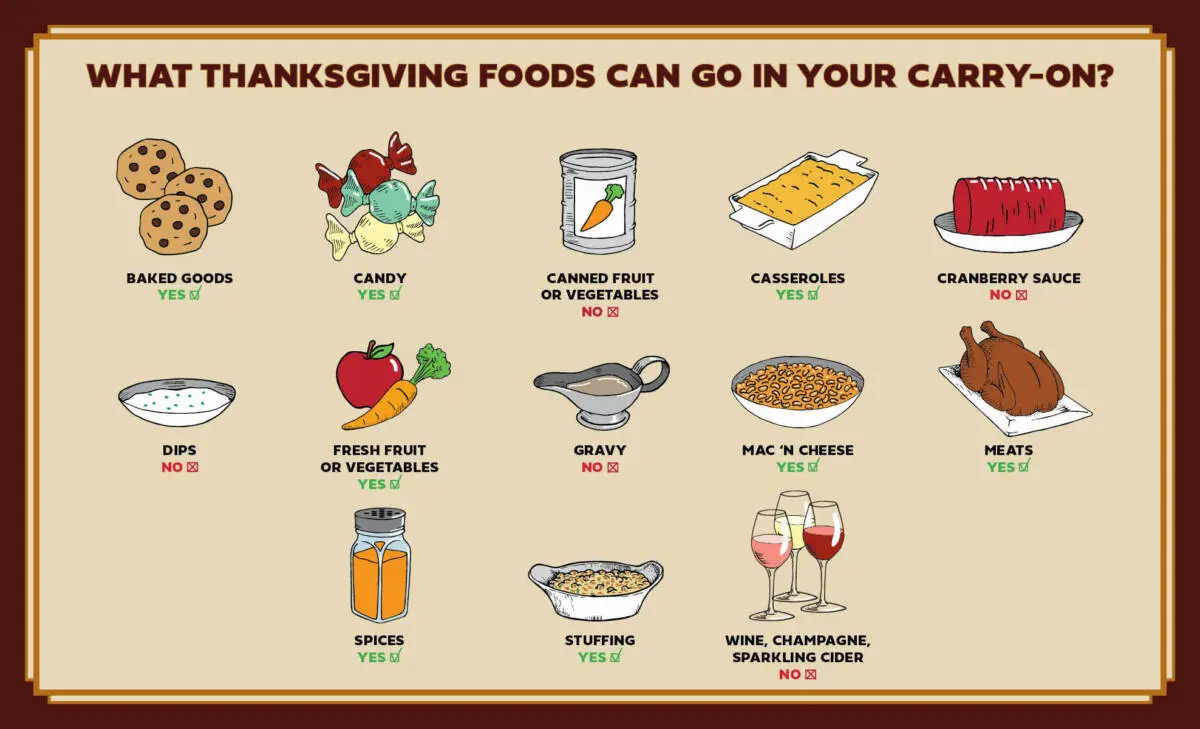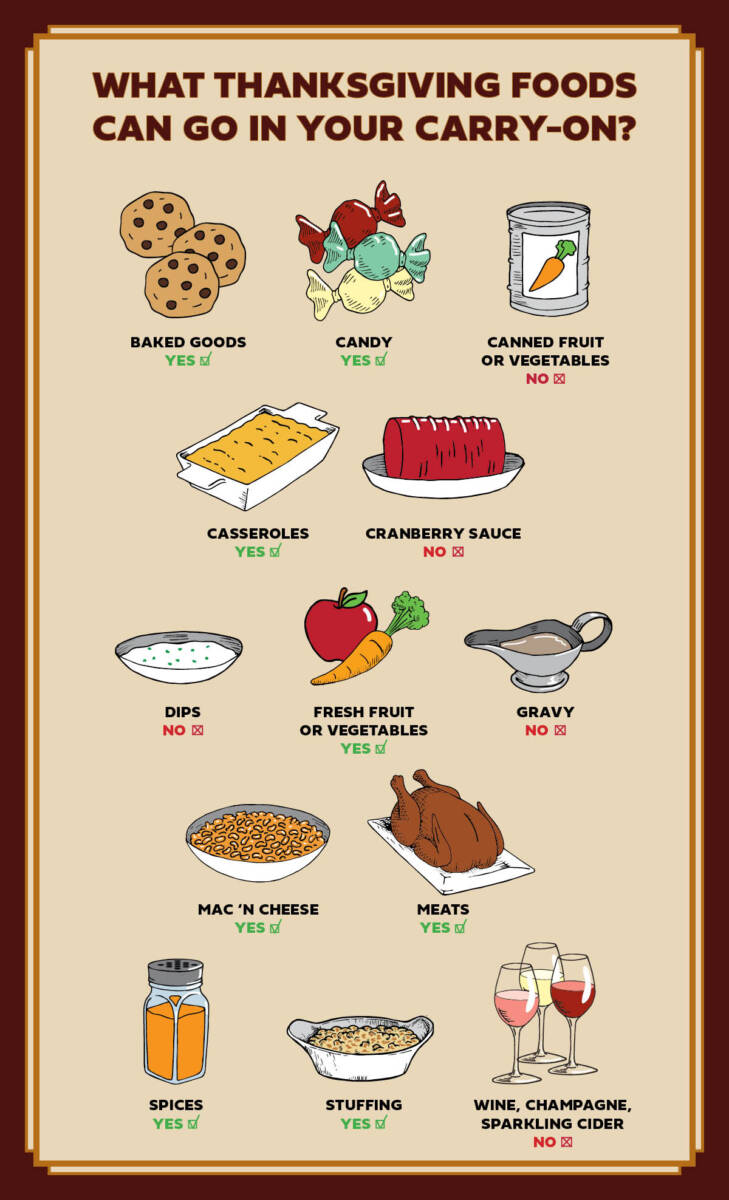 "Generally, if it's a solid item, then it can go through a checkpoint," Farbstein says. "However, if you can spill it, spread it, spray it, pump it, or pour it, and it's larger than 3.4 ounces, then it should go in a checked bag."
Food often needs additional security screening, so TSA recommends placing those items that you're bringing onto the plane in a clear plastic bag or other container when packing them at home and then removing them from your carry-on bag and placing them in a bin for easier screening at the checkpoint. "The line will move quicker if agents don't have to search through your bag," Farbstein says.
Food and beverages on the naughty list should be carefully packed in your checked baggage, although they'll likely catch the eye of the checked screeners, so don't be surprised if you find a note in your luggage saying agents looked through your bag.
If you're unsure if an item should be packed in a carry-on or checked bag, Farbstein recommends checking the TSA homepage, which has a helpful and thorough "What can I bring?" feature. (Remember: Antlers can go in your carry-on, but your meat cleaver must be checked…) "You type in the item and find out if you can carry it through a checkpoint or if it should be checked. Other options are for passengers to tweet to @AskTSA to ask how best to travel with a specific food item or ask via Facebook Messenger."
Many might be surprised, for instance, to find that you can bring your turkey or green bean casserole on board. But, do you really want to cram your CorningWare under the seat in front of you or fight to stow your Stovetop in the overhead bin?
Why not be the holiday hero and ship your gourmet Thanksgiving dishes? Your choices are endless. A Gourmet Turkey Feast includes a ready-to-roast bird, plus all the sides and trimmings. Or send ahead the Gourmet Prime Rib Feast with Gruyère and garlic red mashed potatoes, or a Gourmet Ham Dinner with three-cheese scalloped potatoes and carrot cake. Can't decide what to get? Go all out with the Deluxe Wow Holiday Meal. It has the turkey AND precooked seasoned prime rib, spiral sliced ham, plus sides, apps, salads, sauces, and drool-worthy desserts.
Harry & David's gourmet foods can be shipped anywhere in the U.S. So leave the cooking to the pros and avoid any midair mashed potato mishaps!
Thanksgiving foods that can be carried through a TSA checkpoint
Baked goods: Homemade or store-bought pies, cakes, cookies, brownies, and other sweet treats
Stuffing: Cooked or uncooked; in a box or bag
Casseroles: Traditional green beans and onion straws
Macaroni and cheese: Cooked in a pan or traveling with the ingredients to cook it at your destination
Fresh vegetables: Potatoes, yams, broccoli, green beans, Brussels sprouts, cauliflower, beets, radishes, carrots, squash, greens
Fresh fruit: Apples, pears, pineapple, lemons, limes, cranberries, blueberries, strawberries, bananas, kiwi
Spices
Thanksgiving foods that should be carefully packed with your checked baggage
Cranberry sauce: Homemade or canned
Gravy: Homemade or in a jar/can
Wine, champagne, sparking cider
Canned fruit or vegetables
---