Is there anything more impressive at a summer BBQ than bringing out a huge plate of succulent and saucy ribs? Heck no! Can't you already hear the oohs and aahs? But as delicious as ribs are, making them can be intimidating, and the last thing you want to do is mess them up after an entire day of slow grilling.
There are many expert rib recipes out there, and some require specific grills and smoker methods. Of course, those are wonderful, but not everyone has pitmaster-level equipment. If you have just a standard grill, here are my quick tips for making easy yet delicious ribs.
The first thing to know about grilling good ribs is that it will be an all-day affair, but totally worth it. Ribs have a lot of connective tissue that needs to break down, which requires hours of low heat cooking. It's hard to overcook ribs, so don't worry about starting too early; you could leave ribs on for eight hours and they would be fine — as long as the temperature is low. However, ribs may also be covered in a rub and sauce that can easily burn if exposed to high heat. Though you don't need to be standing by the grill all day watching them (unless that's something you enjoy doing, perhaps with a cold beer), make sure to check in on them when it's time to rotate them.
Choosing ribs for the grill
There are four different cuts of pork ribs (spareribs, St. Louis, baby back, country style), and any will work. However, the easiest cut is baby back ribs, which are cut to cook evenly, so you'll have great results every time.
Personally, I like spareribs which are a bit meatier but slightly harder to cut apart after cooking. If you go with a meatier cut like this one, you might need to be on the upper end for timing on each step in the recipe to make sure the ribs have enough time to break down.
---

---
Preparing the ribs
There are two important steps to get your ribs ready to grill.
First, you need to remove the silver skin from the ribs. On the back side of the ribs, there will be a very thin, almost plastic-like piece of skin that runs the length of the ribs. If you leave this on, it'll be much harder to cut your ribs apart later. To remove it, just work a paring knife under one side and then separate it from the ribs. After you get an inch or so of the skin separated, you can just peel the rest off with your fingers. You can also ask your butcher to do this step for you.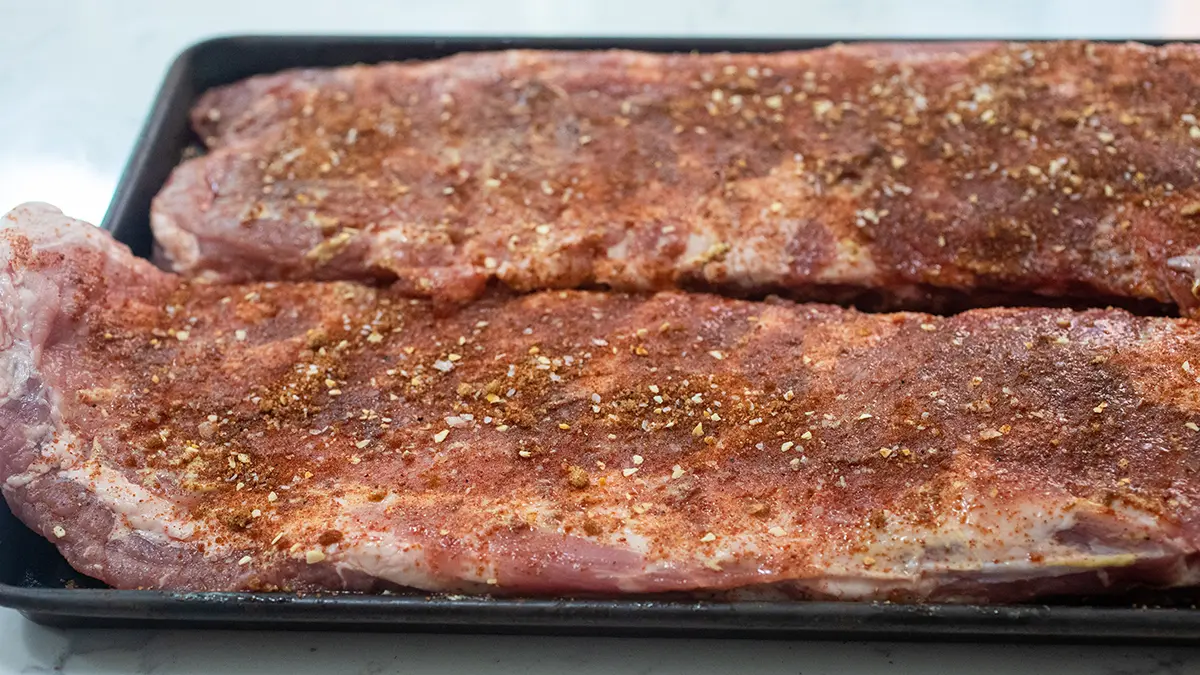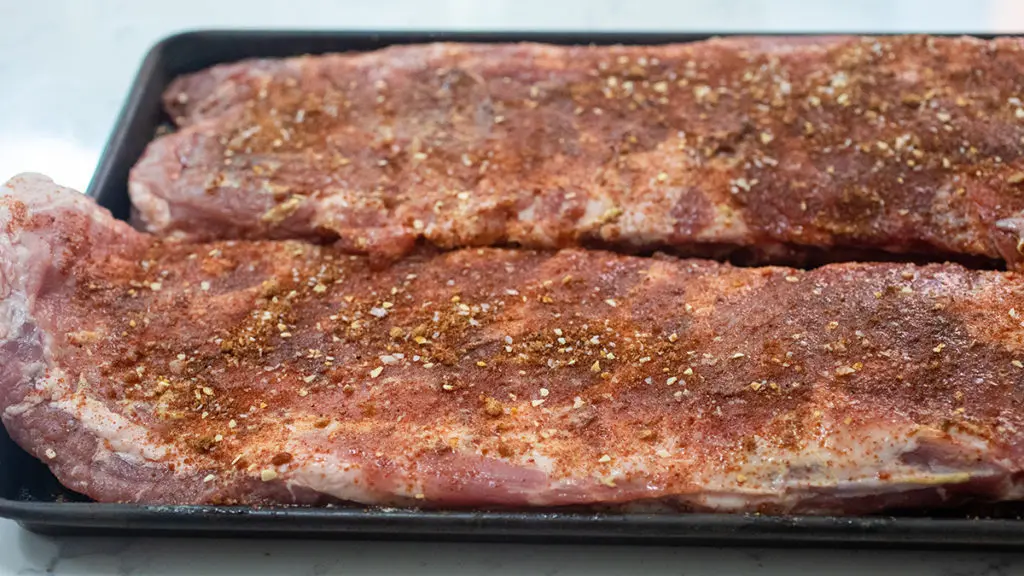 Second, rub the ribs. I like using a simple rub that's a mix of brown sugar and spices. But feel free to experiment with the rub and find the right mix of flavors you like, or buy a pre-made rub from Harry & David.
Preparing the grill
Indirect heat is key in grilling ribs so that they don't get too hot too fast. They need to cook for a long time, and direct heat will burn them; you want to keep them away from direct contact over the heat source. For gas, this usually means having at least one burner completely off. This might be the middle burner if your burners run from left to right; if they run from back to front, you can just turn on the back burner.
For charcoal, burn down the coals until they are producing even heat and move them to one side of the grill. The other side will be your cooking surface since it'll be warmed by indirect heat. You may have to occasionally add extra charcoal to keep the heat steady as you cook the ribs. Some charcoal grills even come with raised racks for ribs, which keeps them elevated and away from the very hot zones.
Getting the temperature right is probably the most important aspect to grilling ribs. If you are worried your grill is too hot (mine registers around 225-250° F when I'm using indirect heat) check it regularly and rotate the ribs if they look like they are cooking unevenly.
The 2-2-2 method of grilling ribs
Once I get to actually cooking the ribs, I use an easy three-step process that produces excellent results. You'll cook the ribs in three two-hour periods, removing them only to add your BBQ sauce or apple cider vinegar at later steps, so the ribs stay moist.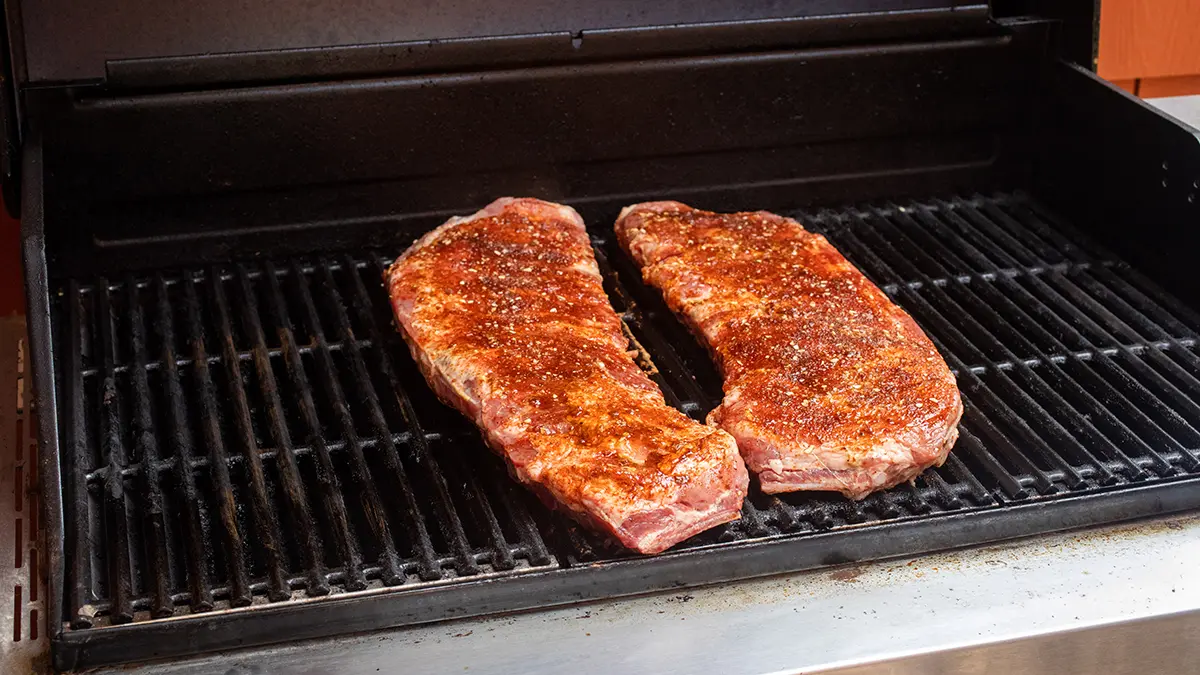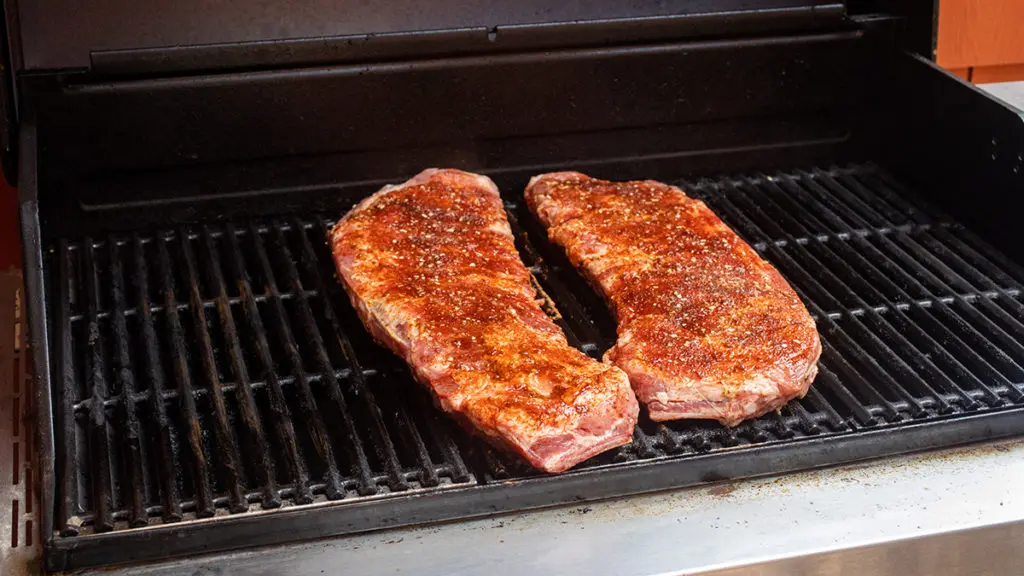 Once your ribs are rubbed, add them directly to the grill, meatier side up, for the first two-hour cooking phase. Rotate them occasionally, but otherwise just leave them.
For the second cooking phase, wrap them in two pieces of aluminum foil — one for the top and one for the bottom — and add some more apple cider vinegar. This will tenderize the ribs, and the foil will not only keep the moisture in the ribs and make them extra tender, but also prevent the ribs from burning. Cook for another 90 minutes to two hours depending on the size and type of ribs you're cooking.
For the final cooking phase, unwrap your ribs by removing just the top piece of foil, and brush liberally with Harry & David Texas BBQ Sauce. You don't want to add the sauce any earlier than this or else it will burn. Keep the bottom piece of foil on the ribs, which makes it easier to move them and prevents burning. Return them to the grill for the final grilling period. You can baste them a few times with the sauce on this final step, but there's no need to ever flip the ribs; keep the same side up the entire cooking process.
After that final cooking process, remove your ribs and let them cool for at least 10 minutes before slicing and serving. They go great with traditional BBQ sides like corn bread, pasta salad, and baked beans.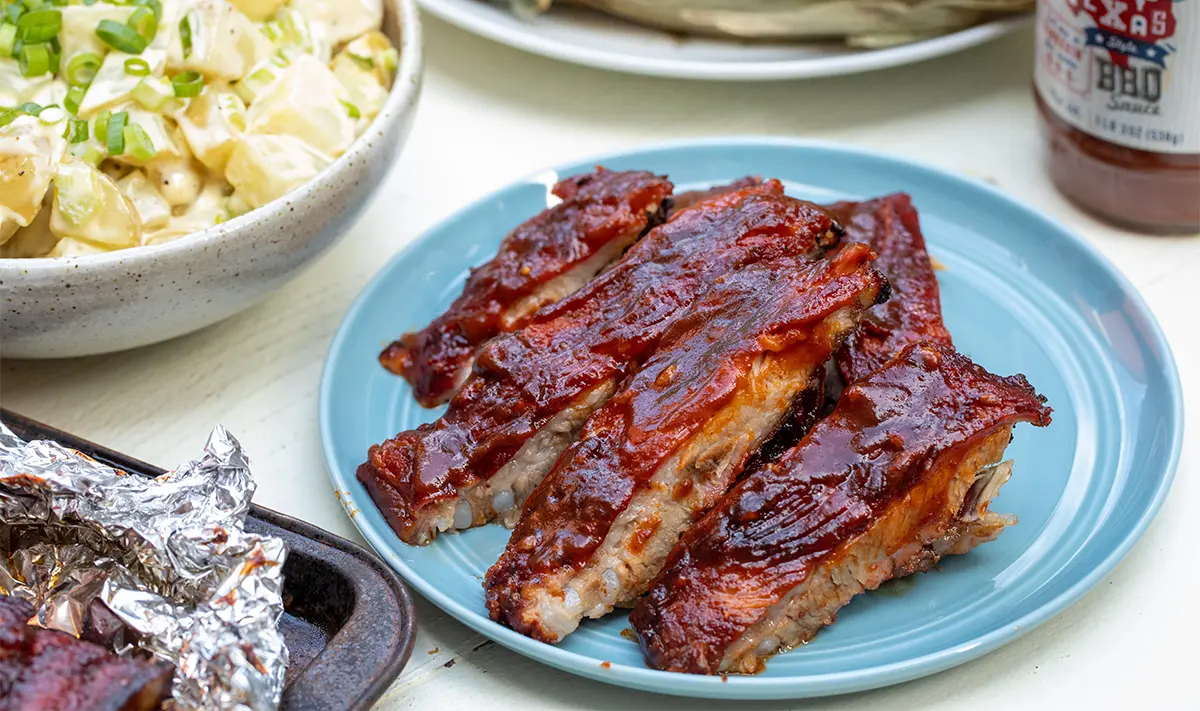 Easy Grilled Ribs
Ingredients:
Ingredients
2

full racks

pork ribs

(2-3 pounds each depending on cut)

2

tablespoons

Dijon mustard

½

cup

brown sugar

2

tablespoons

kosher salt

1

tablespoon

granulated onion

2

tablespoons

paprika

1

tablespoon

garlic powder

1

tablespoon

black pepper

1

teaspoon

chili powder

1

teaspoon

dried mustard

½

cup

apple cider vinegar

Aluminum foil
Instructions:
Directions
Preheat grill for indirect, low, and slow grilling.

Use a paring knife to cut the first 1-2 inches of silver skin off the backside of the ribs, then use your fingers to peel away the rest.

Rub ribs with about a tablespoon of Dijon mustard on both sides.

Combine brown sugar, kosher salt, onion, paprika, garlic powder, pepper, chili powder, and dried mustard in a small bowl. Rub ribs completely with the spice mixture.

Place ribs directly on clean grill grate and grill for 2 hours, rotating every 45 minutes or so to ensure even cooking.

After two hours, remove ribs from the grill and wrap tightly in foil. Add ¼ cup of apple cider vinegar to each rib pack. Return to grill for another 2 hours, rotating every 30-45 minutes.

After the second cooking phase, remove the top piece of foil and brush ribs liberally with Harry & David Texas BBQ sauce. Return to grill (still leaving the bottom of the ribs in foil for easier moving). Continue to grill the ribs over indirect heat until they are fall-apart tender, another 90 minutes to 2 hours. Baste with BBQ sauce occasionally and rotate every 30 minutes to ensure even cooking and that the sauce doesn't burn.

When ribs are done, let cool for 10-15 minutes, then remove and chop into individual ribs to serve.