Thanksgiving is my favorite holiday (it's yours too, right?) and I love how the meal brings families together. It's an opportunity to celebrate old traditions or create new ones. However, there can often be so much to stress over Thanksgiving — it's a huge meal! It's called a feast for a reason. All of those dishes need to be ready at the same time in a kitchen that's usually too small, while family you haven't seen in years wants to catch up while giving you conflicting advice for when you need to flip the bird. (Just smile and pour yourself another glass of wine.) Cooking a Thanksgiving dinner can be totally overwhelming, yet you want it to be perfect.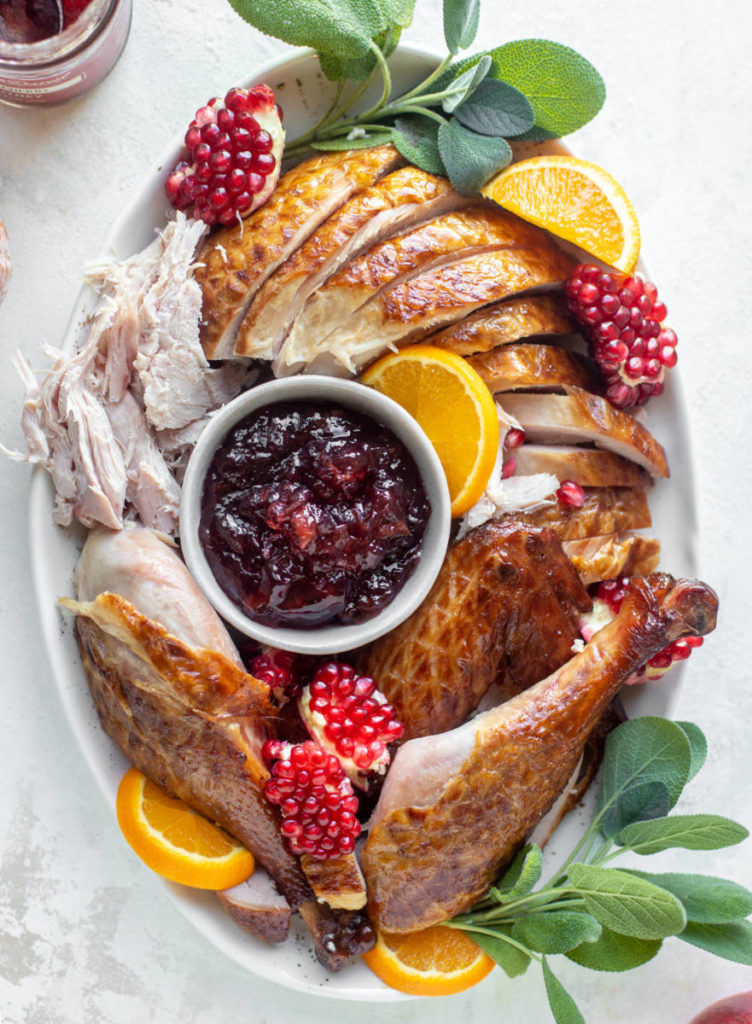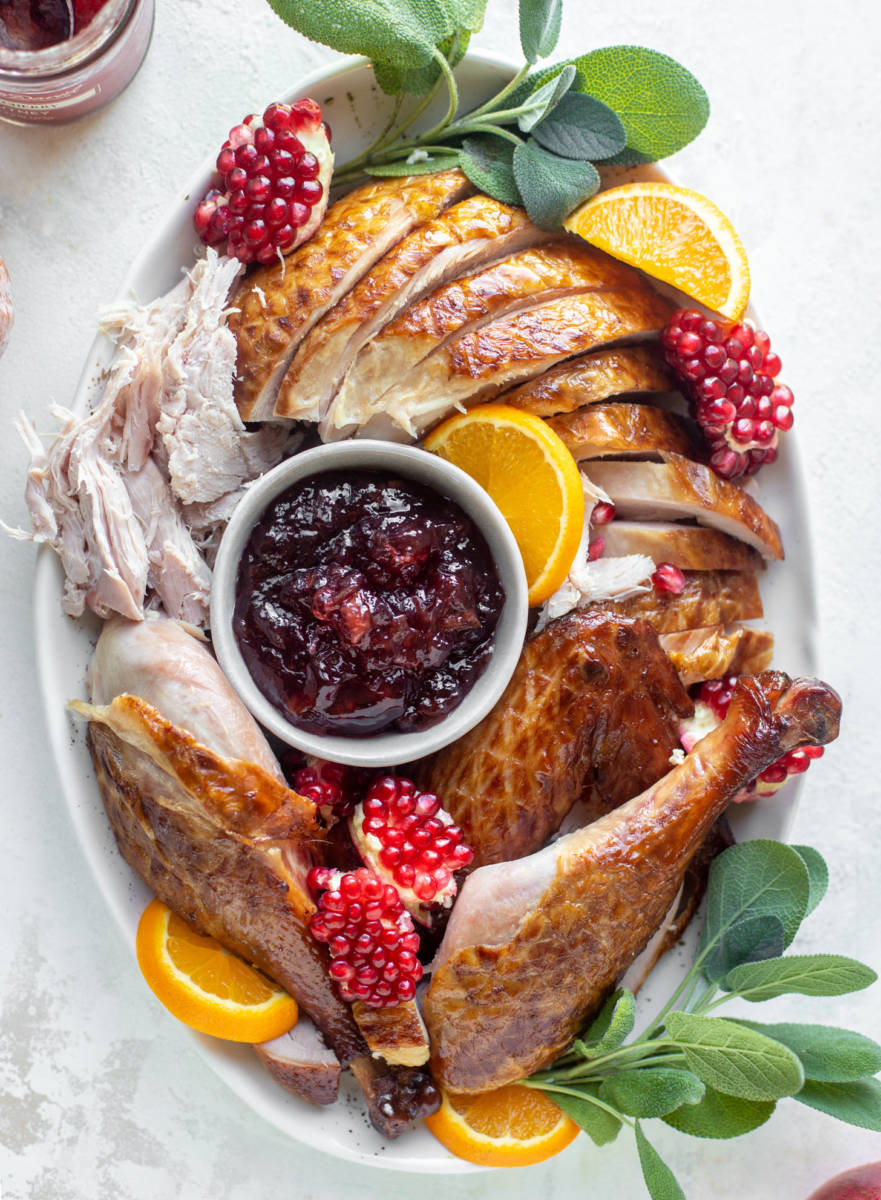 Enter this incredible smoked turkey with apple cherry chutney. We love smoked turkey, especially for leftovers. I love serving it with jam or chutney, on sandwiches, in salads, and almost anywhere that I would normally serve chicken.
The Harry & David smoked turkey is beyond easy. It arrives already smoked, so all you need to do is throw it in the oven until it's warmed through. I like to serve it with an array of garnishes and aromatics, like fresh oranges and herbs and even some wedges of pomegranate. Yes, pomegranate. Give it a try. The pièce de résistance is the apple cherry chutney on the side. The sweetness of chutney complements the smoky flavor of the turkey wonderfully.
Not only does the smoked turkey simplify your Thanksgiving preparation, it brings fantastic flavor and deliciousness to the holiday!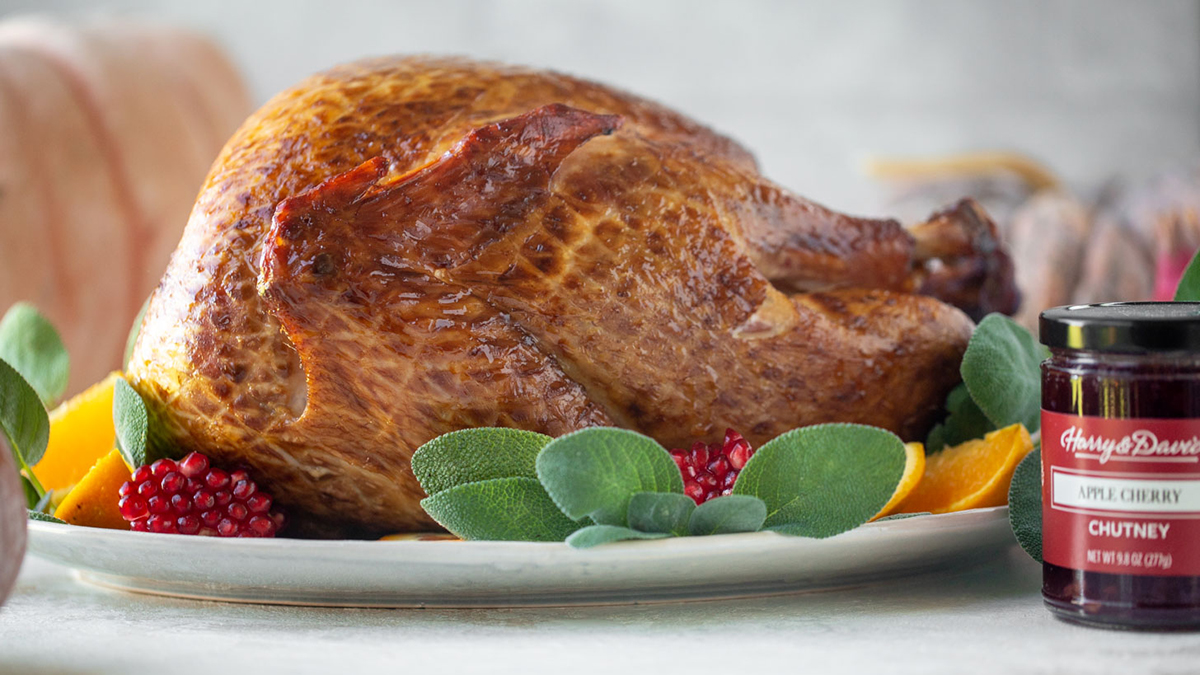 Smoked Turkey with Apple Cherry Chutney
Ingredients:
fresh sage

(for garnish)

Orange wedges

(for garnish)

Pomegranate arils

(for garnish)
For the Apple Cherry Chutney
1

apple

(diced)

1

Harry & David Orange

(peeled and chopped with the pith removed)

¼

cup

chopped pecans

1

tablespoon

fresh parsley

(chopped, plus more for topping)

1

teaspoon

minced garlic
Instructions:
Preheat the oven to 200° F. Place the turkey in a roasting pan and heat until warmed through, about 2 to 2.5 hours.

Have a glass of wine, watch some football.
For the chutney
Combine all ingredients together in a bowl right before the turkey is ready. Set aside.

Remove the turkey and slice the breasts, legs, and wings. Arrange on a platter with the sage, orange wedges, and pomegranate arils. Serve warm with the apple cherry chutney.
---