Tailgating is a game day tradition, and while you can certainly gather with friends and family in a parking lot to indulge in food and drink before any sporting event, the practice is synonymous with one thing: football.
Not surprisingly, then, the pregame ritual of tailgating dates back to the first college football game ever played, which took place between Rutgers University and the College of New Jersey (now known as Princeton University) in 1869. Legend has it chuckwagons — traveling cowboy kitchens that fed working men on the road — were present at the aforementioned game. What was on the menu? Chili, pork, corn. To wash it all down? Beer and whiskey. (In case you were wondering, Princeton won, 6-4.)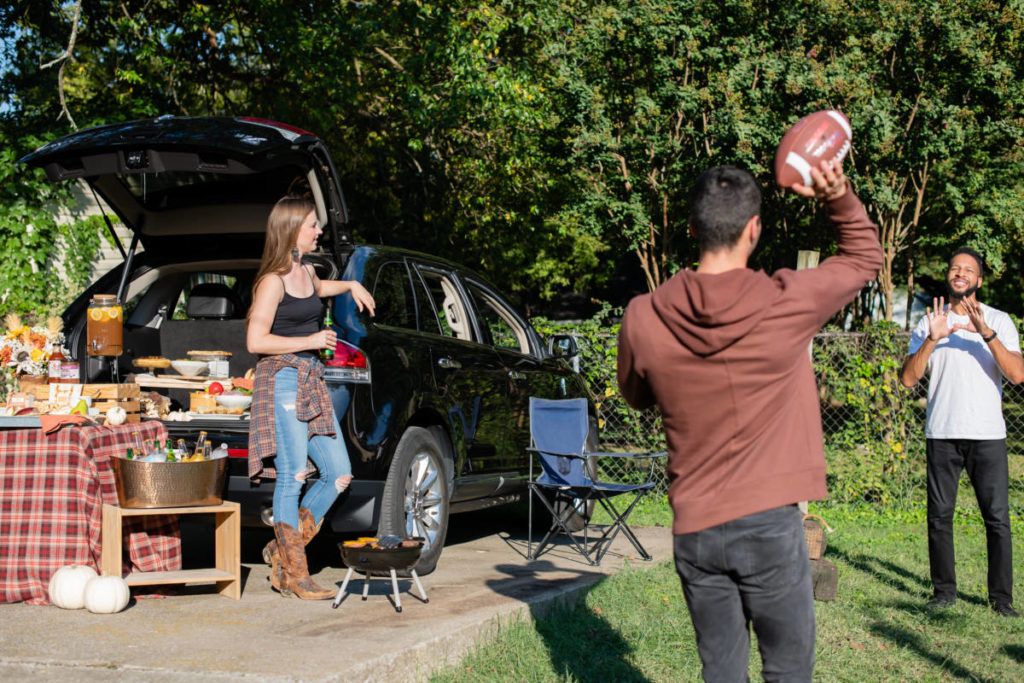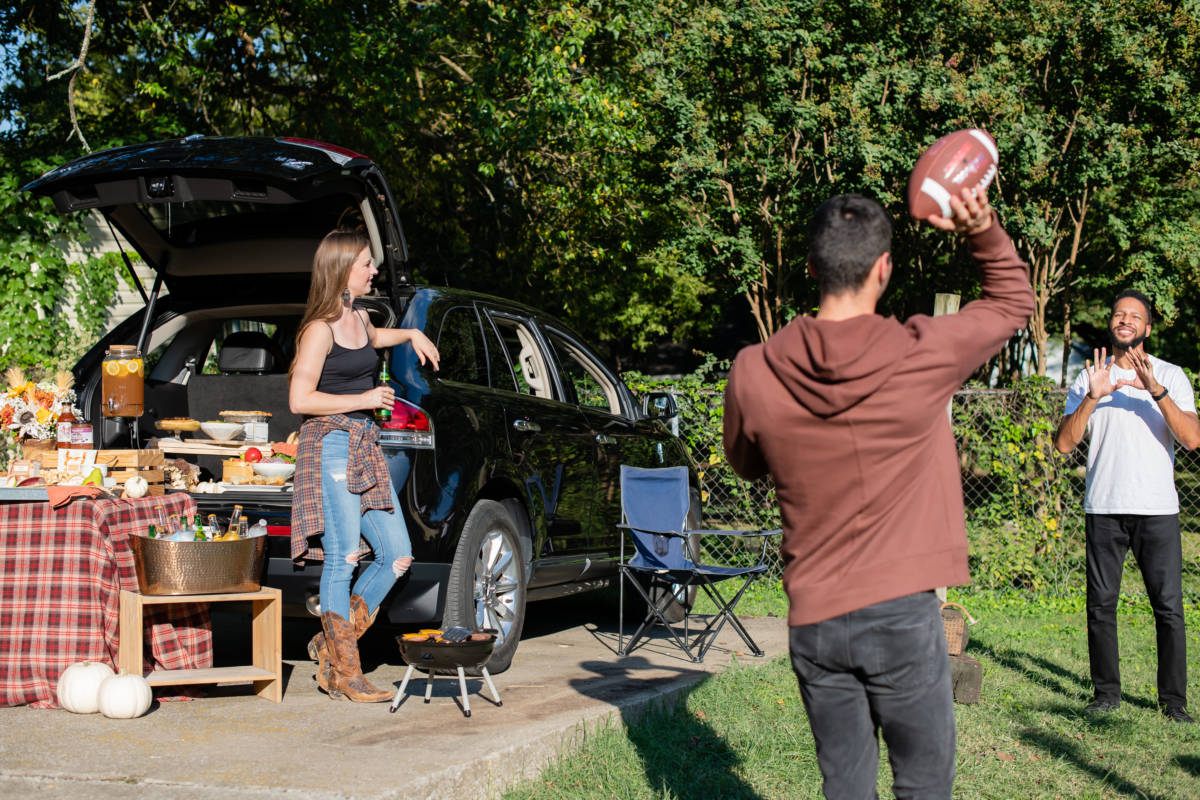 A term that was allegedly coined by the Green Bay Packers in 1919, tailgating has particularly changed over the past 30 years as we as a country — and as sports fans — have become more of a food culture and been exposed to different types of cuisines. Tailgates, in certain circles, have become bigger than the game itself, with folks setting up as soon as the parking lot opens — sometimes as much as five hours before kickoff.
Early tailgating memories
My first tailgate was with my dad in 1978. I was 9. It was just the two of us, a couple of footlong heroes, and some folding chairs that we set up about an hour before the New York Giants game that later became known as the "Miracle at the Meadowlands."
The air was cold and crisp, and the smell of charcoal assaulted my nostrils from every direction. When the swirling winds from the New Jersey swamps would change directions, I'd get a whiff of a cigar. The pregame radio show blared from several cars, as did music of all types. A small live band even performed at one tailgate. It was sensory overload.
Fast forward to 1998: I sat in the parking lot with my friend Brett (we had both just started at Restaurant Daniel) and shared our love of Big Blue over a pot of slow-cooked beef chili that I made over the course of three days.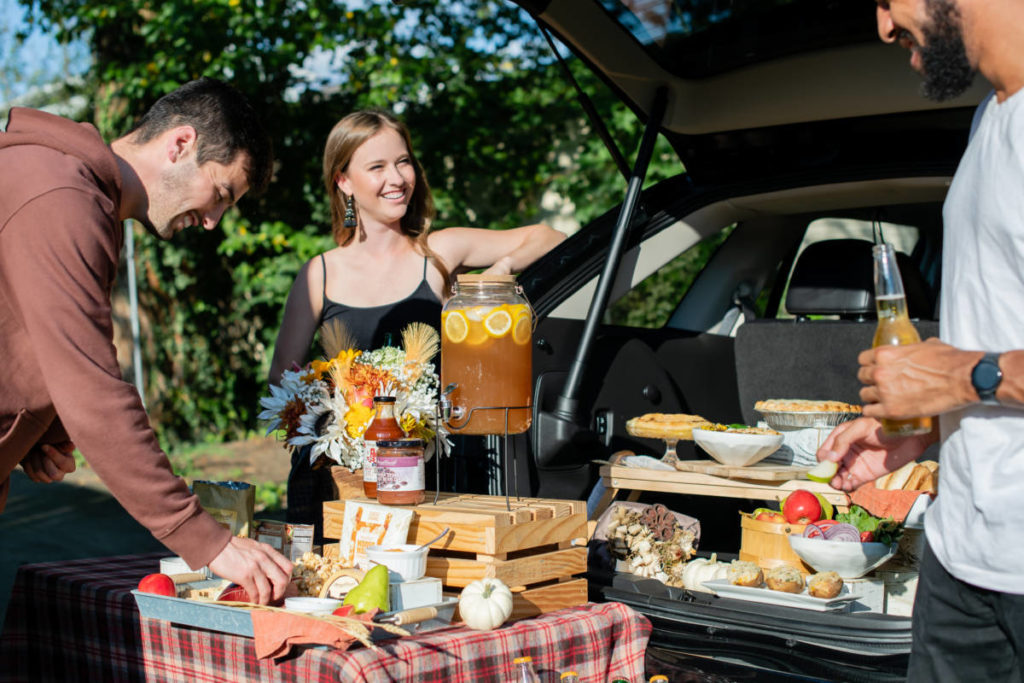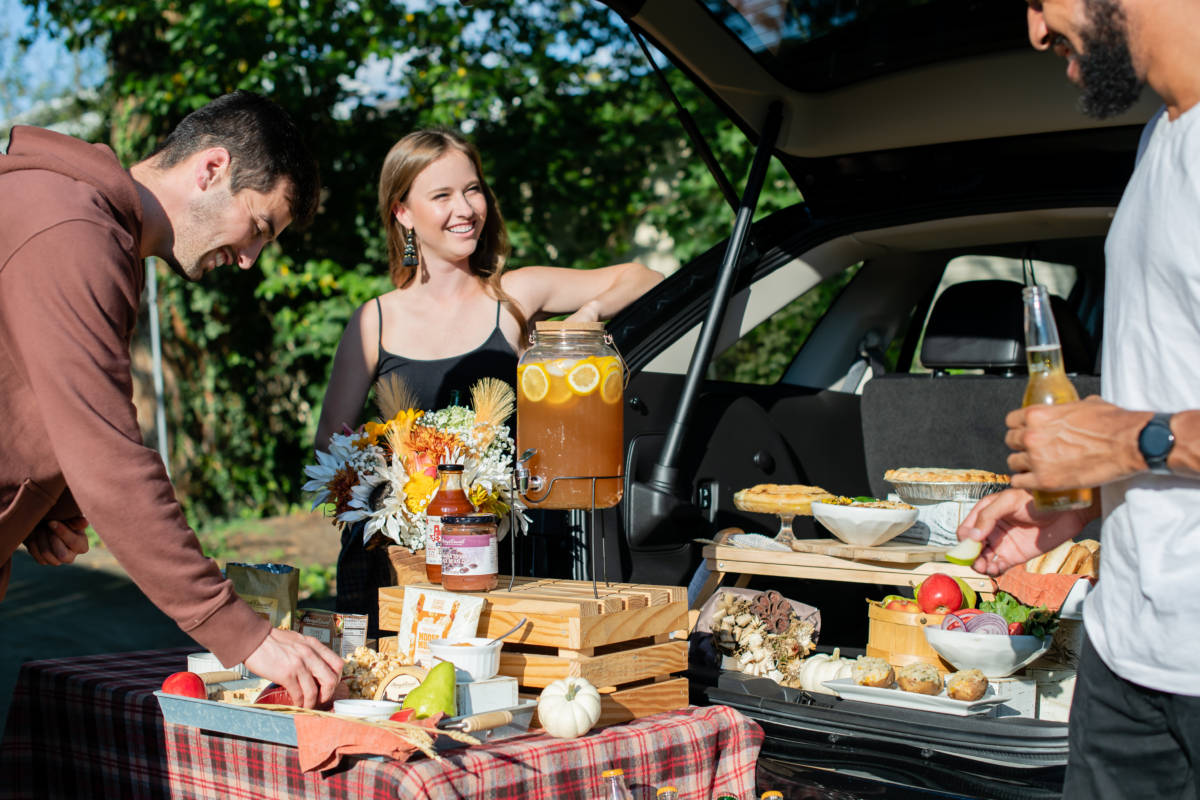 Over the years, our tailgates have turned into rather large-scale events, with many passionate and talented cooks, bartenders, pastry chefs, sommeliers, restaurateurs, and food suppliers. We started creating menus with dishes customized for that week's opponent: Roasted whole pigs for when we played Washington (their offensive line in the '80s was known as The Hogs); alligators, crawfish boils, fish fries, and six-foot muffulettas for when we faced New Orleans. We've cooked pretzels over an open fire in an old shopping cart, and served homemade scrapple and egg sandwiches (Philadelphia). We even built a brick hearth to roast some birds and cook a side of salmon (Seattle) on a cedar plank that one member of our congregation took from a house renovation project.
Give yourself the home field advantage
Our lives have changed so much over the past two years, and many things look a little different, including how we watch football games. After a year without being able to congregate in a parking lot or even attend sporting events, we're finally able to get together again.
But maybe you can't make it to the stadium, or your team is on the road. Well, then, we have a solution to get you in the mood for game day, from now all the way through the big game: home-gating. Whether it's in your living room or backyard, bring the tailgate to where you live and invite over a bunch of close friends or family. Turn your outdoor space into your own personal parking lot (minus the cars, of course).
Tips to a good tailgate party at home
Here are the X's and O's to setting up a game-winning tailgate at home.
Cooking up the menu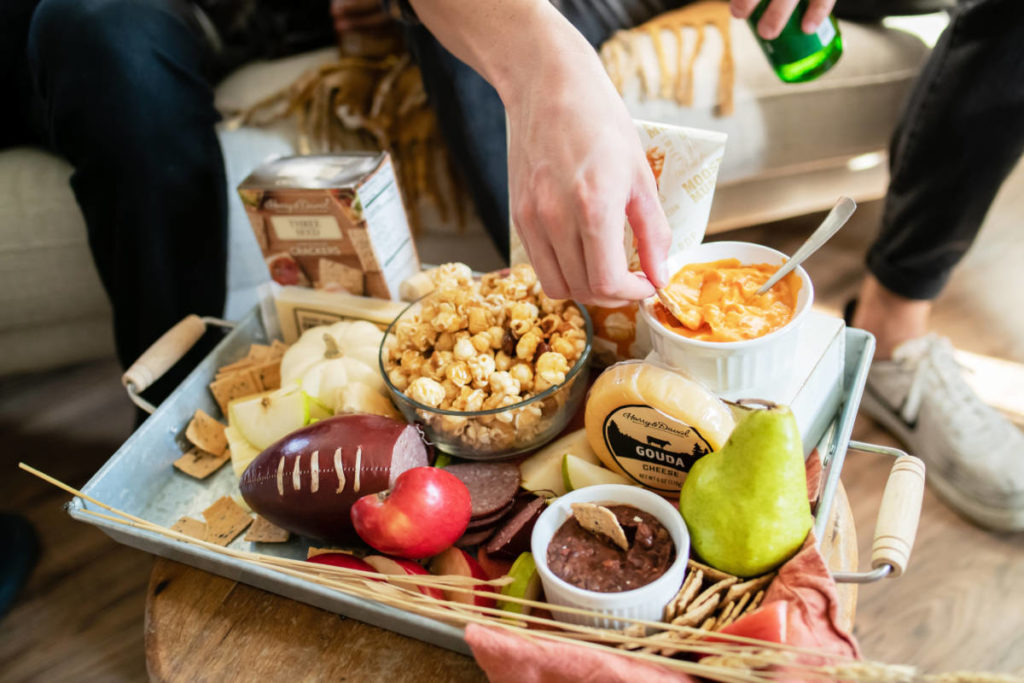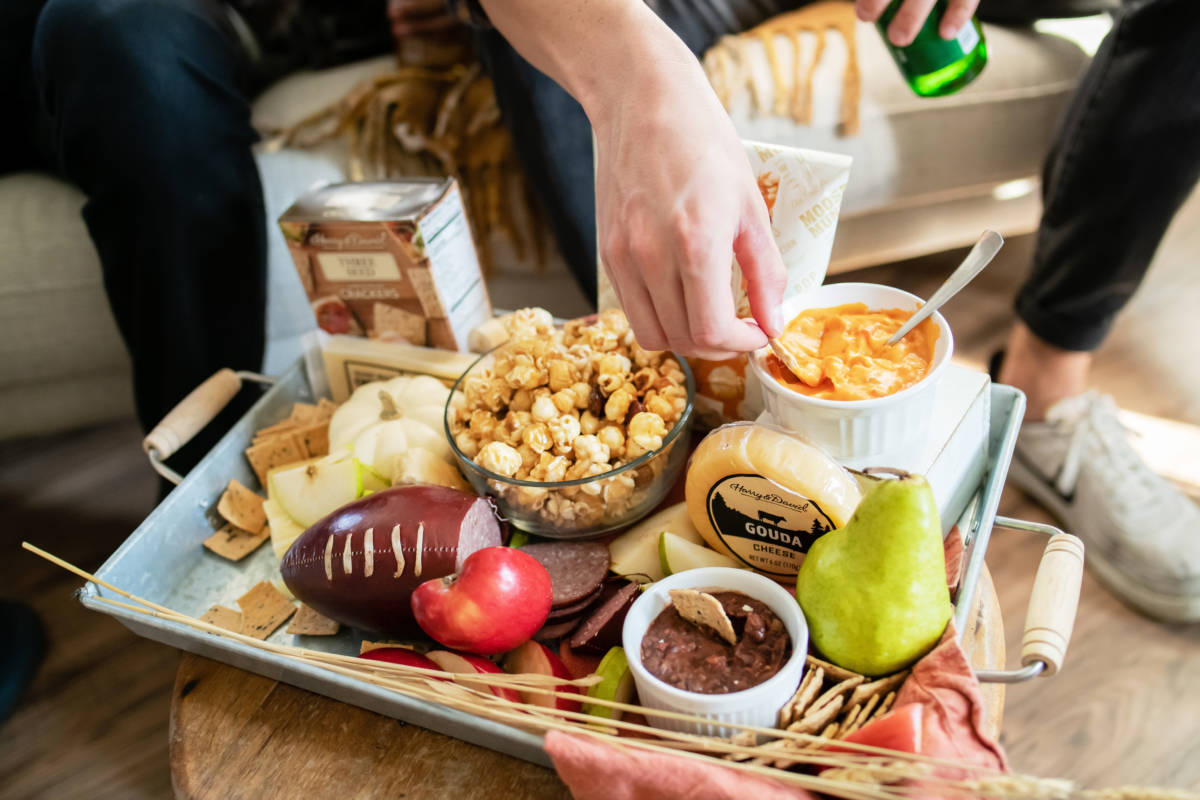 I look to either the road team's city or name as inspiration for the menu. One of the easier cities for me is Philadelphia; whenever the Eagles are in town, we do roast pork and provolone sandwiches, cheesesteaks, and pretzels, and then boxes of Tastykakes for dessert (not everything needs to be homemade).
The key is coming up with items that can be partially cooked or prepped ahead of time and that have lots of big flavors. You also want to think about how you are going to reheat or cook the food at the tailgate. We've developed a technique for setting cheesesteaks up in foil packets that can easily be heated on a grill or griddle. This also helps you know exactly how many you have on hand in case your party gets too big.
Plan, plan, plan
Make a prep list to ensure you don't forget anything. It may be helpful to break the list into small projects. For example, start on Tuesday with grocery shopping and prepping the big stuff like marinating and cooking proteins. Then make your sauces and condiments, and prepare sandwiches and quesadillas the day before.
Leave a few things, but not too many, for day of; you want to enjoy watching the game with your fellow fans. On game day, season your grilled items, precook things that will hold well (hot dogs, sausages, chicken), and anything else that can wait until the last minute (picking fresh herbs, batching cocktails).
Delegate
You may be the quarterback leading the charge of this tailgate, but it's OK to lean on your teammates to help you cross the goal line. Let your guests do some of the tasks and focus on your core menu items. Designate a bar person to mix strong and non-alcoholic drinks that go with the food. Have someone else bring a cooler with sodas and waters.
---

---
Setup
Make sure you have garbage bags set out to make clean-up easy. Plan to eat about an hour before kickoff so you can watch the game, and then have snacks or dessert ready for halftime. I love the meat and cheese combos and spinach dip. Salsas and chips or grilled pita bread are easy to serve. Try some sliced vegetables warmed or charred on the grill. Fresh fruit is always popular during and after the game since people have been eating spicy and fatty foods all day. What's better than a basket of pears or apples? A victory, I guess.
And don't forget about the postgame celebration. Hence, the importance of designating a bar person.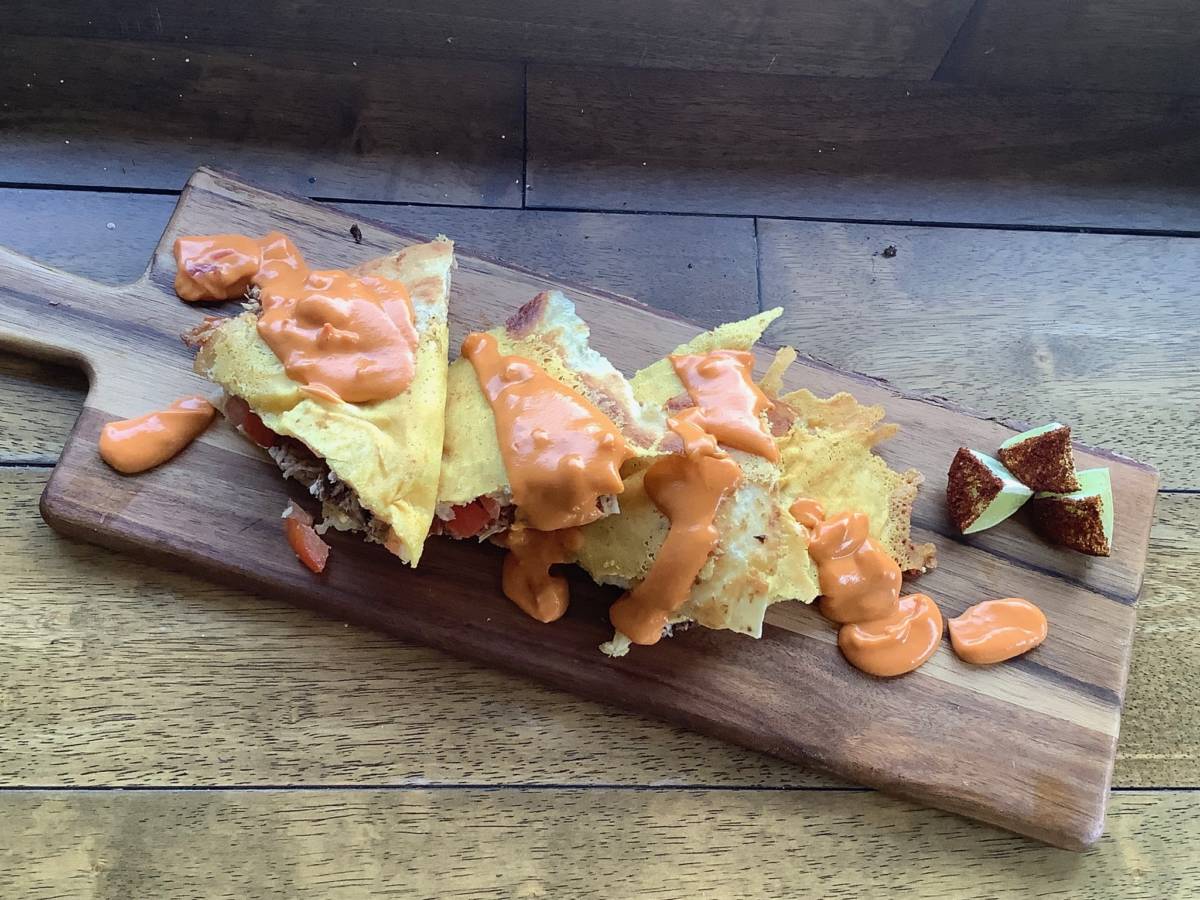 Smoked Brisket and Beer Cheese Quesadillas
These quesadillas can be made for either Los Angeles football team (Rams or Chargers) to celebrate the taco culture in LA. The idea is to take a delicious smoked brisket as the base and then enhance it with Harry & David Pepper & Onion Relish, beer cheese, and jalapeno cheese sauce. It feels like a cross between a birria taco and a quesadilla. The beauty of quesadillas is that they can be assembled ahead of time and then cooked on a griddle or grill, or in a non-stick pan. This makes it a versatile and portable game day snack. They are easy to cut and share, and they go great with a little lime crema or homemade pico de gallo.
Ingredients:
4

10-inch

flour tortillas

8

ounces

smoked brisket meat

3

ounces

tomato

(diced)

1

ounce

craft beer

cheddar

(grated)

1

ounce

hopyard cheddar

(grated)

2

ounces

Harry & David® Jalapeno Tomato Cheese Dip

1

ounce

scallions

(sliced )

cilantro

(stems)
Instructions:
In a small pan, warm the brisket and then add the tomatoes and pepper relish.

Heat the panini press, griddle, or grill.

Arrange the grated cheeses on the griddle to cover the area of the tortillas.

Place the tortillas (folded in half) on the cheese. Once the cheese melts, open the tortillas one at a time and place half the brisket mix in each one. Close the tortillas and cook until the cheese is golden brown.

Flip the tortillas and toast the other side.

Remove to a cutting board and cut into pieces.

Drizzle with cheese sauce, and add sliced scallions and whole cilantro stems.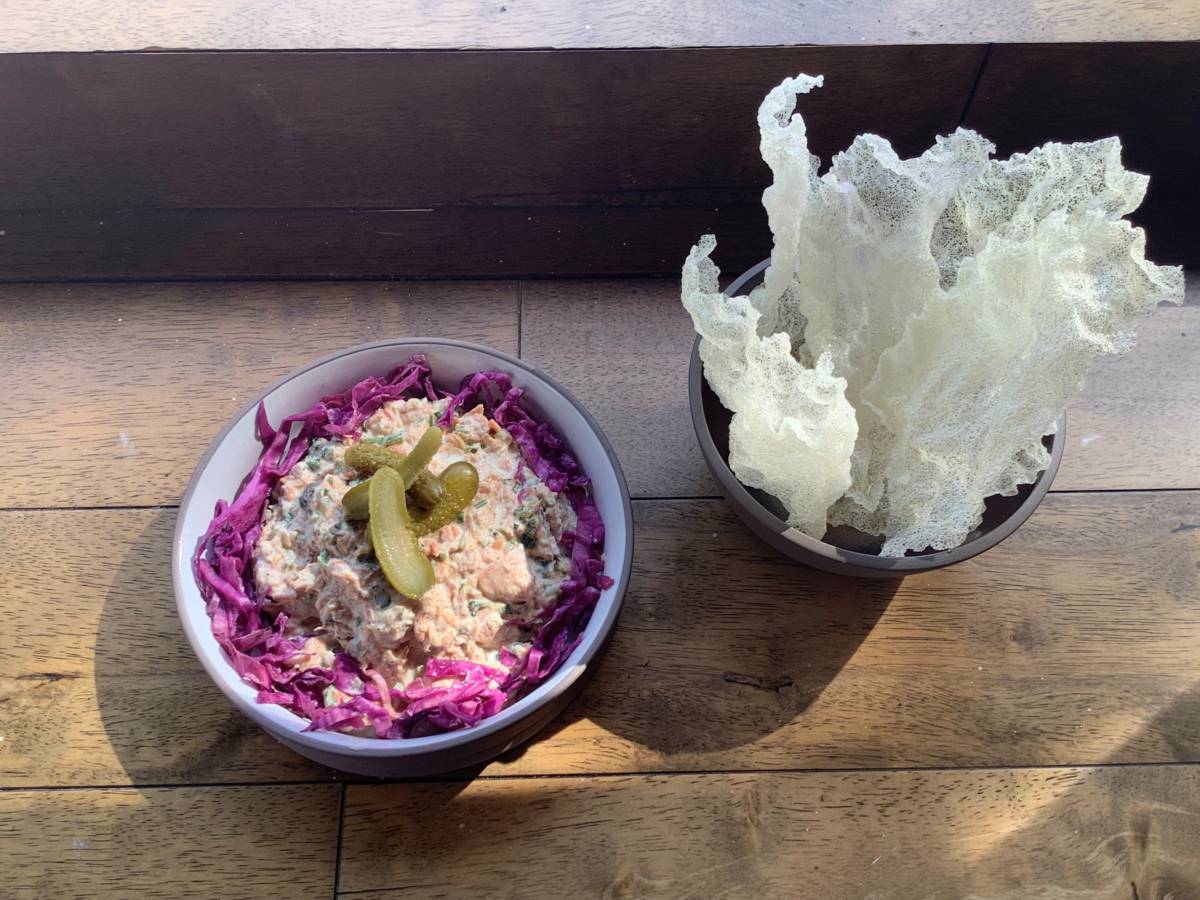 Smoked Salmon Rillettes Dip
The Pacific Northwest has an abundance of salmon, and this easy game day spread goes a little beyond chips and salsa or hummus. It is rich and full of flavor — not to mention filling — and goes great with vegetables, crackers, or grilled pita strips. This can be made a day or two in advance and then freshened up with a squeeze of lemon before serving. We once cooked our own salmon on cedar planks before a game and then flaked the fish into the dip for a really pronounced smoky flavor.
Ingredients:
4 ½

ounces

Harry & David® Northwest Smoked Salmon

4 ½

ounces

dill salmon

1 ½

ounces

mayonnaise

3 ½

ounces

sour cream

½

ounce

horseradish

¼

ounce

Dijon mustard

½

ounce

lemon juice

(fresh squeezed )

2

tablespoons

fresh parsley

(chopped )

½

ounce

diced cornichons
Instructions:
Flake the fish with two forks and place in a medium mixing bowl.

In a separate bowl, whisk together the mayo and sour cream until slightly thickened.

Mix the horseradish, mustard, lemon juice, parsley, and cornichons, and adjust for seasoning.

Fold in the flaked salmon and stir to combine. Can be made up to two days in advance.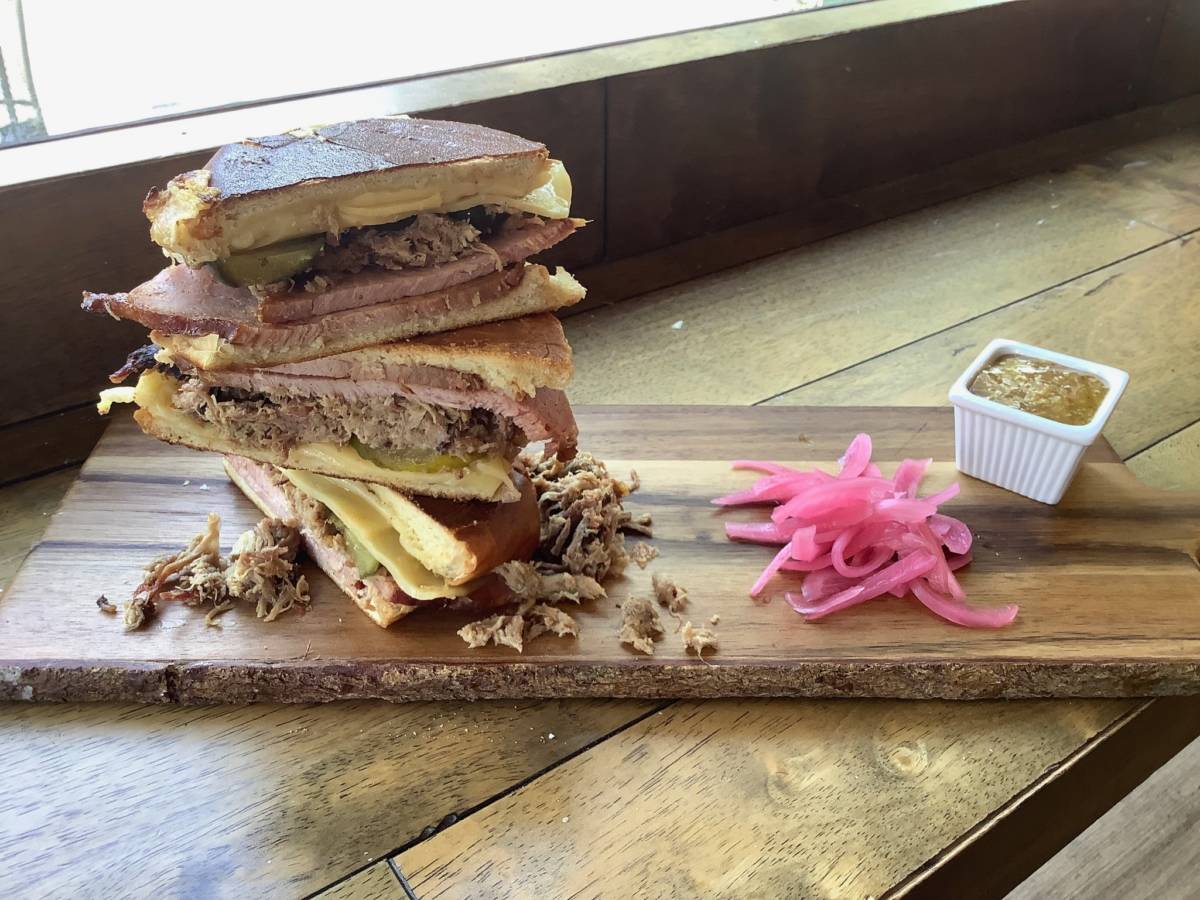 South Florida Cubano
This sandwich is the classic Cubano or Cuban sandwich that is very popular in Miami (Dolphins) and Tampa Bay (Buccaneers). It is typically roast pork, ham, swiss, and pickles toasted on a press until the outside is crispy and the inside melts together. These are easy to assemble ahead of time, and then toast on a griddle or even a grill on game day. The sandwich is also very portable and filling, so it can get you through the whole game — even overtime — whether you're at the stadium or on your couch. I like to do a double serving of pickles by adding chopped cornichons to the mayo. And, if you have them, add some pork rinds for a delicious crunch.
Ingredients:
4

soft

Cuban-style sandwich rolls

butter

(softened)

12

slices

Harry & David glazed ham

12

ounces

roasted pulled pork

(warm)

12

slices

Swiss cheese

1

sandwich pickle

sesame mustard for spreading

(plus 4 ounces separated)

1

cup

mayonnaise

(separated)

4

ounces

pork rinds

(optional)

¼

cup

cornichons

(finely chopped)

½

ounce

hot sauce
Instructions:
Split the rolls and lay out the bottoms on a tray.

Spread a thin layer of mustard on the bottom of the bread.

Layer the ham.

Divide the roast pork on top of the ham slices.

Place the pickles across the roast pork.

Layer the cheese over the pickles to cover them.

With a brush, spread a generous amount of butter on the outside of the sandwich and place on the preheated panini press. Cook on medium-low heat until toasted and golden on the outside and warm on the inside.

Remove from the press and take the top half off the sandwich. Place the pork rinds (optional) and spread the mayo on the top bun before placing back on the sandwich.

Mix the remaining mustard, mayo, and hot sauce, and serve as a dipping sauce.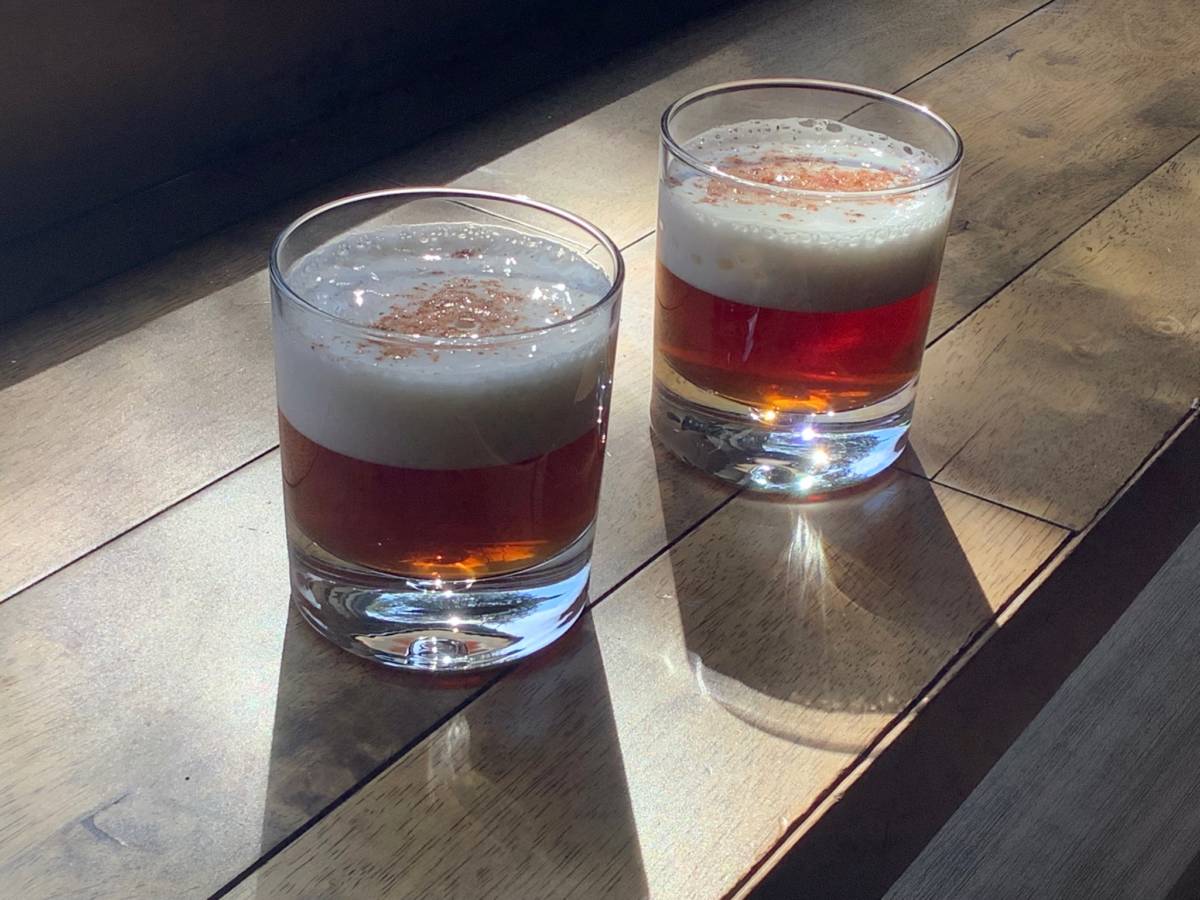 Crisp Orchard Cocktail
This fall-inspired cocktail is a take on the traditional sour and will have you smelling apples in the air. Using the cider jelly as the sweet component, we are amping up the apple flavor with cider and Pommeaux (or Calvados). Instead of using egg whites, we make a foam with aquafaba (the liquid leftover from canned chickpeas) and apple cider, enhanced with the cider jelly to top the cocktail. This drink will warm you up and really pairs well with the rest of this menu, especially the smoked meat dishes.
Ingredients:
2 ½

ounces

bourbon

(preferably Woodford Reserve)

1 ½

ounces

Calvados or Pommeuax

2

ounces

lemon juice

(fresh squeezed )

2

ounces

cider jelly

(separated)

3

dashes

orange bitters

4

ounces

apple cider

2 ½

ounces

aquafaba

cinnamon

(or nutmeg, for garnish)

dried apple slices

(for garnish)
Instructions:
In two clean coupe or highball glasses, add 1 to 2 dashes of the bitters.

In a large part of a cocktail shaker, add the first four ingredients. Fill the smaller side of the shaker with ice, pour the liquid ingredients over the ice, and close the shaker.

Shake well for 20 seconds and strain into the two glasses, dividing evenly.

For the foam: Strain the jelly, cider, and aquafaba into a one-pint iSi whipper and close the top. Charge with one N2O cartridge and shake well. Dispense the foam to create a layer on top of the cocktail and sprinkle with cinnamon or grated nutmeg. Garnish with a slice of dried apple.