In Gifting 101 we're bringing you all the best advice on gifting, whether you need something to share for the holidays, bring to an event, or gift just because! Make Father's Day extra special this year with these gourmet goodies.

We know exactly what to get the dads in your life for Father's Day: something delicious! Whether your dad's all about snacks, steaks, or sweets, we've got the gourmet goodies to make his day a memorable one. Check out our favorite Father's Day gift ideas and share the love with Dad this year.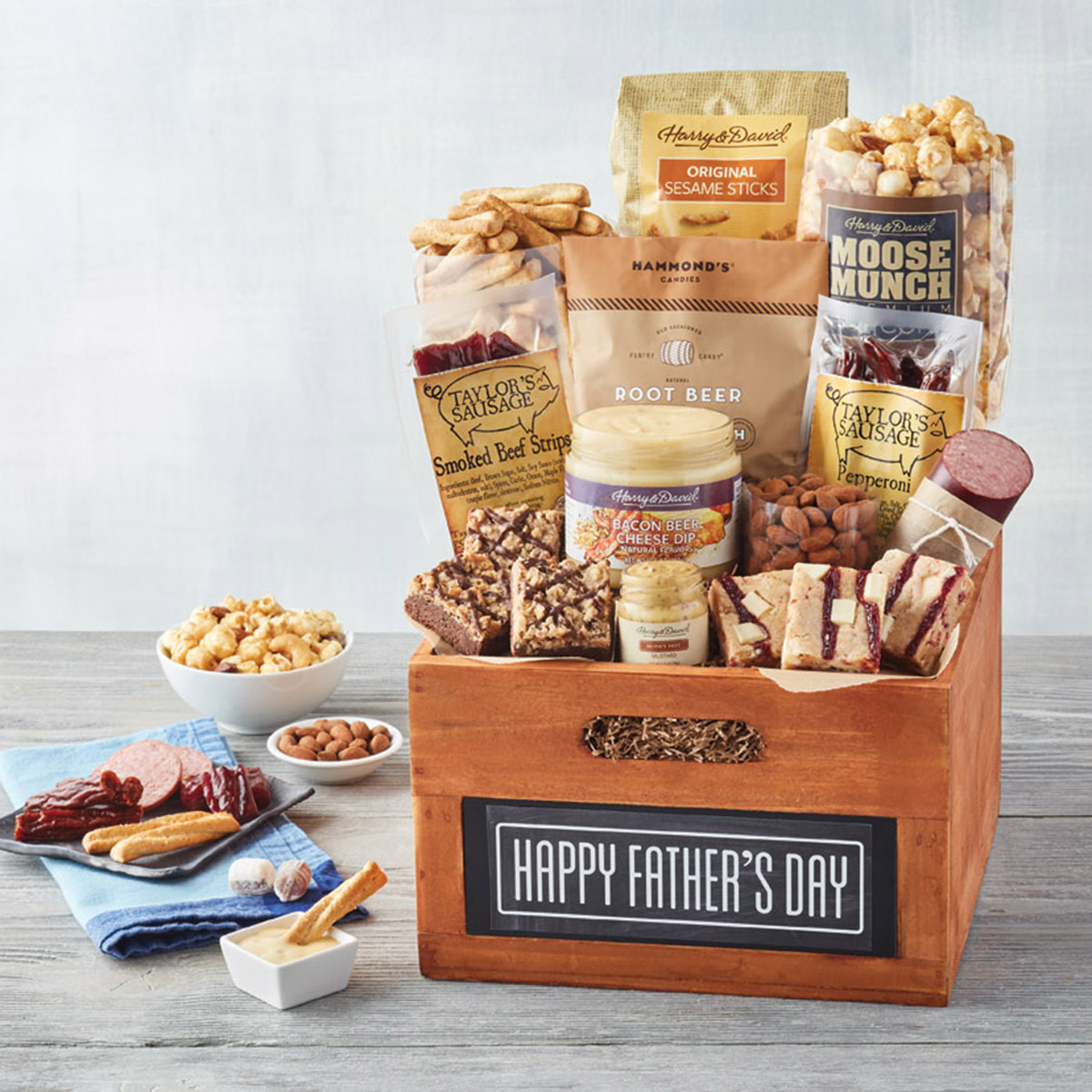 Go all out for dad with this Father's Day Chalkboard Gift Crate. Every classic "dad food" comes packed inside, from beer cheese dip and pepperoni sticks to cookie bars and so much more. Plus, the reusable wood crate has a chalkboard front, so he can use it to store all his great gifts or write something new on it!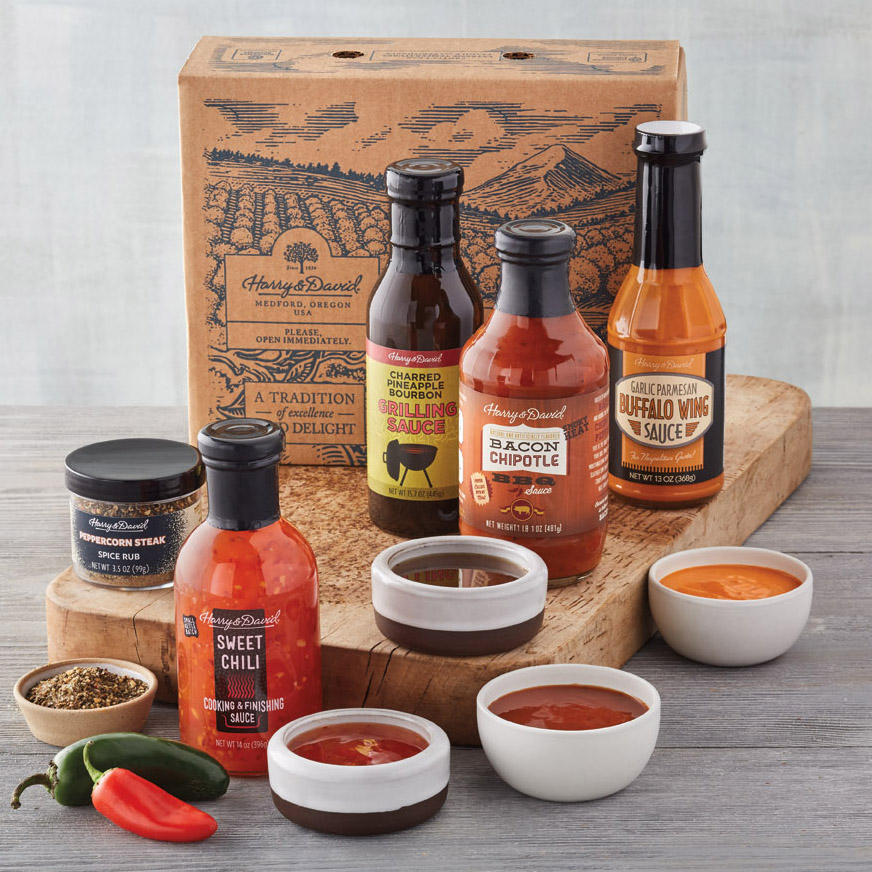 Does Dad love to cook? This Father's Day grilling gift box, starring four grilling sauces and a spice rub, will have him ready to get out and grill this summer!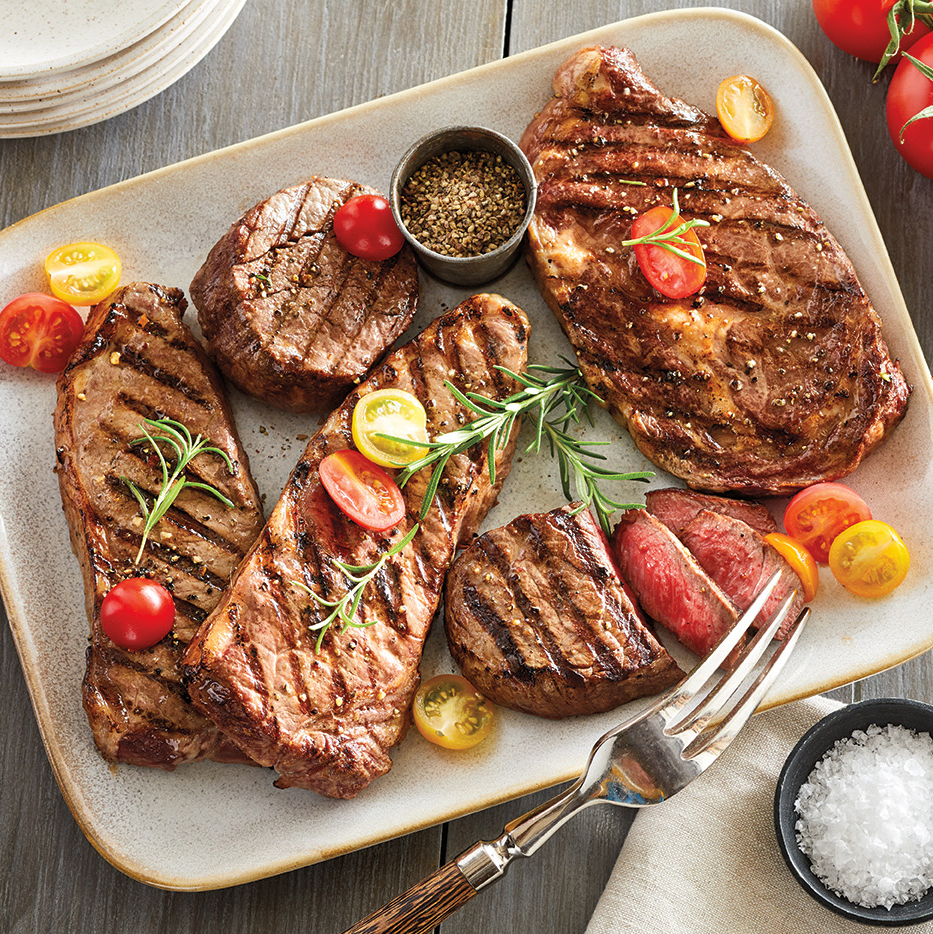 Nothing says I love you, Dad more than a collection of all his favorite steaks. Featuring two cuts each of filet mignon, New York strip, ribeye, and filet of top sirloin, each steak is wet-aged for 21 days and trimmed to exacting standards. Turn these into a delicious Father's Day dinner he won't forget.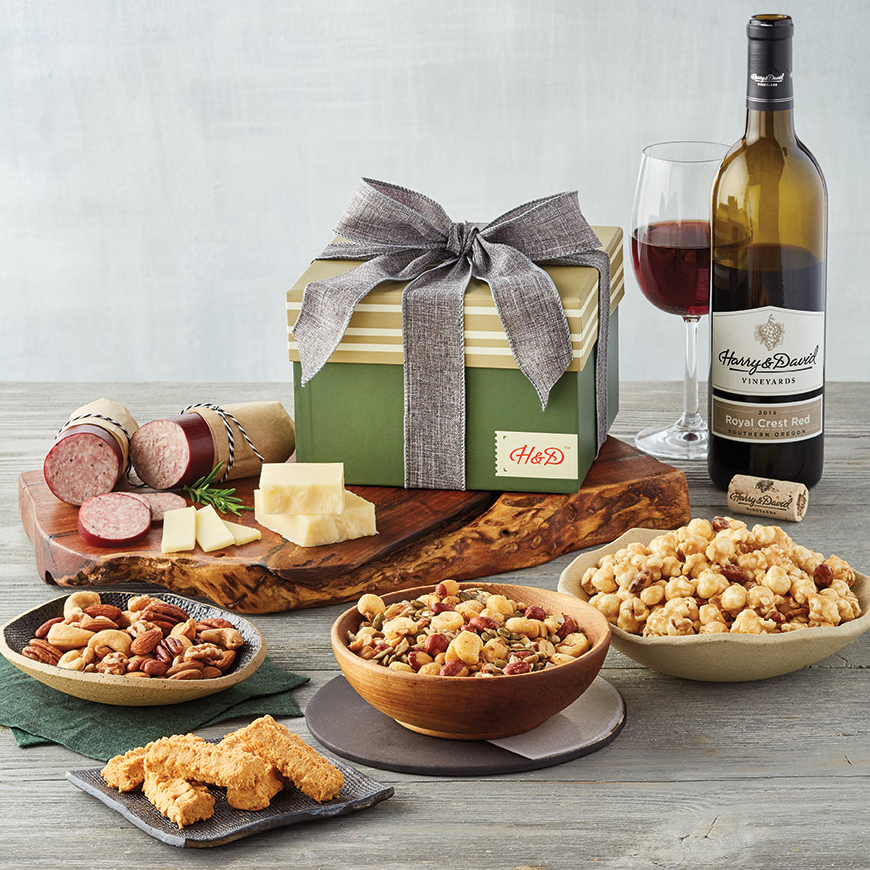 If Dad is a bit of a wine connoisseur, he'll love this wine gift box, which comes with a bottle of our Harry & David Ross Lane Red blend. This rich red pairs perfectly with an assortment of savory gourmet snacks like summer sausage and sharp white cheddar cheese.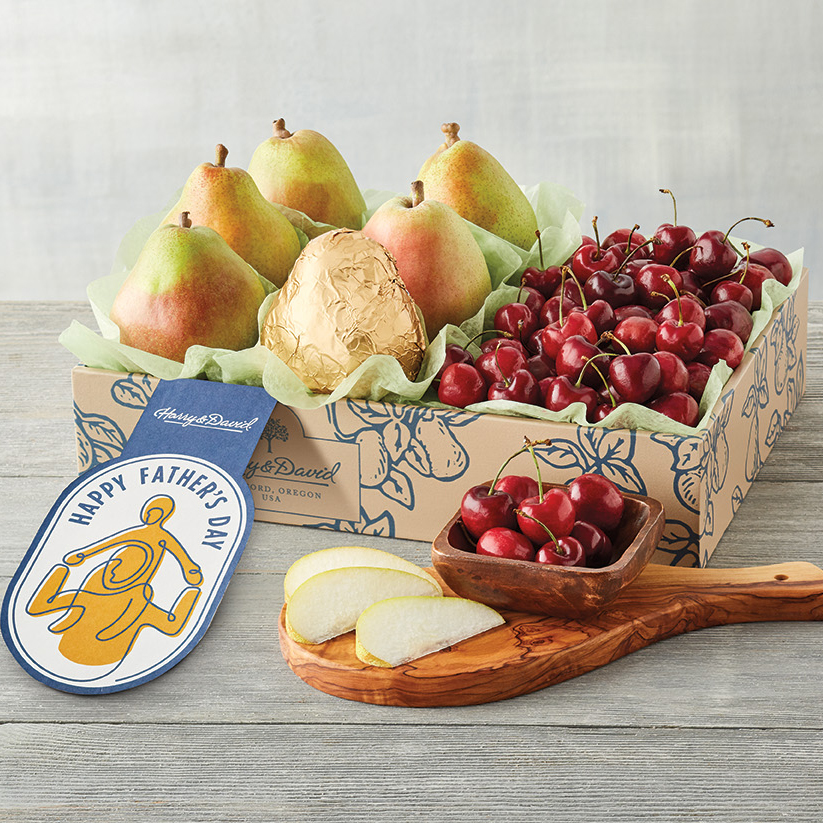 If your dad is more of a fruit fan than a carnivore, he'll love this pears and cherries gift. The perfect combination of buttery pears and juicy cherries will sweeten his Father's Day. This is one of our best sellers, so grab it before it's gone!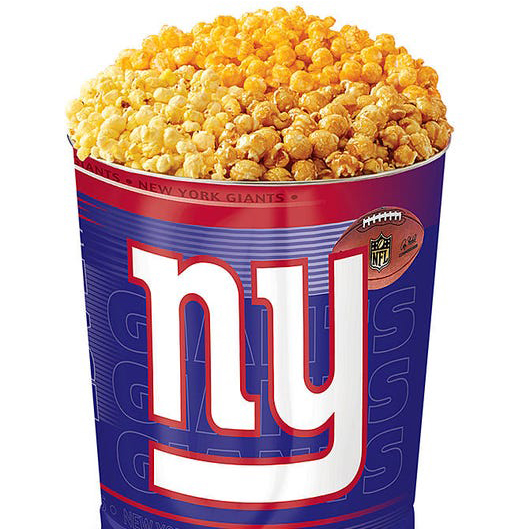 A 3-Flavor Popcorn Tin personalized with his favorite sports team is perfect for dads who like sweet and salty. Filled with butter, cheese, and caramel popcorn, there's plenty to go around during the next game.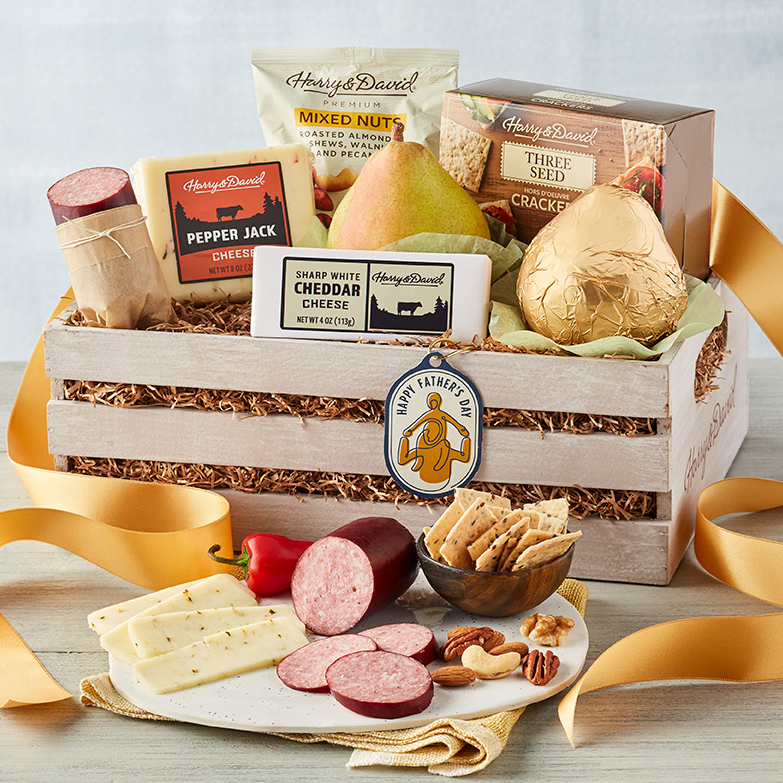 One size does fit all with this best-selling Father's Day gift. It features everything for the perfect snack board, like two kinds of cheese, sausage, Royal Verano® Pears, and more!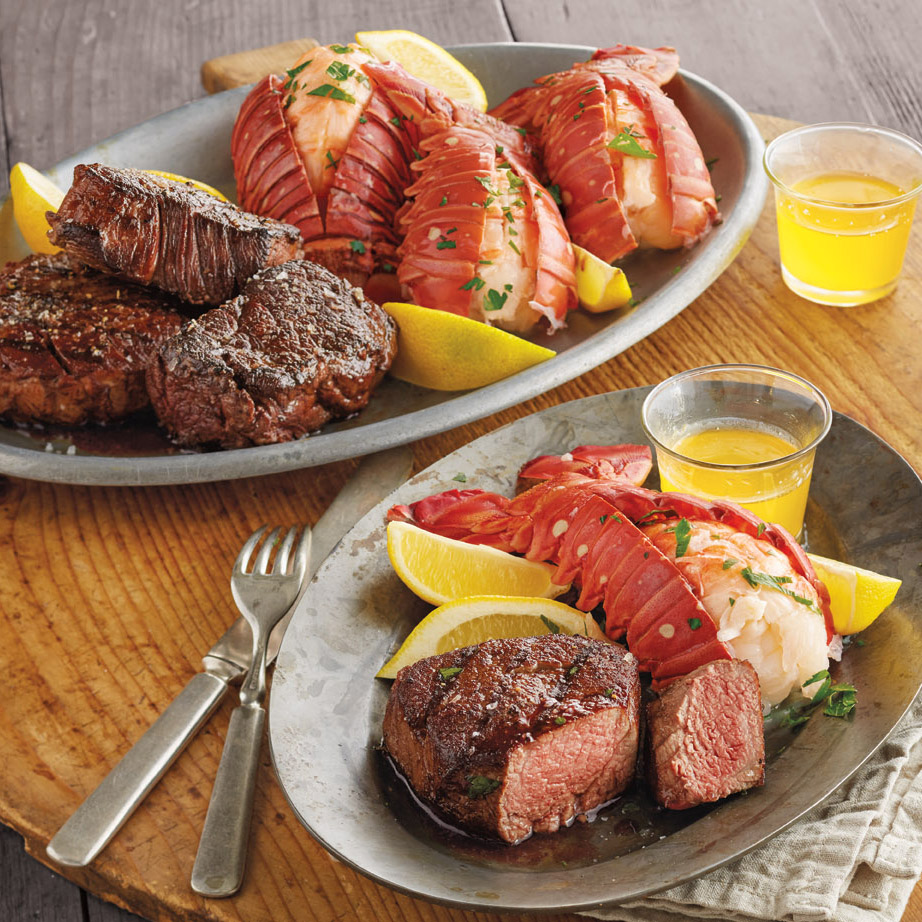 How about Surf and Turf for Father's Day dinner? These two favorites are easy to prepare, but detailed cooking tips are included in case he needs a little help in the kitchen. No doubt, this meal will score you serious points with Dad.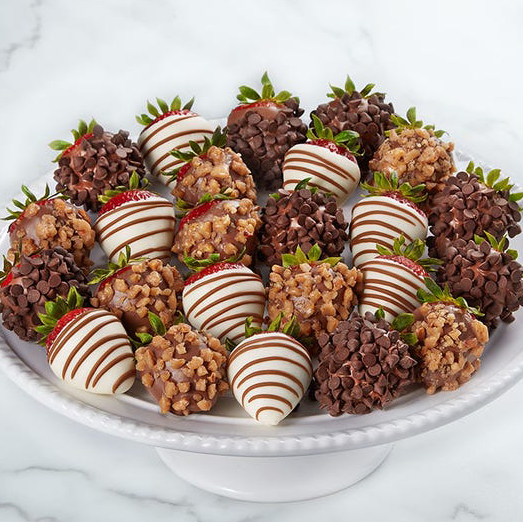 These Gourmet Strawberries are dipped in milk and white chocolaty confection, then decorated with milk chocolate drizzle, ground toffee, or mini chocolate chips. Handsome treats for handsome dads.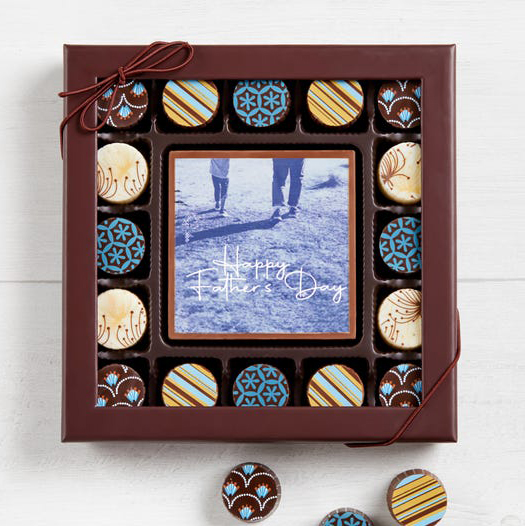 Show Pops he's the best with this gift box full of artisan truffles. A colorful chocolate Father's Day card comes surrounded by 16 truffles in milk, dark, and white Belgian chocolate shells. Their flavor-infused ganache centers include cupcake, champagne, and tiramisu… what's not to love?
Now that you're inspired (and hungry), you know what to do.
With Father's Day gift ideas like these, Dad will have a sweet Father's Day celebration! You can also surprise him with a special homemade dinner like these BBQ chicken sliders. Happy Father's Day!